Abstract
Active matter consists of units that generate mechanical work by consuming energy1. Examples include living systems (such as assemblies of bacteria2,3,4,5 and biological tissues6,7), biopolymers driven by molecular motors8,9,10,11 and suspensions of synthetic self-propelled particles12,13,14. A central goal is to understand and control the self-organization of active assemblies in space and time. Most active systems exhibit either spatial order mediated by interactions that coordinate the spatial structure and the motion of active agents12,14,15 or the temporal synchronization of individual oscillatory dynamics2. The simultaneous control of spatial and temporal organization is more challenging and generally requires complex interactions, such as reaction–diffusion hierarchies16 or genetically engineered cellular circuits2. Here we report a simple technique to simultaneously control the spatial and temporal self-organization of bacterial active matter. We confine dense active suspensions of Escherichia coli cells and manipulate a single macroscopic parameter—namely, the viscoelasticity of the suspending fluid— through the addition of purified genomic DNA. This reveals self-driven spatial and temporal organization in the form of a millimetre-scale rotating vortex with periodically oscillating global chirality of tunable frequency, reminiscent of a torsional pendulum. By combining experiments with an active-matter model, we explain this behaviour in terms of the interplay between active forcing and viscoelastic stress relaxation. Our findings provide insight into the influence of bacterial motile behaviour in complex fluids, which may be of interest in health- and ecology-related research, and demonstrate experimentally that rheological properties can be harnessed to control active-matter flows17,18. We envisage that our millimetre-scale, tunable, self-oscillating bacterial vortex may be coupled to actuation systems to act a 'clock generator' capable of providing timing signals for rhythmic locomotion of soft robots and for programmed microfluidic pumping19, for example, by triggering the action of a shift register in soft-robotic logic devices20.
Relevant articles
Open Access articles citing this article.
Japinder Nijjer

,

Changhao Li

…

Jing Yan

Nature Communications Open Access 17 November 2021
Access options
Subscribe to Nature+
Get immediate online access to the entire Nature family of 50+ journals
Subscribe to Journal
Get full journal access for 1 year
$199.00
only $3.90 per issue
All prices are NET prices.
VAT will be added later in the checkout.
Tax calculation will be finalised during checkout.
Buy article
Get time limited or full article access on ReadCube.
$32.00
All prices are NET prices.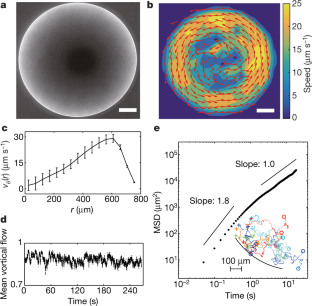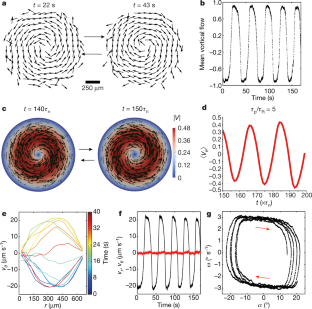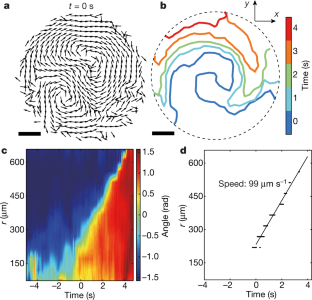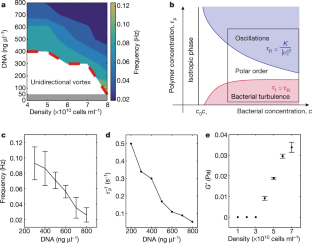 Code availability
The custom codes used in this study are available from the corresponding author upon request.
References
Marchetti, M. C. et al. Hydrodynamics of soft active matter. Rev. Mod. Phys. 85, 1143–1189 (2013).

Danino, T., Mondragon-Palomino, O., Tsimring, L. & Hasty, J. A synchronized quorum of genetic clocks. Nature 463, 326–330 (2010).

Sokolov, A. & Aranson, I. S. Physical properties of collective motion in suspensions of bacteria. Phys. Rev. Lett. 109, 248109 (2012).

Wensink, H. H. et al. Meso-scale turbulence in living fluids. Proc. Natl Acad. Sci. USA 109, 14308–14313 (2012).

Chen, C., Liu, S., Shi, X. Q., Chaté, H. & Wu, Y. Weak synchronization and large-scale collective oscillation in dense bacterial suspensions. Nature 542, 210–214 (2017).

Saw, T. B. et al. Topological defects in epithelia govern cell death and extrusion. Nature 544, 212–216 (2017).

Kawaguchi, K., Kageyama, R. & Sano, M. Topological defects control collective dynamics in neural progenitor cell cultures. Nature 545, 327–331 (2017).

Keber, F. C. et al. Topology and dynamics of active nematic vesicles. Science 345, 1135–1139 (2014).

Wu, K.-T. et al. Transition from turbulent to coherent flows in confined three-dimensional active fluids. Science 355, eaal1979 (2017).

Huber, L., Suzuki, R., Krüger, T., Frey, E. & Bausch, A. R. Emergence of coexisting ordered states in active matter systems. Science 361, 255–258 (2018).

Prost, J., Jülicher, F. & Joanny, J. F. Active gel physics. Nat. Phys. 11, 111–117 (2015).

Palacci, J., Sacanna, S., Steinberg, A. P., Pine, D. J. & Chaikin, P. M. Living crystals of light-activated colloidal surfers. Science 339, 936–940 (2013).

Bricard, A., Caussin, J.-B., Desreumaux, N., Dauchot, O. & Bartolo, D. Emergence of macroscopic directed motion in populations of motile colloids. Nature 503, 95–98 (2013).

Yan, J. et al. Reconfiguring active particles by electrostatic imbalance. Nat. Mater. 15, 1095–1099 (2016).

Karig, D. et al. Stochastic Turing patterns in a synthetic bacterial population. Proc. Natl Acad. Sci. USA 115, 6572–6577 (2018).

Vicker, M. G. Eukaryotic cell locomotion depends on the propagation of self-organized reaction–diffusion waves and oscillations of actin filament assembly. Exp. Cell Res. 275, 54–66 (2002).

Giomi, L., Mahadevan, L., Chakraborty, B. & Hagan, M. F. Banding, excitability and chaos in active nematic suspensions. Nonlinearity 25, 2245 (2012).

Hemingway, E. J. et al. Active viscoelastic matter: from bacterial drag reduction to turbulent solids. Phys. Rev. Lett. 114, 098302 (2015).

Wehner, M. et al. An integrated design and fabrication strategy for entirely soft, autonomous robots. Nature 536, 451–455 (2016).

Preston, D. J. et al. Digital logic for soft devices. Proc. Natl Acad. Sci. USA 116, 7750–7759 (2019).

Wioland, H., Woodhouse, F. G., Dunkel, J., Kessler, J. O. & Goldstein, R. E. Confinement stabilizes a bacterial suspension into a spiral vortex. Phys. Rev. Lett. 110, 268102 (2013).

López, H. M., Gachelin, J., Douarche, C., Auradou, H. & Clément, E. Turning bacteria suspensions into superfluids. Phys. Rev. Lett. 115, 028301 (2015).

Bozorgi, Y. & Underhill, P. T. Effects of elasticity on the nonlinear collective dynamics of self-propelled particles. J. Non-Newton. Fluid Mech. 214, 69–77 (2014).

Li, G. & Ardekani, A. M. Collective motion of microorganisms in a viscoelastic fluid. Phys. Rev. Lett. 117, 118001 (2016).

Liu, Y., Jun, Y. & Steinberg, V. Concentration dependence of the longest relaxation times of dilute and semi-dilute polymer solutions. J. Rheol. 53, 1069–1085 (2009).

Ginoux, J. M. & Letellier, C. Van der Pol and the history of relaxation oscillations: toward the emergence of a concept. Chaos 22, 023120 (2012).

Sokolov, A., Aranson, I. S., Kessler, J. O. & Goldstein, R. E. Concentration dependence of the collective dynamics of swimming bacteria. Phys. Rev. Lett. 98, 158102 (2007).

Hemingway, E. J., Cates, M. E. & Fielding, S. M. Viscoelastic and elastomeric active matter: linear instability and nonlinear dynamics. Phys. Rev. E 93, 032702 (2016).

Warner, M. & Terentjev, E. M. Liquid Crystal Elastomers (Oxford Univ. Press, 2007).

Doostmohammadi, A., Ignés-Mullol, J., Yeomans, J. M. & Sagués, F. Active nematics. Nat. Commun. 9, 3246 (2018).

Aditi Simha, R. & Ramaswamy, S. Hydrodynamic fluctuations and instabilities in ordered suspensions of self-propelled particles. Phys. Rev. Lett. 89, 058101 (2002).

Murray, J. D. Mathematical Biology: I. An Introduction (Springer, 2007).

Giomi, L., Mahadevan, L., Chakraborty, B. & Hagan, M. F. Excitable patterns in active nematics. Phys. Rev. Lett. 106, 218101 (2011).

Woodhouse, F. G. & Goldstein, R. E. Spontaneous circulation of confined active suspensions. Phys. Rev. Lett. 109, 168105 (2012).

Benzi, R. & Ching, E. S. C. Polymers in fluid flows. Annu. Rev. Condens. Matter Phys. 9, 163–181 (2018).

Whitchurch, C. B., Tolker-Nielsen, T., Ragas, P. C. & Mattick, J. S. Extracellular DNA required for bacterial biofilm formation. Science 295, 1487 (2002).

Mukherjee, A., Walker, J., Weyant, K. B. & Schroeder, C. M. Characterization of flavin-based fluorescent proteins: an emerging class of fluorescent reporters. PLoS ONE 8, e64753 (2013).

Mason, T. G., Ganesan, K., van Zanten, J. H., Wirtz, D. & Kuo, S. C. Particle tracking microrheology of complex fluids. Phys. Rev. Lett. 79, 3282–3285 (1997).

Zhu, X., Kundukad, B. & van der Maarel, J. R. Viscoelasticity of entangled λ-phage DNA solutions. J. Chem. Phys. 129, 185103 (2008).

Kundukad, B. & van der Maarel, J. R. C. Control of the flow properties of DNA by topoisomerase II and its targeting inhibitor. Biophys. J. 99, 1906–1915 (2010).

Brochard, F. Viscosities of dilute polymer solutions in nematic liquids. J. Polym. Sci. Polym. Phys. Ed. 17, 1367–1374 (1979).
Acknowledgements
We thank Y. Li and W. Zuo for building the image acquisition and microscope stage temperature control systems, H. C. Berg (Harvard University) for providing the bacterial strains, A. Mukherjee and C. M. Schroeder (UIUC) for providing the pAM06-tet plasmid, and L. Xu (CUHK) for assistance with bulk rheology measurement. We thank E. S.C. Ching (CUHK), K. Xia (CUHK) and T. Ngai (CUHK) for discussions and comments. This work was supported by the National Natural Science Foundation of China (NSFC no. 31971182, to Y.W.), the Research Grants Council of Hong Kong SAR (RGC Ref. No. 14303918 and CUHK Direct Grants; to Y.W.), the US National Science Foundation Grant DMR-1609208 (to M.C.M and S.S) and KITP under grant no. PHY-1748958. S.S. is supported by the Harvard Society of Fellows. M.C.M and S.S thank the KITP for hospitality in the course of this work.
Ethics declarations
Competing interests
The authors declare no competing interests.
Additional information
Peer review information Nature thanks the anonymous reviewer(s) for their contribution to the peer review of this work.
Publisher's note Springer Nature remains neutral with regard to jurisdictional claims in published maps and institutional affiliations.
Extended data figures and tables
Supplementary information
About this article
Cite this article
Liu, S., Shankar, S., Marchetti, M.C. et al. Viscoelastic control of spatiotemporal order in bacterial active matter. Nature 590, 80–84 (2021). https://doi.org/10.1038/s41586-020-03168-6
Received:

Accepted:

Published:

Issue Date:

DOI: https://doi.org/10.1038/s41586-020-03168-6
Comments
By submitting a comment you agree to abide by our Terms and Community Guidelines. If you find something abusive or that does not comply with our terms or guidelines please flag it as inappropriate.