Abstract
Ageing is characterized by the development of persistent pro-inflammatory responses that contribute to atherosclerosis, metabolic syndrome, cancer and frailty1,2,3. The ageing brain is also vulnerable to inflammation, as demonstrated by the high prevalence of age-associated cognitive decline and Alzheimer's disease4,5,6. Systemically, circulating pro-inflammatory factors can promote cognitive decline7,8, and in the brain, microglia lose the ability to clear misfolded proteins that are associated with neurodegeneration9,10. However, the underlying mechanisms that initiate and sustain maladaptive inflammation with ageing are not well defined. Here we show that in ageing mice myeloid cell bioenergetics are suppressed in response to increased signalling by the lipid messenger prostaglandin E2 (PGE2), a major modulator of inflammation11. In ageing macrophages and microglia, PGE2 signalling through its EP2 receptor promotes the sequestration of glucose into glycogen, reducing glucose flux and mitochondrial respiration. This energy-deficient state, which drives maladaptive pro-inflammatory responses, is further augmented by a dependence of aged myeloid cells on glucose as a principal fuel source. In aged mice, inhibition of myeloid EP2 signalling rejuvenates cellular bioenergetics, systemic and brain inflammatory states, hippocampal synaptic plasticity and spatial memory. Moreover, blockade of peripheral myeloid EP2 signalling is sufficient to restore cognition in aged mice. Our study suggests that cognitive ageing is not a static or irrevocable condition but can be reversed by reprogramming myeloid glucose metabolism to restore youthful immune functions.
Relevant articles
Open Access articles citing this article.
Ignazio Antignano

,

Yingxiao Liu

…

Melania Capasso

Cellular and Molecular Life Sciences Open Access 21 April 2023

Yongyan Chen

,

Xiaolei Hao

…

Min Cheng

Immunity & Ageing Open Access 18 March 2023

Saiyang Xie

,

Si-Chi Xu

…

Qizhu Tang

Signal Transduction and Targeted Therapy Open Access 14 March 2023
Access options
Access Nature and 54 other Nature Portfolio journals
Get Nature+, our best-value online-access subscription
$29.99 / 30 days
cancel any time
Subscribe to this journal
Receive 51 print issues and online access
$199.00 per year
only $3.90 per issue
Rent or buy this article
Get just this article for as long as you need it
$39.95
Prices may be subject to local taxes which are calculated during checkout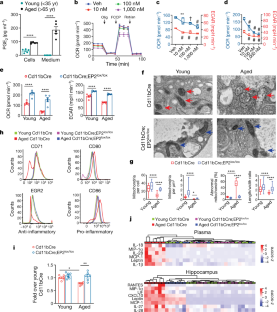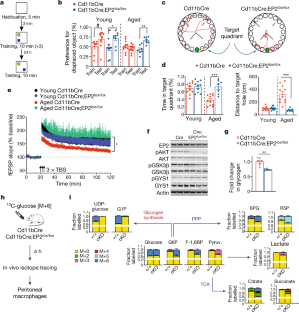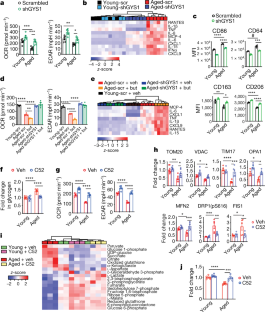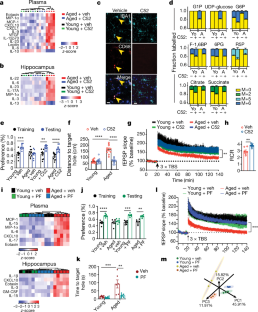 Data availability
Raw data for nanostring analysis are available from the Gene Expression Omnibus under accession code GSE155992. Untargeted metabolomics data are provided in the source data file for Extended Data Fig. 3d. Source data are provided with this paper.
References
Franceschi, C. et al. Inflammaging and anti-inflammaging: a systemic perspective on aging and longevity emerged from studies in humans. Mech. Ageing Dev. 128, 92–105 (2007).

Nikolich-Žugich, J. The twilight of immunity: emerging concepts in aging of the immune system. Nat. Immunol. 19, 10–19 (2018).

Ferrucci, L. & Fabbri, E. Inflammageing: chronic inflammation in ageing, cardiovascular disease, and frailty. Nat. Rev. Cardiol. 15, 505–522 (2018).

Lindenberger, U. Human cognitive aging: corriger la fortune? Science 346, 572–578 (2014).

Brayne, C. The elephant in the room—healthy brains in later life, epidemiology and public health. Nat. Rev. Neurosci. 8, 233–239 (2007).

Cunningham, C. & Hennessy, E. Co-morbidity and systemic inflammation as drivers of cognitive decline: new experimental models adopting a broader paradigm in dementia research. Alzheimers Res. Ther. 7, 33 (2015).

Villeda, S. A. et al. The ageing systemic milieu negatively regulates neurogenesis and cognitive function. Nature 477, 90–94 (2011).

Villeda, S. A. et al. Young blood reverses age-related impairments in cognitive function and synaptic plasticity in mice. Nat. Med. 20, 659–663 (2014).

Sarlus, H. & Heneka, M. T. Microglia in Alzheimer's disease. J. Clin. Invest. 127, 3240–3249 (2017).

Mhatre, S. D., Tsai, C. A., Rubin, A. J., James, M. L. & Andreasson, K. I. Microglial malfunction: the third rail in the development of Alzheimer's disease. Trends Neurosci. 38, 621–636 (2015).

Ricciotti, E. & FitzGerald, G. A. Prostaglandins and inflammation. Arterioscler. Thromb. Vasc. Biol. 31, 986–1000 (2011).

Pearce, E. L. & Pearce, E. J. Metabolic pathways in immune cell activation and quiescence. Immunity 38, 633–643 (2013).

Biswas, S. K. & Mantovani, A. Orchestration of metabolism by macrophages. Cell Metab. 15, 432–437 (2012).

Ganeshan, K. & Chawla, A. Metabolic regulation of immune responses. Annu. Rev. Immunol. 32, 609–634 (2014).

Kelly, B. & O'Neill, L. A. Metabolic reprogramming in macrophages and dendritic cells in innate immunity. Cell Res. 25, 771–784 (2015).

Mills, E. L., Kelly, B. & O'Neill, L. A. J. Mitochondria are the powerhouses of immunity. Nat. Immunol. 18, 488–498 (2017).

Minhas, P. S. et al. Macrophage de novo NAD+ synthesis specifies immune function in aging and inflammation. Nat. Immunol. 20, 50–63 (2019).

Casolini, P., Catalani, A., Zuena, A. R. & Angelucci, L. Inhibition of COX-2 reduces the age-dependent increase of hippocampal inflammatory markers, corticosterone secretion, and behavioral impairments in the rat. J. Neurosci. Res. 68, 337–343 (2002).

Montine, T. J. et al. Elevated CSF prostaglandin E2 levels in patients with probable AD. Neurology 53, 1495–1498 (1999).

Wu, D. & Meydani, S. N. Mechanism of age-associated up-regulation in macrophage PGE2 synthesis. Brain Behav. Immun. 18, 487–494 (2004).

Breyer, R. M., Bagdassarian, C. K., Myers, S. A. & Breyer, M. D. Prostanoid receptors: subtypes and signaling. Annu. Rev. Pharmacol. Toxicol. 41, 661–690 (2001).

Forselles, K. A. et al. In vitro and in vivo characterisation of PF-04418948, a novel, potent and selective prostaglandin EP2 receptor antagonist. Br. J. Pharmacol. 164, 1847–1856 (2011).

Fox, B. M. et al. A selective prostaglandin E2 receptor subtype 2 (EP2) antagonist increases the macrophage-mediated clearance of amyloid-beta plaques. J. Med. Chem. 58, 5256–5273 (2015).

Johansson, J. U. et al. Suppression of inflammation with conditional deletion of the prostaglandin E2 EP2 receptor in macrophages and brain microglia. J. Neurosci. 33, 16016–16032 (2013).

Sidhu, V. K., Huang, B. X., Desai, A., Kevala, K. & Kim, H. Y. Role of DHA in aging-related changes in mouse brain synaptic plasma membrane proteome. Neurobiol. Aging 41, 73–85 (2016).

VanGuilder, H. D., Yan, H., Farley, J. A., Sonntag, W. E. & Freeman, W. M. Aging alters the expression of neurotransmission-regulating proteins in the hippocampal synaptoproteome. J. Neurochem. 113, 1577–1588 (2010).

Lynch, M. A. Long-term potentiation and memory. Physiol. Rev. 84, 87–136 (2004).

Castellone, M. D., Teramoto, H., Williams, B. O., Druey, K. M. & Gutkind, J. S. Prostaglandin E2 promotes colon cancer cell growth through a Gs-axin-β-catenin signaling axis. Science 310, 1504–1510 (2005).

Jiang, J. & Dingledine, R. Prostaglandin receptor EP2 in the crosshairs of anti-inflammation, anti-cancer, and neuroprotection. Trends Pharmacol. Sci. 34, 413–423 (2013).

Jha, A. K. et al. Network integration of parallel metabolic and transcriptional data reveals metabolic modules that regulate macrophage polarization. Immunity 42, 419–430 (2015).

Lampropoulou, V. et al. Itaconate links inhibition of succinate dehydrogenase with macrophage metabolic remodeling and regulation of inflammation. Cell Metab. 24, 158–166 (2016).

Mills, E. L. et al. Succinate dehydrogenase supports metabolic repurposing of mitochondria to drive inflammatory macrophages. Cell 167, 457–470 (2016).

Tannahill, G. M. et al. Succinate is an inflammatory signal that induces IL-1β through HIF-1α. Nature 496, 238–242 (2013).

Sanin, D. E. et al. Mitochondrial membrane potential regulates nuclear gene expression in macrophages exposed to prostaglandin E2. Immunity 49, 1021–1033 (2018).

Thwe, P. M. et al. Cell-intrinsic glycogen metabolism supports early glycolytic reprogramming required for dendritic cell immune responses. Cell Metab. 26, 558–567 (2017).

Ma, J. et al. Glycogen metabolism regulates macrophage-mediated acute inflammatory responses. Nat. Commun. 11, 1769 (2020).

Gauba, E., Chen, H., Guo, L. & Du, H. Cyclophilin D deficiency attenuates mitochondrial F1Fo ATP synthase dysfunction via OSCP in Alzheimer's disease. Neurobiol. Dis. 121, 138–147 (2019).

Johansson, J. U. et al. Prostaglandin signaling suppresses beneficial microglial function in Alzheimer's disease models. J. Clin. Invest. 125, 350–364 (2015).

Aoki, T. et al. Prostaglandin E2–EP2–NF-κB signaling in macrophages as a potential therapeutic target for intracranial aneurysms. Sci. Signal. 10, eaah6037 (2017).

Woodling, N. S. & Andreasson, K. I. Untangling the web: toxic and protective effects of neuroinflammation and PGE2 signaling in Alzheimer's disease. ACS Chem. Neurosci. 7, 454–463 (2016).

Monvoisin, A. et al. VE-cadherin-CreERT2 transgenic mouse: a model for inducible recombination in the endothelium. Dev. Dyn. 235, 3413–3422 (2006).

Wimmer, M. E., Hernandez, P. J., Blackwell, J. & Abel, T. Aging impairs hippocampus-dependent long-term memory for object location in mice. Neurobiol. Aging 33, 2220–2224 (2012).

Attar, A. et al. A shortened Barnes maze protocol reveals memory deficits at 4-months of age in the triple-transgenic mouse model of Alzheimer's disease. PLoS ONE 8, e80355 (2013).

Latif-Hernandez, A., Faldini, E., Ahmed, T. & Balschun, D. Separate ionotropic and metabotropic glutamate receptor functions in depotentiation vs. LTP: a distinct role for group1 mGluR subtypes and NMDARs. Front. Cell. Neurosci. 10, 252 (2016).

Su, X., Lu, W. & Rabinowitz, J. D. Metabolite spectral accuracy on Orbitraps. Anal. Chem. 89, 5940–5948 (2017).

Yamashita, A. et al. Increased metabolite levels of glycolysis and pentose phosphate pathway in rabbit atherosclerotic arteries and hypoxic macrophage. PLoS ONE 9, e86426 (2014).

Yamada, M. et al. A comprehensive quantification method for eicosanoids and related compounds by using liquid chromatography/mass spectrometry with high speed continuous ionization polarity switching. J. Chromatogr. B 995-996, 74–84 (2015).

Kita, Y., Takahashi, T., Uozumi, N. & Shimizu, T. A multiplex quantitation method for eicosanoids and platelet-activating factor using column-switching reversed-phase liquid chromatography-tandem mass spectrometry. Anal. Biochem. 342, 134–143 (2005).

Zhou, L. & Li, Q. Isolation of region-specific microglia from one adult mouse brain hemisphere for deep single-cell RNA sequencing. J. Vis. Exp. 154, e60347 (2019).
Acknowledgements
This work was supported by RO1AG048232 (K.I.A.), RF1AG058047 (K.I.A.), R21NS087639 (K.I.A.), American Heart Association 19PABH134580007 (K.I.A.), 1P50 AG047366 (K.I.A.), 1P30 AG066515 (K.I.A.), Bright Focus (K.I.A.), the Paul and Daisy Soros Fellowship for New Americans (P.S.M.), the Gerald J. Lieberman Fellowship (P.S.M.), DP1DK113643 (M.R.M., L.L. and J.D.R.), the HHMI Hanna H. Gray Fellows Program (M.R.M.), the Burroughs Wellcome Fund PDEP (M.R.M.), the Stanford Innovation Fund (A.U.J. and D.M.-R.), the Takeda Pharmaceuticals Science Frontier Fund (D.M.-R.), the Ludwig Cancer Foundation (I.L.W.), NIH/NCI F30 CA228215 (J.Q.H), NIH/NCI R35CA220434 (I.L.W.), the Japan Science and Technology Agency's Exploratory Research for Advanced Technology (JST-ERATO) Suematsu Gas Biology Project (Y.S. and M.S.), the Scully Family Initiative (F.M.L.), the Taube Family Foundation (F.M.L.) and the Jean Perkins Foundation (F.M.L.). The authors thank J. Perrino at the Stanford Cell Sciences Imaging Facility (supported by NIH 1S10RR02678001) and the Stanford Human Immune Monitoring Center.
Ethics declarations
Competing interests
The authors declare no competing interests.
Additional information
Peer review information Nature thanks Shuh Narumiya, Jonas Neher and the other, anonymous, reviewer(s) for their contribution to the peer review of this work.
Publisher's note Springer Nature remains neutral with regard to jurisdictional claims in published maps and institutional affiliations.
Extended data figures and tables
Supplementary information
This file contains Supplementary Figs 1-3.
This file contains Source Data for Supplementary Fig. 2.
About this article
Cite this article
Minhas, P.S., Latif-Hernandez, A., McReynolds, M.R. et al. Restoring metabolism of myeloid cells reverses cognitive decline in ageing. Nature 590, 122–128 (2021). https://doi.org/10.1038/s41586-020-03160-0
Received:

Accepted:

Published:

Issue Date:

DOI: https://doi.org/10.1038/s41586-020-03160-0
Comments
By submitting a comment you agree to abide by our Terms and Community Guidelines. If you find something abusive or that does not comply with our terms or guidelines please flag it as inappropriate.