Abstract
The innate immune regulator STING is a critical sensor of self- and pathogen-derived DNA. DNA sensing by STING leads to the induction of type-I interferons (IFN-I) and other cytokines, which promote immune-cell-mediated eradication of pathogens and neoplastic cells1,2. STING is also a robust driver of antitumour immunity, which has led to the development of STING activators and small-molecule agonists as adjuvants for cancer immunotherapy3. Pain, transmitted by peripheral nociceptive sensory neurons (nociceptors), also aids in host defence by alerting organisms to the presence of potentially damaging stimuli, including pathogens and cancer cells4,5. Here we demonstrate that STING is a critical regulator of nociception through IFN-I signalling in peripheral nociceptors. We show that mice lacking STING or IFN-I signalling exhibit hypersensitivity to nociceptive stimuli and heightened nociceptor excitability. Conversely, intrathecal activation of STING produces robust antinociception in mice and non-human primates. STING-mediated antinociception is governed by IFN-Is, which rapidly suppress excitability of mouse, monkey and human nociceptors. Our findings establish the STING–IFN-I signalling axis as a critical regulator of physiological nociception and a promising new target for treating chronic pain.
Relevant articles
Open Access articles citing this article.
Kaiyuan Wang

,

Christopher R. Donnelly

…

Ru-Rong Ji

Nature Communications Open Access 27 July 2021

Neuroscience Bulletin Open Access 09 April 2021
Access options
Subscribe to Nature+
Get immediate online access to the entire Nature family of 50+ journals
Subscribe to Journal
Get full journal access for 1 year
$199.00
only $3.90 per issue
All prices are NET prices.
VAT will be added later in the checkout.
Tax calculation will be finalised during checkout.
Buy article
Get time limited or full article access on ReadCube.
$32.00
All prices are NET prices.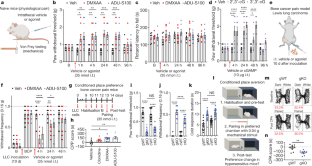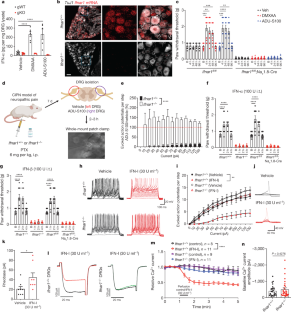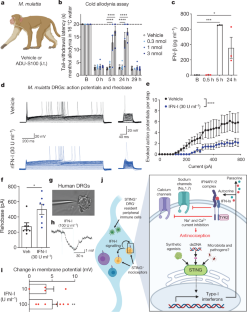 Data availability
Raw data are available from the corresponding author upon request. Source data are provided with this paper.
References
Ishikawa, H. & Barber, G. N. STING is an endoplasmic reticulum adaptor that facilitates innate immune signalling. Nature 455, 674–678 (2008).

Woo, S. R. et al. STING-dependent cytosolic DNA sensing mediates innate immune recognition of immunogenic tumors. Immunity 41, 830–842 (2014).

Kwon, J. & Bakhoum, S. F. The cytosolic DNA-sensing cGAS–STING pathway in cancer. Cancer Discov. 10, 26–39 (2020).

Julius, D. & Basbaum, A. I. Molecular mechanisms of nociception. Nature 413, 203–210 (2001).

Donnelly, C. R., Chen, O. & Ji, R. R. How do sensory neurons sense danger signals? Trends Neurosci. 43, 822–838 (2020).

Sneddon, L. U. Comparative physiology of nociception and pain. Physiology (Bethesda) 33, 63–73 (2018).

Baral, P., Udit, S. & Chiu, I. M. Pain and immunity: implications for host defence. Nat. Rev. Immunol. 19, 433–447 (2019).

Ji, R. R., Chamessian, A. & Zhang, Y. Q. Pain regulation by non-neuronal cells and inflammation. Science 354, 572–577 (2016).

Zheng, Y. et al. Deep sequencing of somatosensory neurons reveals molecular determinants of intrinsic physiological properties. Neuron 103, 598–616.e7 (2019).

Yaksh, T. L. & Rudy, T. A. Analgesia mediated by a direct spinal action of narcotics. Science 192, 1357–1358 (1976).

Costigan, M., Scholz, J. & Woolf, C. J. Neuropathic pain: a maladaptive response of the nervous system to damage. Annu. Rev. Neurosci. 32, 1–32 (2009).

Wang, K. et al. PD-1 blockade inhibits osteoclast formation and murine bone cancer pain. J. Clin. Invest. 130, 3603–3620 (2020).

Mogil, J. S. Animal models of pain: progress and challenges. Nat. Rev. Neurosci. 10, 283–294 (2009).

Navratilova, E. & Porreca, F. Reward and motivation in pain and pain relief. Nat. Neurosci. 17, 1304–1312 (2014).

Ji, R. R., Donnelly, C. R. & Nedergaard, M. Astrocytes in chronic pain and itch. Nat. Rev. Neurosci. 20, 667–685 (2019).

Hummel, M., Lu, P., Cummons, T. A. & Whiteside, G. T. The persistence of a long-term negative affective state following the induction of either acute or chronic pain. Pain 140, 436–445 (2008).

Agarwal, N., Offermanns, S. & Kuner, R. Conditional gene deletion in primary nociceptive neurons of trigeminal ganglia and dorsal root ganglia. Genesis 38, 122–129 (2004).

Haag, S. M. et al. Targeting STING with covalent small-molecule inhibitors. Nature 559, 269–273 (2018).

Usoskin, D. et al. Unbiased classification of sensory neuron types by large-scale single-cell RNA sequencing. Nat. Neurosci 18, 145–153 (2015).

Fensome, A. et al. Dual inhibition of TYK2 and JAK1 for the treatment of autoimmune diseases: discovery of ((S)-2,2-difluorocyclopropyl)((1R,5S)-3-(2-((1-methyl-1H-pyrazol-4-yl)amino)pyrimidin-4-yl)-3,8-diazabicyclo[3.2.1]octan-8-yl)methanone (PF-06700841). J. Med. Chem. 61, 8597–8612 (2018).

Harari, D. et al. Enhanced in vivo efficacy of a type I interferon superagonist with extended plasma half-life in a mouse model of multiple sclerosis. J. Biol. Chem. 289, 29014–29029 (2014).

Barragán-Iglesias, P. et al. Type I interferons act directly on nociceptors to produce pain sensitization: implications for viral infection-induced pain. J. Neurosci. 40, 3517–3532 (2020).

Todd, A. J. Neuronal circuitry for pain processing in the dorsal horn. Nat. Rev. Neurosci. 11, 823–836 (2010).

Sun, L., Wu, J., Du, F., Chen, X. & Chen, Z. J. Cyclic GMP–AMP synthase is a cytosolic DNA sensor that activates the type I interferon pathway. Science 339, 786–791 (2013).

Ivashkiv, L. B. & Donlin, L. T. Regulation of type I interferon responses. Nat. Rev. Immunol. 14, 36–49 (2014).

Binshtok, A. M., Bean, B. P. & Woolf, C. J. Inhibition of nociceptors by TRPV1-mediated entry of impermeant sodium channel blockers. Nature 449, 607–610 (2007).

Hu, E., Calò, G., Guerrini, R. & Ko, M. C. Long-lasting antinociceptive spinal effects in primates of the novel nociceptin/orphanin FQ receptor agonist UFP-112. Pain 148, 107–113 (2010).

Sjöström, S., Tamsen, A., Persson, M. P. & Hartvig, P. Pharmacokinetics of intrathecal morphine and meperidine in humans. Anesthesiology 67, 889–895 (1987).

Crow, M. K., Olferiev, M. & Kirou, K. A. Type I interferons in autoimmune disease. Annu. Rev. Pathol. 14, 369–393 (2019).

Neufeld, N. J., Elnahal, S. M. & Alvarez, R. H. Cancer pain: a review of epidemiology, clinical quality and value impact. Future Oncol. 13, 833–841 (2017).

Sivick, K. E. et al. Magnitude of therapeutic STING activation determines CD8+ T cell-mediated anti-tumor immunity. Cell Rep. 25, 3074–3085.e5 (2018).

Tan, Y. S. et al. Mitigating SOX2-potentiated immune escape of head and neck squamous cell carcinoma with a STING-inducing nanosatellite vaccine. Clin. Cancer Res. 24, 4242–4255 (2018).

Scheu, S., Dresing, P. & Locksley, R. M. Visualization of IFNβ production by plasmacytoid versus conventional dendritic cells under specific stimulation conditions in vivo. Proc. Natl Acad. Sci. USA 105, 20416–20421 (2008).

Sauer, J. D. et al. The N-ethyl-N-nitrosourea-induced Goldenticket mouse mutant reveals an essential function of Sting in the in vivo interferon response to Listeria monocytogenes and cyclic dinucleotides. Infect. Immun. 79, 688–694 (2011).

Jin, L. et al. MPYS is required for IFN response factor 3 activation and type I IFN production in the response of cultured phagocytes to bacterial second messengers cyclic-di-AMP and cyclic-di-GMP. J. Immunol. 187, 2595–2601 (2011).

Prigge, J. R. et al. Type I IFNs act upon hematopoietic progenitors to protect and maintain hematopoiesis during pneumocystis lung infection in mice. J. Immunol. 195, 5347–5357 (2015).

Schoggins, J. W. et al. Pan-viral specificity of IFN-induced genes reveals new roles for cGAS in innate immunity. Nature 505, 691–695 (2014).

Sisignano, M. et al. Targeting CYP2J to reduce paclitaxel-induced peripheral neuropathic pain. Proc. Natl Acad. Sci. USA 113, 12544–12549 (2016).

Chen, G. et al. PD-L1 inhibits acute and chronic pain by suppressing nociceptive neuron activity via PD-1. Nat. Neurosci. 20, 917–926 (2017).

Decosterd, I. & Woolf, C. J. Spared nerve injury: an animal model of persistent peripheral neuropathic pain. Pain 87, 149–158 (2000).

Chaplan, S. R., Bach, F. W., Pogrel, J. W., Chung, J. M. & Yaksh, T. L. Quantitative assessment of tactile allodynia in the rat paw. J. Neurosci. Methods 53, 55–63 (1994).

Chen, G., Park, C. K., Xie, R. G. & Ji, R. R. Intrathecal bone marrow stromal cells inhibit neuropathic pain via TGF-β secretion. J. Clin. Invest. 125, 3226–3240 (2015).

Bouet, V. et al. The adhesive removal test: a sensitive method to assess sensorimotor deficits in mice. Nat. Protoc. 4, 1560–1564 (2009).

King, T. et al. Unmasking the tonic-aversive state in neuropathic pain. Nat. Neurosci. 12, 1364–1366 (2009).

Zhang, Z. et al. Persistent pain facilitates response to morphine reward by downregulation of central amygdala GABAergic function. Nat. Neurosci. 39, 2263–2271 (2014).

Ren, B. X. et al. Intrathecal injection of metabotropic glutamate receptor subtype 3 and 5 agonist/antagonist attenuates bone cancer pain by inhibition of spinal astrocyte activation in a mouse model. Anesthesiology 116, 122–132 (2012).

Demaria, O. et al. STING activation of tumor endothelial cells initiates spontaneous and therapeutic antitumor immunity. Proc. Natl Acad. Sci. USA 112, 15408–15413 (2015).

Xu, Z. Z. et al. Inhibition of mechanical allodynia in neuropathic pain by TLR5-mediated A-fiber blockade. Nat. Med. 21, 1326–1331 (2015).

Wang, Z. et al. Anti-PD-1 treatment impairs opioid antinociception in rodents and nonhuman primates. Sci. Transl. Med. 12, eaaw6471 (2020).

Jiang, C. et al. PD-1 Regulates GABAergic neurotransmission and GABA-mediated analgesia and anesthesia. iScience 23, 101570 (2020).
Acknowledgements
We thank J. P.-Y. Ting and B. D. X. Lascelles for helpful discussions and R. Kuner for providing Nav1.8-cre mice. This study was supported by Duke University Anesthesiology research funds and Duke Microbiome Center fund granted to R.-R.J. C.R.D. was also supported by the International Association for the Study of Pain John J. Bonica Trainee Fellowship, NIH T32 training grant GM008600, and the Department of Anesthesiology, Duke University. M.-C.K. and the monkey study was supported by NIH R21 grant DA044450.
Ethics declarations
Competing interests
R.-R.J. is a consultant of Boston Scientific and received research support from the company unrelated to the present study. C.R.D. and R.-R.J. have also filed a patent, 'Treatment of Neuropathic and Cancer Pain Using Agonists of Stimulator of Interferon Response cGAMP Interactor-1 (STING1)' in association with Duke University. The other authors declare no competing interests.
Additional information
Peer review information Nature thanks Bruce Bean, Marzia Malcangio and the other, anonymous, reviewer(s) for their contribution to the peer review of this work. Peer reviewer reports are available.
Publisher's note Springer Nature remains neutral with regard to jurisdictional claims in published maps and institutional affiliations.
Extended data figures and tables
Supplementary information
This file contains Supplementary Table 1, which describes the complete list of genotypes, treatment groups, animal sex, and total animal numbers for each figure.
About this article
Cite this article
Donnelly, C.R., Jiang, C., Andriessen, A.S. et al. STING controls nociception via type I interferon signalling in sensory neurons. Nature 591, 275–280 (2021). https://doi.org/10.1038/s41586-020-03151-1
Received:

Accepted:

Published:

Issue Date:

DOI: https://doi.org/10.1038/s41586-020-03151-1
Comments
By submitting a comment you agree to abide by our Terms and Community Guidelines. If you find something abusive or that does not comply with our terms or guidelines please flag it as inappropriate.