Abstract
In 1986, electron microscopy was used to reconstruct by hand the entire nervous system of a roundworm, the nematode Caenorhabditis elegans1. Since this landmark study, high-throughput electron-microscopic techniques have enabled reconstructions of much larger mammalian brain circuits at synaptic resolution2,3. Nevertheless, it remains unknown how the structure of a synapse relates to its physiological transmission strength—a key limitation for inferring brain function from neuronal wiring diagrams. Here we combine slice electrophysiology of synaptically connected pyramidal neurons in the mouse somatosensory cortex with correlated light microscopy and high-resolution electron microscopy of all putative synaptic contacts between the recorded neurons. We find a linear relationship between synapse size and strength, providing the missing link in assigning physiological weights to synapses reconstructed from electron microscopy. Quantal analysis also reveals that synapses contain at least 2.7 neurotransmitter-release sites on average. This challenges existing release models and provides further evidence that neocortical synapses operate with multivesicular release4,5,6, suggesting that they are more complex computational devices than thought, and therefore expanding the computational power of the canonical cortical microcircuitry.
Relevant articles
Open Access articles citing this article.
Fabian W. Vogel

,

Sercan Alipek

…

Matthias Kaschube

Scientific Reports Open Access 22 November 2023

Tyler R. Sizemore

,

Julius Jonaitis

&

Andrew M. Dacks

Nature Communications Open Access 30 August 2023

Chad P. Grabner

,

Daiki Futagi

…

Steven H. DeVries

Nature Communications Open Access 16 June 2023
Access options
Access Nature and 54 other Nature Portfolio journals
Get Nature+, our best-value online-access subscription
$29.99 / 30 days
cancel any time
Subscribe to this journal
Receive 51 print issues and online access
$199.00 per year
only $3.90 per issue
Rent or buy this article
Prices vary by article type
from$1.95
to$39.95
Prices may be subject to local taxes which are calculated during checkout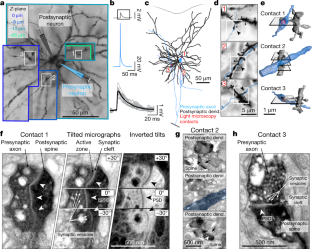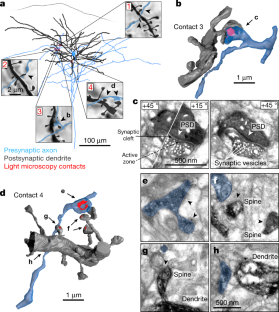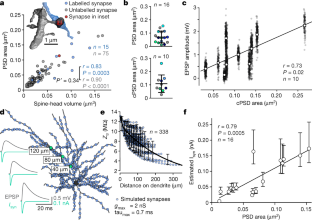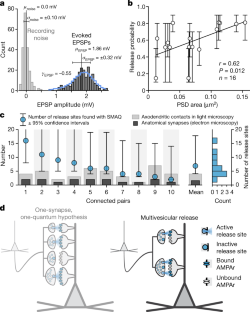 Data availability
A preprint of this study was published on bioRxiv (https://doi.org/10.1101/2019.12.13.875971). Source data underlying all graphical representations are provided with the paper. Further data generated here are available from corresponding author upon request. Source data are provided with this paper.
References
White, J. G., Southgate, E., Thomson, J. N. & Brenner, S. The structure of the nervous system of the nematode Caenorhabditis elegans. Phil. Trans. Royal Soc. B 314, 1–340 (1986).

Kasthuri, N. et al. Saturated reconstruction of a volume of neocortex. Cell 162, 648–661 (2015).

Motta, A. et al. Dense connectomic reconstruction in layer 4 of the somatosensory cortex. Science 366, eaay3134 (2019).

Loebel, A. et al. Multiquantal release underlies the distribution of synaptic efficacies in the neocortex. Front. Comput. Neurosci. 3, 27 (2009).

Huang, C.-H., Bao, J. & Sakaba, T. Multivesicular release differentiates the reliability of synaptic transmission between the visual cortex and the somatosensory cortex. J. Neurosci. 30, 11994–12004 (2010).

Rollenhagen, A. et al. Structural properties of synaptic transmission and temporal dynamics at excitatory layer 5B synapses in the adult rat somatosensory cortex. Front. Synaptic Neurosci. 10, 24 (2018).

Del Castillo, J. & Katz, B. Quantal components of the end-plate potential. J. Physiol. 124, 560–573 (1954).

Larkman, A., Hannay, T., Stratford, K. & Jack, J. Presynaptic release probability influences the locus of long-term potentiation. Nature 360, 70–73 (1992).

Nusser, Z. et al. Cell type and pathway dependence of synaptic AMPA receptor number and variability in the hippocampus. Neuron 21, 545–559 (1998).

Kharazia, V. N. & Weinberg, R. J. Immunogold localization of AMPA and NMDA receptors in somatic sensory cortex of albino rat. J. Comp. Neurol. 412, 292–302 (1999).

Harris, K. M., Jensen, F. E. & Tsao, B. Three-dimensional structure of dendritic spines and synapses in rat hippocampus (CA1) at postnatal day 15 and adult ages: implications for the maturation of synaptic physiology and long-term potentiation. J. Neurosci. 12, 2685–2705 (1992).

Arellano, J. I., Benavides-Piccione, R., DeFelipe, J. & Yuste, R. Ultrastructure of dendritic spines: correlation between synaptic and spine morphologies. Front. Neurosci. 1, 131–143 (2007).

Bopp, R., Holler-Rickauer, S., Martin, K. A. C. & Schuhknecht, G. F. P. An ultrastructural study of the thalamic input to layer 4 of primary motor and primary somatosensory cortex in the mouse. J. Neurosci. 37, 2435–2448 (2017).

Matsuzaki, M., Honkura, N., Ellis-Davies, G. C. R. & Kasai, H. Structural basis of long-term potentiation in single dendritic spines. Nature 429, 761–766 (2004).

Holtmaat, A. & Svoboda, K. Experience-dependent structural synaptic plasticity in the mammalian brain. Nat. Rev. Neurosci. 10, 647–658 (2009).

Jovanic, T. et al. Competitive disinhibition mediates behavioral choice and sequences in Drosophila. Cell 167, 858–870 (2016).

Silver, R. A., Lübke, J., Sakmann, B. & Feldmeyer, D. High-probability uniquantal transmission at excitatory synapses in barrel cortex. Science 302, 1981–1984 (2003).

Hardingham, N. R. et al. Quantal analysis reveals a functional correlation between presynaptic and postsynaptic efficacy in excitatory connections from rat neocortex. J. Neurosci. 30, 1441–1451 (2010).

Rudolph, S., Tsai, M.-C., von Gersdorff, H. & Wadiche, J. I. The ubiquitous nature of multivesicular release. Trends Neurosci. 38, 428–438 (2015).

Frerking, M. & Wilson, M. Saturation of postsynaptic receptors at central synapses? Curr. Opin. Neurobiol. 6, 395–403 (1996).

da Costa, N. M. & Martin, K. A. C. Selective targeting of the dendrites of corticothalamic cells by thalamic afferents in area 17 of the cat. J. Neurosci. 29, 13919–13928 (2009).

Markram, H., Lübke, J., Frotscher, M., Roth, A. & Sakmann, B. Physiology and anatomy of synaptic connections between thick tufted pyramidal neurones in the developing rat neocortex. J. Physiol. 500, 409–440 (1997).

Feldmeyer, D., Lübke, J. & Sakmann, B. Efficacy and connectivity of intracolumnar pairs of layer 2/3 pyramidal cells in the barrel cortex of juvenile rats. J. Physiol. 575, 583–602 (2006).

Polsky, A., Mel, B. W. & Schiller, J. Computational subunits in thin dendrites of pyramidal cells. Nat. Neurosci. 7, 621–627 (2004).

Larkum, M. E., Waters, J., Sakmann, B. & Helmchen, F. Dendritic spikes in apical dendrites of neocortical layer 2/3 pyramidal neurons. J. Neurosci. 27, 8999–9008 (2007).

Ulrich, D. & Stricker, C. Dendrosomatic voltage and charge transfer in rat neocortical pyramidal cells in vitro. J. Neurophysiol. 84, 1445–1452 (2000).

Jaffe, D. B. & Carnevale, N. T. Passive normalization of synaptic integration influenced by dendritic architecture. J. Neurophysiol. 82, 3268–3285 (1999).

Araya, R., Vogels, T. P. & Yuste, R. Activity-dependent dendritic spine neck changes are correlated with synaptic strength. Proc. Natl Acad. Sci. USA 111, E2895–E2904 (2014).

Harris, K. M. & Stevens, J. K. Dendritic spines of CA1 pyramidal cells in the rat hippocampus: serial electron microscopy with reference to their biophysical characteristics. J. Neurosci. 9, 2982–2997 (1989).

Nair, D. et al. Super-resolution imaging reveals that AMPA receptors inside synapses are dynamically organized in nanodomains regulated by PSD95. J. Neurosci. 33, 13204–13224 (2013).

Tang, A.-H. et al. A trans-synaptic nanocolumn aligns neurotransmitter release to receptors. Nature 536, 210–214 (2016).

Raghavachari, S. & Lisman, J. E. Properties of quantal transmission at CA1 synapses. J. Neurophysiol. 92, 2456–2467 (2004).

Taschenberger, H., Scheuss, V. & Neher, E. Release kinetics, quantal parameters and their modulation during short-term depression at a developing synapse in the rat CNS. J. Physiol. 568, 513–537 (2005).

Holderith, N. et al. Release probability of hippocampal glutamatergic terminals scales with the size of the active zone. Nat. Neurosci. 15, 988–997 (2012).

Stepanyants, A., Hof, P. R. & Chklovskii, D. B. Geometry and structural plasticity of synaptic connectivity. Neuron 34, 275–288 (2002).

Shepherd, G. M., Stepanyants, A., Bureau, I., Chklovskii, D. & Svoboda, K. Geometric and functional organization of cortical circuits. Nat. Neurosci. 8, 782–790 (2005).

Reimann, M. W., King, J. G., Muller, E. B., Ramaswamy, S. & Markram, H. An algorithm to predict the connectome of neural microcircuits. Front. Comput. Neurosci. 9, 120 (2015).

Wahl, L. M., Pouzat, C. & Stratford, K. J. Monte Carlo simulation of fast excitatory synaptic transmission at a hippocampal synapse. J. Neurophysiol. 75, 597–608 (1996).

Emes, R. D. & Grant, S. G. N. Evolution of synapse complexity and diversity. Annu. Rev. Neurosci. 35, 111–131 (2012).

Oertner, T. G., Sabatini, B. L., Nimchinsky, E. A. & Svoboda, K. Facilitation at single synapses probed with optical quantal analysis. Nat. Neurosci. 5, 657–664 (2002).

Tong, G. & Jahr, C. E. Multivesicular release from excitatory synapses of cultured hippocampal neurons. Neuron 12, 51–59 (1994).

Haas, K. T. et al. Pre-post synaptic alignment through neuroligin-1 tunes synaptic transmission efficiency. eLife 7, e31755 (2018).

Hardingham, N. R. et al. Extracellular calcium regulates postsynaptic efficacy through group 1 metabotropic glutamate receptors. J. Neurosci. 26, 6337–6345 (2006).

Hardingham, N. R., Hardingham, G. E., Fox, K. D. & Jack, J. J. B. Presynaptic efficacy directs normalization of synaptic strength in layer 2/3 rat neocortex after paired activity. J. Neurophysiol. 97, 2965–2975 (2007).

Hestrin, S., Sah, P. & Nicoll, R. A. Mechanisms generating the time course of dual component excitatory synaptic currents recorded in hippocampal slices. Neuron 5, 247–253 (1990).

Guzman, S. J., Schlögl, A. & Schmidt-Hieber, C. Stimfit: quantifying electrophysiological data with Python. Front. Neuroinform. 8, 16 (2014).

Cardona, A. et al. TrakEM2 software for neural circuit reconstruction. PLoS ONE 7, e38011 (2012).

da Costa, N. M. & Martin, K. A. C. The proportion of synapses formed by the axons of the lateral geniculate nucleus in layer 4 of area 17 of the cat. J. Comp. Neurol. 516, 264–276 (2009).

Nevian, T., Larkum, M. E., Polsky, A. & Schiller, J. Properties of basal dendrites of layer 5 pyramidal neurons: a direct patch-clamp recording study. Nat. Neurosci. 10, 206–214 (2007).

Branco, T., Clark, B. A. & Häusser, M. Dendritic discrimination of temporal input sequences in cortical neurons. Science 329, 1671–1675 (2010).

Smith, S. L., Smith, I. T., Branco, T. & Häusser, M. Dendritic spikes enhance stimulus selectivity in cortical neurons in vivo. Nature 503, 115–120 (2013).

Ferrarese, L. et al. Dendrite-specific amplification of weak synaptic input during network activity in vivo. Cell Rep. 24, 3455–3465 (2018).

Stuart, G. & Spruston, N. Determinants of voltage attenuation in neocortical pyramidal neuron dendrites. J. Neurosci. 18, 3501–3510 (1998).

Branco, T. & Häusser, M. Synaptic integration gradients in single cortical pyramidal cell dendrites. Neuron 69, 885–892 (2011).

Ujfalussy, B. B., Makara, J. K., Lengyel, M. & Branco, T. Global and multiplexed dendritic computations under in vivo-like conditions. Neuron 100, 579–592 (2018).

Koch, C. Biophysics of Computation: Information Processing in Single Neurons. (Oxford Univ. Press, 2004).

Jack, J. J. B., Kullmann, D. M., Larkman, A. U., Major, G. & Stratford, K. J. Quantal analysis of excitatory synaptic mechanisms in the mammalian central nervous system. Cold Spring Harb. Symp. Quant. Biol. 55, 57–67 (1990).

Jack, J. J., Larkman, A. U., Major, G. & Stratford, K. J. Quantal analysis of the synaptic excitation of CA1 hippocampal pyramidal cells. Adv. Second Messenger Phosphoprotein Res. 29, 275–299 (1994).
Acknowledgements
We thank O. Ohana for training and sharing expertise in patch-clamp recordings; S. Solinas for assistance with NEURON simulations; S. Soldado-Magraner, A. Huber and J. C. Anderson for constant support; and M. Buchholz and F. Engert for comments on the manuscript. As members of the Institute of Neuroinformatics, we are signatories of the Basel Declaration. This work was supported by the Swiss Society for Neuroscience and the Neuroscience Center Zurich (to G.F.P.S.) and by funding from the University of Zurich (to K.A.C.M.).
Ethics declarations
Competing interests
The authors declare no competing interests.
Additional information
Peer review information Nature thanks Tianyi Mao, Andreas Tolias and the other, anonymous, reviewer(s) for their contribution to the peer review of this work.
Publisher's note Springer Nature remains neutral with regard to jurisdictional claims in published maps and institutional affiliations.
Extended data figures and tables
Supplementary information
Supplementary Discussion: Discussion of previous experimental and modeling work in rodent barrel cortex and our own data highlighting that dendritic trees of L2/3 pyramidal neurons behave as passive, linear structures under the experimental paradigm used in our study – thus justifying the use of a passive compartmental model.
Series of consecutive cross-sections through synapse shown in Fig. 1f and Extended Data Fig. 2a. The video shows micrographs of all consecutive sections through the synaptic contact (left panel), collages of optimal tilt angles for all micrographs containing synaptic specializations (centre left panel), color-inverted images of these tilted micrographs (centre right panel) and our reconstruction (right panel). The video contains all information used by the authors to identify and reconstruct PSDs.
About this article
Cite this article
Holler, S., Köstinger, G., Martin, K.A.C. et al. Structure and function of a neocortical synapse. Nature 591, 111–116 (2021). https://doi.org/10.1038/s41586-020-03134-2
Received:

Accepted:

Published:

Issue Date:

DOI: https://doi.org/10.1038/s41586-020-03134-2
Comments
By submitting a comment you agree to abide by our Terms and Community Guidelines. If you find something abusive or that does not comply with our terms or guidelines please flag it as inappropriate.