Abstract
The activation of mostly quiescent haematopoietic stem cells (HSCs) is a prerequisite for life-long production of blood cells1. This process requires major molecular adaptations to allow HSCs to meet the regulatory and metabolic requirements for cell division2,3,4. The mechanisms that govern cellular reprograming upon stem-cell activation, and the subsequent return of stem cells to quiescence, have not been fully characterized. Here we show that chaperone-mediated autophagy (CMA)5, a selective form of lysosomal protein degradation, is involved in sustaining HSC function in adult mice. CMA is required for protein quality control in stem cells and for the upregulation of fatty acid metabolism upon HSC activation. We find that CMA activity in HSCs decreases with age and show that genetic or pharmacological activation of CMA can restore the functionality of old mouse and human HSCs. Together, our findings provide mechanistic insights into a role for CMA in sustaining quality control, appropriate energetics and overall long-term HSC function. Our work suggests that CMA may be a promising therapeutic target for enhancing HSC function in conditions such as ageing or stem-cell transplantation.
Relevant articles
Open Access articles citing this article.
Shao Ning Shen

,

Dong Xiao Wu

…

Pei Jian Tong

BMC Musculoskeletal Disorders Open Access 17 June 2022

Caixia Jin

,

Qingjian Ou

…

Guo-Tong Xu

Stem Cell Research & Therapy Open Access 01 April 2022

Li Li

,

Dongming Wu

…

Ying Xu

Cell Death Discovery Open Access 26 February 2022
Access options
Subscribe to Nature+
Get immediate online access to Nature and 55 other Nature journal
Subscribe to Journal
Get full journal access for 1 year
$199.00
only $3.90 per issue
All prices are NET prices.
VAT will be added later in the checkout.
Tax calculation will be finalised during checkout.
Buy article
Get time limited or full article access on ReadCube.
$32.00
All prices are NET prices.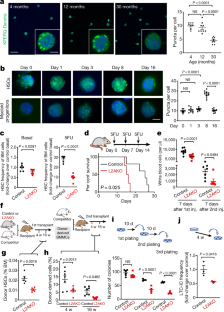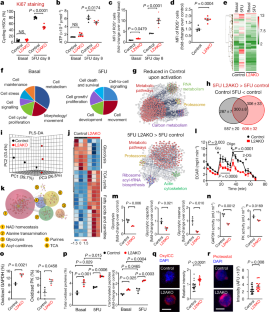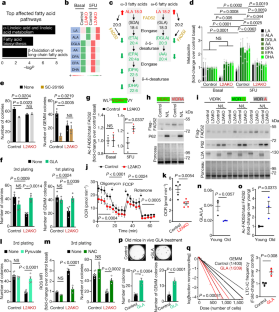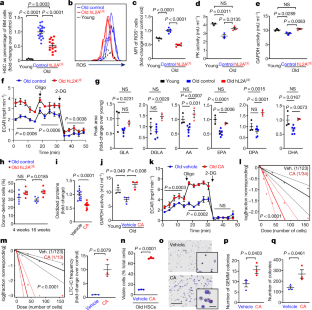 Data availability
There are no restrictions on data availability in this manuscript. All the information is included in the manuscript. Source data for all main and Extended Data Figures are available online as separate Excel files for each figure. Transcriptomic data have been deposited in GEO with accession number GSE142632. The mass spectrometry proteomics data have been deposited to the ProteomeXchange Consortium via the PRIDE partner repository with the data set identifier PXD022196 (http://www.ebi.ac.uk/pride/archive/projects/PXD022196). Access to the STRING database is through https://string-db.org/. Source data are provided with this paper.
References
Spangrude, G. J., Heimfeld, S. & Weissman, I. L. Purification and characterization of mouse hematopoietic stem cells. Science 241, 58–62 (1988).

Ito, K. et al. Self-renewal of a purified Tie2+ hematopoietic stem cell population relies on mitochondrial clearance. Science 354, 1156–1160 (2016).

Wilson, A. et al. c-Myc controls the balance between hematopoietic stem cell self-renewal and differentiation. Genes Dev. 18, 2747–2763 (2004).

Suda, T., Takubo, K. & Semenza, G. L. Metabolic regulation of hematopoietic stem cells in the hypoxic niche. Cell Stem Cell 9, 298–310 (2011).

Kaushik, S. & Cuervo, A. M. The coming of age of chaperone-mediated autophagy. Nat. Rev. Mol. Cell Biol. 19, 365–381 (2018).

Arai, F. et al. Tie2/angiopoietin-1 signaling regulates hematopoietic stem cell quiescence in the bone marrow niche. Cell 118, 149–161 (2004).

Katayama, Y. et al. Signals from the sympathetic nervous system regulate hematopoietic stem cell egress from bone marrow. Cell 124, 407–421 (2006).

Mortensen, M. et al. The autophagy protein Atg7 is essential for hematopoietic stem cell maintenance. J. Exp. Med. 208, 455–467 (2011).

Signer, R. A., Magee, J. A., Salic, A. & Morrison, S. J. Haematopoietic stem cells require a highly regulated protein synthesis rate. Nature 509, 49–54 (2014).

Dykstra, B., Olthof, S., Schreuder, J., Ritsema, M. & de Haan, G. Clonal analysis reveals multiple functional defects of aged murine hematopoietic stem cells. J. Exp. Med. 208, 2691–2703 (2011).

Sudo, K., Ema, H., Morita, Y. & Nakauchi, H. Age-associated characteristics of murine hematopoietic stem cells. J. Exp. Med. 192, 1273–1280 (2000).

Beerman, I. et al. Functionally distinct hematopoietic stem cells modulate hematopoietic lineage potential during aging by a mechanism of clonal expansion. Proc. Natl Acad. Sci. USA 107, 5465–5470 (2010).

Rossi, D. J. et al. Deficiencies in DNA damage repair limit the function of haematopoietic stem cells with age. Nature 447, 725–729 (2007).

Yahata, T. et al. Accumulation of oxidative DNA damage restricts the self-renewal capacity of human hematopoietic stem cells. Blood 118, 2941–2950 (2011).

Mohrin, M. et al. A mitochondrial UPR-mediated metabolic checkpoint regulates hematopoietic stem cell aging. Science 347, 1374–1377 (2015).

Warr, M. R. et al. FOXO3A directs a protective autophagy program in haematopoietic stem cells. Nature 494, 323–327 (2013).

Xie, S. Z. et al. Sphingolipid modulation activates proteostasis programs to govern human hematopoietic stem cell self-renewal. Cell Stem Cell 25, 639–653.e7 (2019).

Ho, T. T. et al. Autophagy maintains the metabolism and function of young and old stem cells. Nature 543, 205–210 (2017).

Kirchner, P. et al. Proteome-wide analysis of chaperone-mediated autophagy targeting motifs. PLoS Biol. 17, e3000301 (2019).

Thompson, L. M. et al. IKK phosphorylates Huntingtin and targets it for degradation by the proteasome and lysosome. J. Cell Biol. 187, 1083–1099 (2009).

Lv, L. et al. Acetylation targets the M2 isoform of pyruvate kinase for degradation through chaperone-mediated autophagy and promotes tumor growth. Mol. Cell 42, 719–730 (2011).

Cuervo, A. M. & Dice, J. F. A receptor for the selective uptake and degradation of proteins by lysosomes. Science 273, 501–503 (1996).

Valdor, R. et al. Chaperone-mediated autophagy regulates T cell responses through targeted degradation of negative regulators of T cell activation. Nat. Immunol. 15, 1046–1054 (2014).

Park, C., Suh, Y. & Cuervo, A. M. Regulated degradation of Chk1 by chaperone-mediated autophagy in response to DNA damage. Nat. Commun. 6, 6823 (2015).

Schneider, J. L., Suh, Y. & Cuervo, A. M. Deficient chaperone-mediated autophagy in liver leads to metabolic dysregulation. Cell Metab. 20, 417–432 (2014).

Gao, L. et al. Oxidation of survival factor MEF2D in neuronal death and Parkinson's disease. Antioxid. Redox Signal. 20, 2936–2948 (2014).

Cuervo, A. M. & Dice, J. F. Age-related decline in chaperone-mediated autophagy. J. Biol. Chem. 275, 31505–31513 (2000).

Sooparb, S., Price, S. R., Shaoguang, J. & Franch, H. A. Suppression of chaperone-mediated autophagy in the renal cortex during acute diabetes mellitus. Kidney Int. 65, 2135–2144 (2004).

Cuervo, A. M., Stefanis, L., Fredenburg, R., Lansbury, P. T. & Sulzer, D. Impaired degradation of mutant α-synuclein by chaperone-mediated autophagy. Science 305, 1292–1295 (2004).

Dong, S. et al. Monitoring spatiotemporal changes in chaperone-mediated autophagy in vivo. Nat. Commun. 11, 645 (2020).

Hennrich, M. L. et al. Cell-specific proteome analyses of human bone marrow reveal molecular features of age-dependent functional decline. Nat. Commun. 9, 4004 (2018).

Randall, T. D. & Weissman, I. L. Phenotypic and functional changes induced at the clonal level in hematopoietic stem cells after 5-fluorouracil treatment. Blood 89, 3596–3606 (1997).

Simsek, T. et al. The distinct metabolic profile of hematopoietic stem cells reflects their location in a hypoxic niche. Cell Stem Cell 7, 380–390 (2010).

Vagner, M. & Santigosa, E. Characterization and modulation of gene expression and enzymatic activity of delta-6 desaturase in teleosts: a review. Aquaculture 315, 131–143 (2011).

Fernanda Cury-Boaventura, M., Cristine Kanunfre, C., Gorjão, R., Martins de Lima, T. & Curi, R. Mechanisms involved in Jurkat cell death induced by oleic and linoleic acids. Clin. Nutr. 25, 1004–1014 (2006).

de Kok, T. M. et al. Analysis of oxidative DNA damage after human dietary supplementation with linoleic acid. Food Chem. Toxicol. 41, 351–358 (2003).

Zhang, C. & Cuervo, A. M. Restoration of chaperone-mediated autophagy in aging liver improves cellular maintenance and hepatic function. Nat. Med. 14, 959–965 (2008).

Anguiano, J. et al. Chemical modulation of chaperone-mediated autophagy by retinoic acid derivatives. Nat. Chem. Biol. 9, 374–382 (2013).

Massey, A. C., Kaushik, S., Sovak, G., Kiffin, R. & Cuervo, A. M. Consequences of the selective blockage of chaperone-mediated autophagy. Proc. Natl Acad. Sci. USA 103, 5805–5810 (2006).

D'Alessandro, A. et al. Donor sex, age and ethnicity impact stored red blood cell antioxidant metabolism through mechanisms in part explained by glucose 6-phosphate dehydrogenase levels and activity. Haematologica https://doi.org/10.3324/haematol.2020.246603 (2020).

Kao, Y. R. et al. Thrombopoietin receptor-independent stimulation of hematopoietic stem cells by eltrombopag. Sci. Transl. Med. 10, eaas9563 (2018).

Wilkinson, A. C., Ishida, R., Nakauchi, H. & Yamazaki, S. Long-term ex vivo expansion of mouse hematopoietic stem cells. Nat. Protocols 15, 628–648 (2020).

Dzieciatkowska, M., Hill, R. & Hansen, K. C. GeLC-MS/MS analysis of complex protein mixtures. Methods Mol. Biol. 1156, 53–66 (2014).

Das, C., Lucia, M. S., Hansen, K. C. & Tyler, J. K. CBP/p300-mediated acetylation of histone H3 on lysine 56. Nature 459, 113–117 (2009).

Reisz, J. A., Zheng, C., D'Alessandro, A. & Nemkov, T. Untargeted and semi-targeted lipid analysis of biological samples using mass spectrometry-based metabolomics. Methods Mol. Biol. 1978, 121–135 (2019).

Nemkov, T., Reisz, J. A., Gehrke, S., Hansen, K. C. & D'Alessandro, A. High-throughput metabolomics: isocratic and gradient mass spectrometry-based methods. Methods Mol. Biol. 1978, 13–26 (2019).
Acknowledgements
We thank J. Zhang at the Cell Sorting Core Facility, D. Sun at the Stem Cell Isolation and Xenotransplantation facility and experts at the Analytical Image Facilities at Einstein (NCI P30CA013330) for technical assistance; M. Bourdenx for assistance with computational analysis and A. Verma and R. Elkind at Montefiore Medical Center for human hematopoietic stem-cell specimens. This work was supported by grants from the National Institutes of Health: AG021904, AG038072 and DK098408 (to A.M.C.), AG031782 (to A.M.C. and E.G.), DK105134 and CA230756 (to B.W.), R01HL146442, R01HL149714, R01HL148151 and R21HL150032 (to A.D'A.) and by the generous support of the Rainwaters Foundation (to A.M.C. and E.G.), the JPB foundation and Robert and Renée Belfer. Y.R.K. is the recipient of a T32 Training in Aging research grant (PI: Barzilai, AG023475).
Ethics declarations
Competing interests
A.M.C. and E.G. are cofounders of Selphagy Therapeutics (Boston, MA, USA). The CA compound is under the following patent: Retinoic acid receptor antagonists as chaperone-mediated autophagy modulators and uses thereof. Gavathiotis, E., Cuervo. A. M., Xin, Q., Das, B. C. United States patent US9512092, granted 16 December 2016. All other authors declare no competing interests.
Additional information
Peer review information Nature thanks Danica Chen and the other, anonymous, reviewer(s) for their contribution to the peer review of this work.
Publisher's note Springer Nature remains neutral with regard to jurisdictional claims in published maps and institutional affiliations.
Extended data figures and tables
Supplementary information
This file contains Supplementary Discussion and references, Supplementary Figures, SI Fig. 1. Uncropped immunoblots from main Fig. 3 and SI Fig. 2. Gating strategies used in main and Extended Data figures.
About this article
Cite this article
Dong, S., Wang, Q., Kao, YR. et al. Chaperone-mediated autophagy sustains haematopoietic stem-cell function. Nature 591, 117–123 (2021). https://doi.org/10.1038/s41586-020-03129-z
Received:

Accepted:

Published:

Issue Date:

DOI: https://doi.org/10.1038/s41586-020-03129-z
Comments
By submitting a comment you agree to abide by our Terms and Community Guidelines. If you find something abusive or that does not comply with our terms or guidelines please flag it as inappropriate.