Abstract
RAG endonuclease initiates Igh V(D)J recombination in progenitor B cells by binding a JH-recombination signal sequence (RSS) within a recombination centre (RC) and then linearly scanning upstream chromatin, presented by loop extrusion mediated by cohesin, for convergent D-RSSs1,2. The utilization of convergently oriented RSSs and cryptic RSSs is intrinsic to long-range RAG scanning3. Scanning of RAG from the DJH-RC-RSS to upstream convergent VH-RSSs is impeded by D-proximal CTCF-binding elements (CBEs)2,3,4,5. Primary progenitor B cells undergo a mechanistically undefined contraction of the VH locus that is proposed to provide distal VHs access to the DJH-RC6,7,8,9. Here we report that an inversion of the entire 2.4-Mb VH locus in mouse primary progenitor B cells abrogates rearrangement of both VH-RSSs and normally convergent cryptic RSSs, even though locus contraction still occurs. In addition, this inversion activated both the utilization of cryptic VH-RSSs that are normally in opposite orientation and RAG scanning beyond the VH locus through several convergent CBE domains to the telomere. Together, these findings imply that broad deregulation of CBE impediments in primary progenitor B cells promotes RAG scanning of the VH locus mediated by loop extrusion. We further found that the expression of wings apart-like protein homologue (WAPL)10, a cohesin-unloading factor, was low in primary progenitor B cells compared with v-Abl-transformed progenitor B cell lines that lacked contraction and RAG scanning of the VH locus. Correspondingly, depletion of WAPL in v-Abl-transformed lines activated both processes, further implicating loop extrusion in the locus contraction mechanism.
Relevant articles
Open Access articles citing this article.
Louisa Hill

,

Gordana Wutz

…

Meinrad Busslinger

Nature Communications Open Access 21 April 2023

Jin H. Yang

,

Hugo B. Brandão

&

Anders S. Hansen

Nature Communications Open Access 06 April 2023

Khalid H. Bhat

,

Saurabh Priyadarshi

…

Amy L. Kenter

Nature Communications Open Access 03 March 2023
Access options
Access Nature and 54 other Nature Portfolio journals
Get Nature+, our best-value online-access subscription
$29.99 / 30 days
cancel any time
Subscribe to this journal
Receive 51 print issues and online access
$199.00 per year
only $3.90 per issue
Rent or buy this article
Prices vary by article type
from$1.95
to$39.95
Prices may be subject to local taxes which are calculated during checkout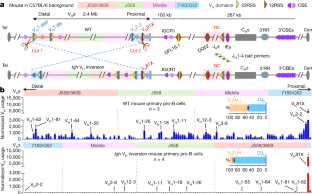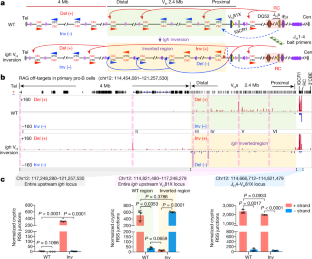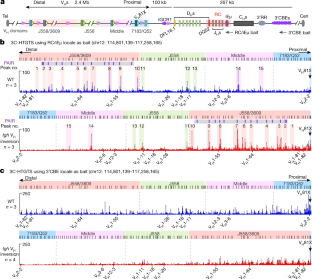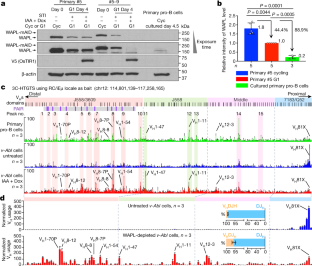 Data availability
HTGTS-V(D)J-seq, 3C-HTGTS, ChIP–seq and GRO-seq data reported in this study have been deposited in the GEO database under the accession number GSE151910. Source data are provided with this paper.
References
Zhang, Y. et al. The fundamental role of chromatin loop extrusion in physiological V(D)J recombination. Nature 573, 600–604 (2019).

Ba, Z. et al. CTCF orchestrates long-range cohesin-driven V(D)J recombinational scanning. Nature 586, 305–310 (2020).

Hu, J. et al. Chromosomal loop domains direct the recombination of antigen receptor genes. Cell 163, 947–959 (2015).

Guo, C. et al. CTCF-binding elements mediate control of V(D)J recombination. Nature 477, 424–430 (2011).

Jain, S., Ba, Z., Zhang, Y., Dai, H. Q. & Alt, F. W. CTCF-binding elements mediate accessibility of RAG substrates during chromatin scanning. Cell 174, 102–116.e14 (2018).

Lucas, J. S., Zhang, Y., Dudko, O. K. & Murre, C. 3D trajectories adopted by coding and regulatory DNA elements: first-passage times for genomic interactions. Cell 158, 339–352 (2014).

Medvedovic, J. et al. Flexible long-range loops in the VH gene region of the Igh locus facilitate the generation of a diverse antibody repertoire. Immunity 39, 229–244 (2013).

Proudhon, C., Hao, B., Raviram, R., Chaumeil, J. & Skok, J. A. Long-range regulation of V(D)J recombination. Adv. Immunol. 128, 123–182 (2015).

Ebert, A., Hill, L. & Busslinger, M. Spatial regulation of V-(D)J recombination at antigen receptor loci. Adv. Immunol. 128, 93–121 (2015).

Kueng, S. et al. Wapl controls the dynamic association of cohesin with chromatin. Cell 127, 955–967 (2006).

Bolland, D. J. et al. Two mutually exclusive local chromatin states drive efficient V(D)J recombination. Cell Rep. 15, 2475–2487 (2016).

Choi, N. M. et al. Deep sequencing of the murine IgH repertoire reveals complex regulation of nonrandom V gene rearrangement frequencies. J. Immunol. 191, 2393–2402 (2013).

Lin, S. G. et al. Highly sensitive and unbiased approach for elucidating antibody repertoires. Proc. Natl Acad. Sci. USA 113, 7846–7851 (2016).

Hu, J. et al. Detecting DNA double-stranded breaks in mammalian genomes by linear amplification-mediated high-throughput genome-wide translocation sequencing. Nat. Protoc. 11, 853–871 (2016).

Ebert, A. et al. The distal V(H) gene cluster of the Igh locus contains distinct regulatory elements with Pax5 transcription factor-dependent activity in pro-B cells. Immunity 34, 175–187 (2011).

Hill, L. et al. Wapl repression by Pax5 promotes V gene recombination by Igh loop extrusion. Nature 584, 142–147 (2020).

Zhang, X. et al. Fundamental roles of chromatin loop extrusion in antibody class switching. Nature 575, 385–389 (2019).

Muljo, S. A. & Schlissel, M. S. A small molecule Abl kinase inhibitor induces differentiation of Abelson virus-transformed pre-B cell lines. Nat. Immunol. 4, 31–37 (2003).

Bredemeyer, A. L. et al. ATM stabilizes DNA double-strand-break complexes during V(D)J recombination. Nature 442, 466–470 (2006).

Barajas-Mora, E. M. et al. A B-cell-specific enhancer orchestrates nuclear architecture to generate a diverse antigen receptor repertoire. Mol. Cell 73, 48–60.e5 (2019).

Buheitel, J. & Stemmann, O. Prophase pathway-dependent removal of cohesin from human chromosomes requires opening of the Smc3-Scc1 gate. EMBO J. 32, 666–676 (2013).

Eichinger, C. S., Kurze, A., Oliveira, R. A. & Nasmyth, K. Disengaging the Smc3/kleisin interface releases cohesin from Drosophila chromosomes during interphase and mitosis. EMBO J. 32, 656–665 (2013).

Chan, K. L. et al. Cohesin's DNA exit gate is distinct from its entrance gate and is regulated by acetylation. Cell 150, 961–974 (2012).

Busslinger, G. A. et al. Cohesin is positioned in mammalian genomes by transcription, CTCF and Wapl. Nature 544, 503–507 (2017).

Wutz, G. et al. Topologically associating domains and chromatin loops depend on cohesin and are regulated by CTCF, WAPL, and PDS5 proteins. EMBO J. 36, 3573–3599 (2017).

Haarhuis, J. H. I. et al. The cohesin release factor WAPL restricts chromatin loop extension. Cell 169, 693–707.e14 (2017).

Wutz, G. et al. ESCO1 and CTCF enable formation of long chromatin loops by protecting cohesinSTAG1 from WAPL. eLife 9, e52091 (2020).

Li, Y. et al. The structural basis for cohesin-CTCF-anchored loops. Nature 578, 472–476 (2020).

Natsume, T., Kiyomitsu, T., Saga, Y. & Kanemaki, M. T. Rapid protein depletion in human cells by auxin-inducible degron tagging with short homology donors. Cell Rep. 15, 210–218 (2016).

Tedeschi, A. et al. Wapl is an essential regulator of chromatin structure and chromosome segregation. Nature 501, 564–568 (2013).

Haarhuis, J. H. et al. WAPL-mediated removal of cohesin protects against segregation errors and aneuploidy. Curr. Biol. 23, 2071–2077 (2013).

Qiu, X. et al. Sequential enhancer sequestration dysregulates recombination center formation at the IgH locus. Mol. Cell 70, 21–33.e6 (2018).

Dai, H. Q. et al. Direct analysis of brain phenotypes via neural blastocyst complementation. Nat. Protoc. 15, 3154–3181 (2020).

Chen, J., Lansford, R., Stewart, V., Young, F. & Alt, F. W. RAG-2-deficient blastocyst complementation: an assay of gene function in lymphocyte development. Proc. Natl Acad. Sci. USA 90, 4528–4532 (1993).

Sayegh, C. E., Jhunjhunwala, S., Riblet, R. & Murre, C. Visualization of looping involving the immunoglobulin heavy-chain locus in developing B cells. Genes Dev. 19, 322–327 (2005).

Tseng, A., Inuzuka, H., Gao, D., Singh, A. & Wei, W. Experimental approaches to investigate the proteasomal degradation pathways involved in regulation of apoptosis. Methods Enzymol. 446, 205–223 (2008).

Chen, H. et al. BCR selection and affinity maturation in Peyer's patch germinal centres. Nature 582, 421–425 (2020).
Acknowledgements
We thank Alt laboratory members for contributions to the study, particularly H.-L. Cheng for advice and help with the embryonic stem cell culture, M. Tian for the EF1 embryonic stem cell line, Y. Zhang for the RAG-expressing retrovirus plasmids, S. Jain for help with cell culture and data analysis, R. Judson and N. Manfredonia for help with the blastocyst injection, and J. Hu for data uploading; as well as E. Bekman at the University of Lisbon for advice on the construction of the degron system, particularly on the inducible expression of OsTIR1. This work was supported by NIH R01 AI020047 (to F.W.A.). H.-Q.D. is a fellow of the Cancer Research Institute (CRI) of New York. H.C. was an NRSA Fellow (T32 AI07386) and was supported by the Leukemia and Lymphoma Society. Z.B. was supported by a CRI fellowship. R.C. is partially funded by the NIH Regulome Project. C.-S.L. was previously supported by a CRI fellowship and is now funded by the Ministry of Science and Technology in Taiwan (MOST109-2636-B-007-004). F.W.A. is an investigator of the Howard Hughes Medical Institute.
Ethics declarations
Competing interests
F.W.A. is a co-founder of Otoro Biopharmaceuticals. The remaining authors declare no competing interests.
Additional information
Peer review information Nature thanks David Schatz and the other, anonymous, reviewer(s) for their contribution to the peer review of this work.
Publisher's note Springer Nature remains neutral with regard to jurisdictional claims in published maps and institutional affiliations.
Extended data figures and tables
Supplementary information
About this article
Cite this article
Dai, HQ., Hu, H., Lou, J. et al. Loop extrusion mediates physiological Igh locus contraction for RAG scanning. Nature 590, 338–343 (2021). https://doi.org/10.1038/s41586-020-03121-7
Received:

Accepted:

Published:

Issue Date:

DOI: https://doi.org/10.1038/s41586-020-03121-7
Comments
By submitting a comment you agree to abide by our Terms and Community Guidelines. If you find something abusive or that does not comply with our terms or guidelines please flag it as inappropriate.