Abstract
Ordered two-dimensional arrays such as S-layers1,2 and designed analogues3,4,5 have intrigued bioengineers6,7, but with the exception of a single lattice formed with flexible linkers8, they are constituted from just one protein component. Materials composed of two components have considerable potential advantages for modulating assembly dynamics and incorporating more complex functionality9,10,11,12. Here we describe a computational method to generate co-assembling binary layers by designing rigid interfaces between pairs of dihedral protein building blocks, and use it to design a p6m lattice. The designed array components are soluble at millimolar concentrations, but when combined at nanomolar concentrations, they rapidly assemble into nearly crystalline micrometre-scale arrays nearly identical to the computational design model in vitro and in cells without the need for a two-dimensional support. Because the material is designed from the ground up, the components can be readily functionalized and their symmetry reconfigured, enabling formation of ligand arrays with distinguishable surfaces, which we demonstrate can drive extensive receptor clustering, downstream protein recruitment and signalling. Using atomic force microscopy on supported bilayers and quantitative microscopy on living cells, we show that arrays assembled on membranes have component stoichiometry and structure similar to arrays formed in vitro, and that our material can therefore impose order onto fundamentally disordered substrates such as cell membranes. In contrast to previously characterized cell surface receptor binding assemblies such as antibodies and nanocages, which are rapidly endocytosed, we find that large arrays assembled at the cell surface suppress endocytosis in a tunable manner, with potential therapeutic relevance for extending receptor engagement and immune evasion. Our work provides a foundation for a synthetic cell biology in which multi-protein macroscale materials are designed to modulate cell responses and reshape synthetic and living systems.
Access options
Access Nature and 54 other Nature Portfolio journals
Get Nature+, our best-value online-access subscription
$29.99 / 30 days
cancel any time
Subscribe to this journal
Receive 51 print issues and online access
$199.00 per year
only $3.90 per issue
Rent or buy this article
Prices vary by article type
from$1.95
to$39.95
Prices may be subject to local taxes which are calculated during checkout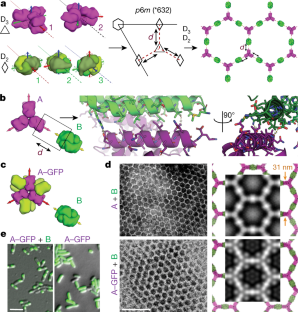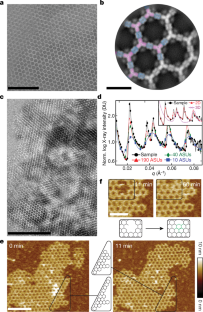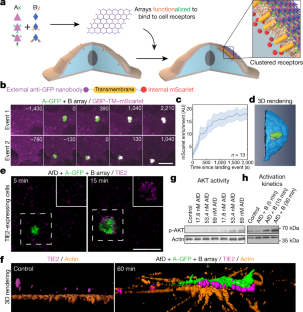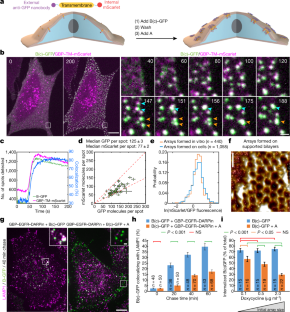 Data availability
Rosetta build, Rosetta build database, and all scripts used in this work are available upon request.
References
Sleytr, U. B., Schuster, B., Egelseer, E.-M. & Pum, D. S-layers: principles and applications. FEMS Microbiol. Rev. 38, 823–864 (2014).

Zhu, C. et al. Diversity in S-layers. Prog. Biophys. Mol. Biol. 123, 1–15 (2017).

Gonen, S., DiMaio, F., Gonen, T. & Baker, D. Design of ordered two-dimensional arrays mediated by noncovalent protein-protein interfaces. Science 348, 1365–1368 (2015).

Liljeström, V., Mikkilä, J. & Kostiainen, M. A. Self-assembly and modular functionalization of three-dimensional crystals from oppositely charged proteins. Nat. Commun. 5, 4445 (2014).

Alberstein, R., Suzuki, Y., Paesani, F. & Tezcan, F. A. Engineering the entropy-driven free-energy landscape of a dynamic, nanoporous protein assembly. Nat. Chem. 10, 732–739 (2018).

Charrier, M. et al. Engineering the S-layer of Caulobacter crescentus as a foundation for stable, high-density, 2D living materials. ACS Synth. Biol. 8, 181–190 (2019).

Comerci, C. J. et al. Topologically-guided continuous protein crystallization controls bacterial surface layer self-assembly. Nat. Commun. 10, 1–10 (2019).

Sinclair, J. C., Davies, K. M., Vénien-Bryan, C. & Noble, M. E. M. Generation of protein lattices by fusing proteins with matching rotational symmetry. Nat. Nanotechnol. 6, 558–562 (2011).

Vantomme, G. & Meijer, E. W. The construction of supramolecular systems. Science 363, 1396–1397 (2019).

Bale, J. B. et al. Accurate design of megadalton-scale two-component icosahedral protein complexes. Science 353, 389–394 (2016).

Butterfield, G. L. et al. Evolution of a designed protein assembly encapsulating its own RNA genome. Nature 552, 415–420 (2017).

Marcandalli, J. et al. Induction of potent neutralizing antibody responses by a designed protein nanoparticle vaccine for respiratory syncytial virus. Cell 176, 1420–1431.e17 (2019).

Tan, R., Zhu, H., Cao, C. & Chen, O. Multi-component superstructures self-assembled from nanocrystal building blocks. Nanoscale 8, 9944–9961 (2016).

Yeates, T. O. Geometric principles for designing highly symmetric self-assembling protein nanomaterials. Annu. Rev. Biophys. 46, 23–42 (2017).

Yeates, T. O., Liu, Y. & Laniado, J. The design of symmetric protein nanomaterials comes of age in theory and practice. Curr. Opin. Struct. Biol. 39, 134–143 (2016).

Matthaei, J. F. et al. Designing two-dimensional protein arrays through fusion of multimers and interface mutations. Nano Lett. 15, 5235–5239 (2015).

Garcia-Seisdedos, H., Empereur-Mot, C., Elad, N. & Levy, E. D. Proteins evolve on the edge of supramolecular self-assembly. Nature 548, 244–247 (2017).

Suzuki, Y. et al. Self-assembly of coherently dynamic, auxetic, two-dimensional protein crystals. Nature 533, 369–373 (2016).

Du, M. et al. Precise fabrication of de novo nanoparticle lattices on dynamic 2D protein crystalline lattices. Nano Lett. 2, 1154–1160 (2019).

Chen, Z. et al. Self-assembling 2D arrays with de novo protein building blocks. J. Am. Chem. Soc. 141, 8891–8895 (2019).

Herrmann, J. et al. A bacterial surface layer protein exploits multistep crystallization for rapid self-assembly. Proc. Natl Acad. Sci. USA 117, 388–394 (2020).

King, N. P. et al. Accurate design of co-assembling multi-component protein nanomaterials. Nature 510, 103–108 (2014).

Berman, H. M. et al. The Protein Data Bank. Nucleic Acids Res. 28, 235–242 (2000).

DiMaio, F., Leaver-Fay, A., Bradley, P., Baker, D. & André, I. Modeling symmetric macromolecular structures in Rosetta3. PLoS ONE 6, e20450 (2011).

Fleishman, S. J. et al. RosettaScripts: a scripting language interface to the Rosetta macromolecular modeling suite. PLoS ONE 6, e20161 (2011).

Zakeri, B. et al. Peptide tag forming a rapid covalent bond to a protein, through engineering a bacterial adhesin. Proc. Natl Acad. Sci. USA 109, E690–E697 (2012).

Pedersen, M. W. et al. Sym004: a novel synergistic anti–epidermal growth factor receptor antibody mixture with superior anticancer efficacy. Cancer Res. 70, 588–597 (2010).

Heukers, R. et al. Endocytosis of EGFR requires its kinase activity and N-terminal transmembrane dimerization motif. J. Cell Sci. 126, 4900–4912 (2013).

Goldenzweig, A. et al. Automated structure- and sequence-based design of proteins for high bacterial expression and stability. Mol. Cell 63, 337–346 (2016).

Chandrasekhar, S. Stochastic problems in physics and astronomy. Rev. Mod. Phys. 15, 1–89 (1943).

Kirchhofer, A. et al. Modulation of protein properties in living cells using nanobodies. Nat. Struct. Mol. Biol. 17, 133–138 (2010).

Zhao, Y. T. et al. F-domain valency determines outcome of signaling through the angiopoietin pathway. Preprint at https://doi.org/10.1101/2020.09.19.304188 (2020).

Hsia, Y. et al. Design of a hyperstable 60-subunit protein icosahedron. Nature 535, 136–139 (2016).

Chew, H. Y. et al. Endocytosis inhibition in humans to improve responses to ADCC-mediating antibodies. Cell 180, 895–914 (2020).

Nguyen, P. Q., Courchesne, N.-M. D., Duraj-Thatte, A., Praveschotinunt, P. & Joshi, N. S. Engineered living materials: prospects and challenges for using biological systems to direct the assembly of smart materials. Adv. Mater. 30, e1704847 (2018).

Chaudhury, S., Lyskov, S. & Gray, J. J. PyRosetta: a script-based interface for implementing molecular modeling algorithms using Rosetta. Bioinformatics 26, 689–691 (2010).

Huang, P.-S. et al. RosettaRemodel: a generalized framework for flexible backbone protein design. PLoS ONE 6, e24109 (2011).

Hoover, D. M. & Lubkowski, J. DNAWorks: an automated method for designing oligonucleotides for PCR-based gene synthesis. Nucleic Acids Res. 30, e43 (2002).

Gaspar, P., Moura, G., Santos, M. A. S. & Oliveira, J. L. mRNA secondary structure optimization using a correlated stem–loop prediction. Nucleic Acids Res. 41, e73 (2013).

Zadeh, J. N. et al. NUPACK: analysis and design of nucleic acid systems. J. Comput. Chem. 32, 170–173 (2011).

Gibson, D. G. et al. Enzymatic assembly of DNA molecules up to several hundred kilobases. Nat. Methods 6, 343–345 (2009).

Demonte, D., Dundas, C. M. & Park, S. Expression and purification of soluble monomeric streptavidin in Escherichia coli. Appl. Microbiol. Biotechnol. 98, 6285–6295 (2014).

de Boer, E. et al. Efficient biotinylation and single-step purification of tagged transcription factors in mammalian cells and transgenic mice. Proc. Natl Acad. Sci. USA 100, 7480–7485 (2003).

Sevier, C. S., Weisz, O. A., Davis, M. & Machamer, C. E. Efficient export of the vesicular stomatitis virus G protein from the endoplasmic reticulum requires a signal in the cytoplasmic tail that includes both tyrosine-based and di-acidic motifs. Mol. Biol. Cell 11, 13–22 (2000).

Nishimura, N. & Balch, W. E. A di-acidic signal required for selective export from the endoplasmic reticulum. Science 277, 556–558 (1997).

Bindels, D. S. et al. mScarlet: a bright monomeric red fluorescent protein for cellular imaging. Nat. Methods 14, 53–56 (2017).

Derivery, E. et al. The Arp2/3 activator WASH controls the fission of endosomes through a large multiprotein complex. Dev. Cell 17, 712–723 (2009).

Sladitschek, H. L. & Neveu, P. A. MXS-chaining: a highly efficient cloning platform for imaging and flow cytometry approaches in mammalian systems. PLoS ONE 10, e0124958 (2015).

Boersma, Y. L., Chao, G., Steiner, D., Wittrup, K. D. & Plückthun, A. Bispecific designed ankyrin repeat proteins (DARPins) targeting epidermal growth factor receptor inhibit A431 cell proliferation and receptor recycling. J. Biol. Chem. 286, 41273–41285 (2011).

Suloway, C. et al. Automated molecular microscopy: the new Leginon system. J. Struct. Biol. 151, 41–60 (2005).

Scheres, S. H. W. RELION: Implementation of a Bayesian approach to cryo-EM structure determination. J. Struct. Biol. 180, 519–530 (2012).

Hura, G. L. et al. Robust, high-throughput solution structural analyses by small angle X-ray scattering (SAXS). Nat. Methods 6, 606–612 (2009).

Schneidman-Duhovny, D., Hammel, M., Tainer, J. A. & Sali, A. FoXS, FoXSDock and MultiFoXS: Single-state and multi-state structural modeling of proteins and their complexes based on SAXS profiles. Nucleic Acids Res. 44, W424–W429 (2016).

Drenth, J. Principles of Protein X-Ray Crystallography (Springer-Verlag, 2007).

Feigin, L. A. & Svergun, D. I. Structure Analysis by Small-Angle X-Ray and Neutron Scattering (Springer, 1987).

Malecki, M. J. et al. Leukemia-associated mutations within the NOTCH1 heterodimerization domain fall into at least two distinct mechanistic classes. Mol. Cell. Biol. 26, 4642–4651 (2006).

Chiaruttini, N. et al. Relaxation of loaded ESCRT-III spiral springs drives membrane deformation. Cell 163, 866–879 (2015).

Young, L. J., Ströhl, F. & Kaminski, C. F. A guide to structured illumination TIRF microscopy at high speed with multiple colors J. Vis. Exp. 111, 53988 (2016).

Schindelin, J. et al. Fiji: an open-source platform for biological-image analysis. Nat. Methods 9, 676–682 (2012).

Allan, C. et al. OMERO: flexible, model-driven data management for experimental biology. Nat. Methods 9, 245–253 (2012).

Machado, S., Mercier, V. & Chiaruttini, N. LimeSeg: a coarse-grained lipid membrane simulation for 3D image segmentation. BMC Bioinformatics 20, 2 (2019).

Ovesný, M., Křížek, P., Borkovec, J., Svindrych, Z. & Hagen, G. M. ThunderSTORM: a comprehensive ImageJ plug-in for PALM and STORM data analysis and super-resolution imaging. Bioinformatics 30, 2389–2390 (2014).

Bolte, S. & Cordelières, F. P. A guided tour into subcellular colocalization analysis in light microscopy. J. Microsc. 224, 213–232 (2006).

Derivery, E. et al. Polarized endosome dynamics by spindle asymmetry during asymmetric cell division. Nature 528, 280–285 (2015).

Chandrasekhar, S. et al. Stochastic problems in physics and astronomy. Rev. Mod. Phys. 15, 1–89 (1943).

Schneidman-Duhovny, D., Hammel, M. Tainer, J. A. & Sali, A. FoXS, FoXSDock and MultiFoXS: Single-state and multi-state structural modelling of proteins and their complexes based on SAXS profiles. Nucleic Acids Res. 44, W424–W429 (2016).
Acknowledgements
This work has been supported by the Medical Research Council (MC_UP_1201/13 to E.D.), HFSP (Career Development Award CDA00034/2017-C to E.D. and Cross-Disciplinary Fellow LT000162/2014-C to A.J.B.-S.), HHMI (D.B.), NIGMS and NHLBI (R01GM12764 and R01GM118396 to J.M.K. and 1P01GM081619, R01GM097372, R01GM083867, 1P01GM081619, U01HL099997 and UO1HL099993 to H.R.-B.), NCI (R35 CA220340 to S.C.B.) and a grant from AHA (19IPLOI34760143 to H.R.-B). We thank L. McKeane for artwork in Figs. 3 and 4, N. Chiaruttini for help with image segmentation and supported bilayers; A. Colomb for sharing his expertise in AFM on supported bilayers; H. McMahon, R. Mittal and F. Perez for their help with EGFR trafficking; A. Picco for help with microscope calibration; D. Levi for discussions; the Arnold and Mabel Beckman CryoEM Center at the University of Washington for access to electron microscopy equipment; the Mike and Lynn Garvey Cell Imaging Laboratory at the Institute for Stem Cell and Regenerative Medicine, University of Washington. AFM imaging was supported by the Department of Energy (DOE) Office of Basic Energy Sciences (BES) Biomolecular Materials Program (BMP) at Pacific Northwest National Laboratory (PNNL). PNNL is a multi-program national laboratory operated for DOE by Battelle under contract no. DE-AC05-76RL01830. Analysis of AFM data was supported by the DOE BES BMP at the University of Washington (DE-SC0018940). High speed AFM/SIM in the laboratory of C.F.K. was supported by the MRC (MR/K015850/1/ MR/K02292X/1), the Engineering and Physical Sciences Research Council (EP/ H018301/1, EP/L015889/1), Wellcome Trust (089703/Z/ 09/Z and 3‐3249/Z/16/Z), MedImmune and Infinitus. C.F.K. and I.M. acknowledge Bruker Nanosurfaces for the kind support for the Bioscope Resolve. We thank the Nikon Imaging Center at Harvard Medical School, in particular J. Waters, A. Jost and G. Campbell. SAXS at SIBYLS was made possible by the IDAT grant from DOE BER and NIH ALS-ENABLE (P30 GM124169) with support from beamline staff J. Bierma and J. Holton. We thank I. Xavier Raj for support to L.S. We thank L. Carter, C. Chow and the Institute for Protein Design (IPD) protein production core for support in expressing and purifying some of the design and experimental components.
Ethics declarations
Competing interests
S.C.B. receives funding for unrelated projects from the Novartis Institutes for Biomedical Research and from Erasca. He is on the Scientific Advisory Board for Erasca, and is a consultant on unrelated projects for IFM and Ayala Therapeutics.
Additional information
Peer review information Nature thanks Philippe Bastiaens and the other, anonymous, reviewer(s) for their contribution to the peer review of this work.
Publisher's note Springer Nature remains neutral with regard to jurisdictional claims in published maps and institutional affiliations.
Extended data figures and tables
Supplementary information
About this article
Cite this article
Ben-Sasson, A.J., Watson, J.L., Sheffler, W. et al. Design of biologically active binary protein 2D materials. Nature 589, 468–473 (2021). https://doi.org/10.1038/s41586-020-03120-8
Received:

Accepted:

Published:

Issue Date:

DOI: https://doi.org/10.1038/s41586-020-03120-8
Comments
By submitting a comment you agree to abide by our Terms and Community Guidelines. If you find something abusive or that does not comply with our terms or guidelines please flag it as inappropriate.