Abstract
Visible-light absorption and transport of the resultant electronic excitations to a reaction centre through Förster resonance energy transfer1,2,3 (FRET) are critical to the operation of biological light-harvesting systems4, and are used in various artificial systems made of synthetic dyes5, polymers6 or nanodots7,8. The fundamental equations describing FRET are similar to those describing vibration-to-vibration (V–V) energy transfer9, and suggest that transport and localization of vibrational energy should, in principle, also be possible. Although it is known that vibrational excitation can promote reactions10,11,12,13,14,15,16, transporting and concentrating vibrational energy has not yet been reported. We have recently demonstrated orientational isomerization enabled by vibrational energy pooling in a CO adsorbate layer on a NaCl(100) surface17. Here we build on that work to show that the isomerization reaction proceeds more efficiently with a thick 12C16O overlayer that absorbs more mid-infrared photons and transports the resultant vibrational excitations by V–V energy transfer to a 13C18O–NaCl interface. The vibrational energy density achieved at the interface is 30 times higher than that obtained with direct excitation of the interfacial CO. We anticipate that with careful system design, these concepts could be used to drive other chemical transformations, providing new approaches to condensed phase chemistry.
Access options
Subscribe to Nature+
Get immediate online access to the entire Nature family of 50+ journals
Subscribe to Journal
Get full journal access for 1 year
$199.00
only $3.90 per issue
All prices are NET prices.
VAT will be added later in the checkout.
Tax calculation will be finalised during checkout.
Buy article
Get time limited or full article access on ReadCube.
$32.00
All prices are NET prices.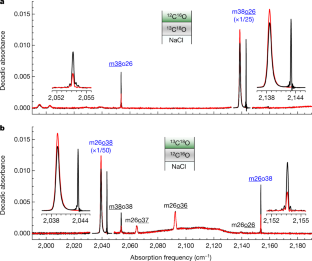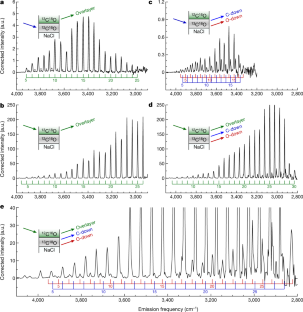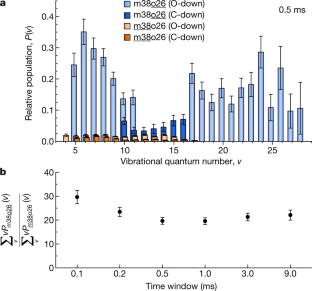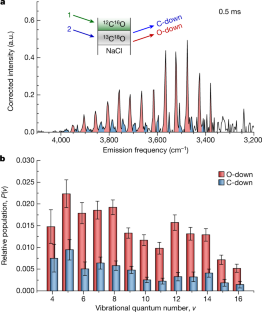 Data availability
All data generated and analysed during the current study are available from the corresponding author on request. Source data are provided with this paper.
References
Förster, T. Energiewanderung und Fluoreszenz. Naturwissenschaften 33, 166–175 (1946).

Förster, T. Zwischenmolekulare Energiewanderung und Fluoreszenz. Ann. Phys. 437, 55–75 (1948).

Brixner, T. et al. Two-dimensional spectroscopy of electronic couplings in photosynthesis. Nature 434, 625–628 (2005).

Scholes, G. D., Fleming, G. R., Olaya-Castro, A. & van Grondelle, R. Lessons from nature about solar light harvesting. Nat. Chem. 3, 763–774 (2011).

Berggren, M., Dodabalapur, A., Slusher, R. E. & Bao, Z. Light amplification in organic thin films using cascade energy transfer. Nature 389, 466–469 (1997).

Kim, J. S., McQuade, D. T., Rose, A., Zhu, Z. G. & Swager, T. M. Directing energy transfer within conjugated polymer thin films. J. Am. Chem. Soc. 123, 11488–11489 (2001).

Kagan, C. R., Murray, C. B. & Bawendi, M. G. Long-range resonance transfer of electronic excitations in close-packed CdSe quantum-dot solids. Phys. Rev. B 54, 8633–8643 (1996).

Crooker, S. A., Hollingsworth, J. A., Tretiak, S. & Klimov, V. I. Spectrally resolved dynamics of energy transfer in quantum-dot assemblies: towards engineered energy flows in artificial materials. Phys. Rev. Lett. 89, 186802 (2002).

Corcelli, S. A. & Tully, J. C. Vibrational energy pooling in CO on NaCl(100): methods. J. Chem. Phys. 116, 8079–8092 (2002).

Zare, R. N. Laser control of chemical reactions. Science 279, 1875–1879 (1998).

Crim, F. F. Chemical dynamics of vibrationally excited molecules: controlling reactions in gases and on surfaces. Proc. Natl Acad. Sci. USA 105, 12654–12661 (2008).

Chadwick, H. & Beck, R. D. Quantum state-resolved studies of chemisorption reactions. Annu. Rev. Phys. Chem. 68, 39–61 (2017).

Utz, A. L. Mode selective chemistry at surfaces. Curr. Opin. Solid State Mater. Sci. 13, 4–12 (2009).

Juurlink, L. B. F., Killelea, D. R. & Utz, A. L. State-resolved probes of methane dissociation dynamics. Prog. Surf. Sci. 84, 69–134 (2009).

Crim, F. F. Vibrational state control of bimolecular reactions: discovering and directing the chemistry. Acc. Chem. Res. 32, 877–884 (1999).

Dünnwald, H. et al. Anharmonic vibration–vibration pumping in nitric oxide by resonant IR-laser irradiation. Chem. Phys. 94, 195–213 (1985).

Lau, J. A. et al. Observation of an isomerizing double-well quantum system in the condensed phase. Science 367, 175–178 (2020).

Chen, L. et al. The Sommerfeld ground-wave limit for a molecule adsorbed at a surface. Science 363, 158–161 (2019).

Dubost, H. & Charneau, R. Laser studies of vibrational energy transfer and relaxation of CO trapped in solid neon and argon. Chem. Phys. 12, 407–418 (1976).

Dubost, H. & Charneau, R. Role of vibrational energy migration upon V→V transfer in matrix-isolated CO. Chem. Phys. 41, 329–343 (1979).

Legay-Sommaire, N. & Legay, F. Observation of a strong vibrational population inversion by CO laser excitation of pure solid carbon monoxide. IEEE J. Quantum Electron. 16, 308–314 (1980).

Legay-Sommaire, N. & Legay, F. Analysis of the infrared emission and absorption spectra from isotopic CO molecules in solid α-CO. Chem. Phys. 66, 315–325 (1982).

Bergman, R. C., Homicz, G. F., Rich, J. W. & Wolk, G. L. 13C and 18O isotope enrichment by vibrational energy exchange pumping of CO. J. Chem. Phys. 78, 1281–1292 (1983).

Rich, J. W. & Bergman, R. C. C2 and CN formation by optical pumping of CO/Ar and CO/N2/Ar mixtures at room temperature. Chem. Phys. 44, 53–64 (1979).

Serdyuchenko, A. et al. Isotope effect in Boudouard disproportionation reaction in optically pumped CO. Chem. Phys. 363, 24–32 (2009).

Heidberg, J., Suhren, M. & Weiss, H. Growth of CO multilayers on the monolayer adsorbate CO/NaCl(100): a high resolution Fourier-transform infrared study. J. Electron. Spectros. Relat. Phenom. 64–65, 227–234 (1993).

Chen, L. et al. Ultra-sensitive mid-infrared emission spectrometer with sub-ns temporal resolution. Opt. Express 26, 14859–14868 (2018).

Chen, L. et al. Mid-infrared laser-induced fluorescence with nanosecond time resolution using a superconducting nanowire single-photon detector: new technology for molecular science. Acc. Chem. Res. 50, 1400–1409 (2017).

Nesbitt, D. J. & Field, R. W. Vibrational energy flow in highly excited molecules: role of intramolecular vibrational redistribution. J. Phys. Chem. 100, 12735–12756 (1996).

Chang, H. C., Richardson, H. H. & Ewing, G. E. Epitaxial growth of CO on NaCl(100) studied by infrared spectroscopy. J. Chem. Phys. 89, 7561–7568 (1988).

Morse, P. M. Diatomic molecules according to the wave mechanics. II. Vibrational levels. Phys. Rev. 34, 57–64 (1929).

Vegard, L. Structure and luminosity of solid carbon monoxide. Z. Phys. 61, 185–190 (1930).

Jiang, G. J., Person, W. B. & Brown, K. G. Absolute infrared intensities and band shapes in pure solid CO and CO in some solid matrices. J. Chem. Phys. 62, 1201–1211 (1975).

Dai, D. J. & Ewing, G. E. Vibrational overtone spectroscopy and coupling effects in monolayer CO on NaCl(100). Surf. Sci. 312, 239–249 (1994).
Acknowledgements
We acknowledge the Max-Planck EPFL Center for Molecular Nanoscience and Technology for support.
Ethics declarations
Competing interests
The authors declare no competing interests.
Additional information
Peer review information Nature thanks the anonymous reviewers for their contribution to the peer review of this work.
Publisher's note Springer Nature remains neutral with regard to jurisdictional claims in published maps and institutional affiliations.
Extended data figures and tables
About this article
Cite this article
Lau, J.A., Chen, L., Choudhury, A. et al. Transporting and concentrating vibrational energy to promote isomerization. Nature 589, 391–395 (2021). https://doi.org/10.1038/s41586-020-03081-y
Received:

Accepted:

Published:

Issue Date:

DOI: https://doi.org/10.1038/s41586-020-03081-y
Comments
By submitting a comment you agree to abide by our Terms and Community Guidelines. If you find something abusive or that does not comply with our terms or guidelines please flag it as inappropriate.