Abstract
The brainstem is a key centre in the control of body movements. Although the precise nature of brainstem cell types and circuits that are central to full-body locomotion are becoming known1,2,3,4,5, efforts to understand the neuronal underpinnings of skilled forelimb movements have focused predominantly on supra-brainstem centres and the spinal cord6,7,8,9,10,11,12. Here we define the logic of a functional map for skilled forelimb movements within the lateral rostral medulla (latRM) of the brainstem. Using in vivo electrophysiology in freely moving mice, we reveal a neuronal code with tuning of latRM populations to distinct forelimb actions. These include reaching and food handling, both of which are impaired by perturbation of excitatory latRM neurons. Through the combinatorial use of genetics and viral tracing, we demonstrate that excitatory latRM neurons segregate into distinct populations by axonal target, and act through the differential recruitment of intra-brainstem and spinal circuits. Investigating the behavioural potential of projection-stratified latRM populations, we find that the optogenetic stimulation of these populations can elicit diverse forelimb movements, with each behaviour stably expressed by individual mice. In summary, projection-stratified brainstem populations encode action phases and together serve as putative building blocks for regulating key features of complex forelimb movements, identifying substrates of the brainstem for skilled forelimb behaviours.
Relevant articles
Open Access articles citing this article.
Jérémy Signoret-Genest

,

Nina Schukraft

…

Philip Tovote

Nature Neuroscience Open Access 09 February 2023

Bowen Dempsey

,

Selvee Sungeelee

…

Jean-François Brunet

Nature Communications Open Access 02 November 2021
Access options
Access Nature and 54 other Nature Portfolio journals
Get Nature+, our best-value online-access subscription
$29.99 per month
cancel any time
Subscribe to this journal
Receive 51 print issues and online access
$199.00 per year
only $3.90 per issue
Rent or buy this article
Get just this article for as long as you need it
$39.95
Prices may be subject to local taxes which are calculated during checkout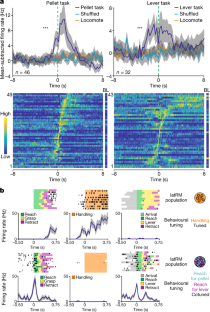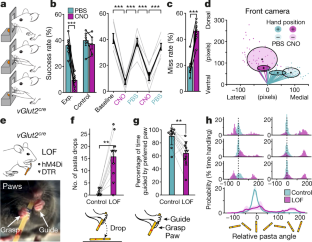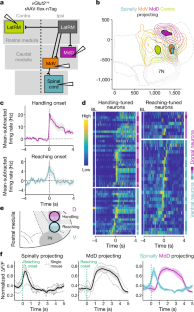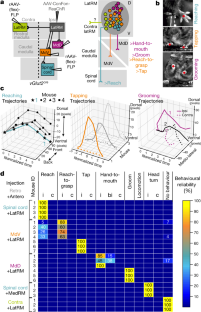 Data availability
Primary data used for analysis in this study are available from the corresponding author upon reasonable request.
References
Ferreira-Pinto, M. J., Ruder, L., Capelli, P. & Arber, S. Connecting circuits for supraspinal control of locomotion. Neuron 100, 361–374 (2018).

Roseberry, T. K. et al. Cell-type-specific control of brainstem locomotor circuits by basal ganglia. Cell 164, 526–537 (2016).

Caggiano, V. et al. Midbrain circuits that set locomotor speed and gait selection. Nature 553, 455–460 (2018).

Capelli, P., Pivetta, C., Soledad Esposito, M. & Arber, S. Locomotor speed control circuits in the caudal brainstem. Nature 551, 373–377 (2017).

Bouvier, J. et al. Descending command neurons in the brainstem that halt locomotion. Cell 163, 1191–1203 (2015).

Lemon, R. N. Descending pathways in motor control. Annu. Rev. Neurosci. 31, 195–218 (2008).

Alstermark, B. & Isa, T. Circuits for skilled reaching and grasping. Annu. Rev. Neurosci. 35, 559–578 (2012).

Klaus, A., Alves da Silva, J. & Costa, R. M. What, if, and when to move: basal ganglia circuits and self-paced action initiation. Annu. Rev. Neurosci. 42, 459–483 (2019).

Peters, A. J., Liu, H. & Komiyama, T. Learning in the rodent motor cortex. Annu. Rev. Neurosci. 40, 77–97 (2017).

Wang, X. et al. Deconstruction of corticospinal circuits for goal-directed motor skills. Cell 171, 440–455 (2017).

Azim, E., Jiang, J., Alstermark, B. & Jessell, T. M. Skilled reaching relies on a V2a propriospinal internal copy circuit. Nature 508, 357–363 (2014).

Pivetta, C., Esposito, M. S., Sigrist, M. & Arber, S. Motor-circuit communication matrix from spinal cord to brainstem neurons revealed by developmental origin. Cell 156, 537–548 (2014).

Grillner, S., Georgopoulos, A. P. & Jordan, L. M. in Neurons, Networks, and Motor Behavior (eds Stein P. S. G. et al.) 3–19 (The MIT Press, 1997).

Arber, S. & Costa, R. M. Connecting neuronal circuits for movement. Science 360, 1403–1404 (2018).

Grillner, S. Biological pattern generation: the cellular and computational logic of networks in motion. Neuron 52, 751–766 (2006).

Ruder, L. & Arber, S. Brainstem circuits controlling action diversification. Annu. Rev. Neurosci. 42, 485–504 (2019).

Kim, L. H. et al. Integration of descending command systems for the generation of context-specific locomotor behaviors. Front. Neurosci. 11, 581 (2017).

Svoboda, K. & Li, N. Neural mechanisms of movement planning: motor cortex and beyond. Curr. Opin. Neurobiol. 49, 33–41 (2018).

Georgopoulos, A. P., Kalaska, J. F., Caminiti, R. & Massey, J. T. On the relations between the direction of two-dimensional arm movements and cell discharge in primate motor cortex. J. Neurosci. 2, 1527–1537 (1982).

Iwaniuk, A. N. & Whishaw, I. Q. On the origin of skilled forelimb movements. Trends Neurosci. 23, 372–376 (2000).

Esposito, M. S., Capelli, P. & Arber, S. Brainstem nucleus MdV mediates skilled forelimb motor tasks. Nature 508, 351–356 (2014).

Schepens, B. & Drew, T. Descending signals from the pontomedullary reticular formation are bilateral, asymmetric, and gated during reaching movements in the cat. J. Neurophysiol. 96, 2229–2252 (2006).

Schepens, B., Stapley, P. & Drew, T. Neurons in the pontomedullary reticular formation signal posture and movement both as an integrated behavior and independently. J. Neurophysiol. 100, 2235–2253 (2008).

Soteropoulos, D. S., Williams, E. R. & Baker, S. N. Cells in the monkey ponto-medullary reticular formation modulate their activity with slow finger movements. J. Physiol. (Lond.) 590, 4011–4027 (2012).

Lawrence, D. G. & Kuypers, H. G. The functional organization of the motor system in the monkey. I. The effects of bilateral pyramidal lesions. Brain 91, 1–14 (1968).

Lemon, R. N., Landau, W., Tutssel, D. & Lawrence, D. G. Lawrence and Kuypers (1968a, b) revisited: copies of the original filmed material from their classic papers in Brain. Brain 135, 2290–2295 (2012).

Lawrence, D. G. & Kuypers, H. G. The functional organization of the motor system in the monkey. II. The effects of lesions of the descending brain-stem pathways. Brain 91, 15–36 (1968).

Ross, G. S. & Sinnamon, H. M. Forelimb and hindlimb stepping by the anesthetized rat elicited by electrical stimulation of the pons and medulla. Physiol. Behav. 33, 201–208 (1984).

Franklin, K. B. & Paxinos, G. The Mouse Brain in Stereotaxic Coordinates, 3rd edn (Elsevier, 2007).

Xu, T. et al. Rapid formation and selective stabilization of synapses for enduring motor memories. Nature 462, 915–919 (2009).

Jin, X. & Costa, R. M. Start/stop signals emerge in nigrostriatal circuits during sequence learning. Nature 466, 457–462 (2010).

Roth, B. L. DREADDs for neuroscientists. Neuron 89, 683–694 (2016).

Galiñanes, G. L., Bonardi, C. & Huber, D. Directional reaching for water as a cortex-dependent behavioral framework for mice. Cell Rep. 22, 2767–2783 (2018).

Tennant, K. A. et al. The vermicelli and capellini handling tests: simple quantitative measures of dexterous forepaw function in rats and mice. J. Vis. Exp. (41):2076 (2010).

Whishaw, I. Q. et al. The syntactic organization of pasta-eating and the structure of reach movements in the head-fixed mouse. Sci. Rep. 7, 10987 (2017).

Tervo, D. G. et al. A designer AAV variant permits efficient retrograde access to projection neurons. Neuron 92, 372–382 (2016).

Fenno, L. E. et al. Targeting cells with single vectors using multiple-feature Boolean logic. Nat. Methods 11, 763–772 (2014).

Yakovenko, S., Krouchev, N. & Drew, T. Sequential activation of motor cortical neurons contributes to intralimb coordination during reaching in the cat by modulating muscle synergies. J. Neurophysiol. 105, 388–409 (2011).

Drew, T. & Rossignol, S. Functional organization within the medullary reticular formation of intact unanesthetized cat. I. Movements evoked by microstimulation. J. Neurophysiol. 64, 767–781 (1990).

Whishaw, I. Q., Pellis, S. M. & Gorny, B. P. Skilled reaching in rats and humans: evidence for parallel development or homology. Behav. Brain Res. 47, 59–70 (1992).

Shik, M. L. & Orlovsky, G. N. Neurophysiology of locomotor automatism. Physiol. Rev. 56, 465–501 (1976).

Barbera, G. et al. Spatially compact neural clusters in the dorsal striatum encode locomotion relevant information. Neuron 92, 202–213 (2016).

Klaus, A. et al. The spatiotemporal organization of the striatum encodes action space. Neuron 96, 949 (2017).

Parker, J. G. et al. Diametric neural ensemble dynamics in parkinsonian and dyskinetic states. Nature 557, 177–182 (2018).

Petersen, C. C. H. Sensorimotor processing in the rodent barrel cortex. Nat. Rev. Neurosci. 20, 533–546 (2019).

Han, W. et al. Integrated control of predatory hunting by the central nucleus of the amygdala. Cell 168, 311–324 (2017).

Mercer Lindsay, N. et al. Orofacial movements involve parallel corticobulbar projections from motor cortex to trigeminal premotor nuclei. Neuron 104, 765–780.e3 (2019).

Vong, L. et al. Leptin action on GABAergic neurons prevents obesity and reduces inhibitory tone to POMC neurons. Neuron 71, 142–154 (2011).

Takeoka, A., Vollenweider, I., Courtine, G. & Arber, S. Muscle spindle feedback directs locomotor recovery and circuit reorganization after spinal cord injury. Cell 159, 1626–1639 (2014).

Dana, H. et al. High-performance calcium sensors for imaging activity in neuronal populations and microcompartments. Nat. Methods 16, 649–657 (2019).

Basaldella, E., Takeoka, A., Sigrist, M. & Arber, S. Multisensory signaling shapes vestibulo-motor circuit specificity. Cell 163, 301–312 (2015).

Armbruster, B. N., Li, X., Pausch, M. H., Herlitze, S. & Roth, B. L. Evolving the lock to fit the key to create a family of G protein-coupled receptors potently activated by an inert ligand. Proc. Natl Acad. Sci. USA 104, 5163–5168 (2007).

Miri, A. et al. Behaviorally selective engagement of short-latency effector pathways by motor cortex. Neuron 95, 683–696 (2017).

Botev, Z. I., Grotowski, J. F. & Kroese, D. P. Kernel density estimation via diffusion. Ann. Stat. 38, 2916–2957 (2010).

Mathis, A. et al. DeepLabCut: markerless pose estimation of user-defined body parts with deep learning. Nat. Neurosci. 21, 1281–1289 (2018).

Nath, T. et al. Using DeepLabCut for 3D markerless pose estimation across species and behaviors. Nat. Protocols 14, 2152–2176 (2019).
Acknowledgements
We thank M. Sigrist, M. Mielich, P. Marini, M. Cases Escuté, P. Capelli and K. Fidelin for experimental help; K. Yamauchi for help with computational analysis of behaviour; L. Gelman and J. Eglinger from the FMI imaging facility and N. Ehrenfeuchter from the Biozentrum imaging facility for help and advice with image acquisition and analysis; J. Courtin (FMI) and members of the Moser laboratories (Trondheim) for advice and help with the acquisition and analysis of the single-unit recordings; P. Argast and P. Buchmann from the FMI mechanical workshop for building devices for behavioural experiments; M. Stadler for help with statistical analysis; and P. Caroni for discussions and comments on the manuscript. All authors were supported by funding from the European Research Council (ERC) under the European Union's Horizon 2020 research and innovation programme (Descent, grant agreement no. 692617), the Swiss National Science Foundation, the Kanton Basel-Stadt and the Novartis Research Foundation.
Ethics declarations
Competing interests
The authors declare no competing interests.
Additional information
Peer review information Nature thanks the anonymous reviewers for their contribution to the peer review of this work.
Publisher's note Springer Nature remains neutral with regard to jurisdictional claims in published maps and institutional affiliations.
Extended data figures and tables
Supplementary information
About this article
Cite this article
Ruder, L., Schina, R., Kanodia, H. et al. A functional map for diverse forelimb actions within brainstem circuitry. Nature 590, 445–450 (2021). https://doi.org/10.1038/s41586-020-03080-z
Received:

Accepted:

Published:

Issue Date:

DOI: https://doi.org/10.1038/s41586-020-03080-z
Comments
By submitting a comment you agree to abide by our Terms and Community Guidelines. If you find something abusive or that does not comply with our terms or guidelines please flag it as inappropriate.