Abstract
Autism spectrum disorder (ASD) is an early-onset developmental disorder characterized by deficits in communication and social interaction and restrictive or repetitive behaviours1,2. Family studies demonstrate that ASD has a substantial genetic basis with contributions both from inherited and de novo variants3,4. It has been estimated that de novo mutations may contribute to 30% of all simplex cases, in which only a single child is affected per family5. Tandem repeats (TRs), defined here as sequences of 1 to 20 base pairs in size repeated consecutively, comprise one of the major sources of de novo mutations in humans6. TR expansions are implicated in dozens of neurological and psychiatric disorders7. Yet, de novo TR mutations have not been characterized on a genome-wide scale, and their contribution to ASD remains unexplored. Here we develop new bioinformatics methods for identifying and prioritizing de novo TR mutations from sequencing data and perform a genome-wide characterization of de novo TR mutations in ASD-affected probands and unaffected siblings. We infer specific mutation events and their precise changes in repeat number, and primarily focus on more prevalent stepwise copy number changes rather than large expansions. Our results demonstrate a significant genome-wide excess of TR mutations in ASD probands. Mutations in probands tend to be larger, enriched in fetal brain regulatory regions, and are predicted to be more evolutionarily deleterious. Overall, our results highlight the importance of considering repeat variants in future studies of de novo mutations.
Relevant articles
Open Access articles citing this article.
Peng Jia

,

Lianhua Dong

…

Kai Ye

Genome Biology Open Access 04 December 2023

Helyaneh Ziaei Jam

,

Yang Li

…

Melissa Gymrek

Nature Communications Open Access 23 October 2023

John G. Mwaura

,

Clabe Wekesa

…

Patrick Okoth

The Journal of Basic and Applied Zoology Open Access 08 October 2023
Access options
Access Nature and 54 other Nature Portfolio journals
Get Nature+, our best-value online-access subscription
$29.99 / 30 days
cancel any time
Subscribe to this journal
Receive 51 print issues and online access
$199.00 per year
only $3.90 per issue
Rent or buy this article
Prices vary by article type
from$1.95
to$39.95
Prices may be subject to local taxes which are calculated during checkout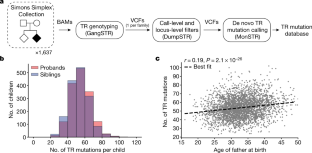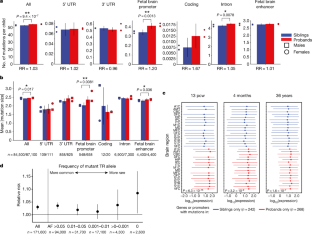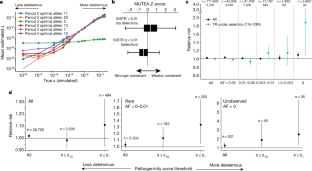 References
American Psychiatric Association. Diagnostic and Statistical Manual of Mental Disorders 5th edn (2013).

Rosti, R. O., Sadek, A. A., Vaux, K. K. & Gleeson, J. G. The genetic landscape of autism spectrum disorders. Dev. Med. Child Neurol. 56, 12–18 (2014).

Gaugler, T. et al. Most genetic risk for autism resides with common variation. Nat. Genet. 46, 881–885 (2014).

Iakoucheva, L. M., Muotri, A. R. & Sebat, J. Getting to the cores of autism. Cell 178, 1287–1298 (2019).

Iossifov, I. et al. The contribution of de novo coding mutations to autism spectrum disorder. Nature 515, 216–221 (2014).

Willems, T., Gymrek, M., Poznik, G. D., Tyler-Smith, C. & Erlich, Y. Population-scale sequencing data enable precise estimates of Y-STR mutation rates. Am. J. Hum. Genet. 98, 919–933 (2016).

Hannan, A. J. Tandem repeats mediating genetic plasticity in health and disease. Nat. Rev. Genet. 19, 286–298 (2018).

Fischbach, G. D. & Lord, C. The Simons Simplex Collection: a resource for identification of autism genetic risk factors. Neuron 68, 192–195 (2010).

Turner, T. N. et al. Genomic patterns of de novo mutation in simplex autism. Cell 171, 710–722 (2017).

Mousavi, N., Shleizer-Burko, S., Yanicky, R. & Gymrek, M. Profiling the genome-wide landscape of tandem repeat expansions. Nucleic Acids Res. 47, e90 (2019).

An, J. Y. et al. Genome-wide de novo risk score implicates promoter variation in autism spectrum disorder. Science 362, eaat6576 (2018).

Gymrek, M., Willems, T., Reich, D. & Erlich, Y. Interpreting short tandem repeat variations in humans using mutational constraint. Nat. Genet. 49, 1495–1501 (2017).

Payseur, B. A., Jing, P. & Haasl, R. J. A genomic portrait of human microsatellite variation. Mol. Biol. Evol. 28, 303–312 (2011).

Sun, J. X. et al. A direct characterization of human mutation based on microsatellites. Nat. Genet. 44, 1161–1165 (2012).

Michaelson, J. J. et al. Whole-genome sequencing in autism identifies hot spots for de novo germline mutation. Cell 151, 1431–1442 (2012).

O'Roak, B. J. et al. Sporadic autism exomes reveal a highly interconnected protein network of de novo mutations. Nature 485, 246–250 (2012).

Rahbari, R. et al. Timing, rates and spectra of human germline mutation. Nat. Genet. 48, 126–133 (2016).

Ellegren, H. Heterogeneous mutation processes in human microsatellite DNA sequences. Nat. Genet. 24, 400–402 (2000).

Huang, Q. Y. et al. Mutation patterns at dinucleotide microsatellite loci in humans. Am. J. Hum. Genet. 70, 625–634 (2002).

Weber, J. L. & Wong, C. Mutation of human short tandem repeats. Hum. Mol. Genet. 2, 1123–1128 (1993).

Amos, W., Kosanović, D. & Eriksson, A. Inter-allelic interactions play a major role in microsatellite evolution. Proc. R. Soc. Lond. B 282, 20152125 (2015).

Davydov, E. V. et al. Identifying a high fraction of the human genome to be under selective constraint using GERP++. PLOS Comput. Biol. 6, e1001025 (2010).

Lek, M. et al. Analysis of protein-coding genetic variation in 60,706 humans. Nature 536, 285–291 (2016).

Rentzsch, P., Witten, D., Cooper, G. M., Shendure, J. & Kircher, M. CADD: predicting the deleteriousness of variants throughout the human genome. Nucleic Acids Res. 47 (D1), D886–D894 (2019).

Samocha, K. E. et al. A framework for the interpretation of de novo mutation in human disease. Nat. Genet. 46, 944–950 (2014).

Werling, D. M. et al. An analytical framework for whole-genome sequence association studies and its implications for autism spectrum disorder. Nat. Genet. 50, 727–736 (2018).

Trost, B. et al. Genome-wide detection of tandem DNA repeats that are expanded in autism. Nature 586, 80–86 (2020).

Zhou, J. et al. Whole-genome deep-learning analysis identifies contribution of noncoding mutations to autism risk. Nat. Genet. 51, 973–980 (2019).

Grünewald, T. G. et al. Chimeric EWSR1-FLI1 regulates the Ewing sarcoma susceptibility gene EGR2 via a GGAA microsatellite. Nat. Genet. 47, 1073–1078 (2015).

Breuss, M. W. et al. Autism risk in offspring can be assessed through quantification of male sperm mosaicism. Nat. Med. 26, 143–150 (2020).

Mousavi, N. et al. TRTools: a toolkit for genome-wide analysis of tandem repeats. Bioinformatics btaa736 (2020).

Kent, W. J. et al. The human genome browser at UCSC. Genome Res. 12, 996–1006 (2002).

Willems, T. et al. Genome-wide profiling of heritable and de novo STR variations. Nat. Methods 14, 590–592 (2017).

Huang, W., Li, L., Myers, J. R. & Marth, G. T. ART: a next-generation sequencing read simulator. Bioinformatics 28, 593–594 (2012).

Li, H. Aligning sequence reads, clone sequences and assembly contigs with BWA-MEM. Preprint at https://arxiv.org/abs/1303.3997 (2013).

Quinlan, A. R. BEDTools: the Swiss-army tool for genome feature analysis. Bioinformatics 47, 11–34 (2014).

Schuelke, M. An economic method for the fluorescent labeling of PCR fragments. Nat. Biotechnol. 18, 233–234 (2000).

Krebs, M. O. et al. Absence of association between a polymorphic GGC repeat in the 5′ untranslated region of the reelin gene and autism. Mol. Psychiatry 7, 801–804 (2002).

Ernst, J. & Kellis, M. ChromHMM: automating chromatin-state discovery and characterization. Nat. Methods 9, 215–216 (2012).

Buniello, A. et al. The NHGRI–EBI GWAS catalog of published genome-wide association studies, targeted arrays and summary statistics 2019. Nucleic Acids Res. 47 (D1), D1005–D1012 (2019).

Miller, J. A. et al. Transcriptional landscape of the prenatal human brain. Nature 508, 199–206 (2014).

Fotsing, S. F. et al. The impact of short tandem repeat variation on gene expression. Nat. Genet. 51, 1652–1659 (2019).

Fu, Y. X. & Chakraborty, R. Simultaneous estimation of all the parameters of a stepwise mutation model. Genetics 150, 487–497 (1998).

Haasl, R. J. & Payseur, B. A. Microsatellites as targets of natural selection. Mol. Biol. Evol. 30, 285–298 (2013).

Benjamini, Y. & Hochberg, Y. Controlling the false discovery rate—a practical and powerful approach to multiple testing. J. R. Stat. Soc. B 57, 289–300 (1995).

Battle, A., Brown, C. D., Engelhardt, B. E. & Montgomery, S. B. Genetic effects on gene expression across human tissues. Nature 550, 204–213 (2017).

Karczewski, K. J. et al. The mutational constraint spectrum quantified from variation in 141,456 humans. Nature 581, 434–443 (2020).
Acknowledgements
This study was supported by the Simons Foundation Autism Research Initiative (SFARI Grant no. 630705). I.M. was additionally supported by a predoctoral fellowship from the Autism Science Foundation. M.G. was additionally supported in part by the Office of The Director, National Institutes of Health under Award Number DP5OD024577 and NIH/NHGRI grants R01HG010149 and R21HG010070. K.E.L. was supported by the National Institutes of Health grant R35GM119856. We thank J. Gleeson, J. Sebat, A. Palmer and A. Goren for helpful comments on this study.
Ethics declarations
Competing interests
The authors declare no competing interests.
Additional information
Peer review information Nature thanks Anders Børglum, Thomas Bourgeron, Anthony Hannan and Ryan Layer for their contribution to the peer review of this work. Peer reviewer reports are available.
Publisher's note Springer Nature remains neutral with regard to jurisdictional claims in published maps and institutional affiliations.
Extended data figures and tables
Supplementary information
About this article
Cite this article
Mitra, I., Huang, B., Mousavi, N. et al. Patterns of de novo tandem repeat mutations and their role in autism. Nature 589, 246–250 (2021). https://doi.org/10.1038/s41586-020-03078-7
Received:

Accepted:

Published:

Issue Date:

DOI: https://doi.org/10.1038/s41586-020-03078-7
Comments
By submitting a comment you agree to abide by our Terms and Community Guidelines. If you find something abusive or that does not comply with our terms or guidelines please flag it as inappropriate.