Abstract
Successful pregnancies rely on adaptations within the mother1, including marked changes within the immune system2. It has long been known that the thymus, the central lymphoid organ, changes markedly during pregnancy3. However, the molecular basis and importance of this process remain largely obscure. Here we show that the osteoclast differentiation receptor RANK4,5 couples female sex hormones to the rewiring of the thymus during pregnancy. Genetic deletion of Rank (also known as Tnfrsf11a) in thymic epithelial cells results in impaired thymic involution and blunted expansion of natural regulatory T (Treg) cells in pregnant female mice. Sex hormones, in particular progesterone, drive the development of thymic Treg cells through RANK in a manner that depends on AIRE+ medullary thymic epithelial cells. The depletion of Rank in the mouse thymic epithelium results in reduced accumulation of natural Treg cells in the placenta, and an increase in the number of miscarriages. Thymic deletion of Rank also results in impaired accumulation of Treg cells in visceral adipose tissue, and is associated with enlarged adipocyte size, tissue inflammation, enhanced maternal glucose intolerance, fetal macrosomia, and a long-lasting transgenerational alteration in glucose homeostasis, which are all key hallmarks of gestational diabetes. Transplantation of Treg cells rescued fetal loss, maternal glucose intolerance and fetal macrosomia. In human pregnancies, we found that gestational diabetes also correlates with a reduced number of Treg cells in the placenta. Our findings show that RANK promotes the hormone-mediated development of thymic Treg cells during pregnancy, and expand the functional role of maternal Treg cells to the development of gestational diabetes and the transgenerational metabolic rewiring of glucose homeostasis.
Relevant articles
Open Access articles citing this article.
Weijie Liang

,

Yuanyi Feng

…

Qiang Jie

Molecular Medicine Open Access 08 September 2023

Xiuxing Liu

,

Chenyang Gu

…

Wenru Su

Journal of Neuroinflammation Open Access 21 June 2023

Lei Xu

,

Chuan Wei

…

Xiaojun Chen

Nature Communications Open Access 12 November 2022
Access options
Access Nature and 54 other Nature Portfolio journals
Get Nature+, our best-value online-access subscription
$29.99 / 30 days
cancel any time
Subscribe to this journal
Receive 51 print issues and online access
$199.00 per year
only $3.90 per issue
Rent or buy this article
Prices vary by article type
from$1.95
to$39.95
Prices may be subject to local taxes which are calculated during checkout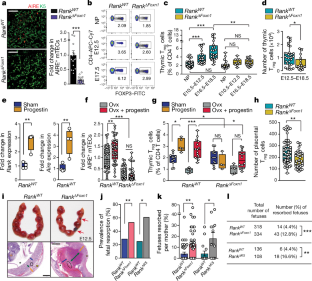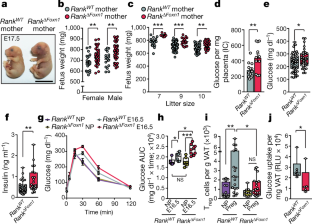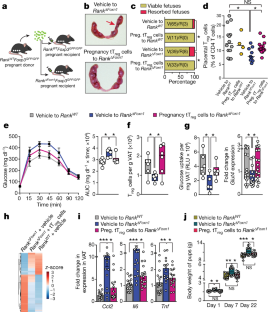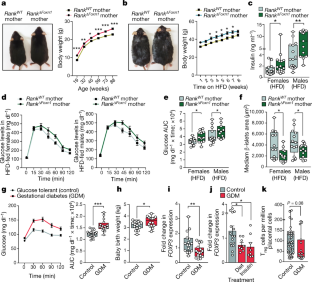 References
Soma-Pillay, P., Nelson-Piercy, C., Tolppanen, H. & Mebazaa, A. Physiological changes in pregnancy. Cardiovasc. J. Afr. 27, 89–94 (2016).

Arck, P. C. & Hecher, K. Fetomaternal immune cross-talk and its consequences for maternal and offspring's health. Nat. Med. 19, 548–556 (2013).

Persike, E. C. Jr. Involution of the thymus during pregnancy in young mice. Proc. Soc. Exp. Biol. Med. 45, 315–317 (1940).

Dougall, W. C. et al. RANK is essential for osteoclast and lymph node development. Genes Dev. 13, 2412–2424 (1999).

Kong, Y.-Y. et al. OPGL is a key regulator of osteoclastogenesis, lymphocyte development and lymph-node organogenesis. Nature 397, 315–323 (1999).

Sigl, V., Jones, L. P. & Penninger, J. M. RANKL/RANK: from bone loss to the prevention of breast cancer. Open Biol. 6, 160230 (2016).

Fata, J. E. et al. The osteoclast differentiation factor osteoprotegerin-ligand is essential for mammary gland development. Cell 103, 41–50 (2000).

Rossi, S. W. et al. RANK signals from CD4+3− inducer cells regulate development of Aire-expressing epithelial cells in the thymic medulla. J. Exp. Med. 204, 1267–1272 (2007).

Cowan, J. E. et al. The thymic medulla is required for Foxp3+ regulatory but not conventional CD4+ thymocyte development. J. Exp. Med. 210, 675–681 (2013).

Yadav, M. et al. Neuropilin-1 distinguishes natural and inducible regulatory T cells among regulatory T cell subsets in vivo. J. Exp. Med. 209, 1713–1722 (2012).

Tilburgs, T. et al. Evidence for a selective migration of fetus-specific CD4+CD25bright regulatory T cells from the peripheral blood to the decidua in human pregnancy. J. Immunol. 180, 5737–5745 (2008).

Aluvihare, V. R., Kallikourdis, M. & Betz, A. G. Regulatory T cells mediate maternal tolerance to the fetus. Nat. Immunol. 5, 266–271 (2004).

Thornton, A. M. et al. Expression of Helios, an Ikaros transcription factor family member, differentiates thymic-derived from peripherally induced Foxp3+ T regulatory cells. J. Immunol. 184, 3433–3441 (2010).

Kc, K., Shakya, S. & Zhang, H. Gestational diabetes mellitus and macrosomia: a literature review. Ann. Nutr. Metab. 66, 14–20 (2015).

Kühl, C. Glucose metabolism during and after pregnancy in normal and gestational diabetic women. 1. Influence of normal pregnancy on serum glucose and insulin concentration during basal fasting conditions and after a challenge with glucose. Acta Endocrinol. (Copenh.) 79, 709–719 (1975).

Van Assche, F. A., Aerts, L. & De Prins, F. A morphological study of the endocrine pancreas in human pregnancy. Br. J. Obstet. Gynaecol. 85, 818–820 (1978).

Kolodin, D. et al. Antigen- and cytokine-driven accumulation of regulatory T cells in visceral adipose tissue of lean mice. Cell Metab. 21, 543–557 (2015).

Feuerer, M. et al. Lean, but not obese, fat is enriched for a unique population of regulatory T cells that affect metabolic parameters. Nat. Med. 15, 930–939 (2009).

Bapat, S. P. et al. Depletion of fat-resident Treg cells prevents age-associated insulin resistance. Nature 528, 137–141 (2015).

Hotamisligil, G. S., Shargill, N. S. & Spiegelman, B. M. Adipose expression of tumor necrosis factor-alpha: direct role in obesity-linked insulin resistance. Science 259, 87–91 (1993).

Vernochet, C. et al. Adipose-specific deletion of TFAM increases mitochondrial oxidation and protects mice against obesity and insulin resistance. Cell Metab. 16, 765–776 (2012).

Boney, C. M., Verma, A., Tucker, R. & Vohr, B. R. Metabolic syndrome in childhood: association with birth weight, maternal obesity, and gestational diabetes mellitus. Pediatrics 115, e290–e296 (2005).

Vohr, B. R., McGarvey, S. T. & Tucker, R. Effects of maternal gestational diabetes on offspring adiposity at 4–7 years of age. Diabetes Care 22, 1284–1291 (1999).

Meier, J. J., Bhushan, A., Butler, A. E., Rizza, R. A. & Butler, P. C. Sustained beta cell apoptosis in patients with long-standing type 1 diabetes: indirect evidence for islet regeneration? Diabetologia 48, 2221–2228 (2005).

Butler, A. E. et al. β-Cell deficit and increased β-cell apoptosis in humans with type 2 diabetes. Diabetes 52, 102–110 (2003).

Sacks, D. A. et al. Frequency of gestational diabetes mellitus at collaborating centers based on IADPSG consensus panel-recommended criteria: the Hyperglycemia and Adverse Pregnancy Outcome (HAPO) study. Diabetes Care 35, 526–528 (2012).

Egan, A. M. et al. Epidemiology of gestational diabetes mellitus according to IADPSG/WHO 2013 criteria among obese pregnant women in Europe. Diabetologia 60, 1913–1921 (2017).

Somerset, D. A., Zheng, Y., Kilby, M. D., Sansom, D. M. & Drayson, M. T. Normal human pregnancy is associated with an elevation in the immune suppressive CD25+ CD4+ regulatory T-cell subset. Immunology 112, 38–43 (2004).

Zenclussen, A. C. et al. Abnormal T-cell reactivity against paternal antigens in spontaneous abortion: adoptive transfer of pregnancy-induced CD4+CD25+ T regulatory cells prevents fetal rejection in a murine abortion model. Am. J. Pathol. 166, 811–822 (2005).

Sansom, S. N. et al. Population and single-cell genomics reveal the Aire dependency, relief from Polycomb silencing, and distribution of self-antigen expression in thymic epithelia. Genome Res. 24, 1918–1931 (2014).

St-Pierre, C., Trofimov, A., Brochu, S., Lemieux, S. & Perreault, C. Differential features of AIRE-induced and AIRE-independent promiscuous gene expression in thymic epithelial cells. J. Immunol. 195, 498–506 (2015).

Butte, N. F. Carbohydrate and lipid metabolism in pregnancy: normal compared with gestational diabetes mellitus. Am. J. Clin. Nutr. 71, 1256S–1261S (2000).

Bellamy, L., Casas, J.-P., Hingorani, A. D. & Williams, D. Type 2 diabetes mellitus after gestational diabetes: a systematic review and meta-analysis. Lancet 373, 1773–1779 (2009).

Clausen, T. D. et al. High prevalence of type 2 diabetes and pre-diabetes in adult offspring of women with gestational diabetes mellitus or type 1 diabetes: the role of intrauterine hyperglycemia. Diabetes Care 31, 340–346 (2008).

Hanada, R. et al. Central control of fever and female body temperature by RANKL/RANK. Nature 462, 505–509 (2009).

Zuklys, S. et al. Stabilized β-catenin in thymic epithelial cells blocks thymus development and function. J. Immunol. 182, 2997–3007 (2009).

Fontenot, J. D. et al. Regulatory T cell lineage specification by the Forkhead transcription factor Foxp3. Immunity 22, 329–341 (2005).

Tarutani, M. et al. Tissue-specific knockout of the mouse Pig-a gene reveals important roles for GPI-anchored proteins in skin development. Proc. Natl Acad. Sci. USA 94, 7400–7405 (1997).

Weiss, J. M. et al. Neuropilin 1 is expressed on thymus-derived natural regulatory T cells, but not mucosa-generated induced Foxp3+ T reg cells. J. Exp. Med. 209, 1723–1742 (2012).

Idris, A. I. Ovariectomy/orchidectomy in rodents. Methods Mol. Biol. 816, 545–551 (2012).

Xing, Y. & Hogquist, K. A. Isolation, identification, and purification of murine thymic epithelial cells. J. Vis. Exp. 90, e51780 (2014).

Picelli, S. et al. Full-length RNA-seq from single cells using Smart-seq2. Nat. Protoc. 9, 171–181 (2014).

Dobin, A. et al. STAR: ultrafast universal RNA-seq aligner. Bioinformatics 29, 15–21 (2013).

Love, M. I., Huber, W. & Anders, S. Moderated estimation of fold change and dispersion for RNA-seq data with DESeq2. Genome Biol. 15, 550 (2014).

Wickham, H. ggplot2: Elegant Graphics for Data Analysis (Springer, 2016).

Bolotin, D. A. et al. MiXCR: software for comprehensive adaptive immunity profiling. Nat. Methods 12, 380–381 (2015).

Anderson, M. S. et al. Projection of an immunological self shadow within the thymus by the Aire protein. Science 298, 1395–1401 (2002).

Harreiter, J. et al. IADPSG and WHO 2013 gestational diabetes mellitus criteria identify obese women with marked insulin resistance in early pregnancy. Diabetes Care 39, e90–e92 (2016).

Metzger, B. E. et al. International association of diabetes and pregnancy study groups recommendations on the diagnosis and classification of hyperglycemia in pregnancy. Diabetes Care 33, e98 (2010).

Diagnostic criteria and classification of hyperglycaemia first detected in pregnancy: a World Health Organization Guideline. Diabetes Res. Clin. Pract. 103, 341–363 (2014).
Acknowledgements
We thank all members of the Penninger and Paolino laboratories for discussions and technical support; Y. Redouane for help with RNA isolation; D. Hoffmann and L. Haas for assistance with oral gavage and intravenous injections; S. Gavali for proofreading the manuscript; G. Schmauss, G. Petri, M. Weninger and other members of the IMP-IMBA Biooptics service facility for assistance in cell sorting and image quantification; staff of the VBCF histopathology department and, in particular, M. Zeba, J. Klughofer and A. Kavirayani, as well as H. Schachner for histology support; and staff of the animal facility and all other IMP/IMBA service facilities. Mass spectrometry and QuantSeq were performed at the VBCF Metabolomics and Next Generation Sequencing units, funded by the City of Vienna. Smart-seq2 libraries were sequenced by the Biomedical Sequencing Facility at CeMM. M.P. is a Ragnar Söderberg Fellow in Medicine and is supported by IMBA, start-up grants from the Karolinska Institutet, the Swedish Research Council (Vetenskapsrådet NE 2016-04458) and the Ragnar Söderberg Foundation (M21/17). G.A.H. is supported by grants from the Swiss National Foundation (3100-68310.02 and 3100-122558) and The Wellcome Trust (105045/Z/14/Z). J.P.F. is funded by Agencia Nacional de Promoción Científica y Tecnológica (PICT-2017-2401), GlaxoSimthKline/Ministerio de Ciencia y Técnica (PCE-GSK-2017-0052) and Fundación para el Progreso de la Medicina (GF-N03/2017). G.A. is supported by a MRC Programme Grant (MR/N000919/1), A.J.W. is funded by a Wellcome Trust Seed Award (204375/Z/16/Z). L.K. is supported by the BM Fonds (15142), the Margaretha Hehberger Stiftung (15142), the COMET Competence Center CBmed (Center for Biomarker Research in Medicine) (FA791A0906.FFG), a FWF grant (P26011) and the Christian-Doppler Lab for Applied Metabolomics. A.K.-W. and J.H. are supported by the Austrian Science Fund No. I 4209 (GOING-FWD) and a Medical Scientific Fund of the Mayor of the City of Vienna (15205). J.M.P. is supported by the Austrian Federal Ministry of Education, Science and Research, the Austrian Academy of Sciences and the City of Vienna and grants from the Austrian Science Fund (FWF Wittgenstein award Z 271-B19), the T. von Zastrow foundation, an EU ERC Advanced Grant (European Community's Seventh Framework Programme (FP7/2007-2013)/ERC grant agreement no. 341036) and a Canada 150 Research Chairs Program (F18-01336).
Ethics declarations
Competing interests
The authors declare no competing interests.
Additional information
Peer review information Nature thanks Matthias Tschoep, Sing Sing Way and the other, anonymous, reviewer(s) for their contribution to the peer review of this work.
Publisher's note Springer Nature remains neutral with regard to jurisdictional claims in published maps and institutional affiliations.
Extended data figures and tables
Supplementary information
About this article
Cite this article
Paolino, M., Koglgruber, R., Cronin, S.J.F. et al. RANK links thymic regulatory T cells to fetal loss and gestational diabetes in pregnancy. Nature 589, 442–447 (2021). https://doi.org/10.1038/s41586-020-03071-0
Received:

Accepted:

Published:

Issue Date:

DOI: https://doi.org/10.1038/s41586-020-03071-0
Comments
By submitting a comment you agree to abide by our Terms and Community Guidelines. If you find something abusive or that does not comply with our terms or guidelines please flag it as inappropriate.