Abstract
Focal chromosomal amplification contributes to the initiation of cancer by mediating overexpression of oncogenes1,2,3, and to the development of cancer therapy resistance by increasing the expression of genes whose action diminishes the efficacy of anti-cancer drugs. Here we used whole-genome sequencing of clonal cell isolates that developed chemotherapeutic resistance to show that chromothripsis is a major driver of circular extrachromosomal DNA (ecDNA) amplification (also known as double minutes) through mechanisms that depend on poly(ADP-ribose) polymerases (PARP) and the catalytic subunit of DNA-dependent protein kinase (DNA-PKcs). Longitudinal analyses revealed that a further increase in drug tolerance is achieved by structural evolution of ecDNAs through additional rounds of chromothripsis. In situ Hi-C sequencing showed that ecDNAs preferentially tether near chromosome ends, where they re-integrate when DNA damage is present. Intrachromosomal amplifications that formed initially under low-level drug selection underwent continuing breakage–fusion–bridge cycles, generating amplicons more than 100 megabases in length that became trapped within interphase bridges and then shattered, thereby producing micronuclei whose encapsulated ecDNAs are substrates for chromothripsis. We identified similar genome rearrangement profiles linked to localized gene amplification in human cancers with acquired drug resistance or oncogene amplifications. We propose that chromothripsis is a primary mechanism that accelerates genomic DNA rearrangement and amplification into ecDNA and enables rapid acquisition of tolerance to altered growth conditions.
Access options
Access Nature and 54 other Nature Portfolio journals
Get Nature+, our best-value online-access subscription
$29.99 / 30 days
cancel any time
Subscribe to this journal
Receive 51 print issues and online access
$199.00 per year
only $3.90 per issue
Rent or buy this article
Prices vary by article type
from$1.95
to$39.95
Prices may be subject to local taxes which are calculated during checkout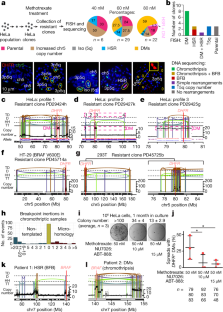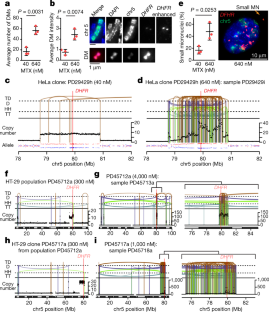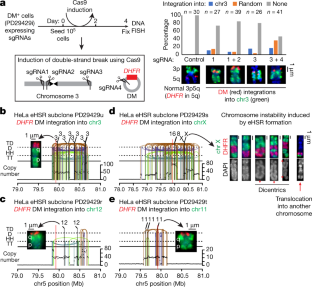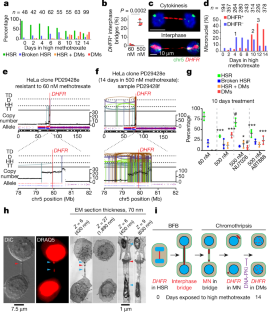 Similar content being viewed by others
Data availability
Paired-end WGS data are available at the European Nucleotide Archive (ENA), accession number ERP107458. In-situ Hi-C sequencing data are available at the Gene Expression Omnibus (GEO), accession number GSE119825. RNA sequencing data are available at GEO, accession number GSE119979. TCGA database can be accessed at https://portal.gdc.cancer.gov/. Source data are provided with this paper.
References
Benner, S. E., Wahl, G. M. & Von Hoff, D. D. Double minute chromosomes and homogeneously staining regions in tumors taken directly from patients versus in human tumor cell lines. Anticancer Drugs 2, 11–25 (1991).

Turner, K. M. et al. Extrachromosomal oncogene amplification drives tumour evolution and genetic heterogeneity. Nature 543, 122–125 (2017).

Albertson, D. G. Gene amplification in cancer. Trends Genet. 22, 447–455 (2006).

Alt, F. W., Kellems, R. E., Bertino, J. R. & Schimke, R. T. Selective multiplication of dihydrofolate reductase genes in methotrexate-resistant variants of cultured murine cells. J. Biol. Chem. 253, 1357–1370 (1978).

Kaufman, R. J., Brown, P. C. & Schimke, R. T. Amplified dihydrofolate reductase genes in unstably methotrexate-resistant cells are associated with double minute chromosomes. Proc. Natl Acad. Sci. USA 76, 5669–5673 (1979).

Nunberg, J. H., Kaufman, R. J., Schimke, R. T., Urlaub, G. & Chasin, L. A. Amplified dihydrofolate reductase genes are localized to a homogeneously staining region of a single chromosome in a methotrexate-resistant Chinese hamster ovary cell line. Proc. Natl Acad. Sci. USA 75, 5553–5556 (1978).

Carroll, S. M. et al. Double minute chromosomes can be produced from precursors derived from a chromosomal deletion. Mol. Cell. Biol. 8, 1525–1533 (1988).

Ruiz, J. C. & Wahl, G. M. Chromosomal destabilization during gene amplification. Mol. Cell. Biol. 10, 3056–3066 (1990).

Coquelle, A., Rozier, L., Dutrillaux, B. & Debatisse, M. Induction of multiple double-strand breaks within an hsr by meganucleaseI-SceI expression or fragile site activation leads to formation of double minutes and other chromosomal rearrangements. Oncogene 21, 7671–7679 (2002).

Nathanson, D. A. et al. Targeted therapy resistance mediated by dynamic regulation of extrachromosomal mutant EGFR DNA. Science 343, 72–76 (2014).

The ICGC/TCGA Pan-Cancer Analysis of Whole Genomes Consortium. Pan-cancer analysis of whole genomes. Nature 578, 82–93 (2020).

Li, Y. et al. Patterns of somatic structural variation in human cancer genomes. Nature 578, 112–121 (2020).

Cortes-Ciriano, I. et al. Comprehensive analysis of chromothripsis in 2,658 human cancers using whole-genome sequencing. Nat. Genet. 52, 331–341 (2020).

Stephens, P. J. et al. Massive genomic rearrangement acquired in a single catastrophic event during cancer development. Cell 144, 27–40 (2011).

deCarvalho, A. C. et al. Discordant inheritance of chromosomal and extrachromosomal DNA elements contributes to dynamic disease evolution in glioblastoma. Nat. Genet. 50, 708–717 (2018).

Verhaak, R. G. W., Bafna, V. & Mischel, P. S. Extrachromosomal oncogene amplification in tumour pathogenesis and evolution. Nat. Rev. Cancer 19, 283–288 (2019).

Rausch, T. et al. Genome sequencing of pediatric medulloblastoma links catastrophic DNA rearrangements with TP53 mutations. Cell 148, 59–71 (2012).

Nones, K. et al. Genomic catastrophes frequently arise in esophageal adenocarcinoma and drive tumorigenesis. Nat. Commun. 5, 5224 (2014).

Ly, P. et al. Chromosome segregation errors generate a diverse spectrum of simple and complex genomic rearrangements. Nat. Genet. 51, 705–715 (2019).

Singer, M. J., Mesner, L. D., Friedman, C. L., Trask, B. J. & Hamlin, J. L. Amplification of the human dihydrofolate reductase gene via double minutes is initiated by chromosome breaks. Proc. Natl Acad. Sci. USA 97, 7921–7926 (2000).

Windle, B., Draper, B. W., Yin, Y. X., O'Gorman, S. & Wahl, G. M. A central role for chromosome breakage in gene amplification, deletion formation, and amplicon integration. Genes Dev. 5, 160–174 (1991).

McClintock, B. The stability of broken ends of chromosomes in Zea mays. Genetics 26, 234–282 (1941).

Glodzik, D. et al. A somatic-mutational process recurrently duplicates germline susceptibility loci and tissue-specific super-enhancers in breast cancers. Nat. Genet. 49, 341–348 (2017).

Garsed, D. W. et al. The architecture and evolution of cancer neochromosomes. Cancer Cell 26, 653–667 (2014).

Landry, J. J. et al. The genomic and transcriptomic landscape of a HeLa cell line. G3 (Bethesda) 3, 1213–1224 (2013).

Zhang, C. Z. et al. Chromothripsis from DNA damage in micronuclei. Nature 522, 179–184 (2015).

Yaeger, R. et al. Mechanisms of acquired resistance to BRAF V600E inhibition in colon cancers converge on RAF dimerization and are sensitive to its inhibition. Cancer Res. 77, 6513–6523 (2017).

Ly, P. et al. Selective Y centromere inactivation triggers chromosome shattering in micronuclei and repair by non-homologous end joining. Nat. Cell Biol. 19, 68–75 (2017).

Shimizu, N., Hashizume, T., Shingaki, K. & Kawamoto, J. K. Amplification of plasmids containing a mammalian replication initiation region is mediated by controllable conflict between replication and transcription. Cancer Res. 63, 5281–5290 (2003).

Maciejowski, J., Li, Y., Bosco, N., Campbell, P. J. & de Lange, T. Chromothripsis and kataegis induced by telomere crisis. Cell 163, 1641–1654 (2015).

Hoffelder, D. R. et al. Resolution of anaphase bridges in cancer cells. Chromosoma 112, 389–397 (2004).

Helleday, T., Petermann, E., Lundin, C., Hodgson, B. & Sharma, R. A. DNA repair pathways as targets for cancer therapy. Nat. Rev. Cancer 8, 193–204 (2008).

Cermak, T. et al. Efficient design and assembly of custom TALEN and other TAL effector-based constructs for DNA targeting. Nucleic Acids Res. 39, e82 (2011).

Fachinetti, D. et al. DNA sequence-specific binding of CENP-B enhances the fidelity of human centromere function. Dev. Cell 33, 314–327 (2015).

Schindelin, J. et al. Fiji: an open-source platform for biological-image analysis. Nat. Methods 9, 676–682 (2012).

Ou, H. D. et al. ChromEMT: visualizing 3D chromatin structure and compaction in interphase and mitotic cells. Science 357, eaag0025 (2017).

Ou, H. D., Deerinck, T. J., Bushong, E., Ellisman, M. H. & O'Shea, C. C. Visualizing viral protein structures in cells using genetic probes for correlated light and electron microscopy. Methods 90, 39–48 (2015).

Rao, S. S. et al. A 3D map of the human genome at kilobase resolution reveals principles of chromatin looping. Cell 159, 1665–1680 (2014).

Li, H. & Durbin, R. Fast and accurate long-read alignment with Burrows-Wheeler transform. Bioinformatics 26, 589–595 (2010).

Raine, K. M. et al. ascatNgs: identifying somatically acquired copy-number alterations from whole-genome sequencing data. Curr. Protoc. Bioinformatics 56, 15.9.1–15.9.17 (2016).

Nik-Zainal, S. et al. Landscape of somatic mutations in 560 breast cancer whole-genome sequences. Nature 534, 47–54 (2016).

Korbel, J. O. & Campbell, P. J. Criteria for inference of chromothripsis in cancer genomes. Cell 152, 1226–1236 (2013).

Li, Y. et al. Constitutional and somatic rearrangement of chromosome 21 in acute lymphoblastic leukaemia. Nature 508, 98–102 (2014).

Alexandrov, L. B., Nik-Zainal, S., Wedge, D. C., Campbell, P. J. & Stratton, M. R. Deciphering signatures of mutational processes operative in human cancer. Cell Rep. 3, 246–259 (2013).
Acknowledgements
This work was funded by grants from the US National Institutes of Health (R35 GM122476 to D.W.C.), the Wellcome Trust (WT088340MA to P.J.C.), the US National Institutes of Health (K99 CA218871 to P.L.), the Swiss National Science Foundation (P2SKP3-171753 to S.F.B.), the Ludwig Institute for Cancer Research (D.W.C. and B.R.), an MSK Cancer Center Core Grant from the NIH (P30 CA 008748 to R.Y.), the National Institute of General Medical Sciences (P41GM103412, R24GM137200 to M.H.E.), and the High End Instrumentation Award (S10OD021784 to M.H.E.). D.W.C. and B.R. receive salary support from the Ludwig Institute for Cancer Research. We thank A. Shiau for providing access to the CQ1 spinning disk confocal system and N. Shimizu for providing the Colo320-DM-GFP cell line.
Ethics declarations
Competing interests
The authors declare no competing interests.
Additional information
Peer review information Nature thanks Jan Korbel, Roel Verhaak and the other, anonymous, reviewer(s) for their contribution to the peer review of this work.
Publisher's note Springer Nature remains neutral with regard to jurisdictional claims in published maps and institutional affiliations.
Extended data figures and tables
Supplementary information
About this article
Cite this article
Shoshani, O., Brunner, S.F., Yaeger, R. et al. Chromothripsis drives the evolution of gene amplification in cancer. Nature 591, 137–141 (2021). https://doi.org/10.1038/s41586-020-03064-z
Received:

Accepted:

Published:

Issue Date:

DOI: https://doi.org/10.1038/s41586-020-03064-z
Comments
By submitting a comment you agree to abide by our Terms and Community Guidelines. If you find something abusive or that does not comply with our terms or guidelines please flag it as inappropriate.