Abstract
How do we learn about what to learn about? Specifically, how do the neural elements in our brain generalize what has been learned in one situation to recognize the common structure of—and speed learning in—other, similar situations? We know this happens because we become better at solving new problems—learning and deploying schemas1,2,3,4,5—through experience. However, we have little insight into this process. Here we show that using prior knowledge to facilitate learning is accompanied by the evolution of a neural schema in the orbitofrontal cortex. Single units were recorded from rats deploying a schema to learn a succession of odour-sequence problems. With learning, orbitofrontal cortex ensembles converged onto a low-dimensional neural code across both problems and subjects; this neural code represented the common structure of the problems and its evolution accelerated across their learning. These results demonstrate the formation and use of a schema in a prefrontal brain region to support a complex cognitive operation. Our results not only reveal a role for the orbitofrontal cortex in learning but also have implications for using ensemble analyses to tap into complex cognitive functions.
Relevant articles
Open Access articles citing this article.
Svenja Melbaum

,

Eleonora Russo

…

Ilka Diester

Nature Communications Open Access 02 December 2022

Veronika Samborska

,

James L. Butler

…

Thomas Akam

Nature Neuroscience Open Access 28 September 2022
Access options
Subscribe to Nature+
Get immediate online access to Nature and 55 other Nature journal
Subscribe to Journal
Get full journal access for 1 year
$199.00
only $3.90 per issue
All prices are NET prices.
VAT will be added later in the checkout.
Tax calculation will be finalised during checkout.
Buy article
Get time limited or full article access on ReadCube.
$32.00
All prices are NET prices.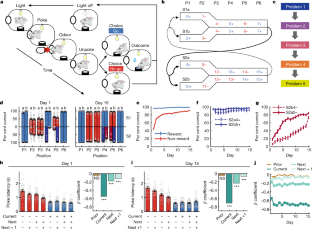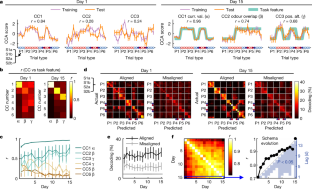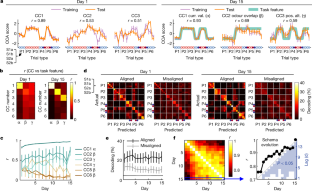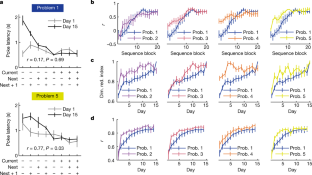 References
Bartlett, F. C. Remembering: A Study in Experimental and Social Psychology (Cambridge Univ. Press, 1932).

Piaget, J. Langage et Pensée Chez L'Enfant (Delachaux et Niestlé, 1923).

van Kesteren, M. T., Ruiter, D. J., Fernández, G. & Henson, R. N. How schema and novelty augment memory formation. Trends Neurosci. 35, 211–219 (2012).

Gilboa, A. & Marlatte, H. Neurobiology of schemas and schema-mediated memory. Trends Cogn. Sci. 21, 618–631 (2017).

Tse, D. et al. Schemas and memory consolidation. Science 316, 76–82 (2007).

Zhou, J. et al. Rat orbitofrontal ensemble activity contains multiplexed but dissociable representations of value and task structure in an odor sequence task. Curr. Biol. 29, 897–907.e3 (2019).

Zhou, J. et al. Complementary task structure representations in hippocampus and orbitofrontal cortex during an odor sequence task. Curr. Biol. 29, 3402–3409.e3 (2019).

Gallego, J. A., Perich, M. G., Chowdhury, R. H., Solla, S. A. & Miller, L. E. Long-term stability of cortical population dynamics underlying consistent behavior. Nat. Neurosci. 23, 260–270 (2020).

Stringer, C. et al. Spontaneous behaviors drive multidimensional, brainwide activity. Science 364, 255 (2019).

Baram, A. B., Muller, T. H., Nili, H., Garvert, M. & Behrens, T. E. Entorhinal and ventromedial prefrontal cortices abstract and generalise the structure of reinforcement learning problems. Preprint at https://doi.org/10.1101/827253 (2020).

McKenzie, S. et al. Hippocampal representation of related and opposing memories develop within distinct, hierarchically organized neural schemas. Neuron 83, 202–215 (2014).

McKenzie, S., Robinson, N. T., Herrera, L., Churchill, J. C. & Eichenbaum, H. Learning causes reorganization of neuronal firing patterns to represent related experiences within a hippocampal schema. J. Neurosci. 33, 10243–10256 (2013).

Morrissey, M. D., Insel, N. & Takehara-Nishiuchi, K. Generalizable knowledge outweighs incidental details in prefrontal ensemble code over time. eLife 6, e22177 (2017).

Rubin, A. et al. Revealing neural correlates of behavior without behavioral measurements. Nat. Commun. 10, 4745 (2019).

Mack, M. L., Preston, A. R. & Love, B. C. Ventromedial prefrontal cortex compression during concept learning. Nat. Commun. 11, 46 (2020).

Farovik, A. et al. Orbitofrontal cortex encodes memories within value-based schemas and represents contexts that guide memory retrieval. J. Neurosci. 35, 8333–8344 (2015).

Jones, B. & Mishkin, M. Limbic lesions and the problem of stimulus–reinforcement associations. Exp. Neurol. 36, 362–377 (1972).

Jones, J. L. et al. Orbitofrontal cortex supports behavior and learning using inferred but not cached values. Science 338, 953–956 (2012).

Wimmer, G. E. & Shohamy, D. Preference by association: how memory mechanisms in the hippocampus bias decisions. Science 338, 270–273 (2012).

Wilson, R. C., Takahashi, Y. K., Schoenbaum, G. & Niv, Y. Orbitofrontal cortex as a cognitive map of task space. Neuron 81, 267–279 (2014).

Constantinescu, A. O., O'Reilly, J. X. & Behrens, T. E. J. Organizing conceptual knowledge in humans with a gridlike code. Science 352, 1464–1468 (2016).

Schuck, N. W., Cai, M. B., Wilson, R. C. & Niv, Y. Human orbitofrontal cortex represents a cognitive map of state space. Neuron 91, 1402–1412 (2016).

Garvert, M. M., Dolan, R. J. & Behrens, T. E. A map of abstract relational knowledge in the human hippocampal-entorhinal cortex. eLife 6, e17086 (2017).

Behrens, T. E. J. et al. What is a cognitive map? Oganizing knowledge for flexible behavior. Neuron 100, 490–509 (2018).

Gardner, M. P. H. & Schoenbaum, G. The orbitofrontal cartographer. Preprint at https://doi.org/10.31234/osf.io/4mrxy (2020).

Gallagher, M., McMahan, R. W. & Schoenbaum, G. Orbitofrontal cortex and representation of incentive value in associative learning. J. Neurosci. 19, 6610–6614 (1999).

Takahashi, Y. K. et al. Neural estimates of imagined outcomes in the orbitofrontal cortex drive behavior and learning. Neuron 80, 507–518 (2013).

Stalnaker, T. A., Cooch, N. K. & Schoenbaum, G. What the orbitofrontal cortex does not do. Nat. Neurosci. 18, 620–627 (2015).

Schoenbaum, G., Nugent, S. L., Saddoris, M. P. & Setlow, B. Orbitofrontal lesions in rats impair reversal but not acquisition of go, no-go odor discriminations. Neuroreport 13, 885–890 (2002).

Gardner, M. P. H., Conroy, J. S., Shaham, M. H., Styer, C. V. & Schoenbaum, G. Lateral orbitofrontal inactivation dissociates devaluation-sensitive behavior and economic choice. Neuron 96, 1192–1203.e4 (2017).

Hirokawa, J., Vaughan, A., Masset, P., Ott, T. & Kepecs, A. Frontal cortex neuron types categorically encode single decision variables. Nature 576, 446–451 (2019).

Nogueira, R. et al. Lateral orbitofrontal cortex anticipates choices and integrates prior with current information. Nat. Commun. 8, 14823 (2017).

Young, J. J. & Shapiro, M. L. Dynamic coding of goal-directed paths by orbital prefrontal cortex. J. Neurosci. 31, 5989–6000 (2011).

Calhoun, V. D., Adali, T., Pearlson, G. D. & Pekar, J. J. A method for making group inferences from functional MRI data using independent component analysis. Hum. Brain Mapp. 14, 140–151 (2001).

Hyvärinen, A. & Oja, E. Independent component analysis: algorithms and applications. Neural Netw. 13, 411–430 (2000).

McKeown, M. J., Hansen, L. K. & Sejnowsk, T. J. Independent component analysis of functional MRI: what is signal and what is noise? Curr. Opin. Neurobiol. 13, 620–629 (2003).

Wang, J. & Chang, C.-I. Independent component analysis-based dimensionality reduction with applications in hyperspectral image analysis. IEEE Trans. Geosci. Remote Sens. 44, 1586–1600 (2006).

Bell, A. J. & Sejnowski, T. J. An information-maximization approach to blind separation and blind deconvolution. Neural Comput. 7, 1129–1159 (1995).

Long, Q. et al. Consistent run selection for independent component analysis: application to FMRI analysis. In IEEE International Conference on Acoustics, Speech and Signal Processing 2581–2585 (2018).

Akhonda, M. A. B. S., Levin-Schwartz, Y., Bhinge, S., Calhoun, V. D. & Adali, T. Consecutive independence and correlation transform for multimodal fusion: application to EEG and FMRI Data. In IEEE International Conference on Acoustics, Speech and Signal Processing 2311–2315 (2018).

Jia, C. et al. C–ICT for discovery of multiple associations in multimodal imaging data: application to fusion of fMRI and DTI data. In 53rd Annual Conference on Information Sciences and Systems 1–5 (2019).

Chang, C.-C. & Lin, C.-J. LIBSVM: A library for support vector machines. ACM Trans. Intell. Syst. Technol. 2, 27 (2011).

Zhang, Y. et al. Object decoding with attention in inferior temporal cortex. Proc. Natl Acad. Sci. USA 108, 8850–8855 (2011).
Acknowledgements
The authors thank the NIDA IRP histology core for technical assistance with histology. This work used the computational resources of the NIH HPC Biowulf cluster (http://hpc.nih.gov). This work was supported by a grant from the NIDA (K99DA049888 to J.Z.) and the Intramural Research Program at NIDA (ZIA-DA000587 to G.S.). The opinions expressed in this article are the authors' own and do not reflect the view of the NIH or DHHS.
Ethics declarations
Competing interests
The authors declare no competing interests.
Additional information
Peer review information Nature thanks Alison Preston and the other, anonymous, reviewer(s) for their contribution to the peer review of this work. Peer reviewer reports are available.
Publisher's note Springer Nature remains neutral with regard to jurisdictional claims in published maps and institutional affiliations.
Extended data figures and tables
Supplementary information
Number of recorded neurons (Tables 1 – 2) and detailed results for statistical testing in the main figures and Extended Data figures (Tables 3 – 9).
About this article
Cite this article
Zhou, J., Jia, C., Montesinos-Cartagena, M. et al. Evolving schema representations in orbitofrontal ensembles during learning. Nature 590, 606–611 (2021). https://doi.org/10.1038/s41586-020-03061-2
Received:

Accepted:

Published:

Issue Date:

DOI: https://doi.org/10.1038/s41586-020-03061-2
Comments
By submitting a comment you agree to abide by our Terms and Community Guidelines. If you find something abusive or that does not comply with our terms or guidelines please flag it as inappropriate.