Abstract
Haematopoietic stem cells (HSCs) reside in specialized microenvironments in the bone marrow—often referred to as 'niches'—that represent complex regulatory milieux influenced by multiple cellular constituents, including nerves1,2. Although sympathetic nerves are known to regulate the HSC niche3,4,5,6, the contribution of nociceptive neurons in the bone marrow remains unclear. Here we show that nociceptive nerves are required for enforced HSC mobilization and that they collaborate with sympathetic nerves to maintain HSCs in the bone marrow. Nociceptor neurons drive granulocyte colony-stimulating factor (G-CSF)-induced HSC mobilization via the secretion of calcitonin gene-related peptide (CGRP). Unlike sympathetic nerves, which regulate HSCs indirectly via the niche3,4,6, CGRP acts directly on HSCs via receptor activity modifying protein 1 (RAMP1) and the calcitonin receptor-like receptor (CALCRL) to promote egress by activating the Gαs/adenylyl cyclase/cAMP pathway. The ingestion of food containing capsaicin—a natural component of chili peppers that can trigger the activation of nociceptive neurons—significantly enhanced HSC mobilization in mice. Targeting the nociceptive nervous system could therefore represent a strategy to improve the yield of HSCs for stem cell-based therapeutic agents.
Your institute does not have access to this article
Relevant articles
Open Access articles citing this article.
Flavia Peci

,

Linde Dekker

…

Mirjam Belderbos

Bone Marrow Transplantation Open Access 11 June 2022
Access options
Subscribe to Nature+
Get immediate online access to the entire Nature family of 50+ journals
Subscribe to Journal
Get full journal access for 1 year
$199.00
only $3.90 per issue
All prices are NET prices.
VAT will be added later in the checkout.
Tax calculation will be finalised during checkout.
Buy article
Get time limited or full article access on ReadCube.
$32.00
All prices are NET prices.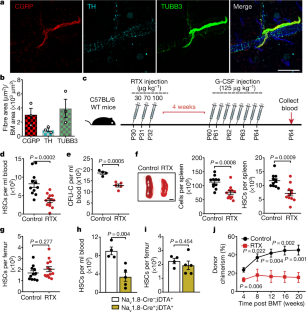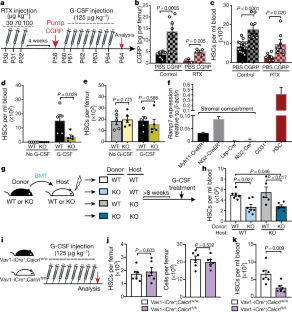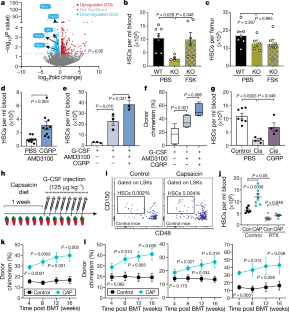 Data availability
RNA sequencing data have been deposited in the Gene Expression Omnibus under accession number GSE156449. All other data are available from the corresponding author upon reasonable request. Source data are provided with this paper.
References
Gao, X., Xu, C., Asada, N. & Frenette, P. S. The hematopoietic stem cell niche: from embryo to adult. Development 145, dev139691 (2018).

Hoggatt, J., Kfoury, Y. & Scadden, D. T. Hematopoietic stem cell niche in health and disease. Annu. Rev. Pathol. 11, 555–581 (2016).

Katayama, Y. et al. Signals from the sympathetic nervous system regulate hematopoietic stem cell egress from bone marrow. Cell 124, 407–421 (2006).

Lucas, D. et al. Chemotherapy-induced bone marrow nerve injury impairs hematopoietic regeneration. Nat. Med. 19, 695–703 (2013).

Maryanovich, M. et al. Adrenergic nerve degeneration in bone marrow drives aging of the hematopoietic stem cell niche. Nat. Med. 24, 782–791 (2018).

Méndez-Ferrer, S. et al. Mesenchymal and haematopoietic stem cells form a unique bone marrow niche. Nature 466, 829–834 (2010).

Bensinger, W., DiPersio, J. F. & McCarty, J. M. Improving stem cell mobilization strategies: future directions. Bone Marrow Transplant. 43, 181–195 (2009).

Ordovas-Montanes, J. et al. The regulation of immunological processes by peripheral neurons in homeostasis and disease. Trends Immunol. 36, 578–604 (2015).

Pavlov, V. A., Chavan, S. S. & Tracey, K. J. Molecular and functional neuroscience in immunity. Annu. Rev. Immunol. 36, 783–812 (2018).

Pinho-Ribeiro, F. A., Verri, W. A. & Chiu, I. M. Nociceptor sensory neuron–immune interactions in pain and inflammation. Trends Immunol. 38, 5–19 (2017).

Tsunokuma, N. et al. Depletion of neural crest-derived cells leads to reduction in plasma noradrenaline and alters B lymphopoiesis. J. Immunol. 198, 156–169 (2017).

Suekane, A. et al. CGRP−CRLR/RAMP1 signal is important for stress-induced hematopoiesis. Sci. Rep. 9, 429 (2019).

Chow, A. et al. Bone marrow CD169+ macrophages promote the retention of hematopoietic stem and progenitor cells in the mesenchymal stem cell niche. J. Exp. Med. 208, 261–271 (2011).

Christopher, M. J., Rao, M., Liu, F., Woloszynek, J. R. & Link, D. C. Expression of the G-CSF receptor in monocytic cells is sufficient to mediate hematopoietic progenitor mobilization by G-CSF in mice. J. Exp. Med. 208, 251–260 (2011).

Winkler, I. G. et al. Bone marrow macrophages maintain hematopoietic stem cell (HSC) niches and their depletion mobilizes HSCs. Blood 116, 4815–4828 (2010).

Broxmeyer, H. E. et al. Rapid mobilization of murine and human hematopoietic stem and progenitor cells with AMD3100, a CXCR4 antagonist. J. Exp. Med. 201, 1307–1318 (2005).

Lucas, D. et al. Norepinephrine reuptake inhibition promotes mobilization in mice: potential impact to rescue low stem cell yields. Blood 119, 3962–3965 (2012).

Shastri, A. et al. Stimulation of adrenergic activity by desipramine enhances hematopoietic stem and progenitor cell mobilization along with G-CSF in multiple myeloma: A pilot study. Am. J. Hematol. 92, 1047–1051 (2017).

Ford, C. D., Green, W., Warenski, S. & Petersen, F. B. Effect of prior chemotherapy on hematopoietic stem cell mobilization. Bone Marrow Transplant. 33, 901–905 (2004).

Adams, G. B. et al. Haematopoietic stem cells depend on Gαs-mediated signalling to engraft bone marrow. Nature 459, 103–107 (2009).

Hagedorn, E. J., Durand, E. M., Fast, E. M. & Zon, L. I. Getting more for your marrow: boosting hematopoietic stem cell numbers with PGE2. Exp Cell Res. 329, 220–226 (2014).

Hoggatt, J. et al. Differential stem- and progenitor-cell trafficking by prostaglandin E2. Nature 495, 365–369 (2013).

Sands, W. A. & Palmer, T. M. Regulating gene transcription in response to cyclic AMP elevation. Cell. Signal. 20, 460–466 (2008).

Pulsipher, M. A. et al. Adverse events among 2408 unrelated donors of peripheral blood stem cells: results of a prospective trial from the National Marrow Donor Program. Blood 113, 3604–3611 (2009).

Schweizerhof, M. et al. Hematopoietic colony-stimulating factors mediate tumor–nerve interactions and bone cancer pain. Nat. Med. 15, 802–807 (2009).

Charles, A. & Pozo-Rosich, P. Targeting calcitonin gene-related peptide: a new era in migraine therapy. Lancet 394, 1765–1774 (2019).

Cui, M., Gosu, V., Basith, S., Hong, S. & Choi, S. Polymodal transient receptor potential vanilloid type 1 nocisensor: structure, modulators, and therapeutic applications. Adv. Protein Chem. Struct. Biol. 104, 81–125 (2016).

Asada, N. et al. Differential cytokine contributions of perivascular haematopoietic stem cell niches. Nat. Cell Biol. 19, 214–223 (2017).

Li, M. et al. Deficiency of RAMP1 attenuates antigen-induced airway hyperresponsiveness in mice. PLoS ONE 9, e102356 (2014).

Fritz-Six, K. L., Dunworth, W. P., Li, M. & Caron, K. M. Adrenomedullin signaling is necessary for murine lymphatic vascular development. J. Clin. Invest. 118, 40–50 (2008).
Acknowledgements
We thank J. Wood for providing Nav1.8-Cre mice, C. Prophete for technical assistance, A. Birbrair and N. Asada for advice with the initial experiments, and D. Sun from the Human Stem Cell FACS and Xenotransplantation Facility for assistance with cell sorting. This work was supported by grants from the National Institutes of Health (U01DK116312, R01DK056638, R01DK112976 and R01HL069438) to P.S.F. H.L. is the recipient of a F32 Ruth L. Kirschstein Postdoctoral Individual National Research Service Award (HL142243-01).
Ethics declarations
Competing interests
P.S.F. serves as consultant for Pfizer, has received research funding from Ironwood Pharmaceuticals and is a shareholder of Cygnal Therapeutics. The rest of the authors declare no competing interests.
Additional information
Peer review information Nature thanks Iannis Aifantis, Toshio Suda and the other, anonymous, reviewer(s) for their contribution to the peer review of this work.
Publisher's note Springer Nature remains neutral with regard to jurisdictional claims in published maps and institutional affiliations.
Extended data figures and tables
Supplementary information
About this article
Cite this article
Gao, X., Zhang, D., Xu, C. et al. Nociceptive nerves regulate haematopoietic stem cell mobilization. Nature 589, 591–596 (2021). https://doi.org/10.1038/s41586-020-03057-y
Received:

Accepted:

Published:

Issue Date:

DOI: https://doi.org/10.1038/s41586-020-03057-y
Comments
By submitting a comment you agree to abide by our Terms and Community Guidelines. If you find something abusive or that does not comply with our terms or guidelines please flag it as inappropriate.