Abstract
Autophagy, a process of degradation that occurs via the lysosomal pathway, has an essential role in multiple aspects of immunity, including immune system development, regulation of innate and adaptive immune and inflammatory responses, selective degradation of intracellular microorganisms, and host protection against infectious diseases1,2. Autophagy is known to be induced by stimuli such as nutrient deprivation and suppression of mTOR, but little is known about how autophagosomal biogenesis is initiated in mammalian cells in response to viral infection. Here, using genome-wide short interfering RNA screens, we find that the endosomal protein sorting nexin 5 (SNX5)3,4 is essential for virus-induced, but not for basal, stress- or endosome-induced, autophagy. We show that SNX5 deletion increases cellular susceptibility to viral infection in vitro, and that Snx5 knockout in mice enhances lethality after infection with several human viruses. Mechanistically, SNX5 interacts with beclin 1 and ATG14-containing class III phosphatidylinositol-3-kinase (PI3KC3) complex 1 (PI3KC3-C1), increases the lipid kinase activity of purified PI3KC3-C1, and is required for endosomal generation of phosphatidylinositol-3-phosphate (PtdIns(3)P) and recruitment of the PtdIns(3)P-binding protein WIPI2 to virion-containing endosomes. These findings identify a context- and organelle-specific mechanism—SNX5-dependent PI3KC3-C1 activation at endosomes—for initiation of autophagy during viral infection.
Relevant articles
Open Access articles citing this article.
Weiwei Liu

,

Zejun Xu

…

Chan Ding

Animal Diseases Open Access 12 July 2023

Tong Chen

,

Shaoyu Tu

…

Hongbo Zhou

Journal of Biomedical Science Open Access 18 January 2023

Bin Cheng

,

Qiong Wang

…

Zhongji Meng

Virology Journal Open Access 27 June 2022
Access options
Access Nature and 54 other Nature Portfolio journals
Get Nature+, our best-value online-access subscription
$29.99 / 30 days
cancel any time
Subscribe to this journal
Receive 51 print issues and online access
$199.00 per year
only $3.90 per issue
Rent or buy this article
Prices vary by article type
from$1.95
to$39.95
Prices may be subject to local taxes which are calculated during checkout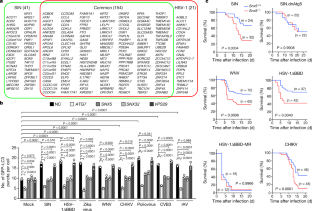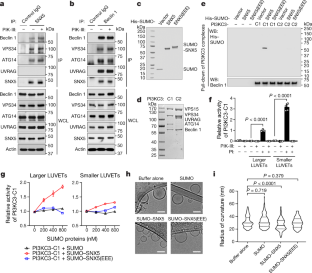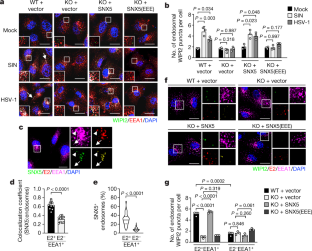 Data availability
All relevant data supporting the findings of this study are available within the manuscript and its supplementary information files. Protein sequences were acquired from the NCBI RefSeq database, and accession numbers are provided in 'Amino acid sequence alignment of sorting nexins'. Source data are provided with this paper.
References
Levine, B., Mizushima, N. & Virgin, H. W. Autophagy in immunity and inflammation. Nature 469, 323–335 (2011).

Dong, X. & Levine, B. Autophagy and viruses: adversaries or allies? J. Innate Immun. 5, 480–493 (2013).

Merino-Trigo, A. et al. Sorting nexin 5 is localized to a subdomain of the early endosomes and is recruited to the plasma membrane following EGF stimulation. J. Cell Sci. 117, 6413–6424 (2004).

Wassmer, T. et al. A loss-of-function screen reveals SNX5 and SNX6 as potential components of the mammalian retromer. J. Cell Sci. 120, 45–54 (2007).

Orvedahl, A. et al. HSV-1 ICP34.5 confers neurovirulence by targeting the Beclin 1 autophagy protein. Cell Host Microbe 1, 23–35 (2007).

Orvedahl, A. et al. Autophagy protects against Sindbis virus infection of the central nervous system. Cell Host Microbe 7, 115–127 (2010).

Sumpter, R., Jr et al. Fanconi anemia proteins function in mitophagy and immunity. Cell 165, 867–881 (2016).

Lei, Y. et al. The mitochondrial proteins NLRX1 and TUFM form a complex that regulates type I interferon and autophagy. Immunity 36, 933–946 (2012).

Mercer, J., Schelhaas, M. & Helenius, A. Virus entry by endocytosis. Annu. Rev. Biochem. 79, 803–833 (2010).

Mim, C. & Unger, V. M. Membrane curvature and its generation by BAR proteins. Trends Biochem. Sci. 37, 526–533 (2012).

Gallop, J. L. & McMahon, H. T. BAR domains and membrane curvature: bringing your curves to the BAR. Biochem. Soc. Symp. 72, 223–231 (2005).

Levine, B., Liu, R., Dong, X. & Zhong, Q. Beclin orthologs: integrative hubs of cell signaling, membrane trafficking, and physiology. Trends Cell Biol. 25, 533–544 (2015).

Liu, Y. et al. Inflammation-induced, STING-dependent autophagy restricts Zika virus infection in the Drosophila brain. Cell Host Microbe 24, 57–68.e3 (2018).

Kobayashi, S. et al. Autophagy inhibits viral genome replication and gene expression stages in West Nile virus infection. Virus Res. 191, 83–91 (2014).

Joubert, P. E. et al. Chikungunya virus-induced autophagy delays caspase-dependent cell death. J. Exp. Med. 209, 1029–1047 (2012).

Jackson, W. T. et al. Subversion of cellular autophagosomal machinery by RNA viruses. PLoS Biol. 3, e156 (2005).

Alirezaei, M., Flynn, C. T., Wood, M. R. & Whitton, J. L. Pancreatic acinar cell-specific autophagy disruption reduces coxsackievirus replication and pathogenesis in vivo. Cell Host Microbe 11, 298–305 (2012).

Gannagé, M. et al. Matrix protein 2 of influenza A virus blocks autophagosome fusion with lysosomes. Cell Host Microbe 6, 367–380 (2009).

Nakagawa, I. et al. Autophagy defends cells against invading group A Streptococcus. Science 306, 1037–1040 (2004).

Florey, O., Gammoh, N., Kim, S. E., Jiang, X. & Overholtzer, M. V-ATPase and osmotic imbalances activate endolysosomal LC3 lipidation. Autophagy 11, 88–99 (2015).

Fletcher, K. et al. The WD40 domain of ATG16L1 is required for its non-canonical role in lipidation of LC3 at single membranes. EMBO J. 37, e97840 (2018).

Simonetti, B., Danson, C. M., Heesom, K. J. & Cullen, P. J. Sequence-dependent cargo recognition by SNX-BARs mediates retromer-independent transport of CI-MPR. J. Cell Biol. 216, 3695–3712 (2017).

Lim, J. P., Gosavi, P., Mintern, J. D., Ross, E. M. & Gleeson, P. A. Sorting nexin 5 selectively regulates dorsal-ruffle-mediated macropinocytosis in primary macrophages. J. Cell Sci. 128, 4407–4419 (2015).

Yordy, B., Iijima, N., Huttner, A., Leib, D. & Iwasaki, A. A neuron-specific role for autophagy in antiviral defense against herpes simplex virus. Cell Host Microbe 12, 334–345 (2012).

Shoji-Kawata, S. et al. Identification of a candidate therapeutic autophagy-inducing peptide. Nature 494, 201–206 (2013).

Fan, W., Nassiri, A. & Zhong, Q. Autophagosome targeting and membrane curvature sensing by Barkor/Atg14(L). Proc. Natl Acad. Sci. USA 108, 7769–7774 (2011).

Baskaran, S. et al. Architecture and dynamics of the autophagic phosphatidylinositol 3-kinase complex. eLife 3, e05115 (2014).

Rostislavleva, K. et al. Structure and flexibility of the endosomal Vps34 complex reveals the basis of its function on membranes. Science 350, aac7365 (2015).

Hope, M. J., Bally, M. B., Webb, G. & Cullis, P. R. Production of large unilamellar vesicles by a rapid extrusion procedure: characterization of size distribution, trapped volume and ability to maintain a membrane potential. Biochim. Biophys. Acta 812, 55–65 (1985).

Mayer, L. D., Hope, M. J. & Cullis, P. R. Vesicles of variable sizes produced by a rapid extrusion procedure. Biochim. Biophys. Acta 858, 161–168 (1986).

Evans, W. H. & Hardison, W. G. Phospholipid, cholesterol, polypeptide and glycoprotein composition of hepatic endosome subfractions. Biochem. J. 232, 33–36 (1985).

Kobayashi, T. et al. A lipid associated with the antiphospholipid syndrome regulates endosome structure and function. Nature 392, 193–197 (1998).

Carlton, J. et al. Sorting nexin-1 mediates tubular endosome-to-TGN transport through coincidence sensing of high- curvature membranes and 3-phosphoinositides. Curr. Biol. 14, 1791–1800 (2004).

Polson, H. E. et al. Mammalian Atg18 (WIPI2) localizes to omegasome-anchored phagophores and positively regulates LC3 lipidation. Autophagy 6, 506–522 (2010).

Jose, J., Tang, J., Taylor, A. B., Baker, T. S. & Kuhn, R. J. Fluorescent protein-tagged Sindbis virus E2 glycoprotein allows single particle analysis of virus budding from live cells. Viruses 7, 6182–6199 (2015).

Maschkowitz, G., Gärtner, S., Hofmann-Winkler, H., Fickenscher, H. & Winkler, M. Interaction of human cytomegalovirus tegument proteins ppUL35 and ppUL35A with sorting nexin 5 regulates glycoprotein B (gpUL55) localization. J. Virol. 92, e00013–e00018 (2018).

Schuchman, R. et al. Comparative characterization of the Sindbis virus proteome from mammalian and invertebrate hosts identifies nsP2 as a component of the virion and sorting nexin 5 as a significant host factor for alphavirus replication. J. Virol. 92, e00694-18 (2018).

Durkin, M. E., Qian, X., Popescu, N. C. & Lowy, D. R. Isolation of mouse embryo fibroblasts. Bio Protoc. 3, e908 (2013).

Dowdle, W. E. et al. Selective VPS34 inhibitor blocks autophagy and uncovers a role for NCOA4 in ferritin degradation and iron homeostasis in vivo. Nat. Cell Biol. 16, 1069–1079 (2014).

Thoreen, C. C. et al. An ATP-competitive mammalian target of rapamycin inhibitor reveals rapamycin-resistant functions of mTORC1. J. Biol. Chem. 284, 8023–8032 (2009).

Gobeil, P. A. & Leib, D. A. Herpes simplex virus γ34.5 interferes with autophagosome maturation and antigen presentation in dendritic cells. MBio 3, e00267-12 (2012).

Taylor, R. M., Hurlbut, H. S., Work, T. H., Kingston, J. R. & Frothingham, T. E. Sindbis virus: a newly recognized arthropod transmitted virus. Am. J. Trop. Med. Hyg. 4, 844–862 (1955).

Hardwick, J. M. & Levine, B. Sindbis virus vector system for functional analysis of apoptosis regulators. Methods Enzymol. 322, 492–508 (2000).

Schuffenecker, I. et al. Genome microevolution of chikungunya viruses causing the Indian Ocean outbreak. PLoS Med. 3, e263 (2006).

Keller, B. C. et al. Resistance to alpha/beta interferon is a determinant of West Nile virus replication fitness and virulence. J. Virol. 80, 9424–9434 (2006).

Melnick, J. L. et al. Isolation from human sera in Egypt of a virus apparently identical to West Nile virus. Proc. Soc. Exp. Biol. Med. 77, 661–665 (1951).

Huang, W., Sherman, B. T. & Lempicki, R. A. Systematic and integrative analysis of large gene lists using DAVID bioinformatics resources. Nat. Proto. 4, 44–57 (2009).

Huang, W., Sherman, B. T. & Lempicki, R. A. Bioinformatics enrichment tools: paths toward the comprehensive functional analysis of large gene lists. Nucleic Acids Res. 37, 1–13 (2009).

Honess, R. W. & Roizman, B. Regulation of herpesvirus macromolecular synthesis. I. Cascade regulation of the synthesis of three groups of viral proteins. J. Virol. 14, 8–19 (1974).

Sawicki, D. L., Sawicki, S. G., Keränen, S. & Kääriäinen, L. Specific Sindbis virus-coded function for minus-strand RNA synthesis. J. Virol. 39, 348–358 (1981).

Axe, E. L. et al. Autophagosome formation from membrane compartments enriched in phosphatidylinositol 3-phosphate and dynamically connected to the endoplasmic reticulum. J. Cell Biol. 182, 685–701 (2008).

Steinberg, F. et al. A global analysis of SNX27-retromer assembly and cargo specificity reveals a function in glucose and metal ion transport. Nat. Cell Biol. 15, 461–471 (2013).

Ma, M. et al. Cryo-EM structure and biochemical analysis reveal the basis of the functional difference between human PI3KC3-C1 and -C2. Cell Res. 27, 989–1001 (2017).

van Weering, J. R. et al. Molecular basis for SNX-BAR-mediated assembly of distinct endosomal sorting tubules. EMBO J. 31, 4466–4480 (2012).
Acknowledgements
This work was supported by Cancer Prevention Research Institute of Texas (CPRIT) grants RP120718 (B.L.) and RP180805 (Y.X.), NIH U19 AI109725 (B.L. and R.J.X.), NIH U19 AI142784 (B.L. and R.J.X.), NIH R01 DK097485 (R.J.X.), the Medical Research Council (MRC) MR/L007363/1 and MR/P018807/1 (P.J.C.), the Wellcome Trust 104568/Z/14/2 (P.J.C.), the Lister Institute of Preventive Medicine (P.J.C.), NIH R35 GM130289 (X. Zhang), NIH R01 GM115473 (Y.X.), NIH R01 CA172211 (G.X.), the Welch Foundation grant I-1702 (X. Zhang), the Rita Allen Foundation (J.W.S.) the Biotechnology and Biological Sciences Research Council grant BB/K019155/1 (N.T.K.), and National Health and Medical Research Council Australia (NHMRC) APP1163862 (P.A.G.). We thank H. W. Virgin, R. M. Sumpter Jr, A. Orvedahl, M. Packer, D. A. Leib, J. Lippincott-Schwartz, S. Tooze, S. Cherry, K. Luby-Phelps, L. N. Kinch, C. A. Brautigam, D. Tomchick, M. Roth, M. Shiloh and J. Neff for helpful discussions; M. Johnson, H. Niederstrasser and B. Posner for assistance with the siGENOME siRNA library; L. Huang for assistance with high-throughput siRNA screens and data analysis; Y. Ohashi and M. Wilson for the design of the PX domain probe and M. Manifava for assistance with PtdIns(3)P staining; A. Bugde and the UT Southwestern Medical Center (UTSW) Live Cell Imaging Facility for assistance with fluorescence microscopy; Z. Chen and Y. Li from the Structural Biology Laboratory at UTSW for assistance with cryo-EM studies (supported in part by CPRIT grant RP170644); M. S. Diamond, M. Gale Jr, A. Garcia-Sastre, D. J. Lenschow, K. Kirkegaard, M. Vignuzzi, S. Tooze, D. E. Griffin, R. J. Kuhn, I. Nakagawa, I. Bezprozvanny, M. B. Frieman, C. M. Rice and H. Wang for providing critical reagents; L. Nguyen for assistance with animal experiments; and H. Smith and H. Kang for assistance with manuscript preparation.
Ethics declarations
Competing interests
B. Levine is a scientific co-founder of Casma Therapeutics. R.J.X. is co-founder of Jnana Therapeutics and Celsius Therapeutics. None of these companies provided support for this work.
Additional information
Peer review information Nature thanks Christian Münz, Anne Simonsen and the other, anonymous, reviewer(s) for their contribution to the peer review of this work.
Publisher's note Springer Nature remains neutral with regard to jurisdictional claims in published maps and institutional affiliations.
Extended data figures and tables
Supplementary information
About this article
Cite this article
Dong, X., Yang, Y., Zou, Z. et al. Sorting nexin 5 mediates virus-induced autophagy and immunity. Nature 589, 456–461 (2021). https://doi.org/10.1038/s41586-020-03056-z
Received:

Accepted:

Published:

Issue Date:

DOI: https://doi.org/10.1038/s41586-020-03056-z
Comments
By submitting a comment you agree to abide by our Terms and Community Guidelines. If you find something abusive or that does not comply with our terms or guidelines please flag it as inappropriate.