Abstract
Mechanical deformations of DNA such as bending are ubiquitous and have been implicated in diverse cellular functions1. However, the lack of high-throughput tools to measure the mechanical properties of DNA has limited our understanding of how DNA mechanics influence chromatin transactions across the genome. Here we develop 'loop-seq'—a high-throughput assay to measure the propensity for DNA looping—and determine the intrinsic cyclizabilities of 270,806 50-base-pair DNA fragments that span Saccharomyces cerevisiae chromosome V, other genomic regions, and random sequences. We found sequence-encoded regions of unusually low bendability within nucleosome-depleted regions upstream of transcription start sites (TSSs). Low bendability of linker DNA inhibits nucleosome sliding into the linker by the chromatin remodeller INO80, which explains how INO80 can define nucleosome-depleted regions in the absence of other factors2. Chromosome-wide, nucleosomes were characterized by high DNA bendability near dyads and low bendability near linkers. This contrast increases for deeper gene-body nucleosomes but disappears after random substitution of synonymous codons, which suggests that the evolution of codon choice has been influenced by DNA mechanics around gene-body nucleosomes. Furthermore, we show that local DNA mechanics affect transcription through TSS-proximal nucleosomes. Overall, this genome-scale map of DNA mechanics indicates a 'mechanical code' with broad functional implications.
This is a preview of subscription content
Access options
Subscribe to Journal
Get full journal access for 1 year
$199.00
only $3.90 per issue
All prices are NET prices.
VAT will be added later in the checkout.
Tax calculation will be finalised during checkout.
Rent or Buy article
Get time limited or full article access on ReadCube.
from$8.99
All prices are NET prices.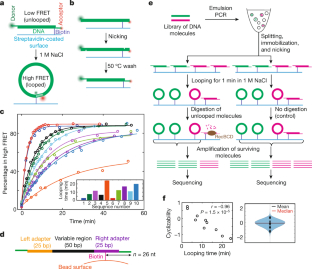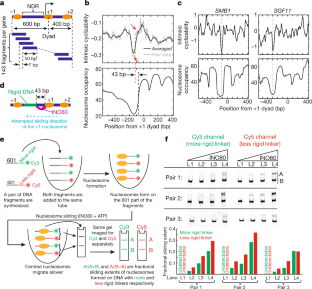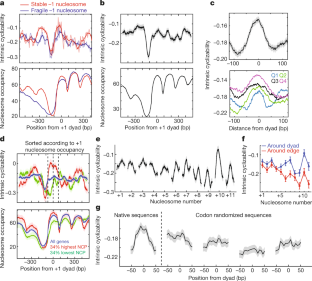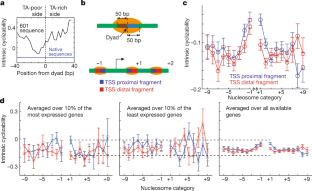 Data availability
All sequencing data obtained as part of this study are deposited in the National Center for Biotechnology Information (NCBI) Sequence Read Archive (SRA) under accession number PRJNA667271. Nucleosome positions and NCP scores along the genome of S. cerevisiae as previously reported have been accessed from NCBI Gene Expression Omnibus (GEO) under accession number GSE36063. Nucleosome occupancy data in S. cerevisiae as previously reported have been accessed from NCBI GEO under accession number GSE97290. There are no restrictions on data availability. Source data are provided with this paper.
Code availability
No sequencing analysis in this study depends on the use of specialized code. Simple custom scripts were written in MATLAB (MathWorks) versions 9.0, 9.2, 9.4, 9.6 for analysis of sequencing data, and will be made available upon request. smFRET data acquisition was carried out by custom scripts that can be obtained from http://ha.med.jhmi.edu/resources/ or upon request.
References
1.

Garcia, H. G. et al. Biological consequences of tightly bent DNA: the other life of a macromolecular celebrity. Biopolymers 85, 115–130 (2007).

2.

Krietenstein, N. et al. Genomic nucleosome organization reconstituted with pure proteins. Cell 167, 709–721 (2016).

3.

Shore, D., Langowski, J. & Baldwin, R. L. DNA flexibility studied by covalent closure of short fragments into circles. Proc. Natl Acad. Sci. USA 78, 4833–4837 (1981).

4.

Cloutier, T. E. & Widom, J. Spontaneous sharp bending of double-stranded DNA. Mol. Cell 14, 355–362 (2004).

5.

Ha, T. et al. Probing the interaction between two single molecules: fluorescence resonance energy transfer between a single donor and a single acceptor. Proc. Natl Acad. Sci. USA 93, 6264–6268 (1996).

6.

Vafabakhsh, R. & Ha, T. Extreme bendability of DNA less than 100 base pairs long revealed by single-molecule cyclization. Science 337, 1097–1101 (2012).

7.

Geggier, S. & Vologodskii, A. Sequence dependence of DNA bending rigidity. Proc. Natl Acad. Sci. USA 107, 15421–15426 (2010).

8.

Beutel, B. A. & Gold, L. In vitro evolution of intrinsically bent DNA. J. Mol. Biol. 228, 803–812 (1992).

9.

Rosanio, G., Widom, J. & Uhlenbeck, O. C. In vitro selection of DNAs with an increased propensity to form small circles. Biopolymers 103, 303–320 (2015).

10.

Jeong, J. & Kim, H. D. Base-pair mismatch can destabilize small DNA loops through cooperative kinking. Phys. Rev. Lett. 122, 218101 (2019).

11.

Jeong, J. & Kim, H. D. Determinants of cyclization-decyclization kinetics of short DNA with sticky ends. Nucleic Acids Res. 48, 5147–5156 (2020).

12.

Lee, W. et al. A high-resolution atlas of nucleosome occupancy in yeast. Nat. Genet. 39, 1235–1244 (2007).

13.

Bai, L., Ondracka, A. & Cross, F. R. Multiple sequence-specific factors generate the nucleosome-depleted region on CLN2 promoter. Mol. Cell 42, 465–476 (2011).

14.

Zhang, Z. et al. A packing mechanism for nucleosome organization reconstituted across a eukaryotic genome. Science 332, 977–980 (2011).

15.

Segal, E. & Widom, J. Poly(dA:dT) tracts: major determinants of nucleosome organization. Curr. Opin. Struct. Biol. 19, 65–71 (2009).

16.

Segal, E. et al. A genomic code for nucleosome positioning. Nature 442, 772–778 (2006).

17.

Chereji, R. V., Ramachandran, S., Bryson, T. D. & Henikoff, S. Precise genome-wide mapping of single nucleosomes and linkers in vivo. Genome Biol. 19, 19 (2018).

18.

Gilchrist, D. A. et al. Pausing of RNA polymerase II disrupts DNA-specified nucleosome organization to enable precise gene regulation. Cell 143, 540–551 (2010).

19.

Zhou, C. Y. et al. The yeast INO80 complex operates as a tunable DNA length-sensitive switch to regulate nucleosome sliding. Mol. Cell 69, 677–688.e9 (2018).

20.

Brahma, S. et al. INO80 exchanges H2A.Z for H2A by translocating on DNA proximal to histone dimers. Nat. Commun. 8, 15616 (2017).

21.

Eustermann, S. et al. Structural basis for ATP-dependent chromatin remodelling by the INO80 complex. Nature 556, 386–390 (2018).

22.

Brahma, S., Ngubo, M., Paul, S., Udugama, M. & Bartholomew, B. The Arp8 and Arp4 module acts as a DNA sensor controlling INO80 chromatin remodeling. Nat. Commun. 9, 3309 (2018).

23.

Knoll, K. R. et al. The nuclear actin-containing Arp8 module is a linker DNA sensor driving INO80 chromatin remodeling. Nat. Struct. Mol. Biol. 25, 823–832 (2018).

24.

Oberbeckmann, E. et al. Genome information processing by the INO80 chromatin remodeler positions nucleosomes. Preprint at https://doi.org/10.1101/2020.11.03.366690 (2020).

25.

Kubik, S. et al. Nucleosome stability distinguishes two different promoter types at all protein-coding genes in yeast. Mol. Cell 60, 422–434 (2015).

26.

Widom, J. Role of DNA sequence in nucleosome stability and dynamics. Q. Rev. Biophys. 34, 269–324 (2001).

27.

Drew, H. R. & Travers, A. A. DNA bending and its relation to nucleosome positioning. J. Mol. Biol. 186, 773–790 (1985).

28.

Hayes, J. J., Tullius, T. D. & Wolffe, A. P. The structure of DNA in a nucleosome. Proc. Natl Acad. Sci. USA 87, 7405–7409 (1990).

29.

Widlund, H. R. et al. Nucleosome structural features and intrinsic properties of the TATAAACGCC repeat sequence. J. Biol. Chem. 274, 31847–31852 (1999).

30.

Shrader, T. E. & Crothers, D. M. Artificial nucleosome positioning sequences. Proc. Natl Acad. Sci. USA 86, 7418–7422 (1989).

31.

Lowary, P. T. & Widom, J. New DNA sequence rules for high affinity binding to histone octamer and sequence-directed nucleosome positioning. J. Mol. Biol. 276, 19–42 (1998).

32.

Jin, H., Rube, H. T. & Song, J. S. Categorical spectral analysis of periodicity in nucleosomal DNA. Nucleic Acids Res. 44, 2047–2057 (2016).

33.

Brogaard, K., Xi, L., Wang, J.-P. & Widom, J. A map of nucleosome positions in yeast at base-pair resolution. Nature 486, 496–501 (2012).

34.

Ngo, T. T. M., Zhang, Q., Zhou, R., Yodh, J. G. & Ha, T. Asymmetric unwrapping of nucleosomes under tension directed by DNA local flexibility. Cell 160, 1135–1144 (2015).

35.

Bondarenko, V. A. et al. Nucleosomes can form a polar barrier to transcript elongation by RNA polymerase II. Mol. Cell 24, 469–479 (2006).

36.

Nakano, M. et al. Single-molecule PCR using water-in-oil emulsion. J. Biotechnol. 102, 117–124 (2003).

37.

Langmead, B., Trapnell, C., Pop, M. & Salzberg, S. L. Ultrafast and memory-efficient alignment of short DNA sequences to the human genome. Genome Biol. 10, R25 (2009).

38.

Li, H. et al. The Sequence Alignment/Map format and SAMtools. Bioinformatics 25, 2078–2079 (2019).

39.

Mizuguchi, G., Wu, W.-H., Alami, S. & Luk, E. in Methods in Enzymology (eds. Wu, C. & Allis, C. D.) vol. 512, 275–291 (Academic Press, 2012).
Acknowledgements
A.B. and T.H. thank C. Wu, X. Feng and M. F. Poyton for insights and help related to INO80 biochemistry, Q. Zhang for help with initial assay development efforts, and A. Biswas for providing passivated glass and quartz slides for smFRET experiments. K.P.H and S.E. thank M. Moldt for purification of recombinant INO80. This work was supported by the National Science Foundation grants PHY-1430124 and EFMA 1933303 (to T.H.), by the National Institutes of Health grants GM122569 (to T.H.), R01CA163336 (to J.S.S.) and GM130393 (to C.W.), by the European Research Council (Advanced Grant INO3D to K.P.H), and by the Deutsche Forschungsgemeinschaft (CRC1064 and Gottfried Wilhelm Leibniz-Prize to K.P.H). A.B. was a Simons Foundation Fellow of the Life Sciences Research Foundation. T.H. is an Investigator with the Howard Hughes Medical Institute.
Ethics declarations
Competing interests
The authors declare no competing interests.
Additional information
Peer review information Nature thanks Johan Elf, Wilma Olson and the other, anonymous, reviewer(s) for their contribution to the peer review of this work.
Publisher's note Springer Nature remains neutral with regard to jurisdictional claims in published maps and institutional affiliations.
Extended data figures and tables
Supplementary information
About this article
Cite this article
Basu, A., Bobrovnikov, D.G., Qureshi, Z. et al. Measuring DNA mechanics on the genome scale. Nature 589, 462–467 (2021). https://doi.org/10.1038/s41586-020-03052-3
Received:

Accepted:

Published:

Issue Date:
Comments
By submitting a comment you agree to abide by our Terms and Community Guidelines. If you find something abusive or that does not comply with our terms or guidelines please flag it as inappropriate.