Abstract
Reinforcement learning models postulate that neurons that release dopamine encode information about action and action outcome, and provide a teaching signal to striatal spiny projection neurons in the form of dopamine release1. Dopamine is thought to guide learning via dynamic and differential modulation of protein kinase A (PKA) in each class of spiny projection neuron2. However, the real-time relationship between dopamine and PKA in spiny projection neurons remains untested in behaving animals. Here we monitor the activity of dopamine-releasing neurons, extracellular levels of dopamine and net PKA activity in spiny projection neurons in the nucleus accumbens of mice during learning. We find positive and negative modulation of dopamine that evolves across training and is both necessary and sufficient to explain concurrent fluctuations in the PKA activity of spiny projection neurons. Modulations of PKA in spiny projection neurons that express type-1 and type-2 dopamine receptors are dichotomous, such that these neurons are selectively sensitive to increases and decreases, respectively, in dopamine that occur at different phases of learning. Thus, PKA-dependent pathways in each class of spiny projection neuron are asynchronously engaged by positive or negative dopamine signals during learning.
Relevant articles
Open Access articles citing this article.
Liang Wang

,

Chunling Wu

…

Jun Chu

Nature Communications Open Access 12 September 2022

Carmen Klein Herenbrink

,

Jonatan Fullerton Støier

…

Freja Herborg

Communications Biology Open Access 10 June 2022

Laura L. Grima

,

Marios C. Panayi

…

Mark E. Walton

Neuropsychopharmacology Open Access 27 April 2022
Access options
Subscribe to Nature+
Get immediate online access to the entire Nature family of 50+ journals
Subscribe to Journal
Get full journal access for 1 year
$199.00
only $3.90 per issue
All prices are NET prices.
VAT will be added later in the checkout.
Tax calculation will be finalised during checkout.
Buy article
Get time limited or full article access on ReadCube.
$32.00
All prices are NET prices.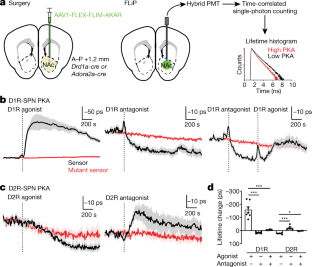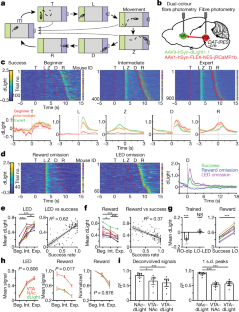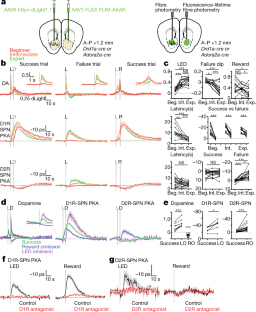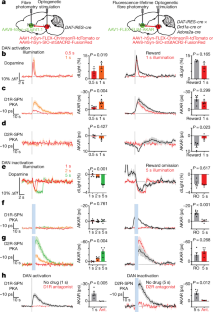 References
Bromberg-Martin, E. S., Matsumoto, M. & Hikosaka, O. Dopamine in motivational control: rewarding, aversive, and alerting. Neuron 68, 815–834 (2010).

Kravitz, A. V. & Kreitzer, A. C. Striatal mechanisms underlying movement, reinforcement, and punishment. Physiology (Bethesda) 27, 167–177 (2012).

Vidal-Gadea, A. G. & Pierce-Shimomura, J. T. Conserved role of dopamine in the modulation of behavior. Commun. Integr. Biol. 5, 440–447 (2012).

Steinberg, E. E. et al. Positive reinforcement mediated by midbrain dopamine neurons requires D1 and D2 receptor activation in the nucleus accumbens. PLoS ONE 9, e94771 (2014).

Hikida, T., Kimura, K., Wada, N., Funabiki, K. & Nakanishi, S. Distinct roles of synaptic transmission in direct and indirect striatal pathways to reward and aversive behavior. Neuron 66, 896–907 (2010).

Tsai, H. C. et al. Phasic firing in dopaminergic neurons is sufficient for behavioral conditioning. Science 324, 1080–1084 (2009).

Steinberg, E. E. et al. A causal link between prediction errors, dopamine neurons and learning. Nat. Neurosci. 16, 966–973 (2013).

Saunders, B. T., Richard, J. M., Margolis, E. B. & Janak, P. H. Dopamine neurons create Pavlovian conditioned stimuli with circuit-defined motivational properties. Nat. Neurosci. 21, 1072–1083 (2018).

Coddington, L. T. & Dudman, J. T. The timing of action determines reward prediction signals in identified midbrain dopamine neurons. Nat. Neurosci. 21, 1563–1573 (2018).

Schultz, W., Dayan, P. & Montague, P. R. A neural substrate of prediction and reward. Science 275, 1593–1599 (1997).

Cohen, J. Y., Haesler, S., Vong, L., Lowell, B. B. & Uchida, N. Neuron-type-specific signals for reward and punishment in the ventral tegmental area. Nature 482, 85–88 (2012).

Eshel, N., Tian, J., Bukwich, M. & Uchida, N. Dopamine neurons share common response function for reward prediction error. Nat. Neurosci. 19, 479–486 (2016).

Day, J. J., Roitman, M. F., Wightman, R. M. & Carelli, R. M. Associative learning mediates dynamic shifts in dopamine signaling in the nucleus accumbens. Nat. Neurosci. 10, 1020–1028 (2007).

Shen, W., Flajolet, M., Greengard, P. & Surmeier, D. J. Dichotomous dopaminergic control of striatal synaptic plasticity. Science 321, 848–851 (2008).

Gerfen, C. R. et al. D1 and D2 dopamine receptor-regulated gene expression of striatonigral and striatopallidal neurons. Science 250, 1429–1432 (1990).

Kupchik, Y. M. et al. Coding the direct/indirect pathways by D1 and D2 receptors is not valid for accumbens projections. Nat. Neurosci. 18, 1230–1232 (2015).

Skeberdis, V. A. et al. Protein kinase A regulates calcium permeability of NMDA receptors. Nat. Neurosci. 9, 501–510 (2006).

Lee, H. K. et al. Phosphorylation of the AMPA receptor GluR1 subunit is required for synaptic plasticity and retention of spatial memory. Cell 112, 631–643 (2003).

Yagishita, S. et al. A critical time window for dopamine actions on the structural plasticity of dendritic spines. Science 345, 1616–1620 (2014).

Iino, Y. et al. Dopamine D2 receptors in discrimination learning and spine enlargement. Nature 579, 555–560 (2020).

Lau, G. C., Saha, S., Faris, R. & Russek, S. J. Up-regulation of NMDAR1 subunit gene expression in cortical neurons via a PKA-dependent pathway. J. Neurochem. 88, 564–575 (2004).

Nayak, A., Zastrow, D. J., Lickteig, R., Zahniser, N. R. & Browning, M. D. Maintenance of late-phase LTP is accompanied by PKA-dependent increase in AMPA receptor synthesis. Nature 394, 680–683 (1998).

Lee, S. J., Chen, Y., Lodder, B. & Sabatini, B. L. Monitoring behaviorally induced biochemical changes using fluorescence lifetime photometry. Front. Neurosci. 13, 766 (2019).

Chen, Y., Saulnier, J. L., Yellen, G. & Sabatini, B. L. A PKA activity sensor for quantitative analysis of endogenous GPCR signaling via 2-photon FRET-FLIM imaging. Front. Pharmacol. 5, 56 (2014).

Chen, Y. et al. Endogenous Gαq-coupled neuromodulator receptors activate protein kinase A. Neuron 96, 1070–1083.e5 (2017).

Mohebi, A. et al. Dissociable dopamine dynamics for learning and motivation. Nature 570, 65–70 (2019).

Dana, H. et al. Sensitive red protein calcium indicators for imaging neural activity. eLife 5, e12727 (2016).

Patriarchi, T. et al. Ultrafast neuronal imaging of dopamine dynamics with designed genetically encoded sensors. Science 360, eaat4422 (2018).

Klapoetke, N. C. et al. Independent optical excitation of distinct neural populations. Nat. Methods 11, 338–346 (2014).

Mahn, M. et al. High-efficiency optogenetic silencing with soma-targeted anion-conducting channelrhodopsins. Nat. Commun. 9, 4125 (2018).

Howe, M. W., Tierney, P. L., Sandberg, S. G., Phillips, P. E. M. & Graybiel, A. M. Prolonged dopamine signalling in striatum signals proximity and value of distant rewards. Nature 500, 575–579 (2013).

Matamales, M. et al. Local D2- to D1-neuron transmodulation updates goal-directed learning in the striatum. Science 367, 549–555 (2020).

Jiang, S. Z. et al. NCS-Rapgef2, the protein product of the neuronal Rapgef2 gene, is a specific activator of D1 dopamine receptor-dependent ERK phosphorylation in mouse brain. eNeuro 4, ENEURO.0248-17.2017 (2017).

Ilango, A. et al. Similar roles of substantia nigra and ventral tegmental dopamine neurons in reward and aversion. J. Neurosci. 34, 817–822 (2014).

Goto, A. et al. Circuit-dependent striatal PKA and ERK signaling underlies rapid behavioral shift in mating reaction of male mice. Proc. Natl Acad. Sci. USA 112, 6718–6723 (2015).

Yamaguchi, T. et al. Role of PKA signaling in D2 receptor-expressing neurons in the core of the nucleus accumbens in aversive learning. Proc. Natl Acad. Sci. USA 112, 11383–11388 (2015).

Ma, L. et al. A highly sensitive A-kinase activity reporter for imaging neuromodulatory events in awake mice. Neuron 99, 665–679.e5 (2018).

Collins, A. G. E. & Frank, M. J. Opponent actor learning (OpAL): modeling interactive effects of striatal dopamine on reinforcement learning and choice incentive. Psychol. Rev. 121, 337–366 (2014).

Gurney, K. N., Humphries, M. D. & Redgrave, P. A new framework for cortico-striatal plasticity: behavioural theory meets in vitro data at the reinforcement-action interface. PLoS Biol. 13, e1002034 (2015).

Gerfen, C. R. & Surmeier, D. J. Modulation of striatal projection systems by dopamine. Annu. Rev. Neurosci. 34, 441–466 (2011).

Gerfen, C. R., Paletzki, R. & Heintz, N. GENSAT BAC Cre-recombinase driver lines to study the functional organization of cerebral cortical and basal ganglia circuits. Neuron 80, 1368–1383 (2013).

Bäckman, C. M. et al. Characterization of a mouse strain expressing Cre recombinase from the 3′ untranslated region of the dopamine transporter locus. Genesis 44, 383–390 (2006).

Lee, S. J., Escobedo-Lozoya, Y., Szatmari, E. M. & Yasuda, R. Activation of CaMKII in single dendritic spines during long-term potentiation. Nature 458, 299–304 (2009).

Pnevmatikakis, E. A. et al. Simultaneous denoising, deconvolution, and demixing of calcium imaging data. Neuron 89, 285–299 (2016).

Motulsky, H. J. How to report the methods used for the mixed model analysis https://www.graphpad.com/guides/prism/8/statistics/stat_how-to-report-the-methods-used.htm (2020).
Acknowledgements
This work was supported by NIH (B.L.S., U19NS113201 and R35NS105107; Y.C., F32DA035543; and L.T., U01NS013522 and U01NS090604), Howard Hughes Medical Institute (B.L.S.), Sackler Scholar Programme in Psychology (S.J.L.), Schuurman Schimmel van Outeren Stichting (B.L.) and Hendrik Muller fonds (B.L.). Graphical illustration was provided by Sigrid Knemeyer (sigrid@scistories.com).
Ethics declarations
Competing interests
The authors declare no competing interests.
Additional information
Peer review information Nature thanks Michael Frank, Charles Gerfen and the other, anonymous, reviewer(s) for their contribution to the peer review of this work.
Publisher's note Springer Nature remains neutral with regard to jurisdictional claims in published maps and institutional affiliations.
Extended data figures and tables
Supplementary information
P-values for statistical comparisons
About this article
Cite this article
Lee, S.J., Lodder, B., Chen, Y. et al. Cell-type-specific asynchronous modulation of PKA by dopamine in learning. Nature 590, 451–456 (2021). https://doi.org/10.1038/s41586-020-03050-5
Received:

Accepted:

Published:

Issue Date:

DOI: https://doi.org/10.1038/s41586-020-03050-5
Comments
By submitting a comment you agree to abide by our Terms and Community Guidelines. If you find something abusive or that does not comply with our terms or guidelines please flag it as inappropriate.