Abstract
Crystal defects affect the thermal and heat-transport properties of materials by scattering phonons and modifying phonon spectra1,2,3,4,5,6,7,8. To appreciate how imperfections in solids influence thermal conductivity and diffusivity, it is thus essential to understand phonon–defect interactions. Sophisticated theories are available to explore such interactions, but experimental validation is limited because most phonon-detecting spectroscopic methods do not reach the high spatial resolution needed to resolve local vibrational spectra near individual defects. Here we demonstrate that space- and angle-resolved vibrational spectroscopy in a transmission electron microscope makes it possible to map the vibrational spectra of individual crystal defects. We detect a red shift of several millielectronvolts in the energy of acoustic vibration modes near a single stacking fault in cubic silicon carbide, together with substantial changes in their intensity, and find that these changes are confined to within a few nanometres of the stacking fault. These observations illustrate that the capabilities of a state-of-the-art transmission electron microscope open the door to the direct mapping of phonon propagation around defects, which is expected to provide useful guidance for engineering the thermal properties of materials.
Relevant articles
Open Access articles citing this article.
Chaitanya A. Gadre

,

Xingxu Yan

…

Xiaoqing Pan

Nature Open Access 08 June 2022

Eric R. Hoglund

,

De-Liang Bao

…

James M. Howe

Nature Open Access 26 January 2022

Zhe Cheng

,

Ruiyang Li

…

Samuel Graham

Nature Communications Open Access 25 November 2021
Access options
Subscribe to Nature+
Get immediate online access to the entire Nature family of 50+ journals
Subscribe to Journal
Get full journal access for 1 year
$199.00
only $3.90 per issue
All prices are NET prices.
VAT will be added later in the checkout.
Tax calculation will be finalised during checkout.
Buy article
Get time limited or full article access on ReadCube.
$32.00
All prices are NET prices.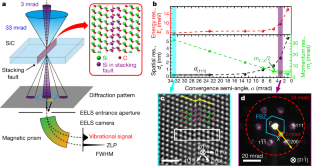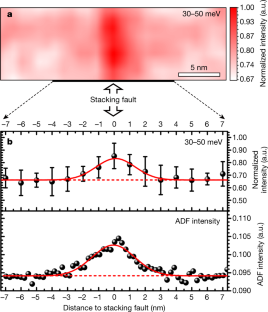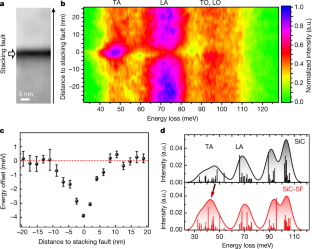 Data availability
The datasets generated during and/or analysed during the current study are available from the corresponding authors on reasonable request.
References
Krumhansl, J. A. Lattice vibrations in solids. J. Appl. Phys. 33, 307–319 (1962).

Li, M. D. et al. Nonperturbative quantum nature of the dislocation phonon interaction. Nano Lett. 17, 1587–1594 (2017).

Walker, C. T. & Pohl, R. O. Phonon scattering by point defects. Phys. Rev. 131, 1433–1442 (1963).

Katcho, N. A., Carrete, J., Li, W. & Mingo, N. Effect of nitrogen and vacancy defects on the thermal conductivity of diamond: an ab initio Green's function approach. Phys. Rev. B 90, 094117 (2014).

Klemens, P. G. The scattering of low-frequency lattice waves by static imperfections. Proc. Phys. Soc. A 68, 1113–1128 (1955).

Katre, A., Carrete, J., Dongre, B., Madsen, G. K. H. & Mingo, N. Exceptionally strong phonon scattering by B substitution in cubic SiC. Phys. Rev. Lett. 119, 075902 (2017).

Singh, B. K., Menon, V. J. & Sood, K. C. Phonon conductivity of plastically deformed crystals: role of stacking faults and dislocations. Phys. Rev. B 74, 184302 (2006).

Ohashi, K. & Ohashi, Y. Mean-square displacement of a vibrating dislocation. Phil. Mag. A 38, 187–204 (1978).

Pernot, G. et al. Precise control of thermal conductivity at the nanoscale through individual phonon-scattering barriers. Nat. Mater. 9, 491–495 (2010).

Huberman, S. et al. Observation of second sound in graphite at temperatures above 100 K. Science 364, 375–379 (2019).

Lindsay, L., Katre, A., Cepellotti, A. & Mingo, N. Perspective on ab initio phonon thermal transport. J. Appl. Phys. 126, 050902 (2019).

Arrigoni, M., Carrete, J., Mingo, N. & Madsen, G. K. H. First-principles quantitative prediction of the lattice thermal conductivity in random semiconductor alloys: the role of force-constant disorder. Phys. Rev. B 98, 115205 (2018).

Carrete, J. et al. Phonon transport across crystal-phase interfaces and twin boundaries in semiconducting nanowires. Nanoscale 11, 16007–16016 (2019).

Sheng, P. Introduction to Wave Scattering, Localization and Mesoscopic Phenomena (Springer Series in Materials Science Vol. 88, Springer, 2006).

McCreery, R. L. Raman Spectroscopy for Chemical Analysis (Chemical Analysis: a Series of Monographs on Analytical Chemistry and its Applications Vol. 157, Wiley, 2000).

Bechelany, M., Brioude, A., Cornu, D., Ferro, G. & Miele, P. A Raman spectroscopy study of individual SiC nanowires. Adv. Funct. Mater. 17, 939–943 (2007).

Stuart, B. Infrared Spectroscopy: Fundamentals and Applications (Wiley, 2004).

Chan, K. L. A. & Kazarian, S. G. New opportunities in micro- and macro-attenuated total reflection infrared spectroscopic imaging: spatial resolution and sampling versatility. Appl. Spectrosc. 57, 381–389 (2003).

Maciel, I. O. et al. Electron and phonon renormalization near charged defects in carbon nanotubes. Nat. Mater. 7, 878–883 (2008).

Burkel, E. Phonon spectroscopy by inelastic x-ray scattering. Rep. Prog. Phys. 63, 171–232 (2000).

Mitchell, P. C. H. Vibrational Spectroscopy with Neutrons: with Applications in Chemistry, Biology, Materials Science and Catalysis Vol. 3 (World Scientific, 2005).

Stipe, B. C., Rezaei, M. A. & Ho, W. Single-molecule vibrational spectroscopy and microscopy. Science 280, 1732–1735 (1998).

Altfeder, I. et al. Scanning tunneling microscopy observation of phonon condensate. Sci. Rep. 7, 43214 (2017).

Krivanek, O. L. et al. Vibrational spectroscopy in the electron microscope. Nature 514, 209–212 (2014).

Hachtel, J. A. et al. Identification of site-specific isotopic labels by vibrational spectroscopy in the electron microscope. Science 363, 525–528 (2019).

Hage, F., Kepaptsoglou, D., Ramasse, Q. & Allen, L. Phonon spectroscopy at atomic resolution. Phys. Rev. Lett. 122, 016103 (2019).

Lagos, M. J., Trügler, A., Hohenester, U. & Batson, P. E. Mapping vibrational surface and bulk modes in a single nanocube. Nature 543, 529–532 (2017).

Govyadinov, A. A. et al. Probing low-energy hyperbolic polaritons in van der Waals crystals with an electron microscope. Nat. Commun. 8, 95 (2017).

Venkatraman, K., Rez, P., March, K. & Crozier, P. A. The influence of surfaces and interfaces on high spatial resolution vibrational EELS from SiO2. Microscopy 67, i14–i23 (2018).

Hage, F. S. et al. Nanoscale momentum-resolved vibrational spectroscopy. Sci. Adv. 4, eaar7495 (2018).

Rez, P. et al. Damage-free vibrational spectroscopy of biological materials in the electron microscope. Nat. Commun. 7, 10945 (2016); erratum 7, 11592 (2016).

Dwyer, C. et al. Electron-beam mapping of vibrational modes with nanometer spatial resolution. Phys. Rev. Lett. 117, 256101 (2016).

Lindefelt, U., Iwata, H., Öberg, S. & Briddon, P. R. Stacking faults in 3C-, 4H-, and 6H-SiC polytypes investigated by an ab initio supercell method. Phys. Rev. B 67, 155204 (2003).

Goela, J. S., Brese, N. E., Burns, L. E. & Pickering, M. A. in High Thermal Conductivity Materials (eds Shindé, S. L. & Goela, J. S.) 167–198 (Springer, 2006).

Yamasaki, J., Inamoto, S., Nomura, Y., Tamaki, H. & Tanaka, N. Atomic structure analysis of stacking faults and misfit dislocations at 3C-SiC/Si(001) interfaces by aberration-corrected transmission electron microscopy. J. Phys. D 45, 494002 (2012).

Stevens, R. Defects in silicon carbide. J. Mater. Sci. 7, 517–521 (1972).

Williams, D. B. & Carter, C. B. Transmission Electron Microscopy: a Textbook for Materials Science Vol. 2 (Springer Science & Business Media, 2009).

Nienhaus, H., Kampen, T. U. & Mönch, W. Phonons in 3C-SiC, 4H-SiC, and 6H-SiC. Surf. Sci. 324, L328–L332 (1995).

Serrano, J. et al. Determination of the phonon dispersion of zinc blende (3C) silicon carbide by inelastic X-ray scattering. Appl. Phys. Lett. 80, 4360–4362 (2002).

Strauch, D. et al. Phonons in SiC from INS, IXS, and ab-initio calculations. Mater. Sci. Forum 527–529, 689–694 (2006).

Yan, X. et al. Unexpected strong thermally induced phonon energy shift for mapping local temperature. Nano Lett. 19, 7494–7502 (2019).

Lourenço-Martins, H. & Kociak, M. Vibrational surface electron-energy-loss spectroscopy probes confined surface-phonon modes. Phys. Rev. X 7, 041059 (2017).

Venkatraman, K., Levin, B. D. A., March, K., Rez, P. & Crozier, P. A. Vibrational spectroscopy at atomic resolution with electron impact scattering. Nat. Phys. 15, 1237–1241 (2019).

Senga, R. et al. Position and momentum mapping of vibrations in graphene nanostructures. Nature 573, 247–250 (2019).

Koch, C. T. Determination of Core Structure Periodicity and Point Defect Density along Dislocations. DPhil thesis, Arizona State University (2002).

Kresse, G. & Hafner, J. Ab initio molecular dynamics for liquid metals. Phys. Rev. B 47, 558–561 (1993).

Kresse, G. & Hafner, J. Ab initio molecular-dynamics simulation of the liquid-metal amorphous-semiconductor transition in germanium. Phys. Rev. B 49, 14251–14269 (1994).

Kresse, G. & Joubert, D. From ultrasoft pseudopotentials to the projector augmented-wave method. Phys. Rev. B 59, 1758–1775 (1999).

Monkhorst, H. J. & Pack, J. D. Special points for Brillouin-zone integrations. Phys. Rev. B 13, 5188–5192 (1976).

Togo, A., Oba, F. & Tanaka, I. First-principles calculations of the ferroelastic transition between rutile-type and CaCl2-type SiO2 at high pressures. Phys. Rev. B 78, 134106 (2008).

Gonze, X. & Lee, C. Dynamical matrices, Born effective charges, dielectric permittivity tensors, and interatomic force constants from density-functional perturbation theory. Phys. Rev. B 55, 10355–10368 (1997).

Giannozzi, P., de Gironcoli, S., Pavone, P. & Baroni, S. Ab initio calculation of phonon dispersions in semiconductors. Phys. Rev. B 43, 7231–7242 (1991).

Henry, C. H. & Hopfield, J. J. Raman scattering by polaritons. Phys. Rev. Lett. 15, 964–966 (1965).

García de Abajo, F. L. Optical excitations in electron microscopy. Rev. Mod. Phys. 82, 209–275 (2010).

Wang, T., Carrete, J., van Roekeghem, A., Mingo, N. & Madsen, G. K. H. Ab initio phonon scattering by dislocations. Phys. Rev. B 95, 245304 (2017).
Acknowledgements
The experimental work was supported by the Department of Energy (DOE), Office of Basic Energy Sciences, Division of Materials Sciences and Engineering under grant DESC0014430. DFT studies were supported by the US Department of Energy (grant no. DE-FG02-05ER46237) and the National Energy Research Scientific Computing Center (NERSC). This research was partially supported by the NSF through the University of California-Irvine Materials Research Science and Engineering Center (grant no. DMR-2011967). We thank Z. Cheng and S. Graham (Georgia Institute of Technology) and Q. Ramasse (SuperSTEM Laboratory) for their constructive suggestions. TEM experiments were conducted using the facilities in the Irvine Materials Research Institute (IMRI) at the University of California, Irvine.
Ethics declarations
Competing interests
T.C.L., N.D. and O.L.K. declare a financial interest in Nion Company.
Additional information
Peer review information Nature thanks Kazu Suenaga and the other, anonymous, reviewer(s) for their contribution to the peer review of this work.
Publisher's note Springer Nature remains neutral with regard to jurisdictional claims in published maps and institutional affiliations.
Extended data figures and tables
About this article
Cite this article
Yan, X., Liu, C., Gadre, C.A. et al. Single-defect phonons imaged by electron microscopy. Nature 589, 65–69 (2021). https://doi.org/10.1038/s41586-020-03049-y
Received:

Accepted:

Published:

Issue Date:

DOI: https://doi.org/10.1038/s41586-020-03049-y
Comments
By submitting a comment you agree to abide by our Terms and Community Guidelines. If you find something abusive or that does not comply with our terms or guidelines please flag it as inappropriate.