Abstract
Classification is an important task at which both biological and artificial neural networks excel1,2. In machine learning, nonlinear projection into a high-dimensional feature space can make data linearly separable3,4, simplifying the classification of complex features. Such nonlinear projections are computationally expensive in conventional computers. A promising approach is to exploit physical materials systems that perform this nonlinear projection intrinsically, because of their high computational density5, inherent parallelism and energy efficiency6,7. However, existing approaches either rely on the systems' time dynamics, which requires sequential data processing and therefore hinders parallel computation5,6,8, or employ large materials systems that are difficult to scale up7. Here we use a parallel, nanoscale approach inspired by filters in the brain1 and artificial neural networks2 to perform nonlinear classification and feature extraction. We exploit the nonlinearity of hopping conduction9,10,11 through an electrically tunable network of boron dopant atoms in silicon, reconfiguring the network through artificial evolution to realize different computational functions. We first solve the canonical two-input binary classification problem, realizing all Boolean logic gates12 up to room temperature, demonstrating nonlinear classification with the nanomaterial system. We then evolve our dopant network to realize feature filters2 that can perform four-input binary classification on the Modified National Institute of Standards and Technology handwritten digit database. Implementation of our material-based filters substantially improves the classification accuracy over that of a linear classifier directly applied to the original data13. Our results establish a paradigm of silicon-based electronics for small-footprint and energy-efficient computation14.
Access options
Subscribe to Journal
Get full journal access for 1 year
$199.00
only $3.90 per issue
All prices are NET prices.
VAT will be added later in the checkout.
Tax calculation will be finalised during checkout.
Rent or Buy article
Get time limited or full article access on ReadCube.
from$8.99
All prices are NET prices.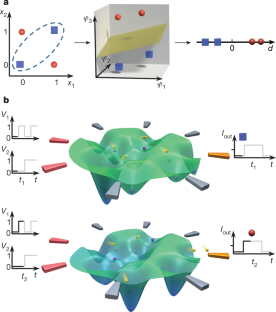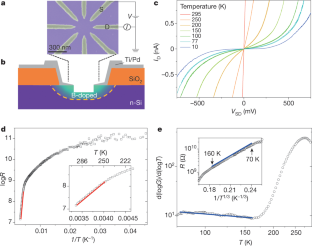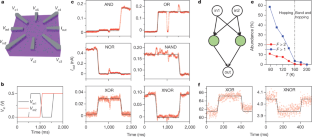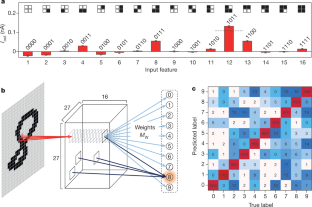 Data availability
Data are available from the corresponding author upon reasonable request.
References
1.

Hubel, D. H. & Wiesel, T. N. Receptive fields of single neurones in the cat's striate cortex. J. Physiol. 148, 574–591 (1959).

2.

LeCun, Y., Bengio, Y. & Hinton, G. Deep learning. Nature 521, 436–444 (2015).

3.

Haykin, S. Neural Networks and Learning Machines (Pearson Prentice Hall, 2008).

4.

Cover, T. M. Geometrical and statistical properties of systems of linear inequalities with applications in pattern recognition. IEEE Trans. Electron. Comput. EC-14, 326–334 (1965).

5.

Torrejon, J. et al. Neuromorphic computing with nanoscale spintronic oscillators. Nature 547, 428–431 (2017).

6.

Tanaka, G. et al. Recent advances in physical reservoir computing: a review. Neural Netw. 115, 100–123 (2019).

7.

Lin, X. et al. All-optical machine learning using diffractive deep neural networks. Science 361, 1004–1008 (2018).

8.

Du, C. et al. Reservoir computing using dynamic memristors for temporal information processing. Nat. Commun. 8, 2204 (2017).

9.

Hung, C. S. & Gliessman, J. R. Resistivity and Hall effect of germanium at low temperatures. Phys. Rev. 96, 1226–1236 (1954).

10.

Mott, N. F. Conduction in glasses containing transition metal ions. J. Non Cryst. Solids 1, 1–17 (1968).

11.

Gantmakher, V. F. Electrons and Disorder in Solids (Clarendon Press, 2005).

12.

Bose, S. K. et al. Evolution of a designless nanoparticle network into reconfigurable Boolean logic. Nat. Nanotechnol. 10, 1048–1052 (2015).

13.

Lecun, Y., Bottou, L., Bengio, Y. & Haffner, P. Gradient-based learning applied to document recognition. Proc. IEEE 86, 2278–2324 (1998).

14.

Xu, X. et al. Scaling for edge inference of deep neural networks. Nat. Electron. 1, 216–222 (2018).

15.

Zabrodskii, A. G. & Zinov'eva, K. N. Low-temperature conductivity and metal-insulator transition in compensate n-Ge. Sov. Phys. JETP 59, 425–433 (1984).

16.

Jenderka, M. et al. Mott variable-range hopping and weak antilocalization effect in heteroepitaxial Na2IrO2 thin films. Phys. Rev. B 88, 045111 (2013).

17.

Miller, J. F. & Downing, K. Evolution in materio: looking beyond the silicon box. In Proc. 2002 NASA/DoD Conference on Evolvable Hardware 167–176 (IEEE, 2002).

18.

Harding, S. & Miller, J. F. Evolution in materio: a tone discriminator in liquid crystal. In Proc. 2004 Congress on Evolutionary Computation 1800–1807 (IEEE, 2004).

19.

Mohid, M. & Miller, J. F. Evolving robot controllers using carbon nanotubes. In Proc. 13th European Conference on Artificial Life 106–113 (MIT Press, 2015).

20.

Wolfram, S. Approaches to complexity engineering. Physica D 22, 385–399 (1986).

21.

Backus, J. Can programming be liberated from the von Neumann style? A functional style and its algebra of programs. Commun. ACM 21, 613–641 (1978).

22.

Maass, W., Natschläger, T. & Markram, H. Real-time computing without stable states: a new framework for neural computation based on perturbations. Neural Comput. 14, 2531–2560 (2002).

23.

Dale, M., Stepney, S., Miller, J. F. & Trefzer, M. Reservoir computing in materio: an evaluation of configuration through evolution. In 2016 IEEE Symposium Series on Computational Intelligence, SSCI 1–8 (IEEE, 2016).

24.

Björk, M. T., Schmid, H., Knoch, J., Riel, H. & Riess, W. Donor deactivation in silicon nanostructures. Nat. Nanotechnol. 4, 103–107 (2009).

25.

Pierre, M. et al. Single-donor ionization energies in a nanoscale CMOS channel. Nat. Nanotechnol. 5, 133–137 (2010).

26.

Hartstein, A. & Fowler, A. B. High temperature 'variable range hopping' conductivity in silicon inversion layers. J. Phys. C 8, L249–L253 (1975).

27.

Minsky, M. & Papert, S. Perceptrons: An Introduction to Computational Geometry (MIT Press, 1969).

28.

Chen, T. et al. DianNao: a small-footprint high-throughput accelerator for ubiquitous machine-learning. ACM SIGPLAN Not. 49, 269–284 (2014).

29.

Lee, J. et al. UNPU: an energy-efficient deep neural network accelerator with fully variable weight bit precision. IEEE J. Solid-State Circuits 54, 173–185 (2019).

30.

Li, C. et al. Analogue signal and image processing with large memristor crossbars. Nat. Electron. 1, 52–59 (2018).

31.

Tapson, J. & van Schaik, A. Learning the pseudoinverse solution to network weights. Neural Netw. 45, 94–100 (2013).

32.

Such, F. P. et al. Deep neuroevolution: genetic algorithms are a competitive alternative for training deep neural networks for reinforcement learning. Preprint at http://arxiv.org/abs/1712.06567 (2017).

33.

Kingma, D. P. & Ba, L. J. Adam: a method for stochastic optimization. Preprint at https://arxiv.org/abs/1412.6980 (2015).

34.

Aharony, A., Zhang, Y. & Sarachik, M. P. Universal crossover in variable range hopping with Coulomb interactions. Phys. Rev. Lett. 68, 3900–3903 (1992).

35.

Pettersson, J. et al. Extending the high-frequency limit of a single-electron transistor by on-chip impedance transformation. Phys. Rev. B 53, R13272–R13274 (1996).

36.

The Green500 TOP500.org https://www.top500.org/green500/ (2019).

37.

Hu, M. et al. Memristor-based analog computation and neural network classification with a dot product engine. Adv. Mater. 30, 1705914 (2018).
Acknowledgements
We thank T. Bolhuis, M. H. Siekman and J. G. M. Sanderink for technical support. We thank C. P. Lawrence, B. J. Geurts, M. Nass, A. J. Annema, M. Dale and J. Dewhirst for discussions. We thank W. M. Elferink, R. Hori, J. Wildeboer and T. Dukker for help with measurements. We acknowledge financial support from the MESA+ Institute for Nanotechnology, and the Netherlands Organisation for Scientific Research (NWO): NWA Startimpuls grant number 680-91-114 and Natuurkunde Projectruimte grant number 400-17-607.
Ethics declarations
Competing interests
The authors declare no competing interests.
Additional information
Peer review information Nature thanks Cyrus Hirjibehedin and the other, anonymous, reviewer(s) for their contribution to the peer review of this work.
Publisher's note Springer Nature remains neutral with regard to jurisdictional claims in published maps and institutional affiliations.
Extended data figures and tables
Supplementary information
Nine additional notes are included. The first three sections are related to the charge transport mechanism and the origin of the tunable nonlinearity. Aspects related to device characteristics such as stability and reproducibility are detailed from the fourth to the sixth sections. The last three sections consist of benchmarking-related topics including the speed, energy consumption, and classification accuracy.
About this article
Cite this article
Chen, T., van Gelder, J., van de Ven, B. et al. Classification with a disordered dopant-atom network in silicon. Nature 577, 341–345 (2020). https://doi.org/10.1038/s41586-019-1901-0
Received:

Accepted:

Published:

Issue Date:
Comments
By submitting a comment you agree to abide by our Terms and Community Guidelines. If you find something abusive or that does not comply with our terms or guidelines please flag it as inappropriate.