Abstract
Alzheimer's disease is an incurable neurodegenerative disorder in which neuroinflammation has a critical function1. However, little is known about the contribution of the adaptive immune response in Alzheimer's disease2. Here, using integrated analyses of multiple cohorts, we identify peripheral and central adaptive immune changes in Alzheimer's disease. First, we performed mass cytometry of peripheral blood mononuclear cells and discovered an immune signature of Alzheimer's disease that consists of increased numbers of CD8+ T effector memory CD45RA+ (TEMRA) cells. In a second cohort, we found that CD8+ TEMRA cells were negatively associated with cognition. Furthermore, single-cell RNA sequencing revealed that T cell receptor (TCR) signalling was enhanced in these cells. Notably, by using several strategies of single-cell TCR sequencing in a third cohort, we discovered clonally expanded CD8+ TEMRA cells in the cerebrospinal fluid of patients with Alzheimer's disease. Finally, we used machine learning, cloning and peptide screens to demonstrate the specificity of clonally expanded TCRs in the cerebrospinal fluid of patients with Alzheimer's disease to two separate Epstein–Barr virus antigens. These results reveal an adaptive immune response in the blood and cerebrospinal fluid in Alzheimer's disease and provide evidence of clonal, antigen-experienced T cells patrolling the intrathecal space of brains affected by age-related neurodegeneration.
Relevant articles
Open Access articles citing this article.
Mihyun Hwang

,

Carine Savarin

…

Cornelia C. Bergmann

Journal of Neuroinflammation Open Access 04 November 2022

Alexa DeMaio

,

Shikhar Mehrotra

…

Shahid Husain

Journal of Neuroinflammation Open Access 08 October 2022

Ching-Tse Wu

,

Cheng-I Chu

…

Chien-Chung Chang

Cell & Bioscience Open Access 30 September 2022
Access options
Subscribe to Nature+
Get immediate online access to Nature and 55 other Nature journal
Subscribe to Journal
Get full journal access for 1 year
$199.00
only $3.90 per issue
All prices are NET prices.
VAT will be added later in the checkout.
Tax calculation will be finalised during checkout.
Buy article
Get time limited or full article access on ReadCube.
$32.00
All prices are NET prices.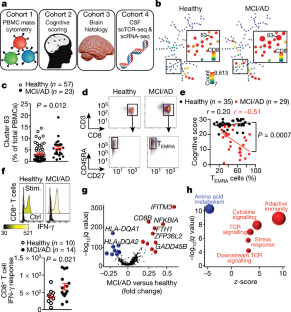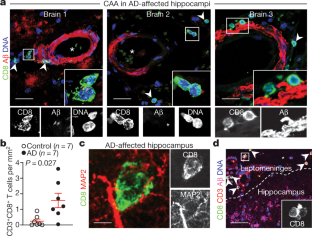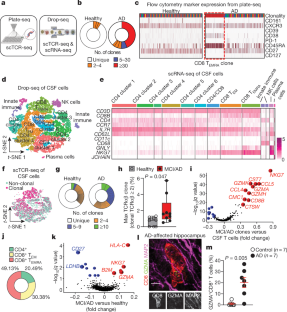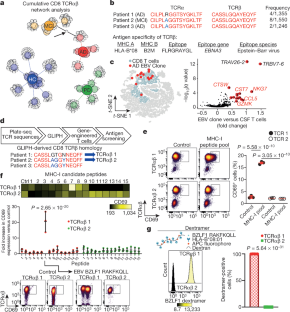 Data availability
scRNA-seq and scTCR-seq datasets have been deposited online in the Gene Expression Omnibus (GEO) under accession number GSE134578.
References
Ransohoff, R. M. How neuroinflammation contributes to neurodegeneration. Science 353, 777–783 (2016).

Lindestam Arlehamn, C. S., Garretti, F., Sulzer, D. & Sette, A. Roles for the adaptive immune system in Parkinson's and Alzheimer's diseases. Curr. Opin. Immunol. 59, 115–120 (2019).

Louveau, A. et al. Structural and functional features of central nervous system lymphatic vessels. Nature 523, 337–341 (2015).

Sallusto, F., Lenig, D., Förster, R., Lipp, M. & Lanzavecchia, A. Two subsets of memory T lymphocytes with distinct homing potentials and effector functions. Nature 401, 708–712 (1999).

Han, A., Glanville, J., Hansmann, L. & Davis, M. M. Linking T-cell receptor sequence to functional phenotype at the single-cell level. Nat. Biotechnol. 32, 684–692 (2014).

Schindowski, K. et al. Increased T-cell reactivity and elevated levels of CD8+ memory T-cells in Alzheimer's disease-patients and T-cell hyporeactivity in an Alzheimer's disease-mouse model: implications for immunotherapy. Neuromolecular Med. 9, 340–354 (2007).

Tan, J. et al. CD45 isoform alteration in CD4+ T cells as a potential diagnostic marker of Alzheimer's disease. J. Neuroimmunol. 132, 164–172 (2002).

Togo, T. et al. Occurrence of T cells in the brain of Alzheimer's disease and other neurological diseases. J. Neuroimmunol. 124, 83–92 (2002).

Lombardi, V. R., García, M., Rey, L. & Cacabelos, R. Characterization of cytokine production, screening of lymphocyte subset patterns and in vitro apoptosis in healthy and Alzheimer's Disease (AD) individuals. J. Neuroimmunol. 97, 163–171 (1999).

Bongioanni, P., Boccardi, B., Borgna, M., Castagna, M. & Mondino, C. T-cell interferon gamma binding in patients with dementia of the Alzheimer type. Arch. Neurol. 54, 457–462 (1997).

Monsonego, A. et al. Increased T cell reactivity to amyloid β protein in older humans and patients with Alzheimer disease. J. Clin. Invest. 112, 415–422 (2003).

Monsonego, A., Imitola, J., Zota, V., Oida, T. & Weiner, H. L. Microglia-mediated nitric oxide cytotoxicity of T cells following amyloid β-peptide presentation to Th1 cells. J. Immunol. 171, 2216–2224 (2003).

Sallusto, F., Geginat, J. & Lanzavecchia, A. Central memory and effector memory T cell subsets: function, generation, and maintenance. Annu. Rev. Immunol. 22, 745–763 (2004).

Bruggner, R. V., Bodenmiller, B., Dill, D. L., Tibshirani, R. J. & Nolan, G. P. Automated identification of stratifying signatures in cellular subpopulations. Proc. Natl Acad. Sci. USA 111, E2770–E2777 (2014).

Kivisäkk, P. et al. Human cerebrospinal fluid central memory CD4+ T cells: evidence for trafficking through choroid plexus and meninges via P-selectin. Proc. Natl Acad. Sci. USA 100, 8389–8394 (2003).

Giunti, D. et al. Phenotypic and functional analysis of T cells homing into the CSF of subjects with inflammatory diseases of the CNS. J. Leukoc. Biol. 73, 584–590 (2003).

Sulzer, D. et al. T cells from patients with Parkinson's disease recognize α-synuclein peptides. Nature 546, 656–661 (2017).

Smith, L. K. et al. β2-microglobulin is a systemic pro-aging factor that impairs cognitive function and neurogenesis. Nat. Med. 21, 932–937 (2015).

Argaet, V. P. et al. Dominant selection of an invariant T cell antigen receptor in response to persistent infection by Epstein–Barr virus. J. Exp. Med. 180, 2335–2340 (1994).

Glanville, J. et al. Identifying specificity groups in the T cell receptor repertoire. Nature 547, 94–98 (2017).

Nasreddine, Z. S. et al. The Montreal Cognitive Assessment, MoCA: a brief screening tool for mild cognitive impairment. J. Am. Geriatr. Soc. 53, 695–699 (2005).

Leipold, M. D., Newell, E. W. & Maecker, H. T. Multiparameter phenotyping of human PBMCs using mass cytometry. Methods Mol. Biol. 1343, 81–95 (2015).

Jankowsky, J. L. et al. Co-expression of multiple transgenes in mouse CNS: a comparison of strategies. Biomol. Eng. 17, 157–165 (2001).

Jankowsky, J. L. et al. Mutant presenilins specifically elevate the levels of the 42 residue β-amyloid peptide in vivo: evidence for augmentation of a 42-specific γ secretase. Hum. Mol. Genet. 13, 159–170 (2004).

Marschallinger, J. et al. The L-type calcium channel Cav1.3 is required for proper hippocampal neurogenesis and cognitive functions. Cell Calcium 58, 606–616 (2015).

Unger, M. S. et al. Doublecortin expression in CD8+ T-cells and microglia at sites of amyloid-β plaques: a potential role in shaping plaque pathology? Alzheimers Dement. 14, 1022–1037 (2018).

Gil-Perotin, S., Alvarez-Buylla, A. & Garcia-Verdugo, J. M. Identification and Characterization of Neural Progenitor Cells in the Adult Mammalian Brain. Advances in Anatomy, Embryology and Cell Biology Vol. 203 (Springer, 2009).

Sirerol-Piquer, M. S. et al. GFP immunogold staining, from light to electron microscopy, in mammalian cells. Micron 43, 589–599 (2012).

Han, A. et al. Dietary gluten triggers concomitant activation of CD4+ and CD8+ αβ T cells and γδ T cells in celiac disease. Proc. Natl Acad. Sci. USA 110, 13073–13078 (2013).

Butler, A., Hoffman, P., Smibert, P., Papalexi, E. & Satija, R. Integrating single-cell transcriptomic data across different conditions, technologies, and species. Nat. Biotechnol. 36, 411–420 (2018).

Stuart, T. et al. Comprehensive integration of single-cell data. Cell 177, 1888–1902 (2019).
Acknowledgements
We thank M. Leipold, S. Douglas and H. Maecker from the Stanford Human Immune Monitoring Core for helpful discussion and assistance with mass cytometry experiments; B. Dulken and A. Brunet of Stanford University for sharing related mouse research; B. Carter of the Palo Alto Veterans Affairs FACS facility; V. Henderson and the entire Stanford Alzheimer's disease Reserach Center team; G. Kerchner and S. Sha for CSF collection; G. Deutsch, C. Litovsky and M. Thieu for assistance with cognitive assessments; and V. Carr, S. Guerin, A. Trelle and the Stanford Aging and Memory Study (SAMS) team for MRI data collection. This work was supported by a Glenn/American Federation for Aging Research (AFAR) Postdoctoral Fellowship for the Biology of Aging (D.G.), a National Institutes of Health National Institute on Aging (NIA) F32 Fellowship (AG055255-01A1) (D.G.), an Irene Diamond Fund/AFAR Postdoctoral Transition Award in Aging (D.G.), a National Multiple Sclerosis Society Postdoctoral Fellowship (N.S.), the National Institutes of Health Institute for Allergy, Infectious Diseases and Immunology (U19-AI057229), the Howard Hughes Medical Institute (N.S. and M.M.D.), the Austrian Science Funds Special Research Program F44 (F4413-B23) (M.S.U.), NIA R01 AG048076 (A.D.W.), the Dana Foundation (A.D.W.), the Cure Alzheimer's Fund (T.W.-C.), the NOMIS Foundation (T.W.-C.), the Stanford Brain Rejuvenation Project (an initiative of the Stanford Neurosciences Institute), NIA R01 AG045034 05 (T.W.-C.) and the NIA funded Stanford Alzheimer's Disease Research Center (P50AG047366).
Ethics declarations
Competing interests
D.G., N.S., M.M.D. and T.W.-C. are co-inventors on a patent application related to this work. Patent STDU2-36496/US-1/PRO is for compositions and methods for measuring T cell markers associated with Alzheimer's disease.
Additional information
Peer review information Nature thanks Michael T. Heneka, Paul Thomas and the other, anonymous, reviewer(s) for their contribution to the peer review of this work.
Publisher's note Springer Nature remains neutral with regard to jurisdictional claims in published maps and institutional affiliations.
Extended data figures and tables
Supplementary information
This file contains Supplementary Tables 1-12 and a guide.
About this article
Cite this article
Gate, D., Saligrama, N., Leventhal, O. et al. Clonally expanded CD8 T cells patrol the cerebrospinal fluid in Alzheimer's disease. Nature 577, 399–404 (2020). https://doi.org/10.1038/s41586-019-1895-7
Received:

Accepted:

Published:

Issue Date:

DOI: https://doi.org/10.1038/s41586-019-1895-7
Comments
By submitting a comment you agree to abide by our Terms and Community Guidelines. If you find something abusive or that does not comply with our terms or guidelines please flag it as inappropriate.