Abstract
Template-directed assembly has been shown to yield a broad diversity of highly ordered mesostructures1,2, which in a few cases exhibit symmetries not present in the native material3,4,5. However, this technique has not yet been applied to eutectic materials, which underpin many modern technologies ranging from high-performance turbine blades to solder alloys. Here we use directional solidification of a simple AgCl-KCl lamellar eutectic material within a pillar template to show that interactions of the material with the template lead to the emergence of a set of microstructures that are distinct from the eutectic's native lamellar structure and the template's hexagonal lattice structure. By modifying the solidification rate of this material–template system, trefoil, quatrefoil, cinquefoil and hexafoil mesostructures with submicrometre-size features are realized. Phase-field simulations suggest that these mesostructures appear owing to constraints imposed on diffusion by the hexagonally arrayed pillar template. We note that the trefoil and hexafoil patterns resemble Archimedean honeycomb and square–hexagonal–dodecagonal lattices6, respectively. We also find that by using monolayer colloidal crystals as templates, a variety of eutectic mesostructures including trefoil and hexafoil are observed, the former resembling the Archimedean kagome lattice. Potential emerging applications for the structures provided by templated eutectics include non-reciprocal metasurfaces7, magnetic spin-ice systems8,9, and micro- and nano-lattices with enhanced mechanical properties10,11.
Your institute does not have access to this article
Relevant articles
Open Access articles citing this article.
Monika Tomczyk

,

Pawel Osewski

…

Dorota A. Pawlak

Journal of Materials Science Open Access 01 April 2021
Access options
Subscribe to Nature+
Get immediate online access to the entire Nature family of 50+ journals
Subscribe to Journal
Get full journal access for 1 year
$199.00
only $3.90 per issue
All prices are NET prices.
VAT will be added later in the checkout.
Tax calculation will be finalised during checkout.
Buy article
Get time limited or full article access on ReadCube.
$32.00
All prices are NET prices.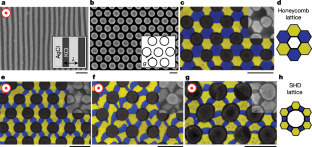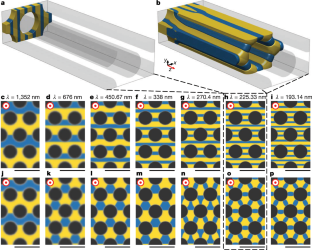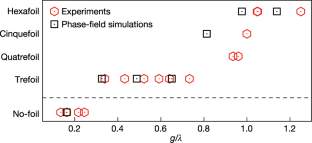 Data availability
Data that support the findings of this study are available within the paper, and from the corresponding author on reasonable request.
Code availability
The phase-field simulations were performed using a custom code written in Fortran 90. The code is available from K.T. (kthorn@umich.edu) on reasonable request.
References
Braun, P. V., Osenar, P. & Stupp, S. I. Semiconducting superlattices templated by molecular assemblies. Nature 380, 325–328 (1996).

Tavakkoli, K. G. A. et al. Templating three-dimensional self-assembled structures in bilayer block copolymer films. Science 336, 1294–1298 (2012).

Wu, Y. et al. Composite mesostructures by nano-confinement. Nat. Mater. 3, 816–822 (2004).

Tavakkoli, K. G. A. et al. Rectangular symmetry morphologies in a topographically templated block copolymer. Adv. Mater. 24, 4249–4254 (2012).

Urgel, J. I. et al. Quasicrystallinity expressed in two-dimensional coordination networks. Nat. Chem. 8, 657–662 (2016).

Grünbaum, B. & Shephard, G. C. Tilings by regular polygons. Math. Mag. 50, 227–247 (1977).

Yu, N. & Capasso, F. Flat optics with designer metasurfaces. Nat. Mater. 13, 139–150 (2014).

Wang, R. F. et al. Artificial 'spin ice' in a geometrically frustrated lattice of nanoscale ferromagnetic islands. Nature 439, 303–306 (2006); addendum 446, 102 (2007).

Ladak, S., Read, D. E., Perkins, G. K., Cohen, L. F. & Branford, W. R. Direct observation of magnetic monopole defects in an artificial spin-ice system. Nat. Phys. 6, 359–363 (2010).

Schaedler, T. A. et al. Ultralight metallic microlattices. Science 334, 962–965 (2011).

Meza, L. R., Das, S. & Greer, J. R. Strong, lightweight, and recoverable three-dimensional ceramic nanolattices. Science 345, 1322–1326 (2014).

Pawlak, D. A. et al. How far are we from making metamaterials by self-organization? The microstructure of highly anisotropic particles with an SRR-like geometry. Adv. Funct. Mater. 20, 1116–1124 (2010).

Acosta, M. F., Rodrigo, S. G., Martín-Moreno, L., Pecharromán, C. & Merino, R. I. Micropillar templates for dielectric filled metal arrays and flexible metamaterials. Adv. Opt. Mater. 5, 1600670 (2017).

Sadecka, K. et al. When eutectics meet plasmonics: nanoplasmonic, volumetric, self-organized, silver-based eutectic. Adv. Opt. Mater. 3, 381–389 (2015).

Bei, H., Pharr, G. & George, E. A review of directionally solidified intermetallic composites for high-temperature structural applications. J. Mater. Sci. 39, 3975–3984 (2004).

Wysmulek, K. et al. A SrTiO3-TiO2 eutectic composite as a stable photoanode material for photoelectrochemical hydrogen production. Appl. Catal. B 206, 538–546 (2017).

Jackson, K. & Hunt, J. Lamellar and rod eutectic growth. Trans. Metall. Soc. AIME 236, 1129–1142 (1966).

Himemiya, T. & Umeda, T. Three-phase planar eutectic growth models for a ternary eutectic system. Mater. Trans. JIM 40, 665–674 (1999).

Choudhury, A., Plapp, M. & Nestler, B. Theoretical and numerical study of lamellar eutectic three-phase growth in ternary alloys. Phys. Rev. E 83, 051608 (2011).

Dennstedt, A. & Ratke, L. Microstructures of directionally solidified Al–Ag–Cu ternary eutectics. Trans. Indian Inst. Met. 65, 777–782 (2012).

Akamatsu, S. & Plapp, M. Eutectic and peritectic solidification patterns. Curr. Opin. Solid State Mater. Sci. 20, 46–54 (2016).

Boley, J. W. et al. High-operating-temperature direct ink writing of mesoscale eutectic architectures. Adv. Mater. 29, 1604778 (2017).

Choi, J. et al. Processing-dependent microstructure of AgCl–CsAgCl2 eutectic photonic crystals. Adv. Opt. Mater. 6, 1701316 (2018).

Darling, S. B. Directing the self-assembly of block copolymers. Prog. Polym. Sci. 32, 1152–1204 (2007).

Ouk Kim, S. et al. Epitaxial self-assembly of block copolymers on lithographically defined nanopatterned substrates. Nature 424, 411–414 (2003).

Shin, D. O. et al. Multicomponent nanopatterns by directed block copolymer self-assembly. ACS Nano 7, 8899–8907 (2013).

Choi, Y. J. et al. Hierarchical directed self-assembly of diblock copolymers for modified pattern symmetry. Adv. Funct. Mater. 26, 6462–6470 (2016).

Jung, H. et al. Hierarchical multi-level block copolymer patterns by multiple self-assembly. Nanoscale 11, 8433–8441 (2019).

Ding, Y. et al. Emergent symmetries in block copolymer epitaxy. Nat. Commun. 10, 2974 (2019).

Kulkarni, A. A. et al. Template-directed solidification of eutectic optical materials. Adv. Opt. Mater. 6, 1800071 (2018).

Kim, J. et al. Template-directed directionally solidified 3D mesostructured AgCl-KCl eutectic photonic crystals. Adv. Mater. 27, 4551–4559 (2015).

Kulkarni, A. A., Kohanek, J., Hanson, E., Thornton, K. & Braun, P. V. Control of lamellar eutectic orientation via template-directed solidification. Acta Mater. 166, 715–722 (2019).

Yan, Z. et al. Three-dimensional mesostructures as high-temperature growth templates, electronic cellular scaffolds, and self-propelled microrobots. Proc. Natl Acad. Sci. USA 114, E9455–E9464 (2017).

Fischer, E. Thermodynamic optimization of the AgCl-KCl and BaCl2-LiCl systems. J. Phase Equilibria 24, 228–235 (2003).

Chen, Y., Geddes, J. III, Lee, J., Braun, P. & Wiltzius, P. Holographically fabricated photonic crystals with large reflectance. Appl. Phys. Lett. 91, 241103 (2007).

Kim, J., Ou, Z., Jones, M. R., Song, X. & Chen, Q. Imaging the polymerization of multivalent nanoparticles in solution. Nat. Commun. 8, 761 (2017).

Ma, J. et al. Coherent phonon-grain boundary scattering in silicon inverse opals. Nano Lett. 13, 618–624 (2013).

Whitelaw, J. H. Convective heat transfer. In Thermopedia (ed. Hewitt, G. F.) https://doi.org/10.1615/AtoZ.c.convective_heat_transfer (Begell House Inc., 2011).

Cappella, A. et al. High temperature thermal conductivity of amorphous Al2O3 thin films grown by low temperature ALD. Adv. Eng. Mater. 15, 1046–1050 (2013).

Folch, R. & Plapp, M. Quantitative phase-field modeling of two-phase growth. Phys. Rev. E 72, 011602 (2005).

Yu, H.-C., Chen, H.-Y. & Thornton, K. Extended smoothed boundary method for solving partial differential equations with general boundary conditions on complex boundaries. Model. Simul. Mater. Sci. Eng. 20, 075008 (2012).
Acknowledgements
This work was supported through the Air Force Office of Scientific Research Multidisciplinary University Research Initiative FA9550-12-1-0471. This work was carried out in part in the Materials Research Laboratory Central Facilities, and in the Beckman Institute for Advanced Science and Technology, University of Illinois. E.H. and K.T. acknowledge use of the computational resources in the Department of Defense High-Performance Computing Modernization Program. We thank J. Kohanek for suggestions and discussions on solidification in pillar templates, Z. Ou and Q. Chen for help with image analysis, G. Huang for help with thermal profile simulations, and K. Tyler and V. Mohan for critical feedback on the manuscript.
Ethics declarations
Competing interests
The authors declare no competing interests.
Additional information
Peer review information Nature thanks Elizabeth Dickey, Alain Karma and the other, anonymous, reviewer(s) for their contribution to the peer review of this work.
Publisher's note Springer Nature remains neutral with regard to jurisdictional claims in published maps and institutional affiliations.
Extended data figures and tables
About this article
Cite this article
Kulkarni, A.A., Hanson, E., Zhang, R. et al. Archimedean lattices emerge in template-directed eutectic solidification. Nature 577, 355–358 (2020). https://doi.org/10.1038/s41586-019-1893-9
Received:

Accepted:

Published:

Issue Date:

DOI: https://doi.org/10.1038/s41586-019-1893-9
Further reading
Jianbo Tang
Stephanie Lambie
Kourosh Kalantar-Zadeh

Nature Synthesis (2022)

Jianbo Tang
Stephanie Lambie
Kourosh Kalantar-Zadeh

Nature Nanotechnology (2021)

Monika Tomczyk
Pawel Osewski
Dorota A. Pawlak

Journal of Materials Science (2021)
Comments
By submitting a comment you agree to abide by our Terms and Community Guidelines. If you find something abusive or that does not comply with our terms or guidelines please flag it as inappropriate.