Abstract
Individual cellular activities fluctuate but are constantly coordinated at the population level via cell–cell coupling. A notable example is the somite segmentation clock, in which the expression of clock genes (such as Hes7) oscillates in synchrony between the cells that comprise the presomitic mesoderm (PSM)1,2. This synchronization depends on the Notch signalling pathway; inhibiting this pathway desynchronizes oscillations, leading to somite fusion3,4,5,6,7. However, how Notch signalling regulates the synchronicity of HES7 oscillations is unknown. Here we establish a live-imaging system using a new fluorescent reporter (Achilles), which we fuse with HES7 to monitor synchronous oscillations in HES7 expression in the mouse PSM at a single-cell resolution. Wild-type cells can rapidly correct for phase fluctuations in HES7 oscillations, whereas the absence of the Notch modulator gene lunatic fringe (Lfng) leads to a loss of synchrony between PSM cells. Furthermore, HES7 oscillations are severely dampened in individual cells of Lfng-null PSM. However, when Lfng-null PSM cells were completely dissociated, the amplitude and periodicity of HES7 oscillations were almost normal, which suggests that LFNG is involved mostly in cell–cell coupling. Mixed cultures of control and Lfng-null PSM cells, and an optogenetic Notch signalling reporter assay, revealed that LFNG delays the signal-sending process of intercellular Notch signalling transmission. These results—together with mathematical modelling—raised the possibility that Lfng-null PSM cells shorten the coupling delay, thereby approaching a condition known as the oscillation or amplitude death of coupled oscillators8. Indeed, a small compound that lengthens the coupling delay partially rescues the amplitude and synchrony of HES7 oscillations in Lfng-null PSM cells. Our study reveals a delay control mechanism of the oscillatory networks involved in somite segmentation, and indicates that intercellular coupling with the correct delay is essential for synchronized oscillation.
Relevant articles
Open Access articles citing this article.
Taijiro Yabe

,

Koichiro Uriu

&

Shinji Takada

Nature Communications Open Access 13 April 2023

Akari Matsuki

,

Hiroshi Kori

&

Ryota Kobayashi

Scientific Reports Open Access 02 March 2023

Jinglei Zhai

,

Jing Guo

…

Hongmei Wang

Nature Open Access 14 December 2022
Access options
Access Nature and 54 other Nature Portfolio journals
Get Nature+, our best-value online-access subscription
$29.99 / 30 days
cancel any time
Subscribe to this journal
Receive 51 print issues and online access
$199.00 per year
only $3.90 per issue
Rent or buy this article
Prices vary by article type
from$1.95
to$39.95
Prices may be subject to local taxes which are calculated during checkout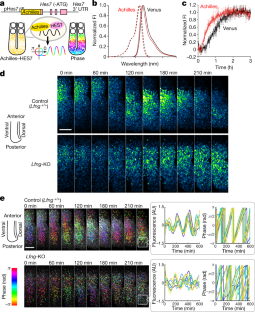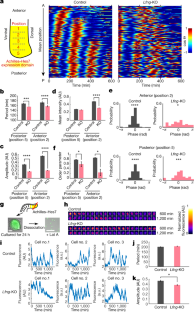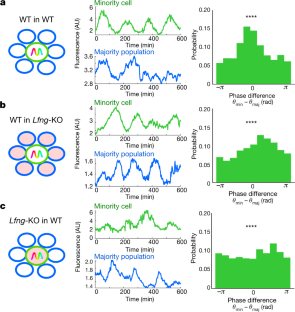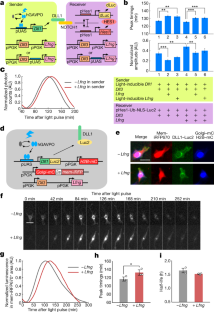 Data availability
The nucleotide sequence for Achilles cDNA has been deposited in the DDBJ/EMBL/GenBank under the accession number LC381432. Raw data for Achilles and all the other experiments are available on request from A.M. and the corresponding author, respectively. Correspondence and requests for materials should be addressed to A.M. (matsushi@brain.riken.jp) for Achilles cDNA and R.K. (rkageyam@infront.kyoto-u.ac.jp) for other materials.
Code availability
Image processing and analysis were performed using Fiji (v.1.0) and Matlab (R2018a). Subsequent analysis was performed using custom Matlab scripts. The codes are available upon request from the corresponding author.
References
Hubaud, A. & Pourquié, O. Signalling dynamics in vertebrate segmentation. Nat. Rev. Mol. Cell Biol. 15, 709–721 (2014).

Oates, A. C., Morelli, L. G. & Ares, S. Patterning embryos with oscillations: structure, function and dynamics of the vertebrate segmentation clock. Development 139, 625–639 (2012).

Jiang, Y.-J. et al. Notch signalling and the synchronization of the somite segmentation clock. Nature 408, 475–479 (2000).

Riedel-Kruse, I. H., Müller, C. & Oates, A. C. Synchrony dynamics during initiation, failure, and rescue of the segmentation clock. Science 317, 1911–1915 (2007).

Mara, A., Schroeder, J., Chalouni, C. & Holley, S. A. Priming, initiation and synchronization of the segmentation clock by deltaD and deltaC. Nat. Cell Biol. 9, 523–530 (2007).

Özbudak, E. M. & Lewis, J. Notch signalling synchronizes the zebrafish segmentation clock but is not needed to create somite boundaries. PLoS Genet. 4, e15 (2008).

Delaune, E. A., François, P., Shih, N. P. & Amacher, S. L. Single-cell-resolution imaging of the impact of Notch signaling and mitosis on segmentation clock dynamics. Dev. Cell 23, 995–1005 (2012).

Ramana Reddy, D. V., Sen, A. & Johnston, G. L. Time delay induced death in coupled limit cycle oscillators. Phys. Rev. Lett. 80, 5109–5112 (1998).

Bessho, Y. et al. Dynamic expression and essential functions of Hes7 in somite segmentation. Genes Dev. 15, 2642–2647 (2001).

Sparrow, D. B., Guillén-Navarro, E., Fatkin, D. & Dunwoodie, S. L. Mutation of Hairy-and-Enhancer-of-Split-7 in humans causes spondylocostal dysostosis. Hum. Mol. Genet. 17, 3761–3766 (2008).

Shimojo, H. et al. Oscillatory control of Delta-like1 in cell interactions regulates dynamic gene expression and tissue morphogenesis. Genes Dev. 30, 102–116 (2016).

Isomura, A., Ogushi, F., Kori, H. & Kageyama, R. Optogenetic perturbation and bioluminescence imaging to analyze cell-to-cell transfer of oscillatory information. Genes Dev. 31, 524–535 (2017).

Moloney, D. J. et al. Fringe is a glycosyltransferase that modifies Notch. Nature 406, 369–375 (2000).

Evrard, Y. A., Lun, Y., Aulehla, A., Gan, L. & Johnson, R. L. lunatic fringe is an essential mediator of somite segmentation and patterning. Nature 394, 377–381 (1998).

Zhang, N. & Gridley, T. Defects in somite formation in lunatic fringe-deficient mice. Nature 394, 374–377 (1998).

Niwa, Y. et al. Different types of oscillations in Notch and Fgf signaling regulate the spatiotemporal periodicity of somitogenesis. Genes Dev. 25, 1115–1120 (2011).

Okubo, Y. et al. Lfng regulates the synchronized oscillation of the mouse segmentation clock via trans-repression of Notch signalling. Nat. Commun. 3, 1141 (2012).

Nagai, T. et al. A variant of yellow fluorescent protein with fast and efficient maturation for cell-biological applications. Nat. Biotechnol. 20, 87–90 (2002).

Hirata, H. et al. Instability of Hes7 protein is crucial for the somite segmentation clock. Nat. Genet. 36, 750–754 (2004).

Lauschke, V. M., Tsiairis, C. D., François, P. & Aulehla, A. Scaling of embryonic patterning based on phase-gradient encoding. Nature 493, 101–105 (2013).

Pikovsky, A., Rosenblum, A. & Kurths, J. Synchronization (Cambridge Univ. Press, 2001).

Hubaud, A., Regev, I., Mahadevan, L. & Pourquié, O. Excitable dynamics and Yap-dependent mechanical cues drive the segmentation clock. Cell 171, 668–682.e11 (2017).

Harima, Y., Takashima, Y., Ueda, Y., Ohtsuka, T. & Kageyama, R. Accelerating the tempo of the segmentation clock by reducing the number of introns in the Hes7 gene. Cell Reports 3, 1–7 (2013).

Lewis, J. Autoinhibition with transcriptional delay: a simple mechanism for the zebrafish somitogenesis oscillator. Curr. Biol. 13, 1398–1408 (2003).

Morelli, L. G. et al. Delayed coupling theory of vertebrate segmentation. HFSP J. 3, 55–66 (2009).

Morimoto, M., Takahashi, Y., Endo, M. & Saga, Y. The Mesp2 transcription factor establishes segmental borders by suppressing Notch activity. Nature 435, 354–359 (2005).

Huppert, S. S., Ilagan, M. X., De Strooper, B. & Kopan, R. Analysis of Notch function in presomitic mesoderm suggests a γ-secretase-independent role for presenilins in somite differentiation. Dev. Cell 8, 677–688 (2005).

Williams, D. R., Shifley, E. T., Braunreiter, K. M. & Cole, S. E. Disruption of somitogenesis by a novel dominant allele of Lfng suggests important roles for protein processing and secretion. Development 143, 822–830 (2016).

Serth, K., Schuster-Gossler, K., Cordes, R. & Gossler, A. Transcriptional oscillation of lunatic fringe is essential for somitogenesis. Genes Dev. 17, 912–925 (2003).

Matsumiya, M., Tomita, T., Yoshioka-Kobayashi, K., Isomura, A. & Kageyama, R. ES cell-derived presomitic mesoderm-like tissues for analysis of synchronized oscillations in the segmentation clock. Development 145, dev156836 (2018).

Shimizu, Y. et al. Cell-free translation reconstituted with purified components. Nat. Biotechnol. 19, 751–755 (2001).

Takashima, Y., Ohtsuka, T., González, A., Miyachi, H. & Kageyama, R. Intronic delay is essential for oscillatory expression in the segmentation clock. Proc. Natl Acad. Sci. USA 108, 3300–3305 (2011).

Abe, T. et al. Establishment of conditional reporter mouse lines at ROSA26 locus for live cell imaging. Genesis 49, 579–590 (2011).

Tinevez, J. Y. et al. TrackMate: an open and extensible platform for single-particle tracking. Methods 115, 80–90 (2017).

Webb, A. B. et al. Persistence, period and precision of autonomous cellular oscillators from the zebrafish segmentation clock. eLife 5, e08438 (2016).

Isomura, A. & Kageyama, R. An optogenetic method to control and analyze gene expression patterns in cell-to-cell interactions. J. Vis. Exp. 133, e57149 (2018).
Acknowledgements
We thank C. Vissers for critical reading, R. Sueda for technical help, F. Ishidate for live imaging, H. Miyachi for the generation of transgenic mice and M. Uesugi for providing KY02111. This work was supported by Core Research for Evolutional Science and Technology (JPMJCR12W2 to R.K.), Precursory Research for Embryonic Science and Technology (to A.I.), Grant-in-Aid for Scientific Research on Innovative Areas (Ministry of Education, Culture, Sports, Science, and Technology (MEXT), Japan (16H06480 to R.K.; 18H04734 to A.I.; 15H05876 to H.K.)) and the Brain Mapping by Integrated Neurotechnologies for Disease Studies (Brain/MINDS) (JP19dm0207001 to A.M.).
Ethics declarations
Competing interests
The authors declare no competing interests.
Additional information
Publisher's note Springer Nature remains neutral with regard to jurisdictional claims in published maps and institutional affiliations.
Extended data figures and tables
Supplementary information
About this article
Cite this article
Yoshioka-Kobayashi, K., Matsumiya, M., Niino, Y. et al. Coupling delay controls synchronized oscillation in the segmentation clock. Nature 580, 119–123 (2020). https://doi.org/10.1038/s41586-019-1882-z
Received:

Accepted:

Published:

Issue Date:

DOI: https://doi.org/10.1038/s41586-019-1882-z
Comments
By submitting a comment you agree to abide by our Terms and Community Guidelines. If you find something abusive or that does not comply with our terms or guidelines please flag it as inappropriate.