Abstract
Our understanding of how human embryos develop before gastrulation, including spatial self-organization and cell type ontogeny, remains limited by available two-dimensional technological platforms1,2 that do not recapitulate the in vivo conditions3,4,5. Here we report a three-dimensional (3D) blastocyst-culture system that enables human blastocyst development up to the primitive streak anlage stage. These 3D embryos mimic developmental landmarks and 3D architectures in vivo, including the embryonic disc, amnion, basement membrane, primary and primate unique secondary yolk sac, formation of anterior–posterior polarity and primitive streak anlage. Using single-cell transcriptome profiling, we delineate ontology and regulatory networks that underlie the segregation of epiblast, primitive endoderm and trophoblast. Compared with epiblasts, the amniotic epithelium shows unique and characteristic phenotypes. After implantation, specific pathways and transcription factors trigger the differentiation of cytotrophoblasts, extravillous cytotrophoblasts and syncytiotrophoblasts. Epiblasts undergo a transition to pluripotency upon implantation, and the transcriptome of these cells is maintained until the generation of the primitive streak anlage. These developmental processes are driven by different pluripotency factors. Together, findings from our 3D-culture approach help to determine the molecular and morphogenetic developmental landscape that occurs during human embryogenesis.
Relevant articles
Open Access articles citing this article.
Yang Ding

,

Yang Zheng

…

Xiaochen Bo

Communications Biology Open Access 21 December 2022

Mauricio Montano

,

Andrea R. Victor

…

Manuel Viotti

Scientific Reports Open Access 14 September 2022

Anna Malkowska

,

Christopher Penfold

…

Thorsten E. Boroviak

Nature Communications Open Access 16 June 2022
Access options
Access Nature and 54 other Nature Portfolio journals
Get Nature+, our best-value online-access subscription
$29.99 per month
cancel any time
Subscribe to this journal
Receive 51 print issues and online access
$199.00 per year
only $3.90 per issue
Rent or buy this article
Get just this article for as long as you need it
$39.95
Prices may be subject to local taxes which are calculated during checkout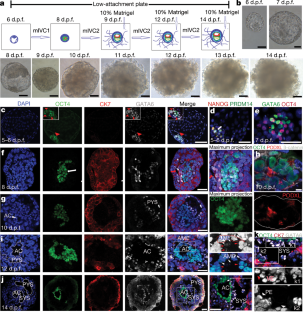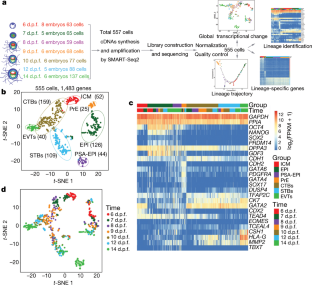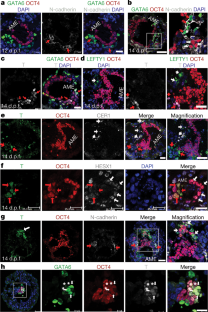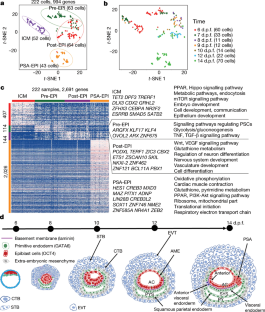 Data availability
Source Data for Extended Data Figs. 1f, k–m, 4b, f, p, 5g, h, l, m, p, q, r, 9f, 10d–h are provided with the paper. scRNA-seq data have been deposited in the Gene Expression Omnibus (GEO) under accession number GSE136447 (scRNA-seq data). The SC3-seq data of cynomolgus monkey embryos (for Extended Data Fig. 10) are GEO accession GSE74767 (ref. 39); the scRNA-seq data of human pre-implantation embryos (for Extended Data Fig. 3d, e) are with GEO accession GSE66507 (ref. 16) and GSE36552 (ref. 17) and ArrayExpress accession E-MTAB-3929 (ref. 18).
References
Shahbazi, M. N. et al. Self-organization of the human embryo in the absence of maternal tissues. Nat. Cell Biol. 18, 700–708 (2016).

Deglincerti, A. et al. Self-organization of the in vitro attached human embryo. Nature 533, 251–254 (2016).

Rossant, J. Human embryology: implantation barrier overcome. Nature 533, 182–183 (2016).

Rossant, J. & Tam, P. P. L. New insights into early human development: lessons for stem cell derivation and differentiation. Cell Stem Cell 20, 18–28 (2017).

Wamaitha, S. E. & Niakan, K. K. in Current Topics in Developmental Biology Vol. 128 (eds Plusa, B. & Hadjantonakis, A.-K.) 295–338 (Academic, 2018).

Shao, Y. et al. A pluripotent stem cell-based model for post-implantation human amniotic sac development. Nat. Commun. 8, 208 (2017).

Martyn, I., Kanno, T. Y., Ruzo, A., Siggia, E. D. & Brivanlou, A. H. Self-organization of a human organizer by combined Wnt and Nodal signalling. Nature 558, 132–135 (2018).

Shao, Y. et al. Self-organized amniogenesis by human pluripotent stem cells in a biomimetic implantation-like niche. Nat. Mater. 16, 419–425 (2017).

Watanabe, K. et al. A ROCK inhibitor permits survival of dissociated human embryonic stem cells. Nat. Biotechnol. 25, 681–686 (2007).

Dobreva, M. P., Pereira, P. N., Deprest, J. & Zwijsen, A. On the origin of amniotic stem cells: of mice and men. Int. J. Dev. Biol. 54, 761–777 (2010).

Luckett, W. P. Origin and differentiation of the yolk sac and extraembryonic mesoderm in presomite human and rhesus monkey embryos. Am. J. Anat. 152, 59–97 (1978).

Shahbazi, M. N. et al. Pluripotent state transitions coordinate morphogenesis in mouse and human embryos. Nature 552, 239–243 (2017).

Enders, A. C., Schlafke, S. & Hendrickx, A. G. Differentiation of the embryonic disc, amnion, and yolk sac in the rhesus monkey. Am. J. Anat. 177, 161–185 (1986).

Gardner, R. L. Investigation of cell lineage and differentiation in the extraembryonic endoderm of the mouse embryo. J. Embryol. Exp. Morphol. 68, 175–198 (1982).

Stirparo, G. G. et al. Integrated analysis of single-cell embryo data yields a unified transcriptome signature for the human pre-implantation epiblast. Development 145, dev158501 (2018).

Blakeley, P. et al. Defining the three cell lineages of the human blastocyst by single-cell RNA-seq. Development 142, 3151–3165 (2015).

Yan, L. et al. Single-cell RNA-seq profiling of human preimplantation embryos and embryonic stem cells. Mol. Biol. 20, 1131–1139 (2013).

Petropoulos, S. et al. Single-cell RNA-seq reveals lineage and X chromosome dynamics in human preimplantation embryos. Cell 165, 1012–1026 (2016).

Boroviak, T. & Nichols, J. Primate embryogenesis predicts the hallmarks of human naïve pluripotency. Development 144, 175–186 (2017).

Halbleib, J. M. & Nelson, W. J. Cadherins in development: cell adhesion, sorting, and tissue morphogenesis. Genes Dev. 20, 3199–3214 (2006).

Bedzhov, I. & Zernicka-Goetz, M. Self-organizing properties of mouse pluripotent cells initiate morphogenesis upon implantation. Cell 156, 1032–1044 (2014).

Sozen, B. et al. Self-assembly of embryonic and two extra-embryonic stem cell types into gastrulating embryo-like structures. Nat. Cell Biol. 20, 979–989 (2018).

Sasaki, K. et al. The germ cell fate of cynomolgus monkeys is specified in the nascent amnion. Dev. Cell 39, 169–185 (2016).

de Ikonicoff, L. K. & Cedard, L. Localization of human chorionic gonadotropic and somatomammotropic hormones by the peroxidase immunohistoenzymologic method in villi and amniotic epithelium of human placentas (from six weeks to term). Am. J. Obstet. Gynecol. 116, 1124–1132 (1973).

Morgani, S. M., Metzger, J. J., Nichols, J., Siggia, E. D. & Hadjantonakis, A. K. Micropattern differentiation of mouse pluripotent stem cells recapitulates embryo regionalized cell fate patterning. eLife 7, e32839 (2018).

Tsakiridis, A. et al. Distinct Wnt-driven primitive streak-like populations reflect in vivo lineage precursors. Development 141, 1209–1221 (2014).

Sun, L. T. et al. Nanog co-regulated by Nodal/Smad2 and Oct4 is required for pluripotency in developing mouse epiblast. Dev. Biol. 392, 182–192 (2014).

Huelsken, J. et al. Requirement for β-catenin in anterior-posterior axis formation in mice. J. Cell Biol. 148, 567–578 (2000).

Camus, A., Perea-Gomez, A., Moreau, A. & Collignon, J. Absence of Nodal signaling promotes precocious neural differentiation in the mouse embryo. Dev. Biol. 295, 743–755 (2006).

Voiculescu, O., Bertocchini, F., Wolpert, L., Keller, R.E., Stern, C.D. The amniote primitive streak is defined by epithelial cell intercalation before gastrulation. Nature 449, 1049–1052 (2007).

Fong, G.-H., Klingensmith, J., Wood, C. R., Rossant, J. & Breitman, M. L. Regulation of flt-1 expression during mouse embryogenesis suggests a role in the establishment of vascular endothelium. Dev. Dyn. 207, 1–10 (1996).

Liu, Y. et al. Single-cell RNA-seq reveals the diversity of trophoblast subtypes and patterns of differentiation in the human placenta. Cell Res. 28, 819–832 (2018).

Okae, H. et al. Derivation of human trophoblast stem cells. Cell Stem Cell 22, 50–63.e56 (2018).

Vento-Tormo, R. et al. Single-cell reconstruction of the early maternal–fetal interface in humans. Nature 563, 347–353 (2018).

Smith, A. Formative pluripotency: the executive phase in a developmental continuum. Development 144, 365–373 (2017).

Hackett, J. A. & Surani, M. A. Regulatory principles of pluripotency: from the ground state up. Cell Stem Cell 15, 416–430 (2014).

Som, A. et al. The PluriNetWork: an electronic representation of the network underlying pluripotency in mouse, and its applications. PLoS ONE 5, e15165 (2010).

Liu, D. et al. Single-cell RNA-sequencing reveals the existence of naive and primed pluripotency in pre-implantation rhesus monkey embryos. Genome Res. 28, 1481–1493 (2018).

Nakamura, T. et al. A developmental coordinate of pluripotency among mice, monkeys and humans. Nature 537, 57–62 (2016).

Gardner, D. K., Lane, M., Stevens, J., Schlenker, T. & Schoolcraft, W. B. Blastocyst score affects implantation and pregnancy outcome: towards a single blastocyst transfer. Fertil. Steril. 73, 1155–1158 (2000).

Xiang, L., Yin, Y. & Li, T. Protocol for a developmental landscape of 3D-cultured human pre-gastrulation embryos. Protoc. Exch. https://doi.org/10.21203/rs.2.16169/v1 (2019).

Picelli, S. et al. Full-length RNA-seq from single cells using Smart-seq2. Nat. Protocols 9, 171–181 (2014).

Ewels, P., Magnusson, M., Lundin, S. & Käller, M. MultiQC: summarize analysis results for multiple tools and samples in a single report. Bioinformatics 32, 3047–3048 (2016).

Rosenbloom, K. R. et al. The UCSC Genome Browser database: 2015 update. Nucleic Acids Res. 43, D670–D681 (2015).

Kim, D., Langmead, B. & Salzberg, S. L. HISAT: a fast spliced aligner with low memory requirements. Nat. Methods 12, 357–360 (2015).

Li, H. et al. The Sequence Alignment/Map format and SAMtools. Bioinformatics 25, 2078–2079 (2009).

Pertea, M. et al. StringTie enables improved reconstruction of a transcriptome from RNA-seq reads. Nat. Biotechnol. 33, 290–295 (2015).

Harrow, J. et al. GENCODE: the reference human genome annotation for The ENCODE Project. Genome Res. 22, 1760–1774 (2012).

Frankish, A. et al. GENCODE reference annotation for the human and mouse genomes. Nucleic Acids Res. 47, D766–D773 (2019).

Okonechnikov, K., Conesa, A. & García-Alcalde, F. Qualimap 2: advanced multi-sample quality control for high-throughput sequencing data. Bioinformatics 32, 292–294 (2016).

Butler, A., Hoffman, P., Smibert, P., Papalexi, E. & Satija, R. Integrating single-cell transcriptomic data across different conditions, technologies, and species. Nat. Biotechnol. 36, 411–420 (2018).

Trapnell, C. et al. The dynamics and regulators of cell fate decisions are revealed by pseudotemporal ordering of single cells. Nat. Biotechnol. 32, 381–386 (2014).

Qiu, X. et al. Reversed graph embedding resolves complex single-cell trajectories. Nat. Methods 14, 979–982 (2017).

Robinson, M. D., McCarthy, D. J. & Smyth, G. K. edgeR: a Bioconductor package for differential expression analysis of digital gene expression data. Bioinformatics 26, 139–140 (2010).

Langfelder, P. & Horvath, S. WGCNA: an R package for weighted correlation network analysis. BMC Bioinformatics 9, 559 (2008).

Shannon, P. et al. Cytoscape: a software environment for integrated models of biomolecular interaction networks. Genome Res. 13, 2498–2504 (2003).

Smoot, M. E., Ono, K., Ruscheinski, J., Wang, P. L. & Ideker, T. Cytoscape 2.8: new features for data integration and network visualization. Bioinformatics 27, 431–432 (2011).

Xie, C. et al. KOBAS 2.0: a web server for annotation and identification of enriched pathways and diseases. Nucleic Acids Res. 39, W316-22 (2011).
Acknowledgements
This work was supported by the National Key Research and Development Program of China (2018YFA0108500), the Yunnan Key R&D Program (2018ZF007-02 and 2018FA008), the National Natural Science Foundation of China (31760268 and 81660266), Chinese Postdoctoral Science Foundation (2017M623317XB), Yunnan Provincial Innovation Team (2018HC003 and 2017HC009) and Yunnan Innovation Talents of Science and Technology (2013HA027). We thank Brandi J. Mattson for editing assistance.
Ethics declarations
Competing interests
The authors declare no competing interests.
Additional information
Publisher's note Springer Nature remains neutral with regard to jurisdictional claims in published maps and institutional affiliations.
Extended data figures and tables
Supplementary information
About this article
Cite this article
Xiang, L., Yin, Y., Zheng, Y. et al. A developmental landscape of 3D-cultured human pre-gastrulation embryos. Nature 577, 537–542 (2020). https://doi.org/10.1038/s41586-019-1875-y
Received:

Accepted:

Published:

Issue Date:

DOI: https://doi.org/10.1038/s41586-019-1875-y
Comments
By submitting a comment you agree to abide by our Terms and Community Guidelines. If you find something abusive or that does not comply with our terms or guidelines please flag it as inappropriate.