Abstract
Humoral immune responses to immunization and infection and susceptibilities to antibody-mediated autoimmunity are generally lower in males1,2,3. However, the mechanisms underlying such sexual dimorphism are not well understood. Here we show that there are intrinsic differences between the B cells that produce germinal centres in male and female mice. We find that antigen-activated male B cells do not position themselves as efficiently as female B cells in the centre of follicles in secondary lymphoid organs, in which germinal centres normally develop. Moreover, GPR174—an X-chromosome-encoded G-protein-coupled receptor—suppresses the formation of germinal centres in male, but not female, mice. This effect is intrinsic to B cells, and correlates with the GPR174-enhanced positioning of B cells towards the T-cell–B-cell border of follicles, and the distraction of male, but not female, B cells from S1PR2-driven follicle-centre localization. Biochemical fractionation of conditioned media that induce B-cell migration in a GPR174-dependent manner identifies CCL21 as a GPR174 ligand. In response to CCL21, GPR174 triggers a calcium flux and preferentially induces the migration of male B cells; GPR174 also becomes associated with more Gαi protein in male than in female B cells. Male B cells from orchidectomized mice exhibit impaired GPR174-mediated migration to CCL21, and testosterone treatment rescues this defect. Female B cells from testosterone-treated mice exhibit male-like GPR174–Gαi association and GPR174-mediated migration. Deleting GPR174 from male B cells causes more efficient positioning towards the follicular centre, the formation of more germinal centres and an increased susceptibility to B-cell-dependent experimental autoimmune encephalomyelitis. By identifying GPR174 as a receptor for CCL21 and demonstrating its sex-dependent control of B-cell positioning and participation in germinal centres, we have revealed a mechanism by which B-cell physiology is fine-tuned to impart sexual dimorphism to humoral immunity.
Access options
Subscribe to Journal
Get full journal access for 1 year
$199.00
only $3.90 per issue
All prices are NET prices.
VAT will be added later in the checkout.
Tax calculation will be finalised during checkout.
Rent or Buy article
Get time limited or full article access on ReadCube.
from$8.99
All prices are NET prices.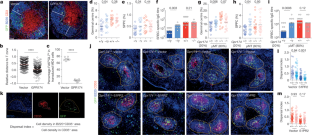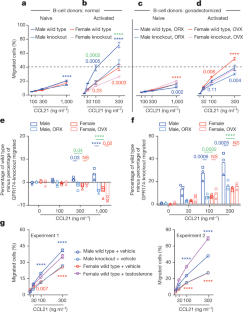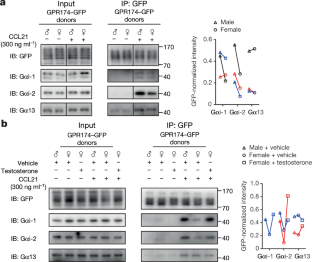 Data availability
Data generated here are included within the paper (and its Supplementary Information files) or available from the corresponding author upon reasonable request. Source Data for Figs. 1–4 and Extended Data Figs. 1–10 are provided with the paper.
References
1.

Whitacre, C. C. Sex differences in autoimmune disease. Nat. Immunol. 2, 777–780 (2001).

2.

Klein, S. L. & Flanagan, K. L. Sex differences in immune responses. Nat. Rev. Immunol. 16, 626–638 (2016).

3.

Ghosh, S. & Klein, R. S. Sex drives dimorphic immune responses to viral infections. J. Immunol. 198, 1782–1790 (2017).

4.

Ansel, K. M. et al. A chemokine-driven positive feedback loop organizes lymphoid follicles. Nature 406, 309–314 (2000).

5.

Förster, R. et al. A putative chemokine receptor, BLR1, directs B cell migration to defined lymphoid organs and specific anatomic compartments of the spleen. Cell 87, 1037–1047 (1996).

6.

Nakano, H. et al. A novel mutant gene involved in T-lymphocyte-specific homing into peripheral lymphoid organs on mouse chromosome 4. Blood 91, 2886–2895 (1998).

7.

Förster, R. et al. CCR7 coordinates the primary immune response by establishing functional microenvironments in secondary lymphoid organs. Cell 99, 23–33 (1999).

8.

Green, J. A. et al. The sphingosine 1-phosphate receptor S1P2 maintains the homeostasis of germinal center B cells and promotes niche confinement. Nat. Immunol. 12, 672–680 (2011).

9.

Pereira, J. P., Kelly, L. M., Xu, Y. & Cyster, J. G. EBI2 mediates B cell segregation between the outer and centre follicle. Nature 460, 1122–1126 (2009).

10.

Gatto, D., Paus, D., Basten, A., Mackay, C. R. & Brink, R. Guidance of B cells by the orphan G protein-coupled receptor EBI2 shapes humoral immune responses. Immunity 31, 259–269 (2009).

11.

Pereira, J. P. P., Kelly, L. M. & Cyster, J. G. Finding the right niche: B-cell migration in the early phases of T-dependent antibody responses. Int. Immunol. 22, 413–419 (2010).

12.

Inoue, A. et al. TGFα shedding assay: an accurate and versatile method for detecting GPCR activation. Nat. Methods 9, 1021–1029 (2012).

13.

Barnes, M. J. et al. The lysophosphatidylserine receptor GPR174 constrains regulatory T cell development and function. J. Exp. Med. 212, 1011–1020 (2015).

14.

Bangasser, D. A. et al. Sex differences in corticotropin-releasing factor receptor signaling and trafficking: potential role in female vulnerability to stress-related psychopathology. Mol. Psychiatry 15, 896–904 (2010).

15.

Lyons, J. A., San, M., Happ, M. P. & Cross, A. H. B cells are critical to induction of experimental allergic encephalomyelitis by protein but not by a short encephalitogenic peptide. Eur. J. Immunol. 29, 3432–3439 (1999).

16.

Genain, C. P., Cannella, B., Hauser, S. L. & Raine, C. S. Identification of autoantibodies associated with myelin damage in multiple sclerosis. Nat. Med. 5, 170–175 (1999).

17.

Mulero, P., Midaglia, L. & Montalban, X. Ocrelizumab: a new milestone in multiple sclerosis therapy. Ther. Adv. Neurol. Disorder. https://doi.org/10.1177/1756286418773025 (2018).

18.

Wang, Y. et al. Germinal-center development of memory B cells driven by IL-9 from follicular helper T cells. Nat. Immunol. 18, 921–930 (2017).

19.

Xu, H. et al. Follicular T-helper cell recruitment governed by bystander B cells and ICOS-driven motility. Nature 496, 523–527 (2013).
Acknowledgements
We thank the Protein Preparation and Characterization Core Facility at the Tsinghua University Branch of the China National Center for Protein Sciences for chromatography support; and T. Li, K. He and H. Wang at the National Center of Biomedical Analysis for expert advice and assistance with mass spectrometry. This work was funded in part by the National Natural Science Foundation of China (grants 81621002, 31830023, 81761128019 and 81425011), the Tsinghua-Peking Center for Life Sciences and the Beijing Municipal Science and Technology Commission. This work was also funded in part by the Bill and Melinda Gates Foundation and the Howard Hughes Medical Institute. The findings and conclusions within are those of the authors and do not necessarily reflect the positions or policies of the Bill and Melinda Gates Foundation or the Howard Hughes Medical Institute.
Ethics declarations
Competing interests
The authors declare no competing interests.
Additional information
Peer review information Nature thanks Andrew Luster, Charles Mackay and the other, anonymous, reviewer(s) for their contribution to the peer review of this work.
Publisher's note Springer Nature remains neutral with regard to jurisdictional claims in published maps and institutional affiliations.
Extended data figures and tables
Supplementary information
Supplementary Figure 1: uncropped gel scans with size marker indications
About this article
Cite this article
Zhao, R., Chen, X., Ma, W. et al. A GPR174–CCL21 module imparts sexual dimorphism to humoral immunity. Nature 577, 416–420 (2020). https://doi.org/10.1038/s41586-019-1873-0
Received:

Accepted:

Published:

Issue Date:
Comments
By submitting a comment you agree to abide by our Terms and Community Guidelines. If you find something abusive or that does not comply with our terms or guidelines please flag it as inappropriate.