Abstract
Homo erectus is the founding early hominin species of Island Southeast Asia, and reached Java (Indonesia) more than 1.5 million years ago1,2. Twelve H. erectus calvaria (skull caps) and two tibiae (lower leg bones) were discovered from a bone bed located about 20 m above the Solo River at Ngandong (Central Java) between 1931 and 19333,4, and are of the youngest, most-advanced form of H. erectus5,6,7,8. Despite the importance of the Ngandong fossils, the relationship between the fossils, terrace fill and ages have been heavily debated9,10,11,12,13,14. Here, to resolve the age of the Ngandong evidence, we use Bayesian modelling of 52 radiometric age estimates to establish—to our knowledge—the first robust chronology at regional, valley and local scales. We used uranium-series dating of speleothems to constrain regional landscape evolution; luminescence, 40argon/39argon (40Ar/39Ar) and uranium-series dating to constrain the sequence of terrace evolution; and applied uranium-series and uranium series–electron-spin resonance (US–ESR) dating to non-human fossils to directly date our re-excavation of Ngandong5,15. We show that at least by 500 thousand years ago (ka) the Solo River was diverted into the Kendeng Hills, and that it formed the Solo terrace sequence between 316 and 31 ka and the Ngandong terrace between about 140 and 92 ka. Non-human fossils recovered during the re-excavation of Ngandong date to between 109 and 106 ka (uranium-series minimum)16 and 134 and 118 ka (US–ESR), with modelled ages of 117 to 108 thousand years (kyr) for the H. erectus bone bed, which accumulated during flood conditions3,17. These results negate the extreme ages that have been proposed for the site and solidify Ngandong as the last known occurrence of this long-lived species.
Access options
Subscribe to Journal
Get full journal access for 1 year
$199.00
only $3.83 per issue
All prices are NET prices.
VAT will be added later in the checkout.
Rent or Buy article
Get time limited or full article access on ReadCube.
from$8.99
All prices are NET prices.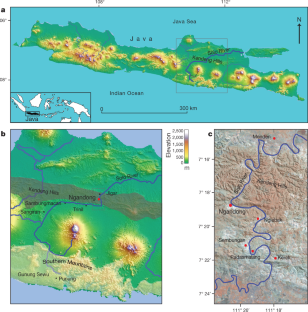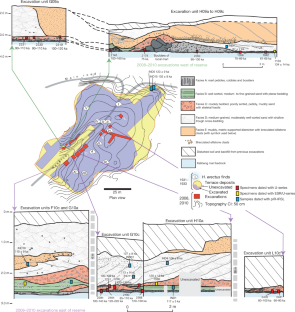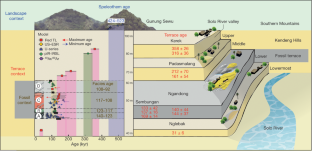 Data availability
The data that support the findings of this study are included in the Supplementary Information. Additional data are available from the corresponding authors upon reasonable request.
Code availability
The Oxcal code used for the Bayesian model in this study is included in Supplementary Table 15.
References
1.

Larick, R. et al. Early Pleistocene 40Ar/39Ar ages for Bapang Formation hominins, Central Jawa, Indonesia. Proc. Natl Acad. Sci. USA 98, 4866–4871 (2001).

2.

Zaim, Y. et al. New 1.5 million-year-old Homo erectus maxilla from Sangiran (Central Java, Indonesia). J. Hum. Evol. 61, 363–376 (2011).

3.

Huffman, O. F., de Vos, J., Berkhout, A. W. & Aziz, F. Provenience reassessment of the 1931–1933 Ngandong Homo erectus (Java), confirmation of the bonebed origin reported by the discoverers. Paleoanthropology 2010, 1–60 (2010).

4.

Oppenoorth, W.F.F. Een nieuwe fossiele mensch van Java. Tijdschrift van het Koninklijk Nederlandsch Aardrijkskundig Genootschap XLIX, 704–708 (1932).

5.

Frankel, M. Notes from an excavation. Nature https://doi.org/10.1038/news.2010.377 (2010).

6.

Santa Luca, A. P. The Ngandong Fossil Hominids: A Comparative Study of a Far Eastern Homo erectus Group Yale University Publications in Anthropology 78 (Yale Peabody Museum, 1980).

7.

Rightmire, G. P. The Evolution of Homo erectus: Comparative Anatomical Studies of an Extinct Human Species (Cambridge Univ. Press, 1990).

8.

Schwartz, J. H. & Tattersall, I. The Human Fossil Record: Volume Four – Craniodental Morphology of Early Hominids (Genera Australopithecus, Paranthropus, Orrorin) and Overview (Wiley, 2005).

9.

Swisher, C. C. III et al. Latest Homo erectus of Java: potential contemporaneity with Homo sapiens in southeast Asia. Science 274, 1870–1874 (1996).

10.

Bartstra, G.-J. et al. Ngandong man: age and artifacts. J. Hum. Evol. 17, 325–337 (1988).

11.

Rizal, Y. Die Terrasse Entlang des Solo-Flusses in Mittel und Ost-Java, Indonesien. PhD thesis, Universität zu Köln (1998).

12.

Grün, R. & Thorne, A. Dating the Ngandong humans. Science 276, 1575–1576 (1997).

13.

Yokoyama, Y., Falguères, C., Sémah, F., Jacob, T. & Grün, R. Gamma-ray spectrometric dating of late Homo erectus skulls from Ngandong and Sambungmacan, Central Java, Indonesia. J. Hum. Evol. 55, 274–277 (2008).

14.

Indriati, E. et al. The age of the 20 meter Solo River terrace, Java, Indonesia and the survival of Homo erectus in Asia. PLoS ONE 6, e21562 (2011).

15.

Ciochon, R. L. et al. Rediscovery of the Homo erectus bed at Ngandong: site formation of a late Pleistocene hominin site in Asia. Am. J. Phys. Anthropol. 48, 106 (2009).

16.

Sambridge, M., Grün, R. & Eggins, S. U-series dating of bone in an open system: the diffusion-absorption-decay model. Quat. Geochronol. 9, 42–53 (2012).

17.

Huffman, O. F. et al. Mass death and lahars in the taphonomy of the Ngandong Homo erectus bonebed, and volcanism in the hominin record of eastern Java. Paleoanthropology 2010, abstr. A14 (2010).

18.

Westaway, M. C. Preliminary observations on the taphonomic processes at Ngandong and some implications for a late Homo erectus survivor model. Tempus 7, 189–193 (2002).

19.

Westaway, M., Jacob, T., Aziz, F., Otsuka, H. & Baba, H. Faunal taphonomy and biostratigraphy at Ngandong, Java, Indonesia and its implications for the late survival of Homo erectus. Am. J. Phys. Anthropol. 120, abstr. 222–223 (2003).

20.

Westaway, M. C. & Groves, C. P. The mark of ancient Java is on none of them. Archaeol. Ocean. 44, 84–95 (2009).

21.

Jenkins, K. et al. New excavations of a Late Pleistocene bonebed and associated MSA artifacts from Rusinga Island, Kenya. Paleoanthropology 2012, abstr. A17 (2012).

22.

Westaway, K. E. et al. Age and biostratigraphic significance of the Punung rainforest fauna, East Java, Indonesia, and implications for Pongo and Homo. J. Hum. Evol. 53, 709–717 (2007).

23.

de Vos, J. The Pongo faunas from Java and Sumatra and their significance for biostratigraphical and paleo-ecological interpretations. Proc. Koninklijke Nederlandse Akademie van Wetenschappen, Series B 86, 417–425 (1983).

24.

Railsback, L. B., Gibbard, P. L., Head, M. J., Voarintsoa, N. R. G. & Toucanne, S. An optimized scheme of lettered marine isotope substages for the last 1.0 million years, and the climatological nature of isotope stages and substages. Quat. Sci. Rev. 111, 94–106 (2015).

25.

Joordens, J. C. et al. Homo erectus at Trinil on Java used shells for tool production and engraving. Nature 518, 228–231 (2015).

26.

Brumm, A. et al. Age and context of the oldest known hominin fossils from Flores. Nature 534, 249–253 (2016).

27.

Ingicco, T. et al. Earliest known hominin activity in the Philippines by 709 thousand years ago. Nature 557, 233–237 (2018).

28.

Sutikna, T. et al. Revised stratigraphy and chronology for Homo floresiensis at Liang Bua in Indonesia. Nature 532, 366–369 (2016).

29.

Détroit, F. et al. A new species of Homo from the Late Pleistocene of the Philippines. Nature 568, 181–186 (2019).

30.

Jacobs, G. S. et al. Multiple deeply divergent Denisovan ancestries in Papuans. Cell 177, 1010–1021 (2019).

31.

Suminto, M. M., Sidarto, Maryanto, S., Susanto, E. E., Aziz, S. F., Christiana, I., & Fitriani, E. A Study of the Solo River Terraces from Kerek to Karsono: Ngawi and Bojonegoro Regions, East Java (Geological Research and Development Centre, 2004).

32.

Sidarto & Morwood, M. J. Solo River terrace mapping in the Kendeng Hills area, Java: use of landsat imagery and digital elevation model overlays. J. Sumber Daya Geologi 14, 196–207 (2004).

33.

Simandjuntak, T. O. & Barber, A. J. in Tectonic Evolution of Southeast Asia (Geological Society Special Publication No. 106) (eds Hall, R. & Blundell, D. J.) 185–201 (Geological Society of London, 1996).

34.

Berghuis, H. W. K. & Troelstra, S. R. Plio-Pleistocene foraminiferal biostratigraphy of the eastern Kendeng zone (Java, Indonesia): the Marmoyo and Sumberingin sections. Palaeogeogr. Palaeoclimatol. Palaeoecol. 528, 218–231 (2019).

35.

Zhou, H. Y., Zhao, J. X., Wang, Q., Feng, Y. X. & Tang, J. Speleothem-derived Asian summer monsoon variations in central China during 54–46 ka. J. Quat. Sci. 26, 781–790 (2011).

36.

Clark, T. R. et al. Discerning the timing and cause of historical mortality events in modern Porites from the Great Barrier Reef. Geochim. Cosmochim. Acta 138, 57–80 (2014).

37.

Ludwig, K. R. User's Manual for Isoplot 3.75. A Geochronological Toolkit for Microsoft Excel (Berkeley Geochronology Center Special Publication No. 5) (Berkeley Geochronological Center, 2012).

38.

Cheng, H. et al. The half-lives of uranium-234 and thorium-230. Chem. Geol. 169, 17–33 (2000).

39.

Eggins, S. M. et al. In situ U-series dating by laser-ablation multi-collector ICPMS: new prospects for Quaternary geochronology. Quat. Sci. Rev. 24, 2523–2538 (2005).

40.

Morwood, M. J. et al. Archaeology and age of a new hominin from Flores in eastern Indonesia. Nature 431, 1087–1091 (2004).

41.

Morwood, M. J. et al. Further evidence for small-bodied hominins from the Late Pleistocene of Flores, Indonesia. Nature 437, 1012–1017 (2005).

42.

Westaway, K. E. et al. An early modern human presence in Sumatra 73,000–63,000 years ago. Nature 548, 322–325 (2017).

43.

Huntley, D. J., Godfrey-Smith, D. I. & Thewalt, M. L. W. Optical dating of sediments. Nature 313, 105–107 (1985).

44.

Westaway, K. E. & Roberts, R. G. A dual-aliquot regenerative-dose protocol (DAP) for thermoluminescence (TL) dating of quartz sediments using the light-sensitive and isothermally stimulated red emissions. Quat. Sci. Rev. 25, 2513–2528 (2006).

45.

Spooner, N. A. & Franklin, A. D. Effect of the heating rate on the red TL of quartz. Radiat. Meas. 35, 59–66 (2002).

46.

Murray, A. S. & Mejdahl, V. Comparison of regenerative-dose single-aliquot and multiple-aliquot (SARA) protocols using heated quartz from archaeological sites. Quat. Sci. Rev. 18, 223–229 (1999).

47.

Huot, S., Buylaert, J.-P. & Murray, A. S. Isothermal thermoluminescence signals from quartz. Radiat. Meas. 41, 796–802 (2006).

48.

Thomsen, K. J., Murray, A. S., Jain, M. & Botter-Jensen, L. Laboratory fading rates of various luminescence signals from feldspar-rich sediment extracts. Radiat. Meas. 43, 1474–1486 (2008).

49.

Hütt, G., Jaek, I. & Tchonka, J. Optical dating: K-feldspars optical response stimulation spectra. Quat. Sci. Rev. 7, 381–385 (1988).

50.

Buylaert, J. P., Murray, A. S., Thomsen, K. J. & Jain, M. Testing the potential of an elevated temperature IRSL signal from K-feldspar. Radiat. Meas. 44, 560–565 (2009).

51.

Murray, A. S., Buylaert, J. P., Thomsen, K. J. & Jain, M. The effect of preheating on the IRSL signal from feldspar. Radiat. Meas. 44, 554–559 (2009).

52.

Thiel, C. et al. Luminescence dating of the Stratzing loess profile (Austria)—testing the potential of an elevated temperature post-IR IRSL protocol. Quat. Int. 234, 23–31 (2011).

53.

Thomsen, K. J., Murray, A. S. & Jain, M. Stability of IRSL signals from sedimentary K-feldspar samples. Geochronometria 38, 1–13 (2011).

54.

Stokes, S. et al. Alternative chronologies for late Quaternary (last interglacial–Holocene) deep sea sediments via optical dating of silt-sized quartz. Quat. Sci. Rev. 22, 925–941 (2003).

55.

Mejdahl, V. Thermoluminescence dating: beta-dose attenuation in quartz grains. Archaeometry 21, 61–72 (1979).

56.

Feathers, J. K. & Migliorini, E. Luminescence dating at Katanda—a reassessment. Quat. Sci. Rev. 20, 961–966 (2001).

57.

Huntley, D. J. & Baril, M. R. The K content of the K-feldspars being measured in optical dating or in thermoluminescence dating. Ancient TL 15, 11–13 (1997).

58.

Huntley, D. J. & Hancock, R. G. V. The Rb contents of the K-feldspars being measured in optical dating. Ancient TL 19, 43–46 (2001).

59.

Prescott, J. R. & Hutton, J. T. Cosmic-ray contributions to dose rates for luminescence and ESR dating: large depths and long-term time variations. Radiat. Meas. 23, 497–500 (1994).

60.

Rivera, T. A., Storey, M., Schmitz, M. D. & Crowley, J. L. Age intercalibration of 40Ar/39Ar sanidine and chemically distinct U/Pb zircon populations from the Alder Creek Rhyolite Quaternary geochronology standard. Chem. Geol. 345, 87–98 (2013).

61.

Brumm, A. et al. Hominins on Flores, Indonesia, by one million years ago. Nature 464, 748–752 (2010).

62.

Storey, M., Roberts, R. G. & Saidin, M. Astronomically calibrated 40Ar/39Ar age for the Toba supereruption and global synchronization of late Quaternary records. Proc. Natl Acad. Sci. USA 109, 18684–18688 (2012).

63.

Eggins, S., Grün, R., Pike, A. W. G., Shelley, A. & Taylor, L. 238U, 232Th profiling and U-series isotope analysis of fossil teeth by laser ablation-ICPMS. Quat. Sci. Rev. 22, 1373–1382 (2003).

64.

Grün, R. et al. U-series and ESR analyses of bones and teeth relating to the human burials from Skhul. J. Hum. Evol. 49, 316–334 (2005).

65.

Grün, R. et al. ESR and U-series analyses of enamel and dentine fragments of the Banyoles mandible. J. Hum. Evol. 50, 347–358 (2006).

66.

Grün, R., Aubert, M., Joannes-Boyau, R. & Moncel, M. H. High resolution analysis of uranium and thorium concentrations as well as U-series isotope distributions in a Neanderthal tooth from Payre using laser ablation ICP-MS. Geochim. Cosmochim. Acta 72, 5278–5290 (2008).

67.

Grün, R. et al. ESR and U-series analyses of teeth from the palaeoanthropological site of Hexian, Anhui Province, China. J. Hum. Evol. 34, 555–564 (1998).

68.

Grün, R., Eggins, S., Kinsley, L., Moseley, H. & Sambridge, M. Laser ablation U-series analysis of fossil bones and teeth. Palaeogeogr. Palaeoclimatol. Palaeoecol. 416, 150–167 (2014).

69.

Joannes-Boyau, R. & Grün, R. A comprehensive model for CO2 - radicals in fossil tooth enamel: implications for ESR dating. Quat. Geochronol. 6, 82–97 (2011).

70.

Joannes-Boyau, R. Detailed protocol for an accurate non-destructive direct dating of tooth enamel fragment using electron spin resonance. Geochronometria 40, 322–333 (2013).

71.

Joannes-Boyau, R., Duval, M. & Bodin, T. MCDoseE 2.0 A new Markov chain Monte Carlo program for ESR dose response curve fitting and dose evaluation. Quat. Geochronol. 44, 13–22 (2018).

72.

Shao, Q., Bahain, J. J., Dolo, J. M. & Falguères, C. Monte Carlo approach to calculate US-ESR age and age uncertainty for tooth enamel. Quat. Geochronol. 22, 99–106 (2014).

73.

Guérin, G., Mercier, N. & Adamiec, G. Dose rate conversion factors: update. Ancient TL 29, 5–8 (2011).

74.

Bronk Ramsey, C. Radiocarbon calibration and analysis of stratigraphy: the OxCal program. Radiocarbon 37, 425–430 (1995).
Acknowledgements
This research, including the Solo River survey and the Sembungan and Menden terrace excavations, was funded by the Australian Research Council Discovery grant (DP1093049) to K.E.W. and (DP0343334 and DP0770234) to M.J.M. The 2008–2010 excavations at Ngandong were supported by the Wenner-Gren Foundation for Anthropological Research (ICRG-92), University of Iowa (UI) Center for Global and Regional Environmental Research (CGRER), UI Office of the President, UI Dean of the College of Liberal Arts and Sciences and the UI Office of the Vice-President for Research (to R.L.C.). The Menden excavations were financially supported by the Geological Survey Institute in Bandung (GSI). Laboratory costs were funded, in part, by the Human Evolution Research Fund at the University of Iowa Foundation. The 40Ar/39Ar dating was funded by the Villum Foundation. The authors acknowledge the invaluable support provided by A. D. Wirakusaman, and the support of E. A. Subroto. Excavations at Sembungan were undertaken under a recommendation letter from the Provincial Government of West Java to the Governor of the Central Java Province no. 070.10/237; a recommendation letter from the latter to the local government of the Blora Regency no. 070.10/237; and a research permit issued by the Blora Regency no. 071/457/2005. Excavations at Ngandong were carried out with the permission and recommendation of Wahyu, Head of the Foreign Researchers Licensing Secretariat of the State Ministry of Research and Technology (SMRT), which issued research permits 03799/SU/KS/2006, 1718/FRP/SM/VII/2008, and 04/TKPIPA/FRP/SM/IV/2010 for the fieldwork at Ngandong. The excavations at Sembungan and the Menden Terrace site in the Blora Regency were carried out under research permit no. 2785/FRP/SM/XI/2008. We thank K. M. Patel for help with figure creation and editorial assistance with the manuscript.
Ethics declarations
Competing interests
The authors declare no competing interests.
Additional information
Peer review information Nature thanks Robin Dennell, James K. Feathers, Edward J. Rhodes and the other, anonymous, reviewer(s) for their contribution to the peer review of this work.
Publisher's note Springer Nature remains neutral with regard to jurisdictional claims in published maps and institutional affiliations.
Extended data figures and tables
Supplementary information
This file contains supplementary sections 1-11.
About this article
Cite this article
Rizal, Y., Westaway, K.E., Zaim, Y. et al. Last appearance of Homo erectus at Ngandong, Java, 117,000–108,000 years ago. Nature 577, 381–385 (2020) doi:10.1038/s41586-019-1863-2
Received:

Accepted:

Published:

Issue Date:
Comments
By submitting a comment you agree to abide by our Terms and Community Guidelines. If you find something abusive or that does not comply with our terms or guidelines please flag it as inappropriate.