Abstract
The brain has persistent internal states that can modulate every aspect of an animal's mental experience1,2,3,4. In complex tasks such as foraging, the internal state is dynamic5,6,7,8. Caenorhabditis elegans alternate between local search and global dispersal5. Rodents and primates exhibit trade-offs between exploitation and exploration6,7. However, fundamental questions remain about how persistent states are maintained in the brain, which upstream networks drive state transitions and how state-encoding neurons exert neuromodulatory effects on sensory perception and decision-making to govern appropriate behaviour. Here, using tracking microscopy to monitor whole-brain neuronal activity at cellular resolution in freely moving zebrafish larvae9, we show that zebrafish spontaneously alternate between two persistent internal states during foraging for live prey (Paramecia). In the exploitation state, the animal inhibits locomotion and promotes hunting, generating small, localized trajectories. In the exploration state, the animal promotes locomotion and suppresses hunting, generating long-ranging trajectories that enhance spatial dispersion. We uncover a dorsal raphe subpopulation with persistent activity that robustly encodes the exploitation state. The exploitation-state-encoding neurons, together with a multimodal trigger network that is associated with state transitions, form a stochastically activated nonlinear dynamical system. The activity of this oscillatory network correlates with a global retuning of sensorimotor transformations during foraging that leads to marked changes in both the motivation to hunt for prey and the accuracy of motor sequences during hunting. This work reveals an important hidden variable that shapes the temporal structure of motivation and decision-making.
Relevant articles
Open Access articles citing this article.
Shivesh Chaudhary

,

Sihoon Moon

&

Hang Lu

Nature Communications Open Access 02 September 2022

Mahendra Wagle

,

Mahdi Zarei

…

Su Guo

Molecular Psychiatry Open Access 28 April 2022

Emmanuel Marquez-Legorreta

,

Lena Constantin

…

Ethan K. Scott

Nature Communications Open Access 16 February 2022
Access options
Subscribe to Nature+
Get immediate online access to the entire Nature family of 50+ journals
Subscribe to Journal
Get full journal access for 1 year
$199.00
only $3.90 per issue
All prices are NET prices.
VAT will be added later in the checkout.
Tax calculation will be finalised during checkout.
Buy article
Get time limited or full article access on ReadCube.
$32.00
All prices are NET prices.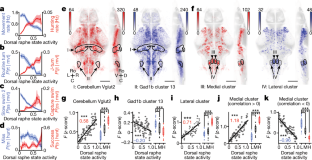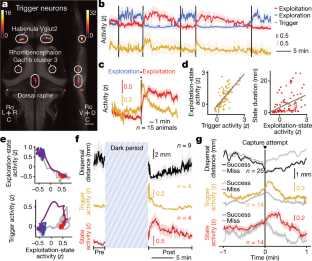 Data availability
The data supporting the findings of this study are available from the corresponding authors upon request.
Code availability
All software was written in Julia 0.6.3 and C++11 using the Julia package ecosystem (Optim.jl, PyPlot.jl, Images.jl, Cairo.jl, HDF5.jl, Lasso.jl, CUDAdrv.jl and CUDArt.jl). GPU processing was implemented for fish tracking, as well as online and offline image registration. Image registration and data analysis code was based on published work9,10,16,21,32,33, and is available upon request.
References
Dayan, P. How to set the switches on this thing. Curr. Opin. Neurobiol. 22, 1068–1074 (2012).

Aston-Jones, G. & Cohen, J. D. An integrative theory of locus coeruleus-norepinephrine function: adaptive gain and optimal performance. Annu. Rev. Neurosci. 28, 403–450 (2005).

Fox, M. D. et al. The human brain is intrinsically organized into dynamic, anticorrelated functional networks. Proc. Natl Acad. Sci. USA 102, 9673–9678 (2005).

Nair, J. et al. Basal forebrain contributes to default mode network regulation. Proc. Natl Acad. Sci. USA 115, 1352–1357 (2018).

Flavell, S. W. et al. Serotonin and the neuropeptide PDF initiate and extend opposing behavioral states in C. elegans. Cell 154, 1023–1035 (2013).

Lottem, E. et al. Activation of serotonin neurons promotes active persistence in a probabilistic foraging task. Nat. Commun. 9, 1000 (2018).

Cohen, J. D., McClure, S. M. & Yu, A. J. Should I stay or should I go? How the human brain manages the trade-off between exploitation and exploration. Philos. Trans. R. Soc. B 362, 933–942 (2007).

Charnov, E. L. Optimal foraging, the marginal value theorem. Theor. Popul. Biol. 9, 129–136 (1976).

Kim, D. H. et al. Pan-neuronal calcium imaging with cellular resolution in freely swimming zebrafish. Nat. Methods 14, 1107–1114 (2017).

Marques, J. C., Lackner, S., Félix, R. & Orger, M. B. Structure of the zebrafish locomotor repertoire revealed with unsupervised behavioral clustering. Curr. Biol. 28, 181–195.e5 (2018).

Marques, J. C. & Orger, M. B. Clusterdv: a simple density-based clustering method that is robust, general and automatic. Bioinformatics 35, 2125–2132 (2019).

Bianco, I. H. & Engert, F. Visuomotor transformations underlying hunting behavior in zebrafish. Curr. Biol. 25, 831–846 (2015).

McElligott, M. B. & O'malley, D. M. Prey tracking by larval zebrafish: axial kinematics and visual control. Brain Behav. Evol. 66, 177–196 (2005).

Borla, M. A., Palecek, B., Budick, S. & O'Malley, D. M. Prey capture by larval zebrafish: evidence for fine axial motor control. Brain Behav. Evol. 60, 207–229 (2002).

Freeman, J. et al. Mapping brain activity at scale with cluster computing. Nat. Methods 11, 941–950 (2014).

Friedrich, J. et al. in NIPS Workshop on Statistical Methods for Understanding Neural Systems https://pdfs.semanticscholar.org/e4ff/845a4b996482f4ef491fff4581a59d949800.pdf (2015).

Niessing, J. & Friedrich, R. W. Olfactory pattern classification by discrete neuronal network states. Nature 465, 47–52 (2010).

Granger, C. W. J. in A Companion to Theoretical Econometrics (ed. Balgati, B. H.) Ch. 26 (Blackwell, 2007).

Phillips, P. C. B. Understanding spurious regressions in econometrics. J. Econom. 33, 311–340 (1986).

Lovett-Barron, M. et al. Ancestral circuits for the coordinated modulation of brain state. Cell 171, 1411–1423 (2017).

Marquart, G. D. et al. High-precision registration between zebrafish brain atlases using symmetric diffeomorphic normalization. Gigascience 6, 1–15 (2017).

Kastenhuber, E., Kratochwil, C. F., Ryu, S., Schweitzer, J. & Driever, W. Genetic dissection of dopaminergic and noradrenergic contributions to catecholaminergic tracts in early larval zebrafish. J. Comp. Neurol. 518, 439–458 (2010).

Randlett, O. et al. Whole-brain activity mapping onto a zebrafish brain atlas. Nat. Methods 12, 1039–1046 (2015).

Bianco, I. H. & Wilson, S. W. The habenular nuclei: a conserved asymmetric relay station in the vertebrate brain. Philos. Trans. R. Soc. B 364, 1005–1020 (2009).

Amo, R. et al. Identification of the zebrafish ventral habenula as a homolog of the mammalian lateral habenula. J. Neurosci. 30, 1566–1574 (2010).

Kalén, P., Karlson, M. & Wiklund, L. Possible excitatory amino acid afferents to nucleus raphe dorsalis of the rat investigated with retrograde wheat germ agglutinin and d-[3H]aspartate tracing. Brain Res. 360, 285–297 (1985).

Filosa, A., Barker, A. J., Dal Maschio, M. & Baier, H. Feeding state modulates behavioral choice and processing of prey stimuli in the zebrafish tectum. Neuron 90, 596–608 (2016).

Fox, M. D. & Raichle, M. E. Spontaneous fluctuations in brain activity observed with functional magnetic resonance imaging. Nat. Rev. Neurosci. 8, 700–711 (2007).

Avants, B., Tustison, N. & Song, G. Advanced Normalization Tools (ANTS). Insight J. 2, 1–35 (2009).

van der Maaten, L., Hinton, G. E., van der Maaten, L. & Hinton, G. E. Visualizing high-dimensional data using t-SNE. J. Mach. Learn. Res. 9, 2579–2605 (2008).

Sibson, R. SLINK: An optimally efficient algorithm for the single-link cluster method. Comput. J. 16, 30–34 (1973).

Insafutdinov, E., Pishchulin, L., Andres, B., Andriluka, M. & Schiele, B. in European Conference on Computer Vision 34–50 (Springer, 2016).

Mathis, A. et al. DeepLabCut: markerless pose estimation of user-defined body parts with deep learning. Nat. Neurosci. 21, 1281–1289 (2018).

Nath, T. et al. Using DeepLabCut for 3D markerless pose estimation across species and behaviors. Nat. Protoc. 14, 2152–2176 (2019).

Rabiner, L. R. A tutorial on hidden Markov models and selected applications in speech recognition. Proc. IEEE 77, 257–286 (1989).

Lillesaar, C., Tannhäuser, B., Stigloher, C., Kremmer, E. & Bally-Cuif, L. The serotonergic phenotype is acquired by converging genetic mechanisms within the zebrafish central nervous system. Dev. Dyn. 236, 1072–1084 (2007).

Lillesaar, C., Stigloher, C., Tannhäuser, B., Wullimann, M. F. & Bally-Cuif, L. Axonal projections originating from raphe serotonergic neurons in the developing and adult zebrafish, Danio rerio, using transgenics to visualize raphe-specific pet1 expression. J. Comp. Neurol. 512, 158–182 (2009).

McLean, D. L. & Fetcho, J. R. Ontogeny and innervation patterns of dopaminergic, noradrenergic, and serotonergic neurons in larval zebrafish. J. Comp. Neurol. 480, 38–56 (2004).

Hong, E. et al. Cholinergic left-right asymmetry in the habenulo-interpeduncular pathway. Proc. Natl Acad. Sci. USA 110, 21171–21176 (2013).

Panula, P. et al. The comparative neuroanatomy and neurochemistry of zebrafish CNS systems of relevance to human neuropsychiatric diseases. Neurobiol. Dis. 40, 46–57 (2010).
Acknowledgements
We thank M. Burns, M. Frank, S. Flavell, P. Dayan, K. Taute and G. Rainer for discussions and feedback; A. Mathis and M. W. Mathis for providing unpublished code, help with the implementation of DeepLabCut for tracking Paramecia and zebrafish, and for motivating us to use deep learning methods; and we thank M. Ahrens and H. Baier for Tg(elavl3:H2B-GCaMP6s) and I. Bianco for discussions about prey capture. This work was financially supported by the Rowland Institute at Harvard.
Ethics declarations
Competing interests
The authors declare no competing interests.
Additional information
Peer review information Nature thanks Mario De Bono, Yonatan Loewenstein, Ethan Scott and the other, anonymous, reviewer(s) for their contribution to the peer review of this work.
Publisher's note Springer Nature remains neutral with regard to jurisdictional claims in published maps and institutional affiliations.
Extended data figures and tables
Supplementary information
About this article
Cite this article
Marques, J.C., Li, M., Schaak, D. et al. Internal state dynamics shape brainwide activity and foraging behaviour. Nature 577, 239–243 (2020). https://doi.org/10.1038/s41586-019-1858-z
Received:

Accepted:

Published:

Issue Date:

DOI: https://doi.org/10.1038/s41586-019-1858-z
Comments
By submitting a comment you agree to abide by our Terms and Community Guidelines. If you find something abusive or that does not comply with our terms or guidelines please flag it as inappropriate.