Abstract
The formation and growth of water-ice layers on surfaces and of low-dimensional ice under confinement are frequent occurrences1,2,3,4. This is exemplified by the extensive reporting of two-dimensional (2D) ice on metals5,6,7,8,9,10,11, insulating surfaces12,13,14,15,16, graphite and graphene17,18 and under strong confinement14,19,20,21,22. Although structured water adlayers and 2D ice have been imaged, capturing the metastable or intermediate edge structures involved in the 2D ice growth, which could reveal the underlying growth mechanisms, is extremely challenging, owing to the fragility and short lifetime of those edge structures. Here we show that noncontact atomic-force microscopy with a CO-terminated tip (used previously to image interfacial water with minimal perturbation)12, enables real-space imaging of the edge structures of 2D bilayer hexagonal ice grown on a Au(111) surface. We find that armchair-type edges coexist with the zigzag edges usually observed in 2D hexagonal crystals, and freeze these samples during growth to identify the intermediate edge structures. Combined with simulations, these experiments enable us to reconstruct the growth processes that, in the case of the zigzag edge, involve the addition of water molecules to the existing edge and a collective bridging mechanism. Armchair edge growth, by contrast, involves local seeding and edge reconstruction and thus contrasts with conventional views regarding the growth of bilayer hexagonal ices and 2D hexagonal matter in general.
Access options
Subscribe to Journal
Get full journal access for 1 year
$199.00
only $3.90 per issue
All prices are NET prices.
VAT will be added later in the checkout.
Tax calculation will be finalised during checkout.
Rent or Buy article
Get time limited or full article access on ReadCube.
from$8.99
All prices are NET prices.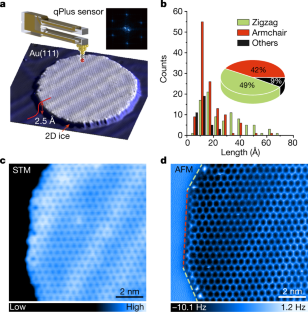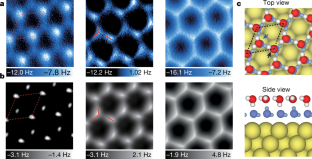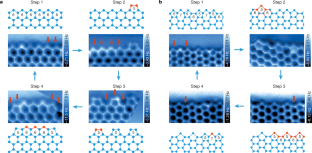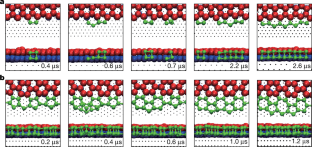 Data availability
The source data are available from the corresponding authors upon reasonable request.
Code availability
The custom code and mathematical algorithms that support the findings of this study are available from the corresponding authors upon reasonable request.
References
1.

Cao, L. L. et al. Anti-icing superhydrophobic coatings. Langmuir 25, 12444–12448 (2009).

2.

Weber, B. et al. Molecular insight into the slipperiness of ice. J. Phys. Chem. Lett. 9, 2838–2842 (2018).

3.

Graether, S. P. et al. β-helix structure and ice-binding properties of a hyperactive antifreeze protein from an insect. Nature 406, 325–328 (2000).

4.

Kiselev, A. et al. Active sites in heterogeneous ice nucleation—the example of K-rich feldspars. Science 355, 367–371 (2017).

5.

Hodgson, A. & Haq, S. Water adsorption and the wetting of metal surfaces. Surf. Sci. Rep. 64, 381–451 (2009).

6.

Corem, G. et al. Ordered H2O structures on a weakly interacting surface: a helium diffraction study of H2O/Au(111). J. Phys. Chem. C 117, 23657–23663 (2013).

7.

Nie, S., Feibelman, P. J., Bartelt, N. C. & Thurmer, K. Pentagons and heptagons in the first water layer on Pt(111). Phys. Rev. Lett. 105, 026102 (2010).

8.

Thurmer, K. & Nie, S. Formation of hexagonal and cubic ice during low-temperature growth. Proc. Natl Acad. Sci. USA 110, 11757–11762 (2013).

9.

Maier, S., Lechner, B. A., Somorjai, G. A. & Salmeron, M. Growth and structure of the first layers of ice on Ru(0001) and Pt(111). J. Am. Chem. Soc. 138, 3145–3151 (2016).

10.

Lin, C. et al. Two-dimensional wetting of a stepped copper surface. Phys. Rev. Lett. 120, 076101 (2018).

11.

Mehlhorn, M. & Morgenstern, K. Faceting during the transformation of amorphous to crystalline ice. Phys. Rev. Lett. 99, 246101 (2007).

12.

Peng, J. B. et al. Weakly perturbative imaging of interfacial water with submolecular resolution by atomic force microscopy. Nat. Commun. 9, 122 (2018).

13.

Hu, J., Xiao, X. D., Ogletree, D. F. & Salmeron, M. Imaging the condensation and evaporation of molecularly thin-films of water with nanometer resolution. Science 268, 267–269 (1995).

14.

Xu, K., Cao, P. G. & Heath, J. R. Graphene visualizes the first water adlayers on mica at ambient conditions. Science 329, 1188–1191 (2010).

15.

Odelius, M., Bernasconi, M. & Parrinello, M. Two dimensional ice adsorbed on mica surface. Phys. Rev. Lett. 78, 2855–2858 (1997).

16.

Meier, M. et al. Water agglomerates on Fe3O4(001). Proc. Natl Acad. Sci. USA 115, E5642–E5650 (2018).

17.

Lupi, L., Kastelowitz, N. & Molinero, V. Vapor deposition of water on graphitic surfaces: formation of amorphous ice, bilayer ice, ice I, and liquid water. J. Chem. Phys. 141, 18C508 (2014).

18.

Kimmel, G. A. et al. No confinement needed: observation of a metastable hydrophobic wetting two-layer ice on graphene. J. Am. Chem. Soc. 131, 12838–12844 (2009).

19.

Koga, K., Zeng, X. C. & Tanaka, H. Freezing of confined water: a bilayer ice phase in hydrophobic nanopores. Phys. Rev. Lett. 79, 5262–5265 (1997).

20.

Algara-Siller, G. et al. Square ice in graphene nanocapillaries. Nature 519, 443–445 (2015).

21.

Chen, J. et al. Two-dimensional ice from first principles: structures and phase transitions. Phys. Rev. Lett. 116, 025501 (2016).

22.

Bampoulis, P. et al. Hydrophobic ice confined between graphene and MoS2. J. Phys. Chem. C 120, 27079–27084 (2016).

23.

Girit, C. O. et al. Graphene at the edge: stability and dynamics. Science 323, 1705–1708 (2009).

24.

Giessibl, F. J. Advances in atomic force microscopy. Rev. Mod. Phys. 75, 949–983 (2003).

25.

Gross, L. et al. The chemical structure of a molecule resolved by atomic force microscopy. Science 325, 1110–1114 (2009).

26.

Peng, J. B. et al. The effect of hydration number on the interfacial transport of sodium ions. Nature 557, 701–705 (2018).

27.

Shiotari, A. & Sugimoto, Y. Ultrahigh-resolution imaging of water networks by atomic force microscopy. Nat. Commun. 8, 14313 (2017).

28.

Hapala, P. et al. Mechanism of high-resolution STM/AFM imaging with functionalized tips. Phys. Rev. B 90, 085421 (2014).

29.

Zhu, C. et al. Direct observation of two-dimensional ices on different surfaces near room temperature without confinement. Proc. Natl Acad. Sci. USA 116, 16723–16728 (2019).

30.

Gerrard, N. et al. Strain relief during ice growth on a hexagonal template. J. Am. Chem. Soc. 141, 8599–8607 (2019).

31.

Kresse, G. & Hafner, J. Ab initio molecular dynamics for liquid metals. Phys. Rev. B 47, 558–561 (1993).

32.

Kresse, G. & Furthmuller, J. Efficient iterative schemes for ab initio total-energy calculations using a plane-wave basis set. Phys. Rev. B 54, 11169–11186 (1996).

33.

Kresse, G. & Joubert, D. From ultrasoft pseudopotentials to the projector augmented-wave method. Phys. Rev. B 59, 1758–1775 (1999).

34.

Klimeš, J., Bowler, D. R. & Michaelides, A. Chemical accuracy for the van der Waals density functional. J. Phys. Condens. Matter 22, 022201 (2010).

35.

Klimeš, J., Bowler, D. R. & Michaelides, A. van der Waals density functionals applied to solids. Phys. Rev. B 83, 195131 (2011).

36.

Hapala, P., Temirov, R., Tautz, F. S. & Jelinek, P. Origin of high-resolution IETS-STM images of organic molecules with functionalized tips. Phys. Rev. Lett. 113, 226101 (2014).

37.

Molinero, V. & Moore, E. B. Water modeled as an intermediate element between carbon and silicon. J. Phys. Chem. B 113, 4008–4016 (2009).

38.

Lupi, L. et al. Role of stacking disorder in ice nucleation. Nature 551, 218–222 (2017).

39.

Erb, R. A. Wettability of gold. J. Phys. Chem. 72, 2412–2417 (1968).

40.

Plimpton, S. Fast parallel algorithms for short-range molecular dynamics. J. Comput. Phys. 117, 1–19 (1995).

41.

Gao, J. F., Zhao, J. J. & Ding, F. Transition metal surface passivation induced graphene edge reconstruction. J. Am. Chem. Soc. 134, 6204–6209 (2012).

42.

Sader, J. E. & Jarvis, S. P. Accurate formulas for interaction force and energy in frequency modulation force spectroscopy. Appl. Phys. Lett. 84, 1801–1803 (2004).

43.

Li, X. Z., Walker, B. & Michaelides, A. Quantum nature of the hydrogen bond. Proc. Natl Acad. Sci. USA 108, 6369–6373 (2011).
Acknowledgements
We thank J.-J. Wang for discussions. This work was supported by the National Key R&D Program under grant numbers 2016YFA0300901, 2017YFA0205003 and 2015CB856801, the National Natural Science Foundation of China under grant numbers 11888101, 11634001, 21725302 and 11525520, the Strategic Priority Research Program of the Chinese Academy of Sciences under grant number XDB28000000, and the Beijing Municipal Science & Technology Commission. J.S.F. and X.C.Z were supported by US National Science Foundation (CHE-1665324). We are grateful for the computational resources provided by the TianHe-1A and TianHe II supercomputers, by the High-performance Computing Platform of Peking University supercomputing facility, and by the UNL Holland Computing Center.
Ethics declarations
Competing interests
The authors declare no competing interests.
Additional information
Peer review information Nature thanks Miquel Salmeron and Yoshiaki Sugimoto for their contribution to the peer review of this work.
Publisher's note Springer Nature remains neutral with regard to jurisdictional claims in published maps and institutional affiliations.
Extended data figures and tables
Supplementary information
About this article
Cite this article
Ma, R., Cao, D., Zhu, C. et al. Atomic imaging of the edge structure and growth of a two-dimensional hexagonal ice. Nature 577, 60–63 (2020). https://doi.org/10.1038/s41586-019-1853-4
Received:

Accepted:

Published:

Issue Date:
Comments
By submitting a comment you agree to abide by our Terms and Community Guidelines. If you find something abusive or that does not comply with our terms or guidelines please flag it as inappropriate.