Abstract
Metastasis requires cancer cells to undergo metabolic changes that are poorly understood1,2,3. Here we show that metabolic differences among melanoma cells confer differences in metastatic potential as a result of differences in the function of the MCT1 transporter. In vivo isotope tracing analysis in patient-derived xenografts revealed differences in nutrient handling between efficiently and inefficiently metastasizing melanomas, with circulating lactate being a more prominent source of tumour lactate in efficient metastasizers. Efficient metastasizers had higher levels of MCT1, and inhibition of MCT1 reduced lactate uptake. MCT1 inhibition had little effect on the growth of primary subcutaneous tumours, but resulted in depletion of circulating melanoma cells and reduced the metastatic disease burden in patient-derived xenografts and in mouse melanomas. In addition, inhibition of MCT1 suppressed the oxidative pentose phosphate pathway and increased levels of reactive oxygen species. Antioxidants blocked the effects of MCT1 inhibition on metastasis. MCT1high and MCT1−/low cells from the same melanomas had similar capacities to form subcutaneous tumours, but MCT1high cells formed more metastases after intravenous injection. Metabolic differences among cancer cells thus confer differences in metastatic potential as metastasizing cells depend on MCT1 to manage oxidative stress.
Relevant articles
Open Access articles citing this article.
Xuantong Zhou

,

Furong Huang

…

Zhihua Liu

Signal Transduction and Targeted Therapy Open Access 24 October 2022

Shuang Liu

,

Hui Zhao

…

Jichao Qin

Cell Death & Disease Open Access 27 July 2022

Chengbo Ji

,

Mili Zhang

…

Liang Yu

Cell Death & Disease Open Access 01 July 2022
Access options
Subscribe to Nature+
Get immediate online access to Nature and 55 other Nature journal
Subscribe to Journal
Get full journal access for 1 year
$199.00
only $3.90 per issue
All prices are NET prices.
VAT will be added later in the checkout.
Tax calculation will be finalised during checkout.
Buy article
Get time limited or full article access on ReadCube.
$32.00
All prices are NET prices.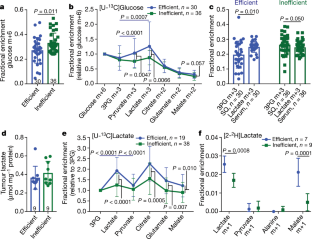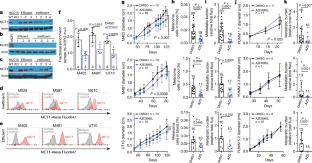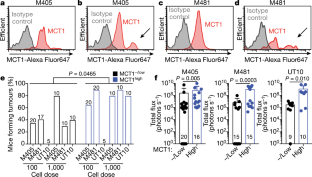 References
Vanharanta, S. & Massagué, J. Origins of metastatic traits. Cancer Cell 24, 410–421 (2013).

Le Gal, K. et al. Antioxidants can increase melanoma metastasis in mice. Sci. Transl. Med. 7, 308re8 (2015).

Piskounova, E. et al. Oxidative stress inhibits distant metastasis by human melanoma cells. Nature 527, 186–191 (2015).

Luo, M. et al. Targeting breast cancer stem cell state equilibrium through modulation of redox signaling. Cell Metab. 28, 69–86 (2018).

Kfoury, A. et al. AMPK promotes survival of c-Myc-positive melanoma cells by suppressing oxidative stress. EMBO J. 37, e97673 (2018).

Xu, I. M. et al. Transketolase counteracts oxidative stress to drive cancer development. Proc. Natl Acad. Sci. USA 113, E725–E734 (2016).

Fan, J. et al. Quantitative flux analysis reveals folate-dependent NADPH production. Nature 510, 298–302 (2014).

Lewis, C. A. et al. Tracing compartmentalized NADPH metabolism in the cytosol and mitochondria of mammalian cells. Mol. Cell 55, 253–263 (2014).

Harris, I. S. et al. Glutathione and thioredoxin antioxidant pathways synergize to drive cancer initiation and progression. Cancer Cell 27, 211–222 (2015).

Sayin, V. I. et al. Antioxidants accelerate lung cancer progression in mice. Sci. Transl. Med. 6, 221ra15 (2014).

DeNicola, G. M. et al. Oncogene-induced Nrf2 transcription promotes ROS detoxification and tumorigenesis. Nature 475, 106–109 (2011).

Schafer, Z. T. et al. Antioxidant and oncogene rescue of metabolic defects caused by loss of matrix attachment. Nature 461, 109–113 (2009).

Reczek, C. R. & Chandel, N. S. The two faces of reactive oxygen species in cancer. Ann. Rev. Cancer Biol. 1, 79–98 (2017).

Vander Heiden, M. G. & DeBerardinis, R. J. Understanding the intersections between metabolism and cancer biology. Cell 168, 657–669 (2017).

Sonveaux, P. et al. Targeting lactate-fueled respiration selectively kills hypoxic tumor cells in mice. J. Clin. Invest. 118, 3930–3942 (2008).

Feron, O. Pyruvate into lactate and back: from the Warburg effect to symbiotic energy fuel exchange in cancer cells. Radiother. Oncol. 92, 329–333 (2009).

Faubert, B. et al. Lactate metabolism in human lung tumors. Cell 171, 358–371.e9 (2017).

Hui, S. et al. Glucose feeds the TCA cycle via circulating lactate. Nature 551, 115–118 (2017).

Halestrap, A. P. Monocarboxylic acid transport. Compr. Physiol. 3, 1611–1643 (2013).

Hong, C. S. et al. MCT1 modulates cancer cell pyruvate export and growth of tumors that co-express MCT1 and MCT4. Cell Reports 14, 1590–1601 (2016).

Doherty, J. R. et al. Blocking lactate export by inhibiting the Myc target MCT1 disables glycolysis and glutathione synthesis. Cancer Res. 74, 908–920 (2014).

Izumi, H. et al. Monocarboxylate transporters 1 and 4 are involved in the invasion activity of human lung cancer cells. Cancer Sci. 102, 1007–1013 (2011).

Payen, V. L. et al. Monocarboxylate transporter MCT1 promotes tumor metastasis independently of its activity as a lactate transporter. Cancer Res. 77, 5591–5601 (2017).

Quintana, E. et al. Human melanoma metastasis in NSG mice correlates with clinical outcome in patients. Sci. Transl. Med. 4, 159ra149 (2012).

Chen, Y. J. et al. Lactate metabolism is associated with mammalian mitochondria. Nat. Chem. Biol. 12, 937–943 (2016).

Kirk, P. et al. CD147 is tightly associated with lactate transporters MCT1 and MCT4 and facilitates their cell surface expression. EMBO J. 19, 3896–3904 (2000).

Pinheiro, C. et al. The metabolic microenvironment of melanomas: prognostic value of MCT1 and MCT4. Cell Cycle 15, 1462–1470 (2016).

Curtis, N. J. et al. Pre-clinical pharmacology of AZD3965, a selective inhibitor of MCT1: DLBCL, NHL and Burkitt's lymphoma anti-tumor activity. Oncotarget 8, 69219–69236 (2017).

Polański, R. et al. Activity of the monocarboxylate transporter 1 inhibitor AZD3965 in small cell lung cancer. Clin. Cancer Res. 20, 926–937 (2014).

Meeth, K., Wang, J. X., Micevic, G., Damsky, W. & Bosenberg, M. W. The YUMM lines: a series of congenic mouse melanoma cell lines with defined genetic alterations. Pigment Cell Melanoma Res. 29, 590–597 (2016).

Guan, X., Rodriguez-Cruz, V. & Morris, M. E. Cellular uptake of MCT1 inhibitors AR-C155858 and AZD3965 and their effects on MCT-mediated transport of L-lactate in murine 4T1 breast tumor cancer cells. AAPS J. 21, 13 (2019).

Baek, G. et al. MCT4 defines a glycolytic subtype of pancreatic cancer with poor prognosis and unique metabolic dependencies. Cell Reports 9, 2233–2249 (2014).

Jang, C., Chen, L. & Rabinowitz, J. D. Metabolomics and isotope tracing. Cell 173, 822–837 (2018).

Kirkman, H. N. & Hendrickson, E. M. Glucose 6-phosphate dehydrogenase from human erythrocytes. II. Subactive states of the enzyme from normal persons. J. Biol. Chem. 237, 2371–2376 (1962).

Andrés, V., Carreras, J. & Cussó, R. Regulation of muscle phosphofructokinase by physiological concentrations of bisphosphorylated hexoses: effect of alkalinization. Biochem. Biophys. Res. Commun. 172, 328–334 (1990).

Ran, F. A. et al. Genome engineering using the CRISPR–Cas9 system. Nat. Protocols 8, 2281–2308 (2013).

Shi, X. et al. The abundance of metabolites related to protein methylation correlates with the metastatic capacity of human melanoma xenografts. Sci. Adv. 3, eaao5268 (2017).

Marin-Valencia, I. et al. Analysis of tumor metabolism reveals mitochondrial glucose oxidation in genetically diverse human glioblastomas in the mouse brain in vivo. Cell Metab. 15, 827–837 (2012).

Yang, C. et al. Glutamine oxidation maintains the TCA cycle and cell survival during impaired mitochondrial pyruvate transport. Mol. Cell 56, 414–424 (2014).

Tu, B. P. et al. Cyclic changes in metabolic state during the life of a yeast cell. Proc. Natl Acad. Sci. USA 104, 16886–16891 (2007).

Su, X., Lu, W. & Rabinowitz, J. D. Metabolite spectral accuracy on Orbitraps. Anal. Chem. 89, 5940–5948 (2017).

Matsuyama, S., Llopis, J., Deveraux, Q. L., Tsien, R. Y. & Reed, J. C. Changes in intramitochondrial and cytosolic pH: early events that modulate caspase activation during apoptosis. Nat. Cell Biol. 2, 318–325 (2000).

Noguchi, K., Gel, Y., Brunner, E. & Konietschke, F. nparLD: an R software package for the nonparametric analysis of longitudinal data in factorial experiments. J. Stat. Softw. 50, 1–23 (2012).
Acknowledgements
S.J.M. is a Howard Hughes Medical Institute (HHMI) Investigator, the Mary McDermott Cook Chair in Pediatric Genetics, the Kathryn and Gene Bishop Distinguished Chair in Pediatric Research, the director of the Hamon Laboratory for Stem Cells and Cancer, and a Cancer Prevention and Research Institute of Texas Scholar. R.J.D. is an HHMI Investigator, the Robert L. Moody, Sr. Faculty Scholar at UT Southwestern and Joel B. Steinberg, M.D. Chair in Pediatrics. The research was supported by the Cancer Prevention and Research Institute of Texas (RP170114 and RP180778), the National Institutes of Health (R35 CA220449; U01 CA228608) and the Robert A. Welch Foundation (I-1733). A.T. was supported by the Else Kröner-Forschungskolleg and the Leopoldina Fellowship Program (LPDS 2016-16) of the German National Academy of Sciences. B.F. was supported by a postdoctoral fellowship from the Canadian Institutes of Health Research (MFE 140911). B.S. and A.S. were supported by Ruth L. Kirschstein National Research Service Award Postdoctoral Fellowships from the National Heart, Lung, and Blood Institute (F32 HL139016-01) and the National Institute of Child Health and Human Development (F32 HD096786-01). We thank A. Gross for mouse colony management as well as N. Loof and the Moody Foundation Flow Cytometry Facility.
Ethics declarations
Competing interests
R.J.D. is an advisor for Agios Pharmaceuticals. S.J.M. is an advisor for Frequency Therapeutics and Protein Fluidics
Additional information
Peer review information Nature thanks John Cleveland, Markus Ralser and the other, anonymous, reviewer(s) for their contribution to the peer review of this work.
Publisher's note Springer Nature remains neutral with regard to jurisdictional claims in published maps and institutional affiliations.
Extended data figures and tables
Supplementary information
Supplementary Figure 1: uncropped scans with size marker indications.
About this article
Cite this article
Tasdogan, A., Faubert, B., Ramesh, V. et al. Metabolic heterogeneity confers differences in melanoma metastatic potential. Nature 577, 115–120 (2020). https://doi.org/10.1038/s41586-019-1847-2
Received:

Accepted:

Published:

Issue Date:

DOI: https://doi.org/10.1038/s41586-019-1847-2
Comments
By submitting a comment you agree to abide by our Terms and Community Guidelines. If you find something abusive or that does not comply with our terms or guidelines please flag it as inappropriate.