Abstract
Modifications of histone proteins have essential roles in normal development and human disease. Recognition of modified histones by 'reader' proteins is a key mechanism that mediates the function of histone modifications, but how the dysregulation of these readers might contribute to disease remains poorly understood. We previously identified the ENL protein as a reader of histone acetylation via its YEATS domain, linking it to the expression of cancer-driving genes in acute leukaemia1. Recurrent hotspot mutations have been found in the ENL YEATS domain in Wilms tumour2,3, the most common type of paediatric kidney cancer. Here we show, using human and mouse cells, that these mutations impair cell-fate regulation by conferring gain-of-function in chromatin recruitment and transcriptional control. ENL mutants induce gene-expression changes that favour a premalignant cell fate, and, in an assay for nephrogenesis using murine cells, result in undifferentiated structures resembling those observed in human Wilms tumour. Mechanistically, although bound to largely similar genomic loci as the wild-type protein, ENL mutants exhibit increased occupancy at a subset of targets, leading to a marked increase in the recruitment and activity of transcription elongation machinery that enforces active transcription from target loci. Furthermore, ectopically expressed ENL mutants exhibit greater self-association and form discrete and dynamic nuclear puncta that are characteristic of biomolecular hubs consisting of local high concentrations of regulatory factors. Such mutation-driven ENL self-association is functionally linked to enhanced chromatin occupancy and gene activation. Collectively, our findings show that hotspot mutations in a chromatin-reader domain drive self-reinforced recruitment, derailing normal cell-fate control during development and leading to an oncogenic outcome.
Relevant articles
Open Access articles citing this article.
Xin Li

,

Yuan Yao

…

Yongcheng Song

Journal of Hematology & Oncology Open Access 08 April 2022

Jianglin Zheng

,

Zhipeng Wu

…

Xiaobing Jiang

Journal of Translational Medicine Open Access 29 January 2022

Cristina Batlle

,

Isabel Calvo

…

Salvador Ventura

Communications Biology Open Access 26 March 2021
Access options
Subscribe to Nature+
Get immediate online access to the entire Nature family of 50+ journals
Subscribe to Journal
Get full journal access for 1 year
$199.00
only $3.90 per issue
All prices are NET prices.
VAT will be added later in the checkout.
Tax calculation will be finalised during checkout.
Buy article
Get time limited or full article access on ReadCube.
$32.00
All prices are NET prices.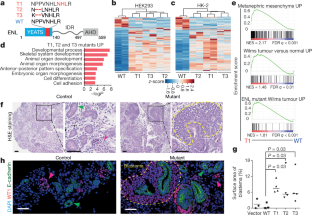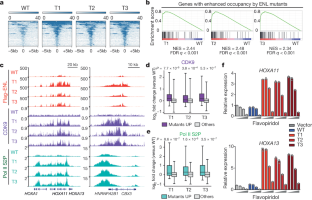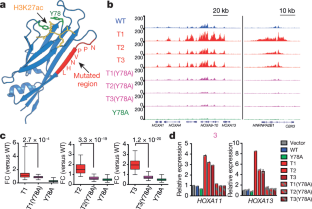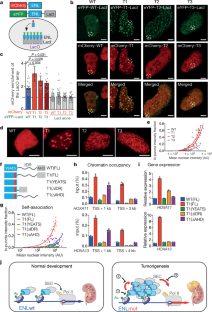 Data availability
The ChIP–seq and RNA-seq data have been deposited in the Gene Expression Omnibus database under accession number GSE125186. All other raw data generated or analysed during this study are included in this paper, the Extended Data figures, and the Supplementary Information.
References
Wan, L. et al. ENL links histone acetylation to oncogenic gene expression in acute myeloid leukaemia. Nature 543, 265–269 (2017).

Gadd, S. et al. A children's oncology group and TARGET initiative exploring the genetic landscape of Wilms tumor. Nat. Genet. 49, 1487–1494 (2017).

Perlman, E. J. et al. MLLT1 YEATS domain mutations in clinically distinctive Favourable Histology Wilms tumours. Nat. Commun. 6, 10013 (2015).

Erb, M. A. et al. Transcription control by the ENL YEATS domain in acute leukaemia. Nature 543, 270–274 (2017).

Rivera, M. N. & Haber, D. A. Wilms' tumour: connecting tumorigenesis and organ development in the kidney. Nat. Rev. Cancer 5, 699–712 (2005).

Taguchi, A. et al. Redefining the in vivo origin of metanephric nephron progenitors enables generation of complex kidney structures from pluripotent stem cells. Stem Cells 14, 53–67 (2014).

Ozdemir, D. D. & Hohenstein, P. Wt1 in the kidney—a tale in mouse models. Pediatr. Nephrol. 29, 687–693 (2014).

Lin, C. et al. AFF4, a component of the ELL/P-TEFb elongation complex and a shared subunit of MLL chimeras, can link transcription elongation to leukemia. Mol. Cell 37, 429–437 (2010).

He, N. et al. HIV-1 Tat and host AFF4 recruit two transcription elongation factors into a bifunctional complex for coordinated activation of HIV-1 transcription. Mol. Cell 38, 428–438 (2010).

Yokoyama, A., Lin, M., Naresh, A., Kitabayashi, I. & Cleary, M. L. A higher-order complex containing AF4 and ENL family proteins with P-TEFb facilitates oncogenic and physiologic MLL-dependent transcription. Cancer Cell 17, 198–212 (2010).

Bitoun, E., Oliver, P. L. & Davies, K. E. The mixed-lineage leukemia fusion partner AF4 stimulates RNA polymerase II transcriptional elongation and mediates coordinated chromatin remodeling. Hum. Mol. Genet. 16 ∫92–106 (2007).

Peterlin, B. M. & Price, D. H. Controlling the elongation phase of transcription with P-TEFb. Mol. Cell 23, 297–305 (2006).

Chao, S. H. & Price, D. H. Flavopiridol inactivates P-TEFb and blocks most RNA polymerase II transcription in vivo. J. Biol. Chem. 276, 31793–31799 (2001).

Hetzner, K., Garcia-Cuellar, M.-P., Büttner, C. & Slany, R. K. The interaction of ENL with PAF1 mitigates polycomb silencing and facilitates murine leukemogenesis. Blood 131, 662–673 (2018).

Li, Y. et al. Molecular coupling of histone crotonylation and active transcription by AF9 YEATS domain. Mol. Cell 62, 181–193 (2016).

Chong, S. et al. Imaging dynamic and selective low-complexity domain interactions that control gene transcription. Science 361, eaar2555 (2018).

Banani, S. F., Lee, H. O., Hyman, A. A. & Rosen, M. K. Biomolecular condensates: organizers of cellular biochemistry. Nat. Rev. Mol. Cell Biol. 18, 285–298 (2017).

Sabari, B. R. et al. Coactivator condensation at super-enhancers links phase separation and gene control. Science 361, eaar3958 (2018).

Cho, W.-K. et al. Mediator and RNA polymerase II clusters associate in transcription-dependent condensates. Science 361, 412–415 (2018).

Chi, P., Allis, C. D. & Wang, G. G. Covalent histone modifications—miswritten, misinterpreted and mis-erased in human cancers. Nat. Rev. Cancer 10, 457–469 (2010).
Acknowledgements
We thank R. Nishinakamura, A. Taguchi and Z. Li for providing reagents and discussions related to kidney differentiation assays; M. Leboeuf for technical assistance; A. Soshnev for help with figure preparation; and members of the Allis and Wen laboratories for scientific input throughout the study. We thank the Rockefeller University Genomic Resource Center, the Bio-Imaging Resource Center, the Flow Cytometry Resource Center and the MD Anderson Science Park Next-Generation Sequencing Facility (Cancer Prevention and Research Institute of Texas (CPRIT), grant RP120348). The research was supported by funds from the National Cancer Institute (grant 5R01CA204639-03), the Leukaemia and Lymphoma Society (LLS-SCOR 7006-13), and the Rockefeller University and St Jude Children's Research Hospital Collaborative on Chromatin Regulation in Pediatric Cancer (to C.D.A.); from CPRIT (grant RP160237) and the Van Andel Institute (to H.W.); and from the National Institutes of Health (NIH grants R01HG007538, R01CA193466 and R01CA228140, to W.L.). L.W. is supported by the Jane Coffin Childs Memorial Fund and an NIH Pathway to Independence Award (1K99CA226399-01). M.V.O. is supported by a K12 Award from the National Cancer Institute (K12CA184746).
Ethics declarations
Competing interests
C.D.A. is a co-founder of Chroma Therapeutics and Constellation Pharmaceuticals and a Scientific Advisory Board member of EpiCypher.
Additional information
Peer review information Nature thanks Tanja Mittag and the other, anonymous, reviewer(s) for their contribution to the peer review of this work.
Publisher's note Springer Nature remains neutral with regard to jurisdictional claims in published maps and institutional affiliations.
Extended data figures and tables
Supplementary information
About this article
Cite this article
Wan, L., Chong, S., Xuan, F. et al. Impaired cell fate through gain-of-function mutations in a chromatin reader. Nature 577, 121–126 (2020). https://doi.org/10.1038/s41586-019-1842-7
Received:

Accepted:

Published:

Issue Date:

DOI: https://doi.org/10.1038/s41586-019-1842-7
Comments
By submitting a comment you agree to abide by our Terms and Community Guidelines. If you find something abusive or that does not comply with our terms or guidelines please flag it as inappropriate.