Abstract
Individual neurons in many cortical regions have been found to encode specific, identifiable features of the environment or body that pertain to the function of the region1,2,3. However, in frontal cortex, which is involved in cognition, neural responses display baffling complexity, carrying seemingly disordered mixtures of sensory, motor and other task-related variables4,5,6,7,8,9,10,11,12,13. This complexity has led to the suggestion that representations in individual frontal neurons are randomly mixed and can only be understood at the neural population level14,15. Here we show that neural activity in rat orbitofrontal cortex (OFC) is instead highly structured: single neuron activity co-varies with individual variables in computational models that explain choice behaviour. To characterize neural responses across a large behavioural space, we trained rats on a behavioural task that combines perceptual and value-guided decisions. An unbiased, model-free clustering analysis identified distinct groups of OFC neurons, each with a particular response profile in task-variable space. Applying a simple model of choice behaviour to these categorical response profiles revealed that each profile quantitatively corresponds to a specific decision variable, such as decision confidence. Additionally, we demonstrate that a connectivity-defined cell type, orbitofrontal neurons projecting to the striatum, carries a selective and temporally sustained representation of a single decision variable: integrated value. We propose that neurons in frontal cortex, as in other cortical regions, form a sparse and overcomplete representation of features relevant to the region's function, and that they distribute this information selectively to downstream regions to support behaviour.
Relevant articles
Open Access articles citing this article.
Jascha Achterberg

,

Danyal Akarca

…

Duncan E. Astle

Nature Machine Intelligence Open Access 20 November 2023

Ryoma Hattori

,

Nathan G. Hedrick

…

Takaki Komiyama

Nature Neuroscience Open Access 13 November 2023

Joao Barbosa

,

Rémi Proville

…

Yves Boubenec

Nature Communications Open Access 27 October 2023
Access options
Access Nature and 54 other Nature Portfolio journals
Get Nature+, our best-value online-access subscription
$29.99 / 30 days
cancel any time
Subscribe to this journal
Receive 51 print issues and online access
$199.00 per year
only $3.90 per issue
Rent or buy this article
Prices vary by article type
from$1.95
to$39.95
Prices may be subject to local taxes which are calculated during checkout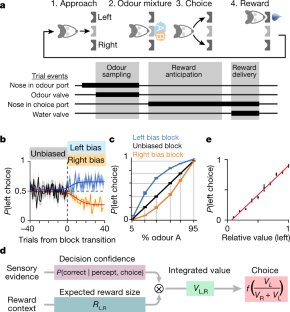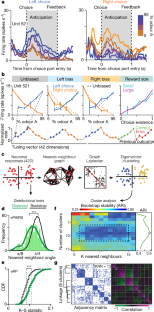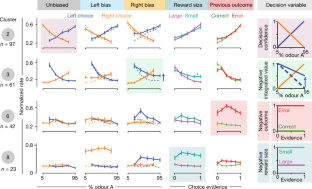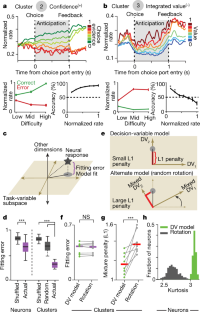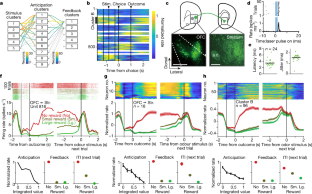 Data availability
The datasets generated during and/or analysed during the current study are available from the corresponding author upon request.
References
Hubel, D. H. & Wiesel, T. N. Receptive fields of single neurones in the cat's striate cortex. J. Physiol. 148, 574–591 (1959).

Bruce, C., Desimone, R. & Gross, C. G. Visual properties of neurons in a polysensory area in superior temporal sulcus of the macaque. J. Neurophysiol. 46, 369–384 (1981).

O'Keefe, J. & Dostrovsky, J. The hippocampus as a spatial map. Preliminary evidence from unit activity in the freely-moving rat. Brain Res. 34, 171–175 (1971).

Abe, H. & Lee, D. Distributed coding of actual and hypothetical outcomes in the orbital and dorsolateral prefrontal cortex. Neuron 70, 731–741 (2011).

Feierstein, C. E., Quirk, M. C., Uchida, N., Sosulski, D. L. & Mainen, Z. F. Representation of spatial goals in rat orbitofrontal cortex. Neuron 51, 495–507 (2006).

Roesch, M. R., Taylor, A. R. & Schoenbaum, G. Encoding of time-discounted rewards in orbitofrontal cortex is independent of value representation. Neuron 51, 509–520 (2006).

Kennerley, S. W. & Wallis, J. D. Evaluating choices by single neurons in the frontal lobe: outcome value encoded across multiple decision variables. Eur. J. Neurosci. 29, 2061–2073 (2009).

Kepecs, A., Uchida, N., Zariwala, H. A. & Mainen, Z. F. Neural correlates, computation and behavioural impact of decision confidence. Nature 455, 227–231 (2008).

Machens, C. K., Romo, R. & Brody, C. D. Functional, but not anatomical, separation of "what" and "when" in prefrontal cortex. J. Neurosci. 30, 350–360 (2010).

McGinty, V. B., Rangel, A. & Newsome, W. T. Orbitofrontal cortex value signals depend on fixation location during free viewing. Neuron 90, 1299–1311 (2016).

Morrison, S. E. & Salzman, C. D. The convergence of information about rewarding and aversive stimuli in single neurons. J. Neurosci. 29, 11471–11483 (2009).

Padoa-Schioppa, C. Neuronal origins of choice variability in economic decisions. Neuron 80, 1322–1336 (2013).

Padoa-Schioppa, C. & Assad, J. A. Neurons in the orbitofrontal cortex encode economic value. Nature 441, 223–226 (2006).

Rigotti, M. et al. The importance of mixed selectivity in complex cognitive tasks. Nature 497, 585–590 (2013).

Mante, V., Sussillo, D., Shenoy, K. V. & Newsome, W. T. Context-dependent computation by recurrent dynamics in prefrontal cortex. Nature 503, 78–84 (2013).

Stalnaker, T. A., Cooch, N. K. & Schoenbaum, G. What the orbitofrontal cortex does not do. Nat. Neurosci. 18, 620–627 (2015).

Steiner, A. P. & Redish, A. D. Behavioral and neurophysiological correlates of regret in rat decision-making on a neuroeconomic task. Nat. Neurosci. 17, 995–1002 (2014).

Sul, J. H., Kim, H., Huh, N., Lee, D. & Jung, M. W. Distinct roles of rodent orbitofrontal and medial prefrontal cortex in decision making. Neuron 66, 449–460 (2010).

Xie, J. & Padoa-Schioppa, C. Neuronal remapping and circuit persistence in economic decisions. Nat. Neurosci. 19, 855–861 (2016).

Zariwala, H. A., Kepecs, A., Uchida, N., Hirokawa, J. & Mainen, Z. F. The limits of deliberation in a perceptual decision task. Neuron 78, 339–351 (2013).

Hangya, B., Sanders, J. I. & Kepecs, A. A Mathematical framework for statistical decision confidence. Neural Comput. 28, 1840–1858 (2016).

Raposo, D., Kaufman, M. T. & Churchland, A. K. A category-free neural population supports evolving demands during decision-making. Nat. Neurosci. 17, 1784–1792 (2014).

Cuesta-Albertos, J. A., Cuevas, A. & Fraiman, R. On projection-based tests for directional and compositional data. Stat. Comput. 19, 367–380 (2009).

Sanders, J. I., Hangya, B. & Kepecs, A. Signatures of a statistical computation in the human sense of confidence. Neuron 90, 499–506 (2016).

Morris, L. S. et al. Fronto-striatal organization: Defining functional and microstructural substrates of behavioural flexibility. Cortex 74, 118–133 (2016).

Burguière, E., Monteiro, P., Feng, G. & Graybiel, A. M. Optogenetic stimulation of lateral orbitofronto-striatal pathway suppresses compulsive behaviors. Science 340, 1243–1246 (2013).

Economo, M. N. et al. Distinct descending motor cortex pathways and their roles in movement. Nature 563, 79–84 (2018).

Kvitsiani, D. et al. Distinct behavioural and network correlates of two interneuron types in prefrontal cortex. Nature 498, 363–366 (2013).

Namboodiri, V. M. et al. Single-cell activity tracking reveals that orbitofrontal neurons acquire and maintain a long-term memory to guide behavioral adaptation. Nature Neurosci. 22, 1110–1121 (2019).

Olshausen, B. A. & Field, D. J. Emergence of simple-cell receptive field properties by learning a sparse code for natural images. Nature 381, 607–609 (1996).

Sanders, J. I. & Kepecs, A. A low-cost programmable pulse generator for physiology and behavior. Front. Neuroeng. 7, 43 (2014).

Gradinaru, V. et al. Molecular and cellular approaches for diversifying and extending optogenetics. Cell 141, 154–165 (2010).

Li, S. J., Vaughan, A., Sturgill, J. F. & Kepecs, A. A viral receptor complementation strategy to overcome CAV-2 tropism for efficient retrograde targeting of neurons. Neuron 98, 905–917.e5 (2018).

Soudais, C., Laplace-Builhe, C., Kissa, K. & Kremer, E. J. Preferential transduction of neurons by canine adenovirus vectors and their efficient retrograde transport in vivo. FASEB J. 15, 2283–2285 (2001).

Tervo, D. G. R. et al. A designer AAV variant permits efficient retrograde access to projection neurons. Neuron 92, 372–382 (2016).

Schmitzer-Torbert, N., Jackson, J., Henze, D., Harris, K. & Redish, A. D. Quantitative measures of cluster quality for use in extracellular recordings. Neuroscience 131, 1–11 (2005).

Von Luxburg, U. A tutorial on spectral clustering. Stat. Comput. 17, 395–416 (2007).

Shi, J. & Malik, J. Normalized cuts and image segmentation. IEEE Trans. Pattern Anal. Mach. Intell. 22, 888–905 (2000).

Comon, P. Independent component analysis, A new concept? Signal Process. 36, 287–314 (1994).

Kobak, D. et al. Demixed principal component analysis of neural population data. eLife 5, e10989 (2016).
Acknowledgements
We would like to thank past and present members of the Kepecs Laboratory and B. Mensh for many valuable discussions; J. Sanders and B. Hangya for help with experimental setup; and B. Mensh, T. Gouvea, M. Kaufman and A. Lak for comments on an earlier version of this paper. This study was funded by the grants from the Klingenstein, Alfred P. Sloan, Swartz, Whitehall Foundations and NIH grants R01DA038209 and R01MH097061 (A.K.), and KAKENHI 16K18380, 16H02061, 19H05028 (J.H.).
Ethics declarations
Competing interests
The authors declare no competing interests.
Additional information
Publisher's note Springer Nature remains neutral with regard to jurisdictional claims in published maps and institutional affiliations.
Extended data figures and tables
Supplementary information
This file contains Supplementary Notes 1-3, a Supplementary Discussion and Supplementary References.
About this article
Cite this article
Hirokawa, J., Vaughan, A., Masset, P. et al. Frontal cortex neuron types categorically encode single decision variables. Nature 576, 446–451 (2019). https://doi.org/10.1038/s41586-019-1816-9
Received:

Accepted:

Published:

Issue Date:

DOI: https://doi.org/10.1038/s41586-019-1816-9
Comments
By submitting a comment you agree to abide by our Terms and Community Guidelines. If you find something abusive or that does not comply with our terms or guidelines please flag it as inappropriate.