Abstract
Humans seem to have an adaptive predisposition for inventing, telling and consuming stories1. Prehistoric cave art provides the most direct insight that we have into the earliest storytelling2,3,4,5, in the form of narrative compositions or 'scenes'2,5 that feature clear figurative depictions of sets of figures in spatial proximity to each other, and from which one can infer actions taking place among the figures5. The Upper Palaeolithic cave art of Europe hosts the oldest previously known images of humans and animals interacting in recognizable scenes2,5, and of therianthropes6,7—abstract beings that combine qualities of both people and animals, and which arguably communicated narrative fiction of some kind (folklore, religious myths, spiritual beliefs and so on). In this record of creative expression (spanning from about 40 thousand years ago (ka) until the beginning of the Holocene epoch at around 10 ka), scenes in cave art are generally rare and chronologically late (dating to about 21–14 ka)7, and clear representations of therianthropes are uncommon6—the oldest such image is a carved figurine from Germany of a human with a feline head (dated to about 40–39 ka)8. Here we describe an elaborate rock art panel from the limestone cave of Leang Bulu' Sipong 4 (Sulawesi, Indonesia) that portrays several figures that appear to represent therianthropes hunting wild pigs and dwarf bovids; this painting has been dated to at least 43.9 ka on the basis of uranium-series analysis of overlying speleothems. This hunting scene is—to our knowledge—currently the oldest pictorial record of storytelling and the earliest figurative artwork in the world.
Relevant articles
Open Access articles citing this article.
Veronica Chiarini

,

Jochen Duckeck

&

Jo De Waele

Geoheritage Open Access 28 June 2022
Access options
Subscribe to Nature+
Get immediate online access to Nature and 55 other Nature journal
Subscribe to Journal
Get full journal access for 1 year
$199.00
only $3.90 per issue
All prices are NET prices.
VAT will be added later in the checkout.
Tax calculation will be finalised during checkout.
Buy article
Get time limited or full article access on ReadCube.
$32.00
All prices are NET prices.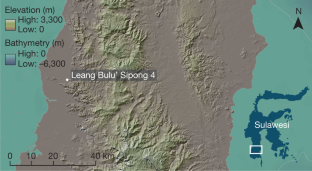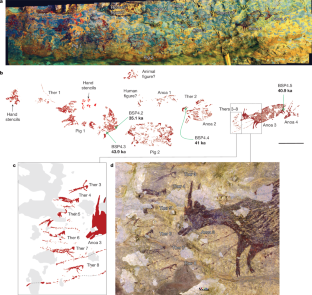 Data availability
All relevant data are available from the corresponding author upon reasonable request.
References
Boyd, B. The evolution of stories: from mimesis to language, from fact to fiction. Wiley Interdiscip. Rev. Cogn. Sci. 9, e1444 (2018).

Azéma, M. & Rivère, F. Animation in Palaeolithic art: a pre-echo of cinema. Antiquity 86, 316–324 (2012).

Mithen, S. in Becoming Human: Innovation in Prehistoric Material and Spiritual Culture (eds Renfrew, C. & Morley, I.) 123–134 (Cambridge Univ. Press, 2009).

Wynn, T., Coolidge, F. & Bright, M. Hohlenstein-Stadel and the evolution of human conceptual thought. Camb. Archaeol. J. 19, 73–84 (2009).

Davidson, I. in Making Scenes: Global Perspectives on Scenes in Rock Art (eds Davidson, I. & Nowell, A.) (Berghahn, in the press).

Taçon, P. S. C. & Chippindale, C. in Theoretical Perspectives in Rock Art Research: ACRA: the Alta Conference on Rock Art (ed. Helskog, K.) 175–210 (Oslo: Novus forlag: lnstituttet for Sammenlignende Kulturforskning, 2001).

Bahn, P. G. & Vertut, J. Journey through the Ice Age (Weidenfeld & Nicolson, London, 1997).

Kind, C.-J., Ebinger-Rist, N., Wolf, S., Beutelspacher, T. & Wehrberger, K. The smile of the Lion Man. Recent excavations in Stadel Cave (Baden-Württemberg, south-western Germany) and the restoration of the famous Upper Palaeolithic figurine. Quartär 61, 129–145 (2014).

Aubert, M. et al. Pleistocene cave art from Sulawesi, Indonesia. Nature 514, 223–227 (2014).

Aubert, M. et al. Palaeolithic cave art in Borneo. Nature 564, 254–257 (2018).

Aubert, M., Brumm, A. & Taçon, P. S. C. The timing and nature of human colonization of Southeast Asia in the Late Pleistocene – a rock art perspective. Curr. Anthropol. 58, S553–S566 (2017).

Burton, J. A., Mustari, A. H. & Rejeki, I. S. in Ecology, Conservation and Management of Wild Pigs and Peccaries (eds Melletti M. & Meijaard, E.) 184–192 (Cambridge Univ. Press, 2018).

Hoffmann, D. L. et al. U–Th dating of carbonate crusts reveals Neandertal origin of Iberian cave art. Science 359, 912–915 (2018).

Aubert, M., Brumm, A. & Huntley, J. Early dates for 'Neanderthal cave art' may be wrong. J. Hum. Evol. 125, 215–217 (2018).

Pearce, D. G. & Bonneau, A. Trouble on the dating scene. Nat. Ecol. Evol. 2, 925–926 (2018).

Slimak, L. et al. Comment on "U–Th dating of carbonate crusts reveals Neandertal origin of Iberian cave art". Science 361, eaau1371 (2018).

Pike, A. W. G. et al. U-series dating of Paleolithic art in 11 caves in Spain. Science 336, 1409–1413 (2012).

Allain, J. & Rigaud, A. Les petites pointes dans l'industrie osseuse de La Garenne: fonction et figurations. Anthropologie 96, 135–162 (1992).

Davenport, D. & Jochim, M. A. The scene in the shaft at Lascaux. Antiquity 62, 558–562 (1988).

Le Quellec, J.-L. L'homme de Lascaux et L'enigme du Puits (Camille Bercot, Tautem, 2017).

McDonald, R. C. Limestone morphology in South Sulawesi, Indonesia. Z. Geomorphol. 26 (Suppl.), 79–91 (1976).

Brumm, A. et al. Early human symbolic behavior in the Late Pleistocene of Wallacea. Proc. Natl Acad. Sci. USA 114, 4105–4110 (2017).

van Heekeren, H. R. Rock-paintings and other prehistoric discoveries near Maros (South West Celebes). Laporan Tahunan Dinas Purbakala 1950, 22–35 (1952).

Eriawati, Y. Lukisan di Gua-Gua Karst Maros–Pangkep, Sulawesi Selatan: Gambaran Penghuni dan Matapencahariannya (Indonesian Ministry of Cultural Media Development, 2003).

Kurniawan, R. et al. Chemistry of prehistoric rock art pigments from the Indonesian island of Sulawesi. Microchem. J. 146, 227–233 (2019).

Saiful, A. M. & Burhan, B. Lukisan fauna, pola sebaran dan lanskap budaya di kawasan kars Sulawesi bagian selatan. Walennae 15, 75–88 (2017).

Groves, C. P. & Grubb, P. Ungulate Taxonomy (John Hopkins Univ. Press, 2011).

Lorblanchet, M. in Animals into Art (ed. Morphy, H.) 109–141 (Unwin Hyman, London, 1989).

Lewis-Williams, D. J. The Mind in the Cave: Consciousness and the Origins of Art (Thames & Hudson, 2002).

Ludwig, K. R. User's Manual for Isoplot 3.75. A Geochronological Toolkit for Microsoft Excel (Berkeley Geochronology Center Special Publication No. 5) (Berkeley Geochronology Center, Berkeley, 2012).

Cheng, H. et al. The half-lives of uranium-234 and thorium-230. Chem. Geol. 169, 17–33 (2000).

Oktaviana, A. A. et al. Hand stencils with and without narrowed fingers at two new rock art sites in Sulawesi, Indonesia. Rock Art Res. 33, 32–48 (2016).

Bourdon, B., Henderson, G. M., Lundstrom, C. C. & Turner, S. P. Uranium-series Geochemistry (Mineralogical Society of America, Chantilly, 2003).

Zhao, J. X., Yu, K. F. & Feng, Y. X. High-precision 238U–234U–230Th disequilibrium dating of the recent past – a review. Quat. Geochronol. 4, 423–433 (2009).

Clark, T. R. et al. Spatial variability of initial 230Th/232Th in modern Porites from the inshore region of the Great Barrier Reef. Geochim. Cosmochim. Acta 78, 99–118 (2012).

Clark, T. R. et al. Discerning the timing and cause of historical mortality events in modern Porites from the Great Barrier Reef. Geochim. Cosmochim. Acta 138, 57–80 (2014).

Zhou, H. Y., Zhao, J. X., Wang, Q., Feng, Y. X. & Tang, J. Speleothem-derived Asian summer monsoon variations in Central China during 54–46 ka. J. Quat. Sci. 26, 781–790 (2011).

Westaway, K. E. et al. An early modern human presence in Sumatra 73,000–63,000 years ago. Nature 548, 322–325 (2017).

St Pierre, E., Zhao, J. X. & Reed, E. Expanding the utility of uranium-series dating of speleothems for archaeological and palaeontological applications. J. Archaeol. Sci. 36, 1416–1423 (2009).

Hellstrom, J. U–Th dating of speleothems with high initial 230Th using stratigraphical constraint. Quat. Geochronol. 1, 289–295 (2006).

Plagnes, V. et al. Cross dating (Th/U-14C) of calcite covering prehistoric paintings in Borneo. Quat. Res. 60, 172–179 (2003).

Vanghi, V., Frisia, S. & Borsato, A. Genesis and microstratigraphy of calcite coralloids analysed by high resolution imaging and petrography. Sedim. Geol. 359, 16–28 (2017).
Acknowledgements
This research was funded by Australian Research Council (ARC) fellowships awarded to M.A. (FT170100025) and A.B. (FT160100119), with further financial support from Griffith University. We thank Indonesia's State Ministry of Research and Technology (RISTEK), I. Mahmud (Balai Arkeologi Sulawesi Selatan) and L. Aksa (Balai Pelestarian Cagar Budaya Makassar) for authorizing the research; and P. T. Semen Tonasa for providing access to the site. We acknowledge M. Kottermair, A. Jalandoni, D. P. McGahan, K. Newman and M. Langley for assistance with figure production. We thank P. Veth, B. David and P. S. C. Taçon for comments on the paper.
Ethics declarations
Competing interests
The authors declare no competing interests.
Additional information
Publisher's note Springer Nature remains neutral with regard to jurisdictional claims in published maps and institutional affiliations.
Extended data figures and tables
Supplementary information
3D PhotoScan model of the dated rock art panel at Leang Bulu' Sipong 4.
Uranium-series dating results for coralloid speleothem samples from Leang Bulu' Sipong 4. This table contains the results of uranium-series disequilibrium dating of rock art motifs (n=4). Note: Ratios are activity ratios calculated from the atomic ratios. Errors are at 2δ level. The ages are calculated using Isoplot 3.75 Program37 with decay constants from ref. 36. Corrected ages were calculated assuming initial/detrital 230Th/232Th activity ratio equal 0.825 (± 50%) (the bulk-Earth value, which is the most commonly used for initial/detrital 230Th corrections).
About this article
Cite this article
Aubert, M., Lebe, R., Oktaviana, A.A. et al. Earliest hunting scene in prehistoric art. Nature 576, 442–445 (2019). https://doi.org/10.1038/s41586-019-1806-y
Received:

Accepted:

Published:

Issue Date:

DOI: https://doi.org/10.1038/s41586-019-1806-y
Comments
By submitting a comment you agree to abide by our Terms and Community Guidelines. If you find something abusive or that does not comply with our terms or guidelines please flag it as inappropriate.