Abstract
Chimeric antigen receptor (CAR) T cells mediate anti-tumour effects in a small subset of patients with cancer1,2,3, but dysfunction due to T cell exhaustion is an important barrier to progress4,5,6. To investigate the biology of exhaustion in human T cells expressing CAR receptors, we used a model system with a tonically signaling CAR, which induces hallmark features of exhaustion6. Exhaustion was associated with a profound defect in the production of IL-2, along with increased chromatin accessibility of AP-1 transcription factor motifs and overexpression of the bZIP and IRF transcription factors that have been implicated in mediating dysfunction in exhausted T cells7,8,9,10. Here we show that CAR T cells engineered to overexpress the canonical AP-1 factor c-Jun have enhanced expansion potential, increased functional capacity, diminished terminal differentiation and improved anti-tumour potency in five different mouse tumour models in vivo. We conclude that a functional deficiency in c-Jun mediates dysfunction in exhausted human T cells, and that engineering CAR T cells to overexpress c-Jun renders them resistant to exhaustion, thereby addressing a major barrier to progress for this emerging class of therapeutic agents.
Access options
Subscribe to Journal
Get full journal access for 1 year
$199.00
only $3.90 per issue
All prices are NET prices.
VAT will be added later in the checkout.
Tax calculation will be finalised during checkout.
Rent or Buy article
Get time limited or full article access on ReadCube.
from$8.99
All prices are NET prices.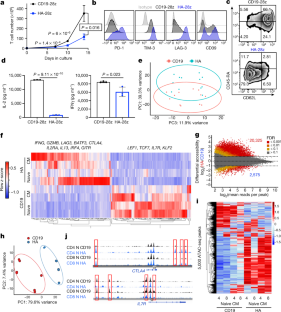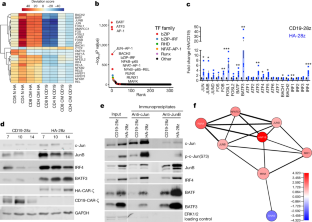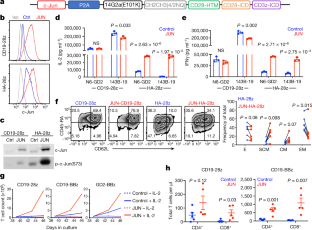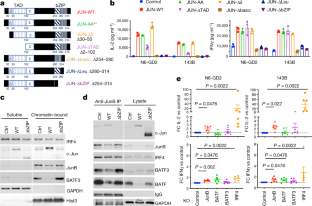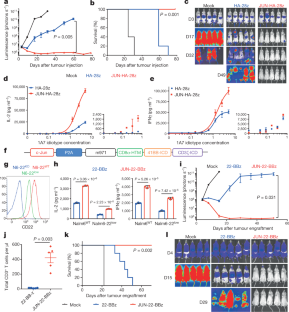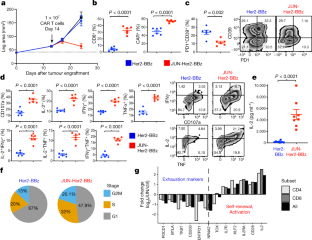 Data availability
The sequencing datasets generated in this publication have been deposited in NCBI Gene Expression Omnibus (GEO)60,61 and are accessible through GEO series accession numbers: bulk RNA-seq: GSE136891, scRNA-seq CD19/GD2-28z: GSE136874, scRNA-seq control/JUN-Her2-BBz TILs: GSE136805, ATAC-seq: GSE136796, ChIP–seq: GSE136853.
References
1.

Maude, S. L. et al. Tisagenlecleucel in children and young adults with b-cell lymphoblastic leukemia. N. Engl. J. Med. 378, 439–448 (2018).

2.

Neelapu, S. S. et al. Axicabtagene ciloleucel CAR T-cell therapy in refractory large B-cell lymphoma. N. Engl. J. Med. 377, 2531–2544 (2017).

3.

June, C. H., O'Connor, R. S., Kawalekar, O. U., Ghassemi, S. & Milone, M. C. CAR T cell immunotherapy for human cancer. Science 359, 1361–1365 (2018).

4.

Wherry, E. J. et al. Molecular signature of CD8+ T cell exhaustion during chronic viral infection. Immunity 27, 670–684 (2007).

5.

Wherry, E. J. & Kurachi, M. Molecular and cellular insights into T cell exhaustion. Nat. Rev. Immunol. 15, 486–499 (2015).

6.

Long, A. H. et al. 4-1BB costimulation ameliorates T cell exhaustion induced by tonic signaling of chimeric antigen receptors. Nat. Med. 21, 581–590 (2015).

7.

Man, K. et al. Transcription factor IRF4 promotes CD8+ T cell exhaustion and limits the development of memory-like T cells during chronic infection. Immunity 47, 1129–1141 (2017).

8.

Li, P. et al. BATF-JUN is critical for IRF4-mediated transcription in T cells. Nature 490, 543–546 (2012).

9.

Murphy, T. L., Tussiwand, R. & Murphy, K. M. Specificity through cooperation: BATF-IRF interactions control immune-regulatory networks. Nat. Rev. Immunol. 13, 499–509 (2013).

10.

Quigley, M. et al. Transcriptional analysis of HIV-specific CD8+ T cells shows that PD-1 inhibits T cell function by upregulating BATF. Nat. Med. 16, 1147–1151 (2010).

11.

Fraietta, J. A. et al. Determinants of response and resistance to CD19 chimeric antigen receptor (CAR) T cell therapy of chronic lymphocytic leukemia. Nat. Med. 24, 563–571 (2018).

12.

Walker, A. J. et al. Tumor antigen and receptor densities regulate efficacy of a chimeric antigen receptor targeting anaplastic lymphoma kinase. Mol. Ther. 25, 2189–2201 (2017).

13.

Fry, T. J. et al. CD22-targeted CAR T cells induce remission in B-ALL that is naive or resistant to CD19-targeted CAR immunotherapy. Nat. Med. 24, 20–28 (2018).

14.

Hegde, M., Moll, A. J., Byrd, T. T., Louis, C. U. & Ahmed, N. Cellular immunotherapy for pediatric solid tumors. Cytotherapy 17, 3–17 (2015).

15.

Long, A. H. et al. Reduction of MDSCs with all-trans retinoic acid improves CAR therapy efficacy for sarcomas. Cancer Immunol. Res. 4, 869–880 (2016).

16.

Eyquem, J. et al. Targeting a CAR to the TRAC locus with CRISPR/Cas9 enhances tumour rejection. Nature 543, 113–117 (2017).

17.

Fraietta, J. A. et al. Disruption of TET2 promotes the therapeutic efficacy of CD19-targeted T cells. Nature 558, 307–312 (2018).

18.

Sen, D. R. et al. The epigenetic landscape of T cell exhaustion. Science 354, 1165–1169 (2016).

19.

Bengsch, B. et al. Epigenomic-guided mass cytometry profiling reveals disease-specific features of exhausted CD8 T cells. Immunity 48, 1029–1045 (2018).

20.

Pauken, K. E. et al. Epigenetic stability of exhausted T cells limits durability of reinvigoration by PD-1 blockade. Science 354, 1160–1165 (2016).

21.

Heczey, A. et al. CAR T cells administered in combination with lymphodepletion and PD-1 Inhibition to patients with neuroblastoma. Mol. Ther. 25, 2214–2224 (2017).

22.

Horwacik, I. et al. Structural basis of GD2 ganglioside and mimetic peptide recognition by 14G2a antibody. Mol. Cell. Proteomics 14, 2577–2590 (2015).

23.

Buenrostro, J. D., Giresi, P. G., Zaba, L. C., Chang, H. Y. & Greenleaf, W. J. Transposition of native chromatin for fast and sensitive epigenomic profiling of open chromatin, DNA-binding proteins and nucleosome position. Nat. Methods 10, 1213–1218 (2013).

24.

Schep, A. N., Wu, B., Buenrostro, J. D. & Greenleaf, W. J. chromVAR: inferring transcription-factor-associated accessibility from single-cell epigenomic data. Nat. Methods 14, 975–978 (2017).

25.

Philip, M. et al. Chromatin states define tumour-specific T cell dysfunction and reprogramming. Nature 545, 452–456 (2017).

26.

Meixner, A., Karreth, F., Kenner, L. & Wagner, E. F. JunD regulates lymphocyte proliferation and T helper cell cytokine expression. EMBO J. 23, 1325–1335 (2004).

27.

Chiu, R., Angel, P. & Karin, M. Jun-B differs in its biological properties from, and is a negative regulator of, c-Jun. Cell 59, 979–986 (1989).

28.

Echlin, D. R., Tae, H. J., Mitin, N. & Taparowsky, E. J. B-ATF functions as a negative regulator of AP-1 mediated transcription and blocks cellular transformation by Ras and Fos. Oncogene 19, 1752–1763 (2000).

29.

Sade-Feldman, M. et al. Defining T cell states associated with response to checkpoint immunotherapy in melanoma. Cell 175, 998–1013 (2018).

30.

Dérijard, B. et al. JNK1: a protein kinase stimulated by UV light and Ha-Ras that binds and phosphorylates the c-Jun activation domain. Cell 76, 1025–1037 (1994).

31.

D'Angelo, S. P. et al. Antitumor activity associated with prolonged persistence of adoptively transferred NY-ESO-1 c259T cells in synovial sarcoma. Cancer Discov. 8, 944–957 (2018).

32.

Adler, V., Franklin, C. C. & Kraft, A. S. Phorbol esters stimulate the phosphorylation of c-Jun but not v-Jun: regulation by the N-terminal delta domain. Proc. Natl Acad. Sci. USA 89, 5341–5345 (1992).

33.

Bannister, A. J., Oehler, T., Wilhelm, D., Angel, P. & Kouzarides, T. Stimulation of c-Jun activity by CBP: c-Jun residues Ser63/73 are required for CBP induced stimulation in vivo and CBP binding in vitro. Oncogene 11, 2509–2514 (1995).

34.

Weiss, C. et al. JNK phosphorylation relieves HDAC3-dependent suppression of the transcriptional activity of c-Jun. EMBO J. 22, 3686–3695 (2003).

35.

Majzner, R. G. & Mackall, C. L. Tumor antigen escape from CAR T-cell therapy. Cancer Discov. 8, 1219–1226 (2018).

36.

Roychoudhuri, R. et al. BACH2 regulates CD8+ T cell differentiation by controlling access of AP-1 factors to enhancers. Nat. Immunol. 17, 851–860 (2016).

37.

Martinez, G. J. et al. The transcription factor NFAT promotes exhaustion of activated CD8+ T cells. Immunity 42, 265–278 (2015).

38.

Liu, X. et al. Genome-wide analysis identifies NR4A1 as a key mediator of T cell dysfunction. Nature 567, 525–529 (2019).

39.

Chen, J. et al. NR4A transcription factors limit CAR T cell function in solid tumours. Nature 567, 530–534 (2019).

40.

Seo, H. et al. TOX and TOX2 transcription factors cooperate with NR4A transcription factors to impose CD8+ T cell exhaustion. Proc. Natl Acad. Sci. USA 116, 12410–12415 (2019).

41.

Alfei, F. et al. TOX reinforces the phenotype and longevity of exhausted T cells in chronic viral infection. Nature 571, 265–269 (2019).

42.

Khan, O. et al. TOX transcriptionally and epigenetically programs CD8+ T cell exhaustion. Nature 571, 211–218 (2019).

43.

Bohmann, D. et al. Human proto-oncogene c-jun encodes a DNA binding protein with structural and functional properties of transcription factor AP-1. Science 238, 1386–1392 (1987).

44.

Mariani, O. et al. JUN oncogene amplification and overexpression block adipocytic differentiation in highly aggressive sarcomas. Cancer Cell 11, 361–374 (2007).

45.

Shaulian, E. AP-1–The Jun proteins: Oncogenes or tumor suppressors in disguise? Cell. Signal. 22, 894–899 (2010).

46.

Behrens, A., Jochum, W., Sibilia, M. & Wagner, E. F. Oncogenic transformation by ras and fos is mediated by c-Jun N-terminal phosphorylation. Oncogene 19, 2657–2663 (2000).

47.

Hudecek, M. et al. The nonsignaling extracellular spacer domain of chimeric antigen receptors is decisive for in vivo antitumor activity. Cancer Immunol. Res. 3, 125–135 (2015).

48.

Jena, B. et al. Chimeric antigen receptor (CAR)-specific monoclonal antibody to detect CD19-specific T cells in clinical trials. PLoS ONE 8, e57838 (2013).

49.

Sotillo, E. et al. Coordinated activation of the origin licensing factor CDC6 and CDK2 in resting human fibroblasts expressing SV40 small T antigen and cyclin E. J. Biol. Chem. 284, 14126–14135 (2009).

50.

Nagaraja, S. et al. Transcriptional dependencies in diffuse intrinsic pontine glioma. Cancer Cell 31, 635–652 (2017).

51.

Corces, M. R. et al. An improved ATAC-seq protocol reduces background and enables interrogation of frozen tissues. Nat. Methods 14, 959–962 (2017).

52.

Wickham, H. Ggplot2: Elegant Graphics for Data Analysis (Springer, 2009).

53.

Mootha, V. K. et al. PGC-1alpha-responsive genes involved in oxidative phosphorylation are coordinately downregulated in human diabetes. Nat. Genet. 34, 267–273 (2003).

54.

Subramanian, A. et al. Gene set enrichment analysis: a knowledge-based approach for interpreting genome-wide expression profiles. Proc. Natl Acad. Sci. USA 102, 15545–15550 (2005).

55.

Huang, W., Sherman, B. T. & Lempicki, R. A. Systematic and integrative analysis of large gene lists using DAVID bioinformatics resources. Nat. Protoc. 4, 44–57 (2009).

56.

Huang, W., Sherman, B. T. & Lempicki, R. A. Bioinformatics enrichment tools: paths toward the comprehensive functional analysis of large gene lists. Nucleic Acids Res. 37, 1–13 (2009).

57.

Zheng, G. X. et al. Massively parallel digital transcriptional profiling of single cells. Nat. Commun. 8, 14049 (2017).

58.

Butler, A., Hoffman, P., Smibert, P., Papalexi, E. & Satija, R. Integrating single-cell transcriptomic data across different conditions, technologies, and species. Nat. Biotechnol. 36, 411–420 (2018).

59.

Stuart, T. et al. Comprehensive integration of single-cell data. Cell 177, 1888–1902 (2019).

60.

Edgar, R., Domrachev, M. & Lash, A. E. Gene Expression Omnibus: NCBI gene expression and hybridization array data repository. Nucleic Acids Res. 30, 207–210 (2002).

61.

Barrett, T. et al. NCBI GEO: archive for functional genomics data sets—update. Nucleic Acids Res. 41, D991–D995 (2013).
Acknowledgements
This work was supported by a Stand Up To Cancer–St Baldrick's–National Cancer Institute Pediatric Dream Team Translational Cancer Research Grant (C.L.M.), the Parker Institute for Cancer Immunotherapy (C.L.M., H.Y.C., Z.G.), the Virginia and D.K. Ludwig Fund for Cancer Research (C.L.M.), and NIH P50-HG007735 (H.Y.C.). H.Y.C. is an Investigator of the Howard Hughes Medical Institute. A.T.S. was supported by a Parker Bridge Scholar Award from the Parker Institute for Cancer Immunotherapy and a Career Award for Medical Scientists from the Burroughs Welcome Fund. R.C.L. was supported by the Emerson Collective Cancer Research Fund. The Illumina HiSeq 4000 used here was purchased with the NIH funds (award S10OD018220). Figure 4a was created by S. Knemeyer, SciStories LLC.
Ethics declarations
Competing interests
C.L.M., R.C.L., E.W.W. and E.S. are inventors on a Stanford University Provisional patent pending on modulating AP-1 to enhance function of T cells; 62/599,299; C.L.M. is a founder of, holds equity in and receives consulting fees from Lyell Immunopharma, which has licensed the technology. R.C.L. is employed by and E.W.W. and E.S. are consultants for Lyell Immunopharma.
Additional information
Publisher's note Springer Nature remains neutral with regard to jurisdictional claims in published maps and institutional affiliations.
Peer review information Nature thanks Steven Albelda, Takeshi Egawa and the other, anonymous, reviewer(s) for their contribution to the peer review of this work.
Extended data figures and tables
Supplementary information
About this article
Cite this article
Lynn, R.C., Weber, E.W., Sotillo, E. et al. c-Jun overexpression in CAR T cells induces exhaustion resistance. Nature 576, 293–300 (2019). https://doi.org/10.1038/s41586-019-1805-z
Received:

Accepted:

Published:

Issue Date:
Comments
By submitting a comment you agree to abide by our Terms and Community Guidelines. If you find something abusive or that does not comply with our terms or guidelines please flag it as inappropriate.