Abstract
Mammals form scars to quickly seal wounds and ensure survival by an incompletely understood mechanism1,2,3,4,5. Here we show that skin scars originate from prefabricated matrix in the subcutaneous fascia. Fate mapping and live imaging revealed that fascia fibroblasts rise to the skin surface after wounding, dragging their surrounding extracellular jelly-like matrix, including embedded blood vessels, macrophages and peripheral nerves, to form the provisional matrix. Genetic ablation of fascia fibroblasts prevented matrix from homing into wounds and resulted in defective scars, whereas placing an impermeable film beneath the skin—preventing fascia fibroblasts from migrating upwards—led to chronic open wounds. Thus, fascia contains a specialized prefabricated kit of sentry fibroblasts, embedded within a movable sealant, that preassemble together diverse cell types and matrix components needed to heal wounds. Our findings suggest that chronic and excessive skin wounds may be attributed to the mobility of the fascia matrix.
Access options
Subscribe to Journal
Get full journal access for 1 year
$199.00
only $3.90 per issue
All prices are NET prices.
VAT will be added later in the checkout.
Tax calculation will be finalised during checkout.
Rent or Buy article
Get time limited or full article access on ReadCube.
from$8.99
All prices are NET prices.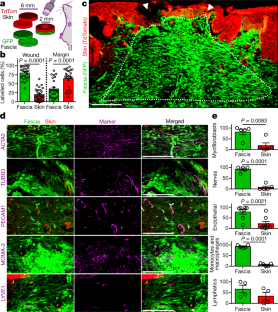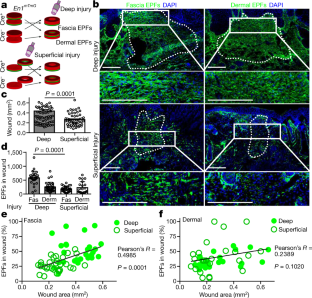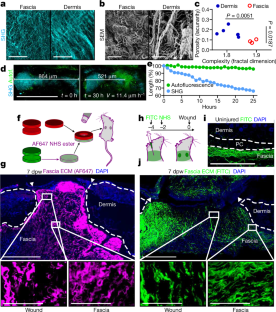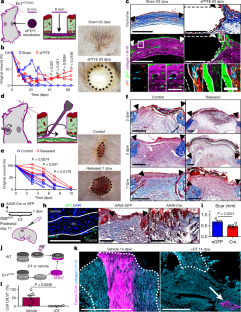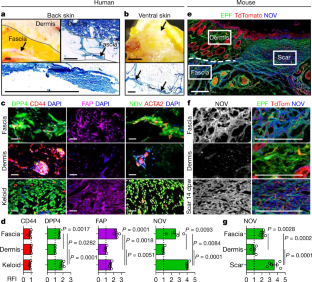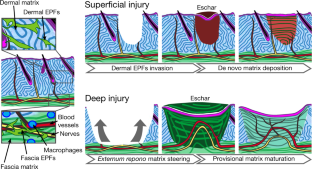 References
1.

Marshall, C. D. et al. Cutaneous scarring: basic science, current treatments, and future directions. Adv. Wound Care 7, 29–45 (2018).

2.

Finnerty, C. C. et al. Hypertrophic scarring: the greatest unmet challenge after burn injury. Lancet 388, 1427–1436 (2016).

3.

Morton, L. M. & Phillips, T. J. Wound healing and treating wounds: differential diagnosis and evaluation of chronic wounds. J. Am. Acad. Dermatol. 74, 589–605, quiz 605–606 (2016).

4.

Do, N. N. & Eming, S. A. Skin fibrosis: models and mechanisms. Curr. Res. Transl. Med. 64, 185–193 (2016).

5.

Sen, C. K. et al. Human skin wounds: a major and snowballing threat to public health and the economy. Wound Repair Regen. 17, 763–771 (2009).

6.

Hinz, B. Myofibroblasts. Exp. Eye Res. 142, 56–70 (2016).

7.

Driskell, R. R. et al. Distinct fibroblast lineages determine dermal architecture in skin development and repair. Nature 504, 277–281 (2013).

8.

Greenhalgh, S. N., Conroy, K. P. & Henderson, N. C. Healing scars: targeting pericytes to treat fibrosis. QJM 108, 3–7 (2015).

9.

Plikus, M. V. et al. Regeneration of fat cells from myofibroblasts during wound healing. Science 355, 748–752 (2017).

10.

Shook, B. A. et al. Myofibroblast proliferation and heterogeneity are supported by macrophages during skin repair. Science 362, eaar2971 (2018).

11.

Mori, L., Bellini, A., Stacey, M. A., Schmidt, M. & Mattoli, S. Fibrocytes contribute to the myofibroblast population in wounded skin and originate from the bone marrow. Exp. Cell Res. 304, 81–90 (2005).

12.

Rinkevich, Y. et al. Identification and isolation of a dermal lineage with intrinsic fibrogenic potential. Science 348, aaa2151 (2015).

13.

Jiang, D. et al. Two succeeding fibroblastic lineages drive dermal development and the transition from regeneration to scarring. Nat. Cell Biol. 20, 422–431 (2018).

14.

Adstrum, S., Hedley, G., Schleip, R., Stecco, C. & Yucesoy, C. A. Defining the fascial system. J. Bodyw. Mov. Ther. 21, 173–177 (2017).

15.

Stecco, C. & Schleip, R. A fascia and the fascial system. J. Bodyw. Mov. Ther. 20, 139–140 (2016).

16.

Dunkin, C. S. et al. Scarring occurs at a critical depth of skin injury: precise measurement in a graduated dermal scratch in human volunteers. Plast. Reconstr. Surg. 119, 1722–1734 (2007).

17.

Koehler, R. H. et al. Minimal adhesions to ePTFE mesh after laparoscopic ventral incisional hernia repair: reoperative findings in 65 cases. JSLS 7, 335–340 (2003).

18.

Rippa, A. L., Kalabusheva, E. P., & Vorotelyak, E., A. Regeneration of dermis: scarring and cells involved. Cells 8, 607 (2019).

19.

Zamir, E. A., Rongish, B. J. & Little, C. D. The ECM moves during primitive streak formation—computation of ECM versus cellular motion. PLoS Biol. 6, e247 (2008).

20.

Szabó, A., Rupp, P. A., Rongish, B. J., Little, C. D. & Czirók, A. Extracellular matrix fluctuations during early embryogenesis. Phys. Biol. 8, 045006 (2011).

21.

Aleksandrova, A. et al. Convective tissue movements play a major role in avian endocardial morphogenesis. Dev. Biol. 363, 348–361 (2012).

22.

Loganathan, R. et al. Extracellular matrix motion and early morphogenesis. Development 143, 2056–2065 (2016).

23.

Miron-Mendoza, M., Koppaka, V., Zhou, C. & Petroll, W. M. Techniques for assessing 3-D cell-matrix mechanical interactions in vitro and in vivo. Exp. Cell Res. 319, 2470–2480 (2013).

24.

Sakar, M. S. et al. Cellular forces and matrix assembly coordinate fibrous tissue repair. Nat. Commun. 7, 11036 (2016).

25.

Abu-Hijleh, M. F., Roshier, A. L., Al-Shboul, Q., Dharap, A. S. & Harris, P. F. The membranous layer of superficial fascia: evidence for its widespread distribution in the body. Surg. Radiol. Anat. 28, 606–619 (2006).

26.

Avelar, J. Regional distribution and behavior of the subcutaneous tissue concerning selection and indication for liposuction. Aesthetic Plast. Surg. 13, 155–165 (1989).

27.

Lockwood, T. E. Superficial fascial system (SFS) of the trunk and extremities: a new concept. Plast. Reconstr. Surg. 87, 1009–1018 (1991).
Acknowledgements
We thank G. Mettenleiter for technical assistance with the SEM; S. Dietzel and the Core Facility Bioimaging at the Biomedical Centre of the Ludwig-Maximilians-Universität München for access and support with the multi-photon system. Y.R. was supported by the Human Frontier Science Program Career Development Award (CDA00017/2016), the German Research Foundation (RI 2787/1-1 AOBJ: 628819), the Fritz–Thyssen–Stiftung (2016-01277) and the European Research Council Consolidator Grant (ERC-CoG 819933). D.C.-G. was supported by the Consejo Nacional de Ciencia y Tecnología (CONACYT) and the Deutscher Akademischer Austauschdienst (DAAD).
Ethics declarations
Competing interests
The authors declare no competing interests.
Additional information
Publisher's note Springer Nature remains neutral with regard to jurisdictional claims in published maps and institutional affiliations.
Peer review information Nature thanks Christopher Buckley and the other, anonymous, reviewer(s) for their contribution to the peer review of this work.
Extended data figures and tables
Supplementary information
About this article
Cite this article
Correa-Gallegos, D., Jiang, D., Christ, S. et al. Patch repair of deep wounds by mobilized fascia. Nature 576, 287–292 (2019). https://doi.org/10.1038/s41586-019-1794-y
Received:

Accepted:

Published:

Issue Date:
Comments
By submitting a comment you agree to abide by our Terms and Community Guidelines. If you find something abusive or that does not comply with our terms or guidelines please flag it as inappropriate.