Abstract
Limited knowledge of the mechanisms that govern the self-renewal of human haematopoietic stem cells (HSCs), and why this fails in culture, have impeded the expansion of HSCs for transplantation1. Here we identify MLLT3 (also known as AF9) as a crucial regulator of HSCs that is highly enriched in human fetal, neonatal and adult HSCs, but downregulated in culture. Depletion of MLLT3 prevented the maintenance of transplantable human haematopoietic stem or progenitor cells (HSPCs) in culture, whereas stabilizing MLLT3 expression in culture enabled more than 12-fold expansion of transplantable HSCs that provided balanced multilineage reconstitution in primary and secondary mouse recipients. Similar to endogenous MLLT3, overexpressed MLLT3 localized to active promoters in HSPCs, sustained levels of H3K79me2 and protected the HSC transcriptional program in culture. MLLT3 thus acts as HSC maintenance factor that links histone reader and modifying activities to modulate HSC gene expression, and may provide a promising approach to expand HSCs for transplantation.
Relevant articles
Open Access articles citing this article.
Brandon Hadland

,

Barbara Varnum-Finney

…

Irwin D. Bernstein

Nature Communications Open Access 24 March 2022

Imtiaz Iftakhar-e-Khuda

,

Alberto Pessia

…

Sirpa Jalkanen

Cellular and Molecular Life Sciences Open Access 01 November 2021

Gajendra W. Suryawanshi

,

Hubert Arokium

…

Irvin S. Y. Chen

Stem Cell Research & Therapy Open Access 07 October 2021
Access options
Subscribe to Nature+
Get immediate online access to the entire Nature family of 50+ journals
Subscribe to Journal
Get full journal access for 1 year
$199.00
only $3.90 per issue
All prices are NET prices.
VAT will be added later in the checkout.
Tax calculation will be finalised during checkout.
Buy article
Get time limited or full article access on ReadCube.
$32.00
All prices are NET prices.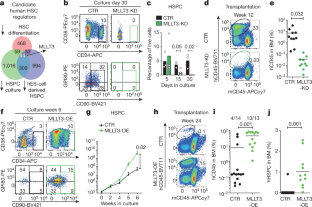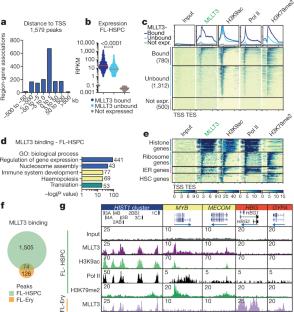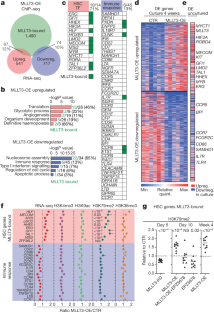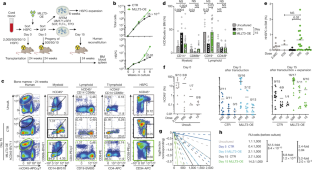 Data availability
Sequence data that support the findings of this study have been deposited in Gene Expression Omnibus (GEO) with the accession code GSE111484. Data from published reference are available in GEO GSE8108017. All other data are either available within the paper or from the corresponding author upon reasonable request. Custom codes for data analysis are also available upon request. There is no restriction in data availability.
References
Ballen, K. K., Gluckman, E. & Broxmeyer, H. E. Umbilical cord blood transplantation: the first 25 years and beyond. Blood 122, 491–498 (2013).

Gritz, E. & Hirschi, K. K. Specification and function of hemogenic endothelium during embryogenesis. Cell. Mol. Life Sci. 73, 1547–1567 (2016).

Prashad, S. L. et al. GPI-80 defines self-renewal ability in hematopoietic stem cells during human development. Cell Stem Cell 16, 80–87 (2014).

Magnusson, M. et al. Expansion on stromal cells preserves the undifferentiated state of human hematopoietic stem cells despite compromised reconstitution ability. PLoS ONE 8, e53912 (2013).

Dou, D. R. et al. Medial HOXA genes demarcate haematopoietic stem cell fate during human development. Nat. Cell Biol. 18, 595–606 (2016).

He, N. et al. Human polymerase-associated factor complex (PAFc) connects the super elongation complex (SEC) to RNA polymerase II on chromatin. Proc. Natl Acad. Sci. USA 108, E636–E645 (2011).

Steger, D. J. et al. DOT1L/KMT4 recruitment and H3K79 methylation are ubiquitously coupled with gene transcription in mammalian cells. Mol Cell Biol 28, 2825–2839 (2008).

Li, Y. et al. AF9 YEATS domain links histone acetylation to DOT1L-mediated H3K79 methylation. Cell 159, 558–571 (2014).

Bitoun, E., Oliver, P. L. & Davies, K. E. The mixed-lineage leukemia fusion partner AF4 stimulates RNA polymerase II transcriptional elongation and mediates coordinated chromatin remodeling. Hum. Mol. Genet. 16, 92–106 (2007).

Li, Y. et al. Molecular coupling of histone crotonylation and active transcription by AF9 YEATS domain. Mol. Cell 62, 181–193 (2016).

Schoch, C. et al. AML with 11q23/MLL abnormalities as defined by the WHO classification: incidence, partner chromosomes, FAB subtype, age distribution, and prognostic impact in an unselected series of 1897 cytogenetically analyzed AML cases. Blood 102, 2395–2402 (2003).

Krivtsov, A. V. et al. Transformation from committed progenitor to leukaemia stem cell initiated by MLL-AF9. Nature 442, 818–822 (2006).

Bernt, K. M. et al. MLL-rearranged leukemia is dependent on aberrant H3K79 methylation by DOT1L. Cancer Cell 20, 66–78 (2011).

Wang, X., Chen, C. W. & Armstrong, S. A. The role of DOT1L in the maintenance of leukemia gene expression. Curr. Opin. Genet. Dev. 36, 68–72 (2016).

Pina, C., May, G., Soneji, S., Hong, D. & Enver, T. MLLT3 regulates early human erythroid and megakaryocytic cell fate. Cell Stem Cell 2, 264–273 (2008).

McKinney-Freeman, S. et al. The transcriptional landscape of hematopoietic stem cell ontogeny. Cell Stem Cell 11, 701–714 (2012).

Ng, E. S. et al. Differentiation of human embryonic stem cells to HOXA+ hemogenic vasculature that resembles the aorta-gonad-mesonephros. Nat. Biotechnol. 34, 1168–1179 (2016).

Boitano, A. E. et al. Aryl hydrocarbon receptor antagonists promote the expansion of human hematopoietic stem cells. Science 329, 1345–1348 (2010).

Fares, I. et al. Pyrimidoindole derivatives are agonists of human hematopoietic stem cell self-renewal. Science 345, 1509–1512 (2014).

Daigle, S. R. et al. Potent inhibition of DOT1L as treatment of MLL-fusion leukemia. Blood 122, 1017–1025 (2013).

Horton, S. J. et al. MLL-AF9-mediated immortalization of human hematopoietic cells along different lineages changes during ontogeny. Leukemia 27, 1116–1126 (2013).

Sontakke, P. et al. Modeling BCR-ABL and MLL-AF9 leukemia in a human bone marrow-like scaffold-based xenograft model. Leukemia 30, 2064–2073 (2016).

Wagner, J. E. Jr et al. Phase I/II trial of stemregenin-1 expanded umbilical cord blood hematopoietic stem cells supports testing as a stand-alone graft. Cell Stem Cell 18, 144–155 (2016).

Ngom, M. et al. UM171 enhances lentiviral gene transfer and recovery of primitive human hematopoietic cells. Mol. Ther. Methods Clin. Dev. 10, 156–164 (2018).

Wilkinson, A. C. et al. Long-term ex vivo haematopoietic-stem-cell expansion allows nonconditioned transplantation. Nature 571, 117–121 (2019).

Kataoka, K. et al. Evi1 is essential for hematopoietic stem cell self-renewal, and its expression marks hematopoietic cells with long-term multilineage repopulating activity. J. Exp. Med. 208, 2403–2416 (2011).

Rentas, S. et al. Musashi-2 attenuates AHR signalling to expand human haematopoietic stem cells. Nature 532, 508–511 (2016).

Komorowska, K. et al. Hepatic leukemia factor maintains quiescence of hematopoietic stem cells and protects the stem cell pool during regeneration. Cell Reports 21, 3514–3523 (2017).

Hu, Y. & Smyth, G. K. ELDA: extreme limiting dilution analysis for comparing depleted and enriched populations in stem cell and other assays. J. Immunol. Methods 347, 70–78 (2009).

Org, T. et al. Scl binds to primed enhancers in mesoderm to regulate hematopoietic and cardiac fate divergence. EMBO J. 34, 759–777 (2015).

Heinz, S. et al. Simple combinations of lineage-determining transcription factors prime cis-regulatory elements required for macrophage and B cell identities. Mol. Cell 38, 576–589 (2010).

Ramírez, F., Dündar, F., Diehl, S., Grüning, B. A. & Manke, T. deepTools: a flexible platform for exploring deep-sequencing data. Nucleic Acids Res. 42, W187-91 (2014).

Zhang, Y. et al. Model-based analysis of ChIP-Seq (MACS). Genome Biol. 9, R137 (2008).

Buenrostro, J. D., Giresi, P. G., Zaba, L. C., Chang, H. Y. & Greenleaf, W. J. Transposition of native chromatin for fast and sensitive epigenomic profiling of open chromatin, DNA-binding proteins and nucleosome position. Nat. Methods 10, 1213–1218 (2013).

Langmead, B. & Salzberg, S. L. Fast gapped-read alignment with Bowtie 2. Nat. Methods 9, 357–359 (2012).

Trapnell, C., Pachter, L. & Salzberg, S. L. TopHat: discovering splice junctions with RNA-seq. Bioinformatics 25, 1105–1111 (2009).

Quinlan, A. R. & Hall, I. M. BEDTools: a flexible suite of utilities for comparing genomic features. Bioinformatics 26, 841–842 (2010).

Dennis, G. Jr et al. DAVID: Database for Annotation, Visualization, and Integrated Discovery. Genome Biol. 4, 3 (2003).
Acknowledgements
We thank BSCRC flow cytometry (F. Codrea, J. Scholes and J. Calimlim) and sequencing (S. Feng) cores, TCGB (NIH P30CA016042) and CFAR cores (NIH P30AI028697-21) at UCLA. We thank J. Zhao, T. Montoya and D. Dou for assistance with experiments; V. Rezek, D. Johnson and O. Witte for help with NSG mice and D. Kohn, Z. Romero and R. Hollis for help with lentiviral vectors. This work was supported by NIH RO1 DK100959 and RO1 DK121557; Broad Stem Cell Center at UCLA, Rose Hills Foundation, Jonsson Cancer Center Foundation, and UCLA David Geffen School of Medicine Regenerative Medicine Theme Award for H.K.A.M.; LLS Special Fellow Award and BSCRC post-doctoral fellow award for V.C.; CIRM GC1R-06673B for C.M.G. and H.K.A.M; Ruth L. Kirschstein National Research Service Award T32HL069766 for A.V., LLS Fellow Award and AACR post-doctoral award for F.L.; Beckman Scholars Program for A.T.N. and T.J.B; and NIH grant CA178415 to S.K.K.
Ethics declarations
Competing interests
The authors declare no competing interests.
Additional information
Publisher's note Springer Nature remains neutral with regard to jurisdictional claims in published maps and institutional affiliations.
Peer review information Nature thanks Elisa Laurenti and the other, anonymous, reviewer(s) for their contribution to the peer review of this work.
Extended data figures and tables
Supplementary information
About this article
Cite this article
Calvanese, V., Nguyen, A.T., Bolan, T.J. et al. MLLT3 governs human haematopoietic stem-cell self-renewal and engraftment. Nature 576, 281–286 (2019). https://doi.org/10.1038/s41586-019-1790-2
Received:

Accepted:

Published:

Issue Date:

DOI: https://doi.org/10.1038/s41586-019-1790-2
Comments
By submitting a comment you agree to abide by our Terms and Community Guidelines. If you find something abusive or that does not comply with our terms or guidelines please flag it as inappropriate.