Abstract
All viruses require strategies to inhibit or evade the immune pathways of cells that they infect. The viruses that infect bacteria, bacteriophages (phages), must avoid immune pathways that target nucleic acids, such as CRISPR–Cas and restriction-modification systems, to replicate efficiently1. Here we show that jumbo phage ΦKZ segregates its DNA from immunity nucleases of its host, Pseudomonas aeruginosa, by constructing a proteinaceous nucleus-like compartment. ΦKZ is resistant to many immunity mechanisms that target DNA in vivo, including two subtypes of CRISPR–Cas3, Cas9, Cas12a and the restriction enzymes HsdRMS and EcoRI. Cas proteins and restriction enzymes are unable to access the phage DNA throughout the infection, but engineering the relocalization of EcoRI inside the compartment enables targeting of the phage and protection of host cells. Moreover, ΦKZ is sensitive to Cas13a—a CRISPR–Cas enzyme that targets RNA—probably owing to phage mRNA localizing to the cytoplasm. Collectively, we propose that Pseudomonas jumbo phages evade a broad spectrum of DNA-targeting nucleases through the assembly of a protein barrier around their genome.
Relevant articles
Open Access articles citing this article.
Benjamin A. Adler

,

Tomas Hessler

…

Jennifer A. Doudna

Nature Microbiology Open Access 31 October 2022

Thomas G. Laughlin

,

Amar Deep

…

Elizabeth Villa

Nature Open Access 03 August 2022

Alaina R. Weinheimer

&

Frank O. Aylward

The ISME Journal Open Access 08 March 2022
Access options
Subscribe to Nature+
Get immediate online access to Nature and 55 other Nature journal
Subscribe to Journal
Get full journal access for 1 year
$199.00
only $3.90 per issue
All prices are NET prices.
VAT will be added later in the checkout.
Tax calculation will be finalised during checkout.
Buy article
Get time limited or full article access on ReadCube.
$32.00
All prices are NET prices.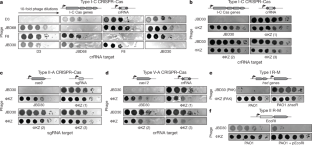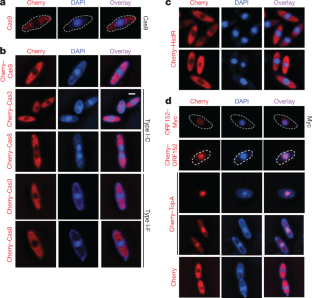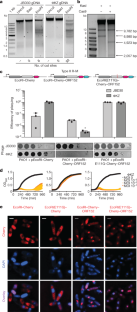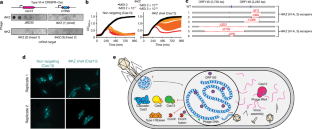 Data availability
All data generated or analysed during this study are included in this published article and its Supplementary Information files.
References
Koonin, E. V., Makarova, K. S. & Wolf, Y. I. Evolutionary genomics of defense systems in archaea and bacteria. Annu. Rev. Microbiol. 71, 233–261 (2017).

Bondy-Denomy, J., Pawluk, A., Maxwell, K. L. & Davidson, A. R. Bacteriophage genes that inactivate the CRISPR/Cas bacterial immune system. Nature 493, 429–432 (2013).

Pawluk, A., Bondy-Denomy, J., Cheung, V. H. W., Maxwell, K. L. & Davidson, A. R. A new group of phage anti-CRISPR genes inhibits the type I-E CRISPR–Cas system of Pseudomonas aeruginosa. MBio 5, e00896-e14 (2014).

Pawluk, A. et al. Inactivation of CRISPR–Cas systems by anti-CRISPR proteins in diverse bacterial species. Nat. Microbiol. 1, 16085 (2016).

van Belkum, A. et al. Phylogenetic distribution of CRISPR–Cas systems in antibiotic-resistant Pseudomonas aeruginosa. MBio 6, e01796-e15 (2015).

Makarova, K. S. et al. An updated evolutionary classification of CRISPR–Cas systems. Nat. Rev. Microbiol. 13, 722–736 (2015).

Marino, N. D. et al. Discovery of widespread type I and type V CRISPR–Cas inhibitors. Science 362, 240–242 (2018).

Cady, K. C., Bondy-Denomy, J., Heussler, G. E., Davidson, A. R. & O'Toole, G. A. The CRISPR/Cas adaptive immune system of Pseudomonas aeruginosa mediates resistance to naturally occurring and engineered phages. 194, 5728–5738 (2012).

Pawluk, A. et al. Naturally occurring off-switches for CRISPR–Cas9. Cell 167, 1829–1838 (2016).

Rauch, B. J. et al. Inhibition of CRISPR–Cas9 with bacteriophage proteins. Cell 168, 150–158 (2017).

Chaikeeratisak, V. et al. Assembly of a nucleus-like structure during viral replication in bacteria. Science 355, 194–197 (2017).

Chaikeeratisak, V. et al. The phage nucleus and tubulin spindle are conserved among large Pseudomonas phages. Cell Rep. 20, 1563–1571 (2017).

Kraemer, J. A. et al. A phage tubulin assembles dynamic filaments by an atypical mechanism to center viral DNA within the host cell. Cell 149, 1488–1499 (2012).

Erb, M. L. et al. A bacteriophage tubulin harnesses dynamic instability to center DNA in infected cells. eLife 3, e03197 (2014).

Zehr, E. A. et al. The structure and assembly mechanism of a novel three-stranded tubulin filament that centers phage DNA. Structure 22, 539–548 (2014).

Bryson, A. L. et al. Covalent modification of bacteriophage T4 DNA inhibits CRISPR–Cas9. mBio 6, e00648-15 (2015).

Strotskaya, A. et al. The action of Escherichia coli CRISPR–Cas system on lytic bacteriophages with different lifestyles and development strategies. Nucleic Acids Res. 45, 1946–1957 (2017).

Vlot, M. et al. Bacteriophage DNA glucosylation impairs target DNA binding by type I and II but not by type V CRISPR–Cas effector complexes. Nucleic Acids Res. 46, 873–885 (2018).

Huang, L. H., Farnet, C. M., Ehrlich, K. C. & Ehrlich, M. Digestion of highly modified bacteriophage DNA by restriction endonucleases. Nucleic Acids Res. 10, 1579–1591 (1982).

Abudayyeh, O. O. et al. C2c2 is a single-component programmable RNA-guided RNA-targeting CRISPR effector. Science 353, aaf5573 (2016).

Gootenberg, J. S. et al. Nucleic acid detection with CRISPR-Cas13a/C2c2. Science 356, 438–442 (2017).

Meeske, A. J. & Marraffini, L. A. RNA guide complementarity prevents self-targeting in type VI CRISPR systems. Mol. Cell 71, 791–801 (2018).

Al-Shayeb, B. et al. Clades of huge phage from across Earth's ecosystems. Preprint at bioRxiv https://www.biorxiv.org/content/10.1101/572362v1 (2019).

Chaikeeratisak, V. et al. Viral capsid trafficking along treadmilling tubulin filaments in bacteria. Cell 177, 1771–1780 (2019).

Choi, K.-H. & Schweizer, H. P. mini-Tn7 insertion in bacteria with single attTn7 sites: example Pseudomonas aeruginosa. Nat. Protoc. 1, 153–161 (2006).

Jinek, M. et al. A programmable dual-RNA-guided DNA endonuclease in adaptive bacterial immunity. Science 337, 816–821 (2012).

Cowles, K. N. et al. The putative Poc complex controls two distinct Pseudomonas aeruginosa polar motility mechanisms. Mol. Microbiol. 90, 923–938 (2013).
Acknowledgements
Research in the J.B.-D. laboratory was supported by the University of California San Francisco Program for Breakthrough in Biomedical Research, which is funded in part by the Sandler Foundation, and an NIH Office of the Director Early Independence Award (DP5-OD021344 (J.B.-D.) and R01-GM127489 (J.B.-D.)). This work was also supported by HHMI (D.A.A.) and NIH grants R35GM118099 (D.A.A.) and GM104556 (D.A.A., J.P.). ΦKZ, JBD30, JBD68, D3 and F8 were provided by the laboratory of A. Davidson and ΦPA3 by the D.A.A. laboratory; phage DMS3m was a gift from G. O'Toole; the S. pyogenes cas9 expression plasmid for integration in the PAO1 chromosome was from J. M. Peters and C. A. Gross; pTE4495 (MbCpf1/MbCas12a) (Addgene plasmid 80339) was a gift from E. Welker; LseCas13a (Addgene plasmid 83486) was a gift from J. Doudna; pSB1A3 EcoRI Methylase-AmilCP and pSB1A3 EcoRI-RTX with EcoRI Methylase-AmilCP (Addgene plasmids 85166 and 85165) were gifts from R. Dowell; and the type I-F crRNA expression plasmid pAB04 was from A. Borges (J.B.-D. laboratory).
Ethics declarations
Competing interests
J.B.-D. is a scientific advisory board member of SNIPR Biome and Excision Biotherapeutics and a scientific advisory board member and co-founder of Acrigen Biosciences.
Additional information
Publisher's note Springer Nature remains neutral with regard to jurisdictional claims in published maps and institutional affiliations.
Peer review information Nature thanks Eugene Koonin and the other, anonymous, reviewer(s) for their contribution to the peer review of this work.
Extended data figures and tables
Supplementary information
About this article
Cite this article
Mendoza, S.D., Nieweglowska, E.S., Govindarajan, S. et al. A bacteriophage nucleus-like compartment shields DNA from CRISPR nucleases. Nature 577, 244–248 (2020). https://doi.org/10.1038/s41586-019-1786-y
Received:

Accepted:

Published:

Issue Date:

DOI: https://doi.org/10.1038/s41586-019-1786-y
Comments
By submitting a comment you agree to abide by our Terms and Community Guidelines. If you find something abusive or that does not comply with our terms or guidelines please flag it as inappropriate.