Abstract
Exceptional points (EPs) are special spectral degeneracies of non-Hermitian Hamiltonians that govern the dynamics of open systems. At an EP, two or more eigenvalues, and the corresponding eigenstates, coalesce1,2,3. Recently, it was predicted that operation of an optical gyroscope near an EP results in improved response to rotations4,5. However, the performance of such a system has not been examined experimentally. Here we introduce a precisely controllable physical system for the study of non-Hermitian physics and nonlinear optics in high-quality-factor microresonators. Because this system dissipatively couples counter-propagating lightwaves within the resonator, it also functions as a sensitive gyroscope for the measurement of rotations. We use our system to investigate the predicted EP-enhanced Sagnac effect4,5 and observe a four-fold increase in the Sagnac scale factor by directly measuring rotations applied to the resonator. The level of enhancement can be controlled by adjusting the system bias relative to the EP, and modelling results confirm the observed enhancement. Moreover, we characterize the sensitivity of the gyroscope near the EP. Besides verifying EP physics, this work is important for the understanding of optical gyroscopes.
Your institute does not have access to this article
Relevant articles
Open Access articles citing this article.
A. Hashemi

,

K. Busch

…

R. El-Ganainy

Nature Communications Open Access 07 June 2022

S. Soleymani

,

Q. Zhong

…

Ş. K. Özdemir

Nature Communications Open Access 01 February 2022

T. T. Sergeev

,

A. A. Zyablovsky

…

A. P. Vinogradov

Scientific Reports Open Access 15 December 2021
Access options
Subscribe to Nature+
Get immediate online access to the entire Nature family of 50+ journals
Subscribe to Journal
Get full journal access for 1 year
$199.00
only $3.90 per issue
All prices are NET prices.
VAT will be added later in the checkout.
Tax calculation will be finalised during checkout.
Buy article
Get time limited or full article access on ReadCube.
$32.00
All prices are NET prices.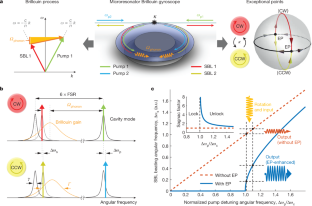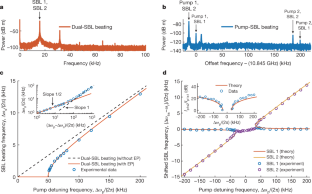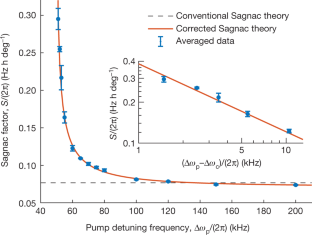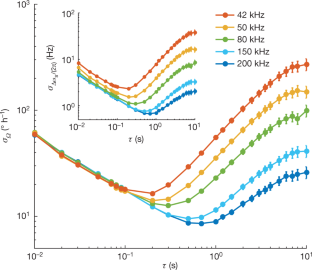 Data availability
The data that support the plots within this paper and other findings of this study are available from the corresponding author upon reasonable request.
References
El-Ganainy, R. et al. Non-Hermitian physics and PT symmetry. Nat. Phys. 14, 11–19 (2018).

Feng, L., El-Ganainy, R. & Ge, L. Non-Hermitian photonics based on parity-time symmetry. Nat. Photon. 11, 752–762 (2017).

Miri, M.-A. & Alù, A. Exceptional points in optics and photonics. Science 363, eaar7709 (2019).

Ren, J. et al. Ultrasensitive micro-scale parity-timesymmetric ring laser gyroscope. Opt. Lett. 42, 1556–1559 (2017).

Sunada, S. Large Sagnac frequency splitting in a ring resonator operating at an exceptional point. Phys. Rev. A 96, 033842 (2017).

Vollmer, F. & Arnold, S. Whispering-gallery-mode biosensing: label-free detection down to single molecules. Nat. Methods 5, 591–596 (2008).

Lu, T. et al. High sensitivity nanoparticle detection using optical microcavities. Proc. Natl Acad. Sci. USA 108, 5976–5979 (2011).

Vollmer, F. & Yang, L. Review label-free detection with high-Q microcavities: a review of biosensing mechanisms for integrated devices. Nanophotonics 1, 267–291 (2012).

Zhu, J. et al. On-chip single nanoparticle detection and sizing by mode splitting in an ultrahigh-Q microresonator. Nat. Photon. 4, 46–49 (2010); corrigendum 4, 122 (2010).

Xu, X., Jiang, X., Zhao, G. & Yang, L. Phone-sized whispering-gallery microresonator sensing system. Opt. Express 24, 25905–25910 (2016).

Li, J., Suh, M.-G. & Vahala, K. J. Microresonator Brillouin gyroscope. Optica 4, 346–348 (2017).

Liang, W. et al. Resonant microphotonic gyroscope. Optica 4, 114–117 (2017).

Maayani, S. et al. Flying couplers above spinning resonators generate irreversible refraction. Nature 558, 569–572 (2018).

Khial, P. P., White, A. D. & Hajimiri, A. Nanophotonic optical gyroscope with reciprocal sensitivity enhancement. Nat. Photon. 12, 671–675 (2018); publisher correction 12, 714 (2018); author correction 13, 220 (2019).

Gundavarapu, S. et al. Sub-Hertz fundamental linewidth photonic integrated Brillouin laser. Nat. Photon. 13, 60–67 (2019).

Wiersig, J. Sensors operating at exceptional points: general theory. Phys. Rev. A 93, 033809 (2016).

Wiersig, J. Enhancing the sensitivity of frequency and energy splitting detection by using exceptional points: application to microcavity sensors for single-particle detection. Phys. Rev. Lett. 112, 203901 (2014).

Liu, Z.-P. et al. Metrology with PT-symmetric cavities: enhanced sensitivity near the PT-phase transition. Phys. Rev. Lett. 117, 110802 (2016).

Hodaei, H. et al. Enhanced sensitivity at higher-order exceptional points. Nature 548, 187–191 (2017); erratum 551, 658 (2017).

Chen, W., Özdemir, Ş. K., Zhao, G., Wiersig, J. & Yang, L. Exceptional points enhance sensing in an optical microcavity. Nature 548, 192–196 (2017).

Li, J., Lee, H., Chen, T. & Vahala, K. J. Characterization of a high coherence, Brillouin microcavity laser on silicon. Opt. Express 20, 20170–20180 (2012).

Lee, H. et al. Chemically etched ultrahigh-Q wedgeresonator on a silicon chip. Nat. Photon. 6, 369–373 (2012).

Chow, W. W. et al. The ring laser gyro. Rev. Mod. Phys. 57, 61–104 (1985).

Cai, M., Painter, O. & Vahala, K. J. Observation of critical coupling in a fiber taper to a silica-microsphere whisperinggallery mode system. Phys. Rev. Lett. 85, 74–77 (2000).

Spillane, S. M., Kippenberg, T. J., Painter, O. J. & Vahala, K. J. Ideality in a fiber-taper-coupled microresonator system for application to cavity quantum electrodynamics. Phys. Rev. Lett. 91, 043902 (2003).

Mortensen, N. A. et al. Fluctuations and noiselimited sensing near the exceptional point of parity-timesymmetric resonator systems. Optica 5, 1342–1346 (2018).

Zhang, M. et al. Quantum noise theory of exceptional point amplifying sensors. Phys. Rev. Lett. 123, 180501 (2019).

Lau, H.-K. & Clerk, A. A. Fundamental limits and nonreciprocal approaches in non-hermitian quantum sensing. Nat. Commun. 9, 4320 (2018).

Langbein, W. No exceptional precision of exceptionalpoint sensors. Phys. Rev. A 98, 023805 (2018).

Chen, C., Jin, L. & Liu, R.-B. Sensitivity of parameter estimation near the exceptional point of a non-hermitian system. New J. Phys. 21, 083002 (2019).

Pick, A. et al. General theory of spontaneous emission near exceptional points. Opt. Express 25, 12325–12348 (2017).

Wang, H., Lai, Y.-H., Yuan, Z., Suh, M.-G. & Vahala, K. J. Petermann-factor limited sensing near an exceptional point. Preprint at https://arxiv.org/abs/1911.05191 (2019).
Acknowledgements
We thank M. Khajavikhan, D. Christodoulides, O. Peleg and B. Loevsky for discussions during the preparation of this manuscript. We also thank B. Shen, C. Bao and Q. Yang for technical support. Y.-K.L. thanks the Caltech SURF programme for financial support. This project was supported by the Defense Advanced Research Projects Agency (DARPA) under the PRIGM:AIMS programme through SPAWAR (grant number N66001-16-1-4046) and the Kavli Nanoscience Institute.
Ethics declarations
Competing interests
The authors declare no competing interests.
Additional information
Publisher's note Springer Nature remains neutral with regard to jurisdictional claims in published maps and institutional affiliations.
Peer review information Nature thanks Chia Wei Hsu and the other, anonymous, reviewer(s) for their contribution to the peer review of this work.
Extended data figures and tables
See Methods for operational description. PDH, Pound–Drever–Hall lock; ECDL, external-cavity diode laser; EDFA, erbium-doped fibre amplifier; PM, phase modulator; PD, photodetector; ESA, electrical spectrum analyser; FC, frequency counter; PI, proportional-integral servo; RF: radio frequency; f1 (f2): modulation frequency of AOM1 (AOM2); fPDH, phase-modulation frequency of the PDH loop.
Supplementary information
About this article
Cite this article
Lai, YH., Lu, YK., Suh, MG. et al. Observation of the exceptional-point-enhanced Sagnac effect. Nature 576, 65–69 (2019). https://doi.org/10.1038/s41586-019-1777-z
Received:

Accepted:

Published:

Issue Date:

DOI: https://doi.org/10.1038/s41586-019-1777-z
Comments
By submitting a comment you agree to abide by our Terms and Community Guidelines. If you find something abusive or that does not comply with our terms or guidelines please flag it as inappropriate.