Abstract
In the Drosophila brain, 'compass' neurons track the orientation of the body and head (the fly's heading) during navigation 1,2. In the absence of visual cues, the compass neuron network estimates heading by integrating self-movement signals over time3,4. When a visual cue is present, the estimate of the network is more accurate1,3. Visual inputs to compass neurons are thought to originate from inhibitory neurons called R neurons (also known as ring neurons); the receptive fields of R neurons tile visual space5. The axon of each R neuron overlaps with the dendrites of every compass neuron6, raising the question of how visual cues are integrated into the compass. Here, using in vivo whole-cell recordings, we show that a visual cue can evoke synaptic inhibition in compass neurons and that R neurons mediate this inhibition. Each compass neuron is inhibited only by specific visual cue positions, indicating that many potential connections from R neurons onto compass neurons are actually weak or silent. We also show that the pattern of visually evoked inhibition can reorganize over minutes as the fly explores an altered virtual-reality environment. Using ensemble calcium imaging, we demonstrate that this reorganization causes persistent changes in the compass coordinate frame. Taken together, our data suggest a model in which correlated pre- and postsynaptic activity triggers associative long-term synaptic depression of visually evoked inhibition in compass neurons. Our findings provide evidence for the theoretical proposal that associative plasticity of sensory inputs, when combined with attractor dynamics, can reconcile self-movement information with changing external cues to generate a coherent sense of direction7,8,9,10,11,12.
Relevant articles
Open Access articles citing this article.
Theresa J. Steele

,

Aaron J. Lanz

&

Katherine I. Nagel

Journal of Comparative Physiology A Open Access 20 January 2023

Mark Dombrovski

,

Martin Y. Peek

…

Gwyneth M. Card

Nature Open Access 04 January 2023

Yvette E. Fisher

,

Michael Marquis

…

Rachel I. Wilson

Nature Open Access 30 November 2022
Access options
Subscribe to Nature+
Get immediate online access to Nature and 55 other Nature journal
Subscribe to Journal
Get full journal access for 1 year
$199.00
only $3.90 per issue
All prices are NET prices.
VAT will be added later in the checkout.
Tax calculation will be finalised during checkout.
Buy article
Get time limited or full article access on ReadCube.
$32.00
All prices are NET prices.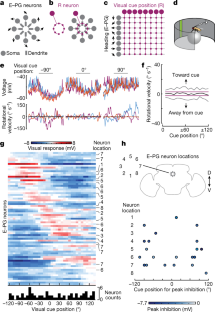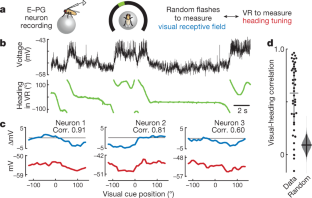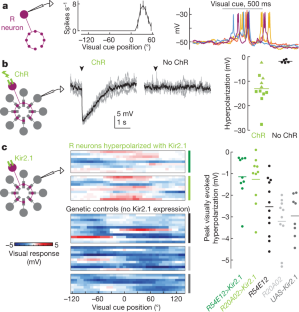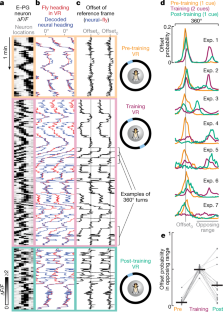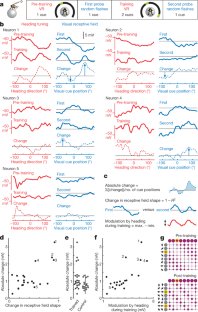 Data availability
The datasets generated during and/or analysed during the current study are available from the corresponding author on reasonable request.
References
Seelig, J. D. & Jayaraman, V. Neural dynamics for landmark orientation and angular path integration. Nature 521, 186–191 (2015).

Kim, S. S., Rouault, H., Druckmann, S. & Jayaraman, V. Ring attractor dynamics in the Drosophila central brain. Science 356, 849–853 (2017).

Green, J. et al. A neural circuit architecture for angular integration in Drosophila. Nature 546, 101–106 (2017).

Turner-Evans, D. et al. Angular velocity integration in a fly heading circuit. eLife 6, e23496 (2017).

Seelig, J. D. & Jayaraman, V. Feature detection and orientation tuning in the Drosophila central complex. Nature 503, 262–266 (2013).

Omoto, J. J. et al. Neuronal constituents and putative interactions within the Drosophila ellipsoid body neuropil. Front. Neural Circuits 12, 103 (2018).

Skaggs, W. E., Knierim, J. J., Kudrimoti, H. S. & McNaughton, B. L. A model of the neural basis of the rat's sense of direction. Adv. Neural Inf. Process. Syst. 7, 173–180 (1995).

Milford, M. J., Wyeth, G. F. & Prasser, D. RatSLAM: A hippocampal model for simultaneous localization and mapping. In Proc. International Conference on Robotics and Automation 403–408 (2004).

Mulas, M., Waniek, N. & Conradt, J. Hebbian plasticity realigns grid cell activity with external sensory cues in continuous attractor models. Front. Comput. Neurosci. 10, 13 (2016).

Cope, A. J., Sabo, C., Vasilaki, E., Barron, A. B. & Marshall, J. A. A computational model of the integration of landmarks and motion in the insect central complex. PLoS ONE 12, e0172325 (2017).

Keinath, A. T., Epstein, R. A. & Balasubramanian, V. Environmental deformations dynamically shift the grid cell spatial metric. eLife 7, e38169 (2018).

Ocko, S. A., Hardcastle, K., Giocomo, L. M. & Ganguli, S. Emergent elasticity in the neural code for space. Proc. Natl Acad. Sci. USA 115, E11798–E11806 (2018).

Taube, J. S., Muller, R. U. & Ranck, J. B. Jr. Head-direction cells recorded from the postsubiculum in freely moving rats. I. Description and quantitative analysis. J. Neurosci. 10, 420–435 (1990).

Taube, J. S., Muller, R. U. & Ranck, J. B. Jr. Head-direction cells recorded from the postsubiculum in freely moving rats. II. Effects of environmental manipulations. J. Neurosci. 10, 436–447 (1990).

Mizumori, S. J. & Williams, J. D. Directionally selective mnemonic properties of neurons in the lateral dorsal nucleus of the thalamus of rats. J. Neurosci. 13, 4015–4028 (1993).

Knierim, J. J., Kudrimoti, H. S. & McNaughton, B. L. Place cells, head direction cells, and the learning of landmark stability. J. Neurosci. 15, 1648–1659 (1995).

Zhang, K. Representation of spatial orientation by the intrinsic dynamics of the head-direction cell ensemble: a theory. J. Neurosci. 16, 2112–2126 (1996).

Xie, X., Hahnloser, R. H. & Seung, H. S. Double-ring network model of the head-direction system. Phys. Rev. E 66, 041902 (2002).

Hanesch, U., Fischbach, K. F. & Heisenberg, M. Neuronal architecture of the central complex nin Drosophila melanogaster. Cell Tissue Res. 257, 343–366 (1989).

Zhang, Z., Li, X., Guo, J., Li, Y. & Guo, A. Two clusters of GABAergic ellipsoid body neurons modulate olfactory labile memory in Drosophila. J. Neurosci. 33, 5175–5181 (2013).

Jacob, P. Y. et al. An independent, landmark-dominated head-direction signal in dysgranular retrosplenial cortex. Nat. Neurosci. 20, 173–175 (2017).

Kim, S. S., Hermundstad, A. M., Romani, S., Abbott, L. F. & Jayaraman, V. Generation of stable heading representations in diverse visual scenes. Nature https://doi.org/10.1038/s41586-019-1767-1 (2019).

Cadena, C. et al. Past, present, and future of simultaneous localization and mapping: toward the robust-perception age. IEEE Trans. Robot. 32, 1309–1332 (2016).

Sun, Y. et al. Neural signatures of dynamic stimulus selection in Drosophila. Nat. Neurosci. 20, 1104–1113 (2017).

Wehner, R. Astronavigation in insects. Annu. Rev. Entomol. 29, 277–298 (1984).

Wehner, R. & Müller, M. The significance of direct sunlight and polarized skylight in the ant's celestial system of navigation. Proc. Natl Acad. Sci. USA 103, 12575–12579 (2006).

el Jundi, B., Smolka, J., Baird, E., Byrne, M. J. & Dacke, M. Diurnal dung beetles use the intensity gradient and the polarization pattern of the sky for orientation. J. Exp. Biol. 217, 2422–2429 (2014).

el Jundi, B., Foster, J. J., Byrne, M. J., Baird, E. & Dacke, M. Spectral information as an orientation cue in dung beetles. Biol. Lett. 11, 20150656 (2015).

Bell, W. J., Tobin, T. R. & Sorensen, K. A. Orientation responses of individual larder beetles, Dermestes ater (Coleoptera, Dermestidae), to directional shifts in wind stimuli. J. Insect Behav. 2, 787–801 (1989).

Heinzel, H.-G. & Böhm, H. The wind-orientation of walking carrion beetles. J. Comp. Physiol. A 164, 775–786 (1989).

el Jundi, B. et al. Neural coding underlying the cue preference for celestial orientation. Proc. Natl Acad. Sci. USA 112, 11395–11400 (2015).

Pegel, U., Pfeiffer, K. & Homberg, U. Integration of celestial compass cues in the central complex of the locust brain. J. Exp. Biol. 221, jeb171207 (2018).

Müller, M. & Wehner, R. Wind and sky as compass cues in desert ant navigation. Naturwissenschaften 94, 589–594 (2007).

el Jundi, B. et al. A snapshot-based mechanism for celestial orientation. Curr. Biol. 26, 1456–1462 (2016).

Dacke, M. et al. Multimodal cue integration in the dung beetle compass. Proc. Natl Acad. Sci. USA 116, 14248–14253 (2019).

Jammalamadaka, S. R. & SenGupta, A. Topics in Circular Statistics (World Scientific, 2001).

Jenett, A. et al. A GAL4-driver line resource for Drosophila neurobiology. Cell Rep. 2, 991–1001 (2012).

Wang, J., Zugates, C. T., Liang, I. H., Lee, C. H. & Lee, T. Drosophila Dscam is required for divergent segregation of sister branches and suppresses ectopic bifurcation of axons. Neuron 33, 559–571 (2002).

Pfeiffer, B. D. et al. Refinement of tools for targeted gene expression in Drosophila. Genetics 186, 735–755 (2010).

Hoopfer, E. D., Jung, Y., Inagaki, H. K., Rubin, G. M. & Anderson, D. J. P1 interneurons promote a persistent internal state that enhances inter-male aggression in Drosophila. eLife 4, e11346 (2015).

Hardie, R. C. et al. Calcium influx via TRP channels is required to maintain PIP2 levels in Drosophila photoreceptors. Neuron 30, 149–159 (2001).

Chen, T. W. et al. Ultrasensitive fluorescent proteins for imaging neuronal activity. Nature 499, 295–300 (2013).

Nern, A., Pfeiffer, B. D. & Rubin, G. M. Optimized tools for multicolor stochastic labeling reveal diverse stereotyped cell arrangements in the fly visual system. Proc. Natl Acad. Sci. USA 112, E2967–E2976 (2015).

Goodman, M. B. & Lockery, S. R. Pressure polishing: a method for re-shaping patch pipettes during fire polishing. J. Neurosci. Methods 100, 13–15 (2000).

Green, J., Vijayan, V., Mussells Pires, P., Adachi, A. & Maimon, G. Walking Drosophila aim to maintain a neural heading estimate at an internal goal angle. Preprint at https://doi.org/10.1101/315796 (2018).If ref. 45 (preprint) has now been published in final peer-reviewed form, please update the reference details if appropriate.If ref. 45 has now been accepted or published in peer-reviewed form, please update the reference.

Gouwens, N. W. & Wilson, R. I. Signal propagation in Drosophila central neurons. J. Neurosci. 29, 6239–6249 (2009).

Wolff, T., Iyer, N. A. & Rubin, G. M. Neuroarchitecture and neuroanatomy of the Drosophila central complex: a GAL4-based dissection of protocerebral bridge neurons and circuits. J. Comp. Neurol. 523, 997–1037 (2015).

Moore, R. J. et al. FicTrac: a visual method for tracking spherical motion and generating fictive animal paths. J. Neurosci. Methods 225, 106–119 (2014).

Reiser, M. B. & Dickinson, M. H. A modular display system for insect behavioral neuroscience. J. Neurosci. Methods 167, 127–139 (2008).

Klapoetke, N. C. et al. Independent optical excitation of distinct neural populations. Nat. Methods 11, 338–346 (2014).

Schindelin, J. et al. Fiji: an open-source platform for biological-image analysis. Nat. Methods 9, 676–682 (2012).

Buchanan, S. M., Kain, J. S. & de Bivort, B. L. Neuronal control of locomotor handedness in Drosophila. Proc. Natl Acad. Sci. USA 112, 6700–6705 (2015).

Pnevmatikakis, E. A. & Giovannucci, A. NoRMCorre: an online algorithm for piecewise rigid motion correction of calcium imaging data. J. Neurosci. Methods 291, 83–94 (2017).
Acknowledgements
We thank D. Anderson, T. Clandinin, B. Pfeiffer, G. Rubin and J. Tuthill for providing fly stocks; T. Clandinin, B. Bean, J. Drugowitsch, D. Ginty and members of the Wilson laboratory for providing feedback on the manuscript and J. Drugowitsch for providing advice on data analysis; G. Maimon for sharing designs for a fly holder and modified FicTrac software; O. Mazor and P. Gorelik at the Harvard Medical School Research Instrumentation Core (NEI Core Grant for Vision Research EY012196) for their help constructing the virtual-reality systems. This work was supported by the Harvard Neurobiology Imaging Facility (NINDS P30 NS072030). This work was funded by NIH awards U19NS104655, F30DC017698 (to J.L.) and T32GM007753 (to J.L.). Y.E.F. is supported by a HHMI Hanna H. Gray Fellowship. R.I.W. is an HHMI Investigator.
Ethics declarations
Competing interests
The authors declare no competing interests.
Additional information
Publisher's note Springer Nature remains neutral with regard to jurisdictional claims in published maps and institutional affiliations.
Peer review information Nature thanks Lisa Giocomo and the other, anonymous, reviewer(s) for their contribution to the peer review of this work.
Extended data figures and tables
Supplementary information
About this article
Cite this article
Fisher, Y.E., Lu, J., D'Alessandro, I. et al. Sensorimotor experience remaps visual input to a heading-direction network. Nature 576, 121–125 (2019). https://doi.org/10.1038/s41586-019-1772-4
Received:

Accepted:

Published:

Issue Date:

DOI: https://doi.org/10.1038/s41586-019-1772-4
Comments
By submitting a comment you agree to abide by our Terms and Community Guidelines. If you find something abusive or that does not comply with our terms or guidelines please flag it as inappropriate.