Abstract
Many animals rely on an internal heading representation when navigating in varied environments1,2,3,4,5,6,7,8,9,10. How this representation is linked to the sensory cues that define different surroundings is unclear. In the fly brain, heading is represented by 'compass' neurons that innervate a ring-shaped structure known as the ellipsoid body3,11,12. Each compass neuron receives inputs from 'ring' neurons that are selective for particular visual features13,14,15,16; this combination provides an ideal substrate for the extraction of directional information from a visual scene. Here we combine two-photon calcium imaging and optogenetics in tethered flying flies with circuit modelling, and show how the correlated activity of compass and visual neurons drives plasticity17,18,19,20,21,22, which flexibly transforms two-dimensional visual cues into a stable heading representation. We also describe how this plasticity enables the fly to convert a partial heading representation, established from orienting within part of a novel setting, into a complete heading representation. Our results provide mechanistic insight into the memory-related computations that are essential for flexible navigation in varied surroundings.
Access options
Subscribe to Journal
Get full journal access for 1 year
$199.00
only $3.90 per issue
All prices are NET prices.
VAT will be added later in the checkout.
Tax calculation will be finalised during checkout.
Rent or Buy article
Get time limited or full article access on ReadCube.
from$8.99
All prices are NET prices.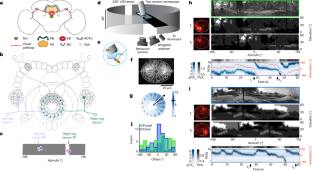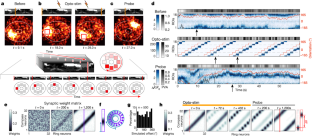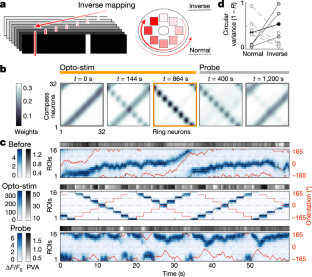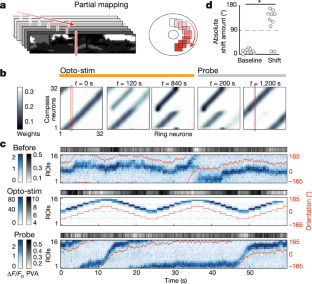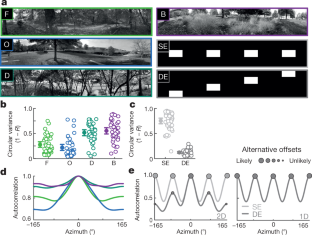 References
1.

Taube, J. S. The head direction signal: origins and sensory-motor integration. Annu. Rev. Neurosci. 30, 181–207 (2007).

2.

Geva-Sagiv, M., Las, L., Yovel, Y. & Ulanovsky, N. Spatial cognition in bats and rats: from sensory acquisition to multiscale maps and navigation. Nat. Rev. Neurosci. 16, 94–108 (2015).

3.

Seelig, J. D. & Jayaraman, V. Neural dynamics for landmark orientation and angular path integration. Nature 521, 186–191 (2015).

4.

Heinze, S. & Reppert, S. M. Sun compass integration of skylight cues in migratory monarch butterflies. Neuron 69, 345–358 (2011).

5.

Heinze, S. & Homberg, U. Maplike representation of celestial E-vector orientations in the brain of an insect. Science 315, 995–997 (2007).

6.

Varga, A. G. & Ritzmann, R. E. Cellular basis of head direction and contextual cues in the insect brain. Curr. Biol. 26, 1816–1828 (2016).

7.

el Jundi, B. et al. Neural coding underlying the cue preference for celestial orientation. Proc. Natl Acad. Sci. USA 112, 11395–11400 (2015).

8.

Butler, W. N., Smith, K. S., van der Meer, M. A. A. & Taube, J. S. The head-direction signal plays a functional role as a neural compass during navigation. Curr. Biol. 27, 1259–1267 (2017).

9.

Giraldo, Y. M. et al. Sun navigation requires compass neurons in Drosophila. Curr. Biol. 28, 2845–2852 (2018).

10.

Green, J., Vijayan, V., Mussells Pires, P., Adachi, A. & Maimon, G. A neural heading estimate is compared with an internal goal to guide oriented navigation. Nat. Neurosci. 22, 1460–1468 (2019).

11.

Turner-Evans, D. B. & Jayaraman, V. The insect central complex. Curr. Biol. 26, R453–R457 (2016).

12.

Hanesch, U., Fischbach, K. F. & Heisenberg, M. Neuronal architecture of the central complex in Drosophila melanogaster. Cell Tissue Res. 257, 343–366 (1989).

13.

Seelig, J. D. & Jayaraman, V. Feature detection and orientation tuning in the Drosophila central complex. Nature 503, 262–266 (2013).

14.

Sun, Y. et al. Neural signatures of dynamic stimulus selection in Drosophila. Nat. Neurosci. 20, 1104–1113 (2017).

15.

Omoto, J. J. et al. Visual input to the Drosophila central complex by developmentally and functionally distinct neuronal populations. Curr. Biol. 27, 1098–1110 (2017).

16.

Shiozaki, H. M. & Kazama, H. Parallel encoding of recent visual experience and self-motion during navigation in Drosophila. Nat. Neurosci. 20, 1395–1403 (2017).

17.

Skaggs, W. E., Knierim, J. J., Kudrimoti, H. S. & McNaughton, B. L. A model of the neural basis of the rat's sense of direction. Adv. Neural Inf. Process. Syst. 7, 173–180 (1995).

18.

Knierim, J. J. in Head Direction Cells and the Neural Mechanisms of Spatial Orientation (eds Wiener S. I. & Taube J. S.) 163–185 (MIT Press, 2005).

19.

Cope, A. J., Sabo, C., Vasilaki, E., Barron, A. B. & Marshall, J. A. A computational model of the integration of landmarks and motion in the insect central complex. PLoS ONE 12, e0172325 (2017).

20.

Page, H. J. I. & Jeffery, K. J. Landmark-based updating of the head direction system by retrosplenial cortex: a computational model. Front. Cell. Neurosci. 12, 191 (2018).

21.

Campbell, M. G. et al. Principles governing the integration of landmark and self-motion cues in entorhinal cortical codes for navigation. Nat. Neurosci. 21, 1096–1106 (2018).

22.

Ocko, S. A., Hardcastle, K., Giocomo, L. M. & Ganguli, S. Emergent elasticity in the neural code for space. Proc. Natl Acad. Sci. USA 115, E11798–E11806 (2018).

23.

Knierim, J. J., Kudrimoti, H. S. & McNaughton, B. L. Interactions between idiothetic cues and external landmarks in the control of place cells and head direction cells. J. Neurophysiol. 80, 425–446 (1998).

24.

Fyhn, M., Hafting, T., Treves, A., Moser, M. B. & Moser, E. I. Hippocampal remapping and grid realignment in entorhinal cortex. Nature 446, 190–194 (2007).

25.

Solstad, T., Boccara, C. N., Kropff, E., Moser, M. B. & Moser, E. I. Representation of geometric borders in the entorhinal cortex. Science 322, 1865–1868 (2008).

26.

Krupic, J., Bauza, M., Burton, S., Barry, C. & O'Keefe, J. Grid cell symmetry is shaped by environmental geometry. Nature 518, 232–235 (2015).

27.

Connor, C. E. & Knierim, J. J. Integration of objects and space in perception and memory. Nat. Neurosci. 20, 1493–1503 (2017).

28.

Neuser, K., Triphan, T., Mronz, M., Poeck, B. & Strauss, R. Analysis of a spatial orientation memory in Drosophila. Nature 453, 1244–1247 (2008).

29.

Ofstad, T. A., Zuker, C. S. & Reiser, M. B. Visual place learning in Drosophila melanogaster. Nature 474, 204–207 (2011).

30.

Collett, T. S. & Zeil, J. Insect learning flights and walks. Curr. Biol. 28, R984–R988 (2018).

31.

el Jundi, B. et al. A snapshot-based mechanism for celestial orientation. Curr. Biol. 26, 1456–1462 (2016).

32.

Kim, S. S., Rouault, H., Druckmann, S. & Jayaraman, V. Ring attractor dynamics in the Drosophila central brain. Science 356, 849–853 (2017).

33.

Turner-Evans, D. et al. Angular velocity integration in a fly heading circuit. eLife 6, e23496 (2017).

34.

Green, J. et al. A neural circuit architecture for angular integration in Drosophila. Nature 546, 101–106 (2017).

35.

Omoto, J. J. et al. Neuronal constituents and putative interactions within the Drosophila ellipsoid body neuropil. 12, 103 (2018).

36.

Hattori, D. et al. Representations of novelty and familiarity in a mushroom body compartment. Cell 169, 956–969 (2017).

37.

Fisher, Y. E., Lu, J., D'Alessandro, I. & Wilson, R. I. Sensorimotor experience remaps visual input to a heading-direction network. Nature https://doi.org/10.1038/s41586-019-1772-4 (2019).

38.

Buchner, E. Dunkelanregung des Stationaeren Flugs der Fruchtfliege Drosophila. Dipl. thesis, Univ. Tübingen (1971).

39.

Dewar, A. D. M., Wystrach, A., Philippides, A. & Graham, P. Neural coding in the visual system of Drosophila melanogaster: how do small neural populations support visually guided behaviours? PLOS Comput. Biol. 13, e1005735 (2017).

40.

Judd, S. P. D. & Collett, T. S. Multiple stored views and landmark guidance in ants. Nature 392, 710–714 (1998).

41.

Narendra, A., Gourmaud, S. & Zeil, J. Mapping the navigational knowledge of individually foraging ants, Myrmecia croslandi. Proc. R. Soc. Lond. B 280, 20130683 (2013).

42.

Longden, K. D. Colour vision: a fresh view of lateral inhibition in Drosophila. Curr. Biol. 28, R308–R311 (2018).

43.

Suver, M. P. et al. Encoding of wind direction by central neurons in Drosophila. Neuron 102, 828–842 (2019).

44.

Jacob, P. Y. et al. An independent, landmark-dominated head-direction signal in dysgranular retrosplenial cortex. Nat. Neurosci. 20, 173–175 (2017).

45.

Song, S., Miller, K. D. & Abbott, L. F. Competitive Hebbian learning through spike-timing-dependent synaptic plasticity. Nat. Neurosci. 3, 919–926 (2000).

46.

Cassenaer, S. & Laurent, G. Hebbian STDP in mushroom bodies facilitates the synchronous flow of olfactory information in locusts. Nature 448, 709–713 (2007).

47.

Kuntz, S., Poeck, B. & Strauss, R. Visual working memory requires permissive and instructive NO/cGMP signaling at presynapses in the Drosophila central brain. Curr. Biol. 27, 613–623 (2017).

48.

Aso, Y. & Rubin, G. M. Dopaminergic neurons write and update memories with cell-type-specific rules. eLife 5, e16135 (2016).

49.

Bittner, K. C. et al. Conjunctive input processing drives feature selectivity in hippocampal CA1 neurons. Nat. Neurosci. 18, 1133–1142 (2015).

50.

Wolff, T. & Rubin, G. M. Neuroarchitecture of the Drosophila central complex: a catalog of nodulus and asymmetrical body neurons and a revision of the protocerebral bridge catalog. J. Comp. Neurol. 526, 2585–2611 (2018).

51.

Chen, T. W. et al. Ultrasensitive fluorescent proteins for imaging neuronal activity. Nature 499, 295–300 (2013).

52.

Klapoetke, N. C. et al. Independent optical excitation of distinct neural populations. Nat. Methods 11, 338–346 (2014).

53.

Luan, H., Peabody, N. C., Vinson, C. R. & White, B. H. Refined spatial manipulation of neuronal function by combinatorial restriction of transgene expression. Neuron 52, 425–436 (2006).

54.

Pfeiffer, B. D. et al. Refinement of tools for targeted gene expression in Drosophila. Genetics 186, 735–755 (2010).

55.

Guo, A. et al. Conditioned visual flight orientation in Drosophila: dependence on age, practice, and diet. Learn. Mem. 3, 49–59 (1996).

56.

Seelig, J. D. et al. Two-photon calcium imaging from head-fixed Drosophila during optomotor walking behavior. Nat. Methods 7, 535–540 (2010).

57.

Maimon, G., Straw, A. D. & Dickinson, M. H. Active flight increases the gain of visual motion processing in Drosophila. Nat. Neurosci. 13, 393–399 (2010).

58.

Reiser, M. B. & Dickinson, M. H. A modular display system for insect behavioral neuroscience. J. Neurosci. Methods 167, 127–139 (2008).

59.

Bahl, A., Ammer, G., Schilling, T. & Borst, A. Object tracking in motion-blind flies. Nat. Neurosci. 16, 730–738 (2013).

60.

Pologruto, T. A., Sabatini, B. L. & Svoboda, K. ScanImage: flexible software for operating laser scanning microscopes. Biomed. Eng. Online 2, 13 (2003).

61.

Rupprecht, P., Prendergast, A., Wyart, C. & Friedrich, R. W. Remote z-scanning with a macroscopic voice coil motor for fast 3D multiphoton laser scanning microscopy. Biomed. Opt. Express 7, 1656–1671 (2016).
Acknowledgements
We thank A. Jenett, T. Wolff and G. Rubin for sharing the split line SS00096; B. Pfeiffer, A. Wong, D. Anderson and G. Rubin for sharing codon-optimized GCaMP6f DNA; C. Dan for codon-optimized GCaMP6f flies; Janelia Fly Core and, in particular K. Hibbard and S. Coffman, for fly husbandry; J. Liu for virtual-reality support; V. Goncharov and C. McRaven for microscope support; J. Arnold for fly holder design; Vidrio for ScanImage support; T. Kawase for animation; and E. Nielson and S. Houck for operational support. We are grateful to A. Karpova and members of V.J.'s and A.M.H.'s laboratories for useful discussions and comments on the manuscript. S.S.K., A.M.H., S.R. and V.J. are supported by Howard Hughes Medical Institute; L.F.A. is supported by NSF NeuroNex Award DBI-1707398, the Gatsby Charitable Foundation and the Simons Collaboration for the Global Brain.
Ethics declarations
Competing interests
The authors declare no competing interests.
Additional information
Publisher's note Springer Nature remains neutral with regard to jurisdictional claims in published maps and institutional affiliations.
Peer review information Nature thanks Holger G. Krapp and the other, anonymous, reviewer(s) for their contribution to the peer review of this work.
Extended data figures and tables
Supplementary information
About this article
Cite this article
Kim, S.S., Hermundstad, A.M., Romani, S. et al. Generation of stable heading representations in diverse visual scenes. Nature 576, 126–131 (2019). https://doi.org/10.1038/s41586-019-1767-1
Received:

Accepted:

Published:

Issue Date:
Further reading
Yvette E. Fisher

,

Jenny Lu

,

Isabel D'Alessandro

&

Rachel I. Wilson

Nature (2019)

Malcolm G. Campbell

&

Lisa M. Giocomo

Nature (2019)
Comments
By submitting a comment you agree to abide by our Terms and Community Guidelines. If you find something abusive or that does not comply with our terms or guidelines please flag it as inappropriate.