Abstract
Science-fiction movies portray volumetric systems that provide not only visual but also tactile and audible three-dimensional (3D) content. Displays based on swept-volume surfaces1,2, holography3, optophoretics4, plasmonics5 or lenticular lenslets6 can create 3D visual content without the need for glasses or additional instrumentation. However, they are slow, have limited persistence-of-vision capabilities and, most importantly, rely on operating principles that cannot produce tactile and auditive content as well. Here we present the multimodal acoustic trap display (MATD): a levitating volumetric display that can simultaneously deliver visual, auditory and tactile content, using acoustophoresis as the single operating principle. Our system traps a particle acoustically and illuminates it with red, green and blue light to control its colour as it quickly scans the display volume. Using time multiplexing with a secondary trap, amplitude modulation and phase minimization, the MATD delivers simultaneous auditive and tactile content. The system demonstrates particle speeds of up to 8.75 metres per second and 3.75 metres per second in the vertical and horizontal directions, respectively, offering particle manipulation capabilities superior to those of other optical or acoustic approaches demonstrated until now. In addition, our technique offers opportunities for non-contact, high-speed manipulation of matter, with applications in computational fabrication7 and biomedicine8.
Access options
Subscribe to Journal
Get full journal access for 1 year
$199.00
only $3.90 per issue
All prices are NET prices.
VAT will be added later in the checkout.
Tax calculation will be finalised during checkout.
Rent or Buy article
Get time limited or full article access on ReadCube.
from$8.99
All prices are NET prices.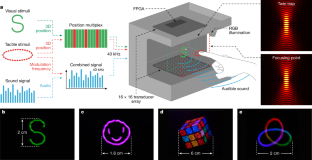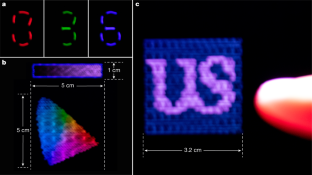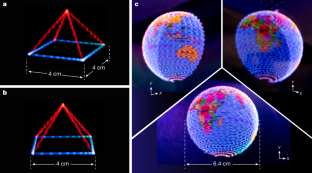 Data availability
The data that support the plots within this paper and other findings of this study are available in the main text and the Extended Data Figures. Additional information is available from the corresponding author upon reasonable request.
Code availability
Custom C++ code used for controlling our MATD during our tests is available on GitHub for anyone under a Creative Commons Attribution-Noncommercial-ShareAlike license at https://github.com/RyujiHirayama/MATD.
References
1.

Sawalha, L. et al. A large 3D swept-volume video display. J. Disp. Technol. 8, 256–268 (2012).

2.

Langhans, K., Oltmann, K., Reil, S., Goldberg, L. & Hatecke, H. in Lecture Notes in Computer Science Vol. 3805 (ed. Subsol, G.) 22–31 (Springer 2005).

3.

Blanche, P. A. et al. An updatable holographic display for 3D visualization. J. Disp. Technol. 4 424–430 (2008).

4.

Smalley, D. E. et al. A photophoretic-trap volumetric display. Nature 553, 486–490 (2018).

5.

Ochiai, Y. et al. Fairy lights in femtoseconds: aerial and volumetric graphics rendered by focused femtosecond laser combined with computational holographic fields. ACM Trans. Graph. 35, 17 (2016).

6.

Gao, X. et al. High brightness three-dimensional light field display based on the aspheric substrate Fresnel-lens-array with eccentric pupils. Opt. Commun. 361, 47–54 (2016).

7.

Foresti, D. et al. Acoustophoretic printing. Sci. Adv. 4, eaat1659 (2018).

8.

Watanabe, A., Hasegawa, K. & Abe, Y. Contactless fluid manipulation in air: droplet coalescence and active mixing by acoustic levitation. Sci. Rep. 8, 10221 (2018).

9.

Smalley, D. E. OSA Display Technical Group Illumiconclave I. (OSA, 2015); http://holography.byu.edu/Illumiconclave1.html.

10.

Saito, H., et al. Laser-plasma scanning 3D display for putting digital contents in free space. Proc. SPIE 6803, 680309 (2008).

11.

Perlin, K. & Han, J. Y. Volumetric display with dust as the participating medium. US patent 6,997,558 (2006).

12.

Sahoo, D. R. et al. JOLED: a mid-air display based on electrostatic rotation of levitated Janus objects. In Proc. of the 29th Annual Symposium on User Interface Software and Technology 437–448 (ACM, 2016).

13.

Norasikin, M. A. et al. SoundBender: dynamic acoustic control behind obstacles. In Proc. of the 31st Annual Symposium on User Interface Software and Technology 247–259 (ACM, 2018).

14.

Marzo, A. & Drinkwater, B. W. Holographic acoustic tweezers. Proc. Natl Acad. Sci. USA 116 84–89 (2018).

15.

Brandt, E. H. Acoustic physics: suspended by sound. Nature 413, 474–475 (2001).

16.

Wu, J. Acoustical tweezers. J. Acoust. Soc. Am. 89, 2140–2143 (1991).

17.

Bruus, H. Acoustofluidics 7: the acoustic radiation force on small particles. Lab Chip 12 1014–1021 (2012).

18.

Omirou, T., Marzo, A., Seah, S. A. & Subramanian, S. Levipath: modular acoustic levitation for 3D path visualisations. In Proc. of the 2015 CHI Conference on Human Factors in Computing Systems 309–312 (ACM, 2015).

19.

Memoli, G. et al. Metamaterial bricks and quantization of meta-surfaces. Nat. Commun. 8, 14608 (2017).

20.

Baresch, D., Thomas, J. L. & Marchiano, R. Observation of a single-beam gradient force acoustical trap for elastic particles: acoustical tweezers. Phys. Rev. Lett. 116, 024301 (2016).

21.

Whymark, R. R. Acoustic field positioning for containerless processing. Ultrasonics 13, 251–261 (1975).

22.

Marzo, A. et al. Holographic acoustic elements for manipulation of levitated objects. Nat. Commun. 6, 8661 (2015).

23.

Bowen, R. W., Pola, J. & Matin, L. Visual persistence: effects of flash luminance, duration and energy. Vision Res. 14 295–303 (1974).

24.

Gelfand, S. A. Essentials of Audiology 3rd edn (Thieme, 2010).

25.

Makous, J. C., Friedman, R. M. & Vierck, C. J. A critical band filter in touch. J. Neurosci. 15, 2808–2818 (1995).

26.

Frier, W., Pittera, D., Ablart, D., Obrist, M. & Subramanian, S. Sampling strategy for ultrasonic mid-air haptics. In Proc. of the 2019 CHI Conference on Human Factors in Computing Systems 121 (ACM, 2019).

27.

Carter, T., Seah, S. A., Long, B., Drinkwater, B. & Subramanian, S. UltraHaptics: multi-point mid-air haptic feedback for touch surfaces. In Proc. of the 26th Annual ACM Symposium on User interface Software and Technology 505–514 (ACM, 2013).

28.

Gan, W. S., Yang, J. & Kamakura, T. A review of parametric acoustic array in air. Appl. Acoust. 73, 1211–1219 (2012).

29.

Ochiai, Y., Hoshi, T. & Suzuki, I. Holographic whisper: rendering audible sound spots in three-dimensional space by focusing ultrasonic waves. In Proc. of the 2017 CHI Conference on Human Factors in Computing Systems 4314–4325 (ACM, 2017).

30.

Shvedov, V., Davoyan, A. R., Hnatovsky, C., Engheta, N. & Krolikowski, W. A long-range polarization-controlled optical tractor beam. Nat. Photon. 8, 846–850 (2014).
Acknowledgements
We thank R. Morales Gonzalez and B. Danesh-Kazemi from the University of Sussex, who helped with building the FPGA array, and L. F. Veloso from the University of Sussex, who helped with the supplementary videos. We acknowledge funding from the EPSRC project EP/N014197/1 'User interaction with self-supporting free-form physical objects', the EU FET-Open project Levitate (grant agreement number 737087), the Royal Academy of Engineering Chairs in Emerging Technology Scheme (CiET1718/14), the Rutherford fellowship scheme, the Japan Society for the Promotion of Science through Grant-in-Aid number 18J01002 and the Kenjiro Takayanagi Foundation.
Ethics declarations
Competing interests
The authors declare no competing interests.
Additional information
Publisher's note Springer Nature remains neutral with regard to jurisdictional claims in published maps and institutional affiliations.
Peer review information Nature thanks Daniel Smalley and the other, anonymous reviewer(s), for their contribution to the peer review of this work.
Extended data figures and tables
Supplementary information
About this article
Cite this article
Hirayama, R., Martinez Plasencia, D., Masuda, N. et al. A volumetric display for visual, tactile and audio presentation using acoustic trapping. Nature 575, 320–323 (2019). https://doi.org/10.1038/s41586-019-1739-5
Received:

Accepted:

Published:

Issue Date:
Comments
By submitting a comment you agree to abide by our Terms and Community Guidelines. If you find something abusive or that does not comply with our terms or guidelines please flag it as inappropriate.