Abstract
Bacteria have evolved sophisticated mechanisms to inhibit the growth of competitors1. One such mechanism involves type VI secretion systems, which bacteria can use to inject antibacterial toxins directly into neighbouring cells. Many of these toxins target the integrity of the cell envelope, but the full range of growth inhibitory mechanisms remains unknown2. Here we identify a type VI secretion effector, Tas1, in the opportunistic pathogen Pseudomonas aeruginosa. The crystal structure of Tas1 shows that it is similar to enzymes that synthesize (p)ppGpp, a broadly conserved signalling molecule in bacteria that modulates cell growth rate, particularly in response to nutritional stress3. However, Tas1 does not synthesize (p)ppGpp; instead, it pyrophosphorylates adenosine nucleotides to produce (p)ppApp at rates of nearly 180,000 molecules per minute. Consequently, the delivery of Tas1 into competitor cells drives rapid accumulation of (p)ppApp, depletion of ATP, and widespread dysregulation of essential metabolic pathways, thereby resulting in target cell death. Our findings reveal a previously undescribed mechanism for interbacterial antagonism and demonstrate a physiological role for the metabolite (p)ppApp in bacteria.
Your institute does not have access to this article
Relevant articles
Open Access articles citing this article.
Jinshui Lin

,

Lei Xu

…

Xihui Shen

Stress Biology Open Access 03 November 2021

Alexander Martin Geller

,

Inbal Pollin

…

Asaf Levy

Nature Communications Open Access 18 June 2021
Access options
Subscribe to Nature+
Get immediate online access to the entire Nature family of 50+ journals
Subscribe to Journal
Get full journal access for 1 year
$199.00
only $3.90 per issue
All prices are NET prices.
VAT will be added later in the checkout.
Tax calculation will be finalised during checkout.
Buy article
Get time limited or full article access on ReadCube.
$32.00
All prices are NET prices.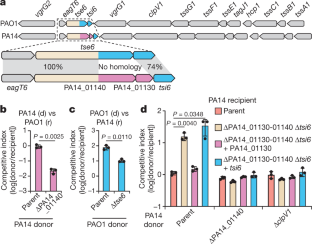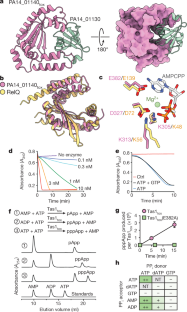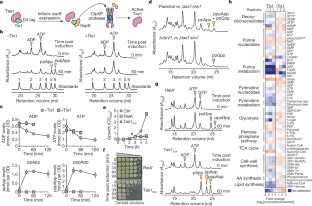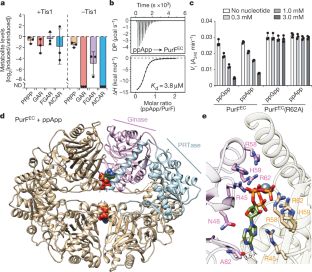 Data availability
All data supporting the findings of this study are available within the manuscript and associated Supplementary Information. X-ray crystallographic coordinates and structure factor files are available from the PDB with the following accession numbers: Tas1tox–Tis1 (6OX6) and PurFEC-ppApp (6OTT). Maximum likelihood estimates of P. aeruginosa strain relationships used for tree construction are provided in Newick format in Supplementary Dataset 1. Relative concentrations of metabolites from metabolomics are reported in Supplementary Dataset 2. Source gel images are available in Supplementary Fig. 1.
References
Granato, E. T., Meiller-Legrand, T. A. & Foster, K. R. The evolution and ecology of bacterial warfare. Curr. Biol. 29, R521–R537 (2019).

Russell, A. B., Peterson, S. B. & Mougous, J. D. Type VI secretion system effectors: poisons with a purpose. Nat. Rev. Microbiol. 12, 137–148 (2014).

Hauryliuk, V., Atkinson, G. C., Murakami, K. S., Tenson, T. & Gerdes, K. Recent functional insights into the role of (p)ppGpp in bacterial physiology. Nat. Rev. Microbiol. 13, 298–309 (2015).

Wexler, A. G. et al. Human symbionts inject and neutralize antibacterial toxins to persist in the gut. Proc. Natl Acad. Sci. USA 113, 3639–3644 (2016).

Whitney, J. C. et al. Genetically distinct pathways guide effector export through the type VI secretion system. Mol. Microbiol. 92, 529–542 (2014).

Whitney, J. C. et al. An interbacterial NAD(P)+ glycohydrolase toxin requires elongation factor Tu for delivery to target cells. Cell 163, 607–619 (2015).

Quentin, D. et al. Mechanism of loading and translocation of type VI secretion system effector Tse6. Nat. Microbiol. 3, 1142–1152 (2018).

Johnson, L. S., Eddy, S. R. & Portugaly, E. Hidden Markov model speed heuristic and iterative HMM search procedure. BMC Bioinformatics 11, 431 (2010).

Atkinson, G. C., Tenson, T. & Hauryliuk, V. The RelA/SpoT homolog (RSH) superfamily: distribution and functional evolution of ppGpp synthetases and hydrolases across the tree of life. PLoS One 6, e23479 (2011).

Potrykus, K., Murphy, H., Philippe, N. & Cashel, M. ppGpp is the major source of growth rate control in E. coli. Environ. Microbiol. 13, 563–575 (2011).

Wang, B. et al. Affinity-based capture and identification of protein effectors of the growth regulator ppGpp. Nat. Chem. Biol. 15, 141–150 (2019).

Gaca, A. O. et al. From (p)ppGpp to (pp)pGpp: characterization of regulatory effects of pGpp synthesized by the small alarmone synthetase of Enterococcus faecalis. J. Bacteriol. 197, 2908–2919 (2015).

Beljantseva, J. et al. Negative allosteric regulation of Enterococcus faecalis small alarmone synthetase RelQ by single-stranded RNA. Proc. Natl Acad. Sci. USA 114, 3726–3731 (2017).

Sarubbi, E. et al. Characterization of the spoT gene of Escherichia coli. J. Biol. Chem. 264, 15074–15082 (1989).

Bugg, T. D., Braddick, D., Dowson, C. G. & Roper, D. I. Bacterial cell wall assembly: still an attractive antibacterial target. Trends Biotechnol. 29, 167–173 (2011).

Raetz, C. R. Enzymology, genetics, and regulation of membrane phospholipid synthesis in Escherichia coli. Microbiol. Rev. 42, 614–659 (1978).

LaCourse, K. D. et al. Conditional toxicity and synergy drive diversity among antibacterial effectors. Nat. Microbiol. 3, 440–446 (2018).

Rhaese, H. J. & Groscurth, R. Control of development: role of regulatory nucleotides synthesized by membranes of Bacillus subtilis in initiation of sporulation. Proc. Natl Acad. Sci. USA 73, 331–335 (1976).

Rhaese, H. J., Hoch, J. A. & Groscurth, R. Studies on the control of development: isolation of Bacillus subtilis mutants blocked early in sporulation and defective in synthesis of highly phosphorylated nucleotides. Proc. Natl Acad. Sci. USA 74, 1125–1129 (1977).

Goodman, A. L. et al. A signaling network reciprocally regulates genes associated with acute infection and chronic persistence in Pseudomonas aeruginosa. Dev. Cell 7, 745–754 (2004).

Marden, J. N. et al. An unusual CsrA family member operates in series with RsmA to amplify posttranscriptional responses in Pseudomonas aeruginosa. Proc. Natl Acad. Sci. USA 110, 15055–15060 (2013).

Steinchen, W. et al. Catalytic mechanism and allosteric regulation of an oligomeric (p)ppGpp synthetase by an alarmone. Proc. Natl Acad. Sci. USA 112, 13348–13353 (2015).

McGinness, K. E., Baker, T. A. & Sauer, R. T. Engineering controllable protein degradation. Mol. Cell 22, 701–707 (2006).

Stover, C. K. et al. Complete genome sequence of Pseudomonas aeruginosa PAO1, an opportunistic pathogen. Nature 406, 959–964 (2000).

Lee, D. G. et al. Genomic analysis reveals that Pseudomonas aeruginosa virulence is combinatorial. Genome Biol. 7, R90 (2006).

Rietsch, A., Vallet-Gely, I., Dove, S. L. & Mekalanos, J. J. ExsE, a secreted regulator of type III secretion genes in Pseudomonas aeruginosa. Proc. Natl Acad. Sci. USA 102, 8006–8011 (2005).

Hmelo, L. R. et al. Precision-engineering the Pseudomonas aeruginosa genome with two-step allelic exchange. Nat. Protocols 10, 1820–1841 (2015).

Winsor, G. L. et al. Enhanced annotations and features for comparing thousands of Pseudomonas genomes in the Pseudomonas genome database. Nucleic Acids Res. 44, D646–D653 (2016).

Hyatt, D. et al. Prodigal: prokaryotic gene recognition and translation initiation site identification. BMC Bioinformatics 11, 119 (2010).

Camacho, C. et al. BLAST+: architecture and applications. BMC Bioinformatics 10, 421 (2009).

Treangen, T. J., Ondov, B. D., Koren, S. & Phillippy, A. M. The Harvest suite for rapid core-genome alignment and visualization of thousands of intraspecific microbial genomes. Genome Biol. 15, 524 (2014).

Stamatakis, A. RAxML version 8: a tool for phylogenetic analysis and post-analysis of large phylogenies. Bioinformatics 30, 1312–1313 (2014).

Hood, R. D. et al. A type VI secretion system of Pseudomonas aeruginosa targets a toxin to bacteria. Cell Host Microbe 7, 25–37 (2010).

Stevens, A. J. et al. Design of a split intein with exceptional protein splicing activity. J. Am. Chem. Soc. 138, 2162–2165 (2016).

Minor, W., Cymborowski, M., Otwinowski, Z. & Chruszcz, M. HKL-3000: the integration of data reduction and structure solution—from diffraction images to an initial model in minutes. Acta Crystallogr. D 62, 859–866 (2006).

Adams, P. D. et al. PHENIX: a comprehensive Python-based system for macromolecular structure solution. Acta Crystallogr. D 66, 213–221 (2010).

Emsley, P., Lohkamp, B., Scott, W. G. & Cowtan, K. Features and development of Coot. Acta Crystallogr. D 66, 486–501 (2010).

Kabsch, W. Xds. Acta Crystallogr. D 66, 125–132 (2010).

Bunkóczi, G. et al. Phaser.MRage: automated molecular replacement. Acta Crystallogr. D 69, 2276–2286 (2013).

Manav, M. C. et al. Structural basis for (p)ppGpp synthesis by the Staphylococcus aureus small alarmone synthetase RelP. J. Biol. Chem. 293, 3254–3264 (2018).
Acknowledgements
We thank A. Raphenya and B. Alcock for assistance with sequence data curation and analyses, C. Chang for assistance with X-ray data collection and processing, and the Whitehead Institute Metabolite Profiling Core Facility for measuring metabolite levels. S.A. and B.W. were supported by an Ontario Graduate Scholarship and a fellowship from the Jane Coffin Childs Memorial Fund, respectively. A.G.M. holds a Cisco Research Chair in Bioinformatics and M.T.L is an Investigator of the Howard Hughes Medical Institute. Results shown in this report are derived from work performed by the Structural Biology Center (SBC) and the Northeastern Collaborative Access Team (NECAT) at the Advanced Photon Source, Argonne National Laboratory. SBC is funded by NIAID (HHSN272201200026C) and HHS (HHSN272201700060C) and NECAT is funded by NIH grants P30 GM124165 and S10OD021527. SBC-CAT and NECAT are operated by UChicago Argonne, LLC, for the US DOE under contract number DE-AC02-06CH11357. This work was supported by grants from the Canadian Foundation for Innovation (34531 to A.G.M.), NIH (R01-GM082899 to M.T.L.) and CIHR (PJT-156129 to J.C.W.), and by seed funding from the David Braley Centre for Antibiotic Discovery (to J.C.W.).
Ethics declarations
Competing interests
The authors declare no competing interests.
Additional information
Publisher's note Springer Nature remains neutral with regard to jurisdictional claims in published maps and institutional affiliations.
Peer review information Nature thanks Urs Jenal, Justin Nodwell and Jue Wang for their contribution to the peer review of this work.
Extended data figures and tables
Supplementary information
About this article
Cite this article
Ahmad, S., Wang, B., Walker, M.D. et al. An interbacterial toxin inhibits target cell growth by synthesizing (p)ppApp. Nature 575, 674–678 (2019). https://doi.org/10.1038/s41586-019-1735-9
Received:

Accepted:

Published:

Issue Date:

DOI: https://doi.org/10.1038/s41586-019-1735-9
Comments
By submitting a comment you agree to abide by our Terms and Community Guidelines. If you find something abusive or that does not comply with our terms or guidelines please flag it as inappropriate.