Abstract
The ability of a species to colonize newly available habitats is crucial to its overall fitness1,2,3. In general, motility and fast expansion are expected to be beneficial for colonization and hence for the fitness of an organism4,5,6,7. Here we apply an evolution protocol to investigate phenotypical requirements for colonizing habitats of different sizes during range expansion by chemotaxing bacteria8. Contrary to the intuitive expectation that faster is better, we show that there is an optimal expansion speed for a given habitat size. Our analysis showed that this effect arises from interactions among pioneering cells at the front of the expanding population, and revealed a simple, evolutionarily stable strategy for colonizing a habitat of a specific size: to expand at a speed given by the product of the growth rate and the habitat size. These results illustrate stability-to-invasion as a powerful principle for the selection of phenotypes in complex ecological processes.
Access options
Access Nature and 54 other Nature Portfolio journals
Get Nature+, our best-value online-access subscription
$29.99 / 30 days
cancel any time
Subscribe to this journal
Receive 51 print issues and online access
$199.00 per year
only $3.90 per issue
Rent or buy this article
Prices vary by article type
from$1.95
to$39.95
Prices may be subject to local taxes which are calculated during checkout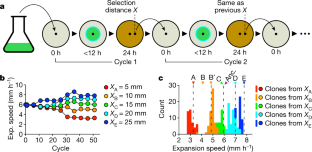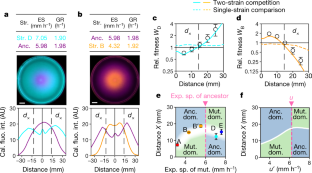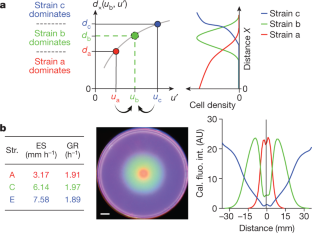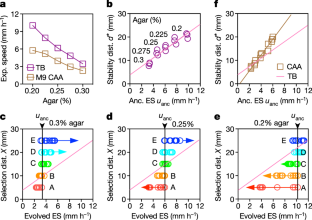 Similar content being viewed by others
Data availability
Sequencing data have been deposited to the NCBI Sequence Read Archive (SRA), accession PRJNA559221. Other major experimental data supporting the findings of this study are available within the paper and Supplementary Information. Simulation data can be generated with the custom-made code and the parameter sets provided.
References
Hanski, I. Metapopulation dynamics. Nature 396, 41–49 (1998).

Skellam, J. G. Random dispersal in theoretical populations. Biometrika 38, 196–218 (1951).

Andow, D. A., Kareiva, P. M., Levin, S. A. & Okubo, A. Spread of invading organisms. Landsc. Ecol. 4, 177–188 (1990).

Yi, X. & Dean, A. M. Phenotypic plasticity as an adaptation to a functional trade-off. eLife 5, e19307 (2016).

Fraebel, D. T. et al. Environment determines evolutionary trajectory in a constrained phenotypic space. eLife 6, e24669 (2017).

Ni, B. et al. Evolutionary remodeling of bacterial motility checkpoint control. Cell Rep. 18, 866–877 (2017).

Shih, H.-Y., Mickalide, H., Fraebel, D. T., Goldenfeld, N. & Kuehn, S. Biophysical constraints determine the selection of phenotypic fluctuations during directed evolution. Phys. Biol. 15, 065003 (2018).

Adler, J. Chemotaxis in bacteria. Science 153, 708–716 (1966).

Levin, S. A. The problem of pattern and scale in ecology: the Robert H. MacArthur award lecture. Ecology 73, 1943–1967 (1992).

Hastings, A. et al. The spatial spread of invasions: new developments in theory and evidence. Ecol. Lett. 8, 91–101 (2005).

Hallatschek, O., Hersen, P., Ramanathan, S. & Nelson, D. R. Genetic drift at expanding frontiers promotes gene segregation. Proc. Natl Acad. Sci. USA 104, 19926–19930 (2007).

Müller, M. J. I., Neugeboren, B. I., Nelson, D. R. & Murray, A. W. Genetic drift opposes mutualism during spatial population expansion. Proc. Natl Acad. Sci. USA 111, 1037–1042 (2014).

Cao, Y. et al. Collective space-sensing coordinates pattern scaling in engineered bacteria. Cell 165, 620–630 (2016).

Cremer, J. et al. Chemotaxis as navigation strategy to boost range expansion. Nature https://doi.org/10.1038/s41586-019-1733-y (2019).

Elena, S. F. & Lenski, R. E. Evolution experiments with microorganisms: the dynamics and genetic bases of adaptation. Nat. Rev. Genet. 4, 457–469 (2003).

Bosshard, L. et al. Accumulation of deleterious mutations during bacterial range expansions. Genetics 207, 669–684 (2017).

Wolfe, A. J. & Berg, H. C. Migration of bacteria in semisolid agar. Proc. Natl Acad. Sci. USA 86, 6973–6977 (1989).

Deforet, M., Carmona-Fontaine, C., Korolev, K. S. & Xavier, J. B. Evolution at the edge of expanding populations. Am. Nat. 194, 291–305 (2019).

Lenski, R. in Microbial Ecology: Principles, Applications and Methods (eds Levin, M. et al.) 183–198 (McGraw-Hill, 1992).

Smith, J. M. Evolution and the Theory of Games (Cambridge Univ. Press, 1982).

Levin, B. R. Frequency-dependent selection in bacterial populations. Phil. Trans. R. Soc. Lond. B 319, 459–472 (1988).

Alon, U., Surette, M. G., Barkai, N. & Leibler, S. Robustness in bacterial chemotaxis. Nature 397, 168–171 (1999).

Hansen, C. H., Endres, R. G. & Wingreen, N. S. Chemotaxis in Escherichia coli: a molecular model for robust precise adaptation. PLOS Comput. Biol. 4, e1 (2008).

Korobkova, E., Emonet, T., Vilar, J. M., Shimizu, T. S. & Cluzel, P. From molecular noise to behavioural variability in a single bacterium. Nature 428, 574–578 (2004).

Park, H., Guet, C. C., Emonet, T. & Cluzel, P. Fine-tuning of chemotactic response in E. coli determined by high-throughput capillary assay. Curr. Microbiol. 62, 764–769 (2011).

Si, G., Wu, T., Ouyang, Q. & Tu, Y. Pathway-based mean-field model for Escherichia coli chemotaxis. Phys. Rev. Lett. 109, 048101 (2012).

Tu, Y. Quantitative modeling of bacterial chemotaxis: signal amplification and accurate adaptation. Annu. Rev. Biophys. 42, 337–359 (2013).

Liu, C. et al. Sequential establishment of stripe patterns in an expanding cell population. Science 334, 238–241 (2011).

Merrell, D. The Adaptive Seascape: The Mechanism of Evolution (Univ. Minnesota Press, 1994).

Mustonen, V. & Lässig, M. From fitness landscapes to seascapes: non-equilibrium dynamics of selection and adaptation. Trends Genet. 25, 111–119 (2009).

Poelwijk, F. J., de Vos, M. G. & Tans, S. J. Tradeoffs and optimality in the evolution of gene regulation. Cell 146, 462–470 (2011).

Towbin, B. D. et al. Optimality and sub-optimality in a bacterial growth law. Nat. Commun. 8, 14123 (2017).

Hofbauer, J. & Sigmund, K. Evolutionary Games and Population Dynamics (Cambridge Univ. Press, 1998).

Gore, J., Youk, H. & van Oudenaarden, A. Snowdrift game dynamics and facultative cheating in yeast. Nature 459, 253–256 (2009).

Zheng, H. et al. Interrogating the Escherichia coli cell cycle by cell dimension perturbations. Proc. Natl Acad. Sci. USA 113, 15000–15005 (2016).

Datta, S., Costantino, N. & Court, D. L. A set of recombineering plasmids for Gram-negative bacteria. Gene 379, 109–115 (2006).

Jiang, Y. et al. Multigene editing in the Escherichia coli genome via the CRISPR–Cas9 system. Appl. Environ. Microbiol. 81, 2506–2514 (2015).

Fu, J. L., Kanno, T., Liang, S.-C., Matzke, A. J. M. & Matzke, M. GFP loss-of-function mutations in Arabidopsis thaliana. G3 5, 1849–1855 (2015).

Waite, A. J. et al. Non-genetic diversity modulates population performance. Mol. Syst. Biol. 12, 895 (2016).

Edelstein, A. D. et al. Advanced methods of microscope control using μManager software. J. Biol. Methods 1, e10 (2014).

Dufour, Y. S., Gillet, S., Frankel, N. W., Weibel, D. B. & Emonet, T. Direct correlation between motile behavior and protein abundance in single cells. PLOS Comput. Biol. 12, e1005041 (2016).

Deatherage, D. E. & Barrick, J. E. Identification of mutations in laboratory-evolved microbes from next-generation sequencing data using breseq. Methods Mol. Biol. 1151, 165–188 (2014).

Guyer, J. E., Wheeler, D. & Warren, J. A. FiPy: partial differential equations with Python. Comput. Sci. Eng. 11, 6–15 (2009).

Fisher, R. The wave of advance of advantageous genes. Ann. Eugen. 7, 355–369 (1937).

Kolmogorov, A., Petrovsky, I. & Piscounov, N. Étude de l'équation de la diffusion avec croissance de la quantité de matière et son application à un problème biologique. Mosk. Univ. Bull. Math. 1, 37 (1937).

Korolev, K. S. Evolution arrests invasions of cooperative populations. Phys. Rev. Lett. 115, 208104 (2015).

Yang, F., Moss, L. G. & Phillips, G. N. Jr. The molecular structure of green fluorescent protein. Nat. Biotechnol. 14, 1246–1251 (1996).

Keller, E. F. & Segel, L. A. Model for chemotaxis. J. Theor. Biol. 30, 225–234 (1971).

Vaknin, A. & Berg, H. C. Physical responses of bacterial chemoreceptors. J. Mol. Biol. 366, 1416–1423 (2007).

Taylor, J. R. & Stocker, R. Trade-offs of chemotactic foraging in turbulent water. Science 338, 675–679 (2012).

Fu, X. et al. Spatial self-organization resolves conflicts between individuality and collective migration. Nat. Commun. 9, 2177 (2018).
Acknowledgements
We thank L. Chao, X. Fu, X. He, J.-D. Huang, A. Murray, M. Vergassola, C.-I. Wu and G. Zhao for discussions, and Y. Wu and H. Zhou for assistance with bioinformatic analyses. C.L., W.L. and D.L. acknowledge financial support by the Major Research Plan of the National Natural Science Foundation of China (91731302), National Key Research and Development Program of China (2018YFA0902700), Strategic Priority Research Program (XDB29050501), Key Research Program (KFZD-SW-216) of Chinese Academy of Sciences, and Shenzhen Grants (JCYJ20170818164139781, KQTD2015033117210153, Engineering Laboratory [2016]1194). T.H. and J.C. acknowledge support from the NIH through grant R01GM95903.
Ethics declarations
Competing interests
The authors declare no competing interests.
Additional information
Publisher's note Springer Nature remains neutral with regard to jurisdictional claims in published maps and institutional affiliations.
Extended data figures and tables
Supplementary information
About this article
Cite this article
Liu, W., Cremer, J., Li, D. et al. An evolutionarily stable strategy to colonize spatially extended habitats. Nature 575, 664–668 (2019). https://doi.org/10.1038/s41586-019-1734-x
Received:

Accepted:

Published:

Issue Date:

DOI: https://doi.org/10.1038/s41586-019-1734-x
Comments
By submitting a comment you agree to abide by our Terms and Community Guidelines. If you find something abusive or that does not comply with our terms or guidelines please flag it as inappropriate.