Abstract
Many ideas have been proposed to explain the origin of bipedalism in hominins and suspension in great apes (hominids); however, fossil evidence has been lacking. It has been suggested that bipedalism in hominins evolved from an ancestor that was a palmigrade quadruped (which would have moved similarly to living monkeys), or from a more suspensory quadruped (most similar to extant chimpanzees)1. Here we describe the fossil ape Danuvius guggenmosi (from the Allgäu region of Bavaria) for which complete limb bones are preserved, which provides evidence of a newly identified form of positional behaviour—extended limb clambering. The 11.62-million-year-old Danuvius is a great ape that is dentally most similar to Dryopithecus and other European late Miocene apes. With a broad thorax, long lumbar spine and extended hips and knees, as in bipeds, and elongated and fully extended forelimbs, as in all apes (hominoids), Danuvius combines the adaptations of bipeds and suspensory apes, and provides a model for the common ancestor of great apes and humans.
Access options
Subscribe to Journal
Get full journal access for 1 year
$199.00
only $3.90 per issue
All prices are NET prices.
VAT will be added later in the checkout.
Tax calculation will be finalised during checkout.
Rent or Buy article
Get time limited or full article access on ReadCube.
from$8.99
All prices are NET prices.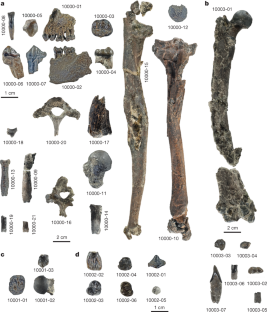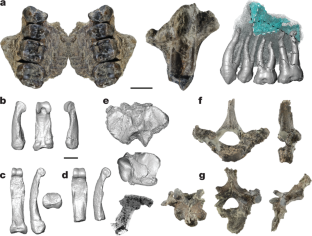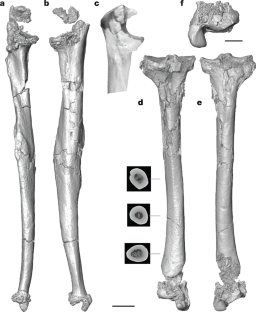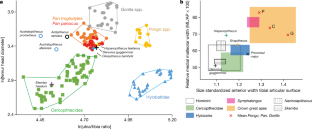 References
1.

Begun, D. R. in Biped to Strider: The Emergence of Modern Human Walking (eds Meldrum, D. J. & Hilton, C. E.) 9–33 (Kluwer, 2004).

2.

Begun, D. R. & Kivell, T. L. Knuckle-walking in Sivapithecus? The combined effects of homology and homoplasy with possible implications for pongine dispersals. J. Hum. Evol. 60, 158–170 (2011).

3.

Richmond, B. G., Begun, D. R. & Strait, D. S. Origin of human bipedalism: the knuckle-walking hypothesis revisited. Am. J. Phys. Anthropol. 116, 70–105 (2001).

4.

Crompton, R. H., Sellers, W. I. & Thorpe, S. K. Arboreality, terrestriality and bipedalism. Phil. Trans. R. Soc. Lond. B 365, 3301–3314 (2010).

5.

Begun, D. R. Dryopithecins, Darwin, de Bonis, and the European origin of the African apes and human clade. Geodiversitas 31, 789–816 (2009).

6.

Begun, D. R., Nargolwalla, M. C. & Kordos, L. European Miocene hominids and the origin of the African ape and human clade. Evol. Anthropol. 21, 10–23 (2012).

7.

Alba, D. M. Fossil apes from the vallès-penedès basin. Evol. Anthropol. 21, 254–269 (2012).

8.

Langergraber, K. E. et al. Generation times in wild chimpanzees and gorillas suggest earlier divergence times in great ape and human evolution. Proc. Natl Acad. Sci. USA 109, 15716–15721 (2012).

9.

Moyà-Solà, S. & Köhler, M. A Dryopithecus skeleton and the origins of great-ape locomotion. Nature 379, 156–159 (1996).

10.

Moyà-Solà, S., Köhler, M., Alba, D. M., Casanovas-Vilar, I. & Galindo, J. Pierolapithecus catalaunicus, a new Middle Miocene great ape from Spain. Science 306, 1339–1344 (2004).

11.

Alba, D. M., Almécija, S., Casanovas-Vilar, I., Méndez, J. M. & Moyà-Solà, S. A partial skeleton of the fossil great ape Hispanopithecus laietanus from Can Feu and the mosaic evolution of crown-hominoid positional behaviors. PLoS ONE 7, e39617 (2012).

12.

Begun, D. R. in Handbook of Paleoanthropology (eds Henke, W. & Tattersall, I.) 1261–1332 (Springer, 2015).

13.

Lovejoy, C. O., Suwa, G., Simpson, S. W., Matternes, J. H. & White, T. D. The great divides: Ardipithecus ramidus reveals the postcrania of our last common ancestors with African apes. Science 326, 73–106 (2009).

14.

White, T. D., Lovejoy, C. O., Asfaw, B., Carlson, J. P. & Suwa, G. Neither chimpanzee nor human, Ardipithecus reveals the surprising ancestry of both. Proc. Natl Acad. Sci. USA 112, 4877–4884 (2015).

15.

Kirscher, U. et al. A biochronologic tie-point for the base of the Tortonian stage in European terrestrial settings: magnetostratigraphy of the topmost Upper Freshwater Molasse sediments of the North Alpine Foreland Basin in Bavaria (Germany). Newsl. Stratigr. 49, 445–467 (2016).

16.

Williams, S. A. & Russo, G. A. Evolution of the hominoid vertebral column: the long and the short of it. Evol. Anthropol. 24, 15–32 (2015).

17.

Latimer, B. & Ward, C. V. in The Nariokotome Homo erectus Skeleton (eds Walker, A. & Leakey, R.) 266–293 (Springer, 1993).

18.

Williams, S. A., Middleton, E. R., Villamil, C. I. & Shattuck, M. R. Vertebral numbers and human evolution. Am. J. Phys. Anthropol. 159, 19–36 (2016).

19.

Haeusler, M., Regula, S. & Thomas, B. Modern or distinct axial bauplan in early hominins? A reply to Williams (2012). J. Hum. Evol. 63, 557–559 (2012).

20.

Nakatsukasa, M. & Kunimatsu, Y. Nacholapithecus and its importance for understanding hominoid evolution. Evol. Anthropol. 18, 103–119 (2009).

21.

Pilbeam, D. The anthropoid postcranial axial skeleton: comments on development, variation, and evolution. J. Exp. Zool. 302B, 241–267 (2004).

22.

Ward, C. V., Walker, A., Teaford, M. F. & Odhiambo, I. Partial skeleton of Proconsul nyanzae from Mfangano island, Kenya. Am. J. Phys. Anthropol. 90, 77–111 (1993).

23.

Ward, C. V., Nalley, T. K., Spoor, F., Tafforeau, P. & Alemseged, Z. Thoracic vertebral count and thoracolumbar transition in Australopithecus afarensis. Proc. Natl Acad. Sci. USA 114, 6000–6004 (2017).

24.

Williams, S. A. Placement of the diaphragmatic vertebra in catarrhines: implications for the evolution of dorsostability in hominoids and bipedalism in hominins. Am. J. Phys. Anthropol. 148, 111–122 (2012).

25.

Ward, C. V., Hammond, A. S., Plavcan, J. M. & Begune D. R. A late Miocene hominid partial pelvis from Hungary. J. Hum. Evol. https://doi.org/10.1016/j.jhevol.2019.102645 (2019).

26.

McCollum, M. A., Rosenman, B. A., Suwa, G., Meindl, R. S. & Lovejoy, C. O. The vertebral formula of the last common ancestor of African apes and humans. J. Exp. Zool. 314B, 123–134 (2010).

27.

Lovejoy, C. O. & McCollum, M. A. Spinopelvic pathways to bipedality: why no hominids ever relied on a bent-hip–bent-knee gait. Phil. Trans. R. Soc. Lond. B 365, 3289–3299 (2010).

28.

Landis, E. K. & Karnick, P. A three-dimensional analysis of the geometry and curvature of the proximal tibial articular surface of hominoids. In Proc. SPIE 60560 Three-Dimensional Image Capture and Applications VII 60560K (International Society for Optics and Photonics, 2006).

29.

Frelat, M. A. et al. Evolution of the hominin knee and ankle. J. Hum. Evol. 108, 147–160 (2017).

30.

Tardieu, C. Ontogeny and phylogeny of femoro-tibial characters in humans and hominid fossils: functional influence and genetic determinism. Am. J. Phys. Anthropol. 110, 365–377 (1999).

31.

DeSilva, J. M. Functional morphology of the ankle and the likelihood of climbing in early hominins. Proc. Natl Acad. Sci. USA 106, 6567–6572 (2009).

32.

DeSilva, J. M., Morgan, M. E., Barry, J. C. & Pilbeam, D. A hominoid distal tibia from the Miocene of Pakistan. J. Hum. Evol. 58, 147–154 (2010).

33.

Latimer, B., Ohman, J. C. & Lovejoy, C. O. Talocrural joint in African hominoids: implications for Australopithecus afarensis. Am. J. Phys. Anthropol. 74, 155–175 (1987).

34.

Thorpe, S. K., Holder, R. L. & Crompton, R. H. Origin of human bipedalism as an adaptation for locomotion on flexible branches. Science 316, 1328–1331 (2007).

35.

Thorpe, S. K., McClymont, J. M. & Crompton, R. H. The arboreal origins of human bipedalism. Antiquity 88, 906–914 (2014).

36.

Wolpoff, M. Australopithecus: a new look at an old ancestor (part 2).Gen. Anthropol. 3, 1–5 (1997).

37.

Straus, W. in Classification and Human Evolution (ed. Washburn, S. L.) 146–177 (Aldine, 1963).

38.

Asfaw, B. et al. Australopithecus garhi: a new species of early hominid from Ethiopia. Science 284, 629–635 (1999).

39.

Ruff, C. B. Long bone articular and diaphyseal structure in Old World monkeys and apes. II: estimation of body mass. Am. J. Phys. Anthropol. 120, 16–37 (2003).

40.

Haile-Selassie, Y. et al. An early Australopithecus afarensis postcranium from Woranso-Mille, Ethiopia. Proc. Natl Acad. Sci. USA 107, 12121–12126 (2010).

41.

DeSilva, J. M. Vertical Climbing Adaptations in the Anthropoid Ankle and Midfoot: Implications for Locomotion in Miocene Catarrhines and Plio-Pleistocene Hominins. PhD thesis, Univ. Michigan, (2008).

42.

Behrensmeyer, A. K. The taphonomy and paleoecology of Plio-Pleistocene vertebrate assemblages east of Lake Rodolf, Kenya. Bull. Mus. Comp. Zool. 146, 473–578 (1975).

43.

Almécija, S. et al. The femur of Orrorin tugenensis exhibits morphometric affinities with both Miocene apes and later hominins. Nat. Commun. 4, 2888 (2013).

44.

Smith, B. H. Patterns of molar wear in hunger-gatherers and agriculturalists. Am. J. Phys. Anthropol. 63, 39–56 (1984).

45.

Smith, T. M., Olejniczak, A. J., Martin, L. B. & Reid, D. J. Variation in hominoid molar enamel thickness. J. Hum. Evol. 48, 575–592 (2005).

46.

Martin, L. B. The Relationships of the later Miocene Hominoidea. PhD thesis, Univ. College London (1983).

47.

Wessel, P. et al. Generic mapping tools: improved version released. EOS 94, 409–410 (2013).

48.

Amante, C. & Eakins, B. W. ETOPO1 1 Arc-Minute Global Relief Model: Procedures, Data Sources and Analysis NOAA Technical Memorandum NESDIS NGDC-24 https://www.ngdc.noaa.gov/mgg/global/relief/ETOPO1/docs/ETOPO1.pdf (National Geophysical Data Center, NOAA, 2009).

49.

Reuter H. I., Nelson, A. & Jarvis, A. An evaluation of void-filling interpolation methods for SRTM data. Int. J. Geogr. Inf. Sci. 21, 983–1008 (2007).

50.

Almécija, S., Alba, D. M. & Moyà-Solà, S. Pierolapithecus and the functional morphology of Miocene ape hand phalanges: paleobiological and evolutionary implications. J. Hum. Evol. 57, 284–297 (2009).
Acknowledgements
We are indebted to the following researchers and curators for granting access to collections under their care: S. Moyà-Solà and D. Alba, E. Gilissen, L. Costeur, A. van Heteren, S. Merker, E. Weber. We thank C. Schulbert and J.-F. Metayer for computed tomography scanning, and A. Fatz, H. Stöhr and W. Gerber for technical support.
Ethics declarations
Competing interests
The authors declare no competing interests.
Additional information
Publisher's note Springer Nature remains neutral with regard to jurisdictional claims in published maps and institutional affiliations.
Peer review information Nature thanks Jeremy M. DeSilva, Tracy Kivell and Salvador Moyà-Solà for their contribution to the peer review of this work.
Extended data figures and tables
Supplementary information
This file contains Supplementary Sections 1-5 and Supplementary Tables 1-24 – see contents pages for full details.
About this article
Cite this article
Böhme, M., Spassov, N., Fuss, J. et al. A new Miocene ape and locomotion in the ancestor of great apes and humans. Nature 575, 489–493 (2019). https://doi.org/10.1038/s41586-019-1731-0
Received:

Accepted:

Published:

Issue Date:
Comments
By submitting a comment you agree to abide by our Terms and Community Guidelines. If you find something abusive or that does not comply with our terms or guidelines please flag it as inappropriate.