Abstract
Shape-morphing systems, which can perform complex tasks through morphological transformations, are of great interest for future applications in minimally invasive medicine1,2, soft robotics3,4,5,6, active metamaterials7 and smart surfaces8. With current fabrication methods, shape-morphing configurations have been embedded into structural design by, for example, spatial distribution of heterogeneous materials9,10,11,12,13,14, which cannot be altered once fabricated. The systems are therefore restricted to a single type of transformation that is predetermined by their geometry. Here we develop a strategy to encode multiple shape-morphing instructions into a micromachine by programming the magnetic configurations of arrays of single-domain nanomagnets on connected panels. This programming is achieved by applying a specific sequence of magnetic fields to nanomagnets with suitably tailored switching fields, and results in specific shape transformations of the customized micromachines under an applied magnetic field. Using this concept, we have built an assembly of modular units that can be programmed to morph into letters of the alphabet, and we have constructed a microscale 'bird' capable of complex behaviours, including 'flapping', 'hovering', 'turning' and 'side-slipping'. This establishes a route for the creation of future intelligent microsystems that are reconfigurable and reprogrammable in situ, and that can therefore adapt to complex situations.
Relevant articles
Open Access articles citing this article.
Wenbo Li

,

Huyue Chen

…

Wenming Zhang

Nature Communications Open Access 12 January 2023

Dezhao Lin

,

Fan Yang

…

Ruihong Li

Nature Communications Open Access 11 January 2023

Neng Xia

,

Dongdong Jin

…

Li Zhang

Nature Communications Open Access 06 December 2022
Access options
Access Nature and 54 other Nature Portfolio journals
Get Nature+, our best-value online-access subscription
$29.99 per month
cancel any time
Subscribe to this journal
Receive 51 print issues and online access
$199.00 per year
only $3.90 per issue
Rent or buy this article
Get just this article for as long as you need it
$39.95
Prices may be subject to local taxes which are calculated during checkout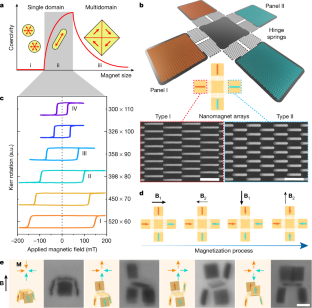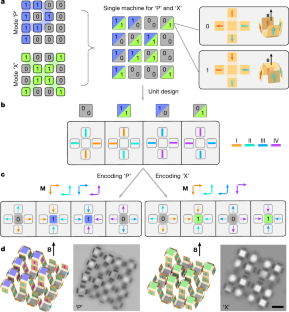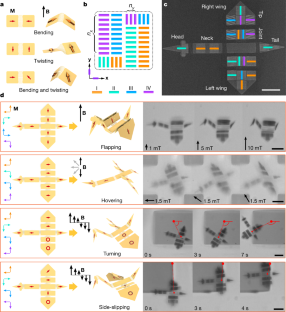 Data availability
All data generated or analysed during this study are included in the published article and its Supplementary Information, and are available from the corresponding authors on reasonable request.
References
Nelson, B. J., Kaliakatsos, I. K. & Abbott, J. J. Microrobots for minimally invasive medicine. Annu. Rev. Biomed. Eng. 12, 55–85 (2010).

Li, J., Esteban Fernández De Ávila, B., Gao, W., Zhang, L. & Wang, J. Micro/nanorobots for biomedicine: delivery, surgery, sensing, and detoxification. Sci. Robot. 2, eaam6431 (2017).

Rus, D. & Tolley, M. T. Design, fabrication and control of soft robots. Nature 521, 467–475 (2015).

Rich, S. I., Wood, R. J. & Majidi, C. Untethered soft robotics. Nat. Electron. 1, 102–112 (2018).

Palagi, S. & Fischer, P. Bioinspired microrobots. Nat. Rev. Mater. 3, 113–124 (2018).

Hu, C., Pané, S. & Nelson, B. J. Soft micro- and nanorobotics. Annu. Rev. Control. Robot. Auton. Syst. 1, 53–75 (2018).

Zheludev, N. I. & Kivshar, Y. S. From metamaterials to metadevices. Nat. Mater. 11, 917–924 (2012).

Xia, F. & Jiang, L. Bio-inspired, smart, multiscale interfacial materials. Adv. Mater. 20, 2842–2858 (2008).

Miskin, M. Z. et al. Graphene-based bimorphs for micron-sized, autonomous origami machines. Proc. Natl Acad. Sci. USA 115, 466–470 (2018).

Kim, Y., Yuk, H., Zhao, R., Chester, S. A. & Zhao, X. Printing ferromagnetic domains for untethered fast-transforming soft materials. Nature 558, 274–279 (2018).

Sydney Gladman, A., Matsumoto, E. A., Mahadevan, L., Nuzzo, R. G. & Lewis, J. A. Biomimetic 4D printing. Nat. Mater. 15, 413–418 (2016).

Huang, H.-W., Sakar, M. S., Petruska, A. J., Pane, S. & Nelson, B. J. Soft micromachines with programmable motility and morphology. Nat. Commun. 7, 12263 (2016).

Magdanz, V., Guix, M., Hebenstreit, F. & Schmidt, O. G. Dynamic polymeric microtubes for the remote-controlled capture, guidance, and release of sperm cells. Adv. Mater. 28, 4084–4089 (2016).

Jin, D. et al. Four-dimensional direct laser writing of reconfigurable compound micromachines. Mater. Today https://doi.org/10.1016/j.mattod.2019.06.002 (2019).

Peyer, K. E., Zhang, L. & Nelson, B. J. Bio-inspired magnetic swimming microrobots for biomedical applications. Nanoscale 5, 1259–1272 (2013).

Erb, R. M., Martin, J. J., Soheilian, R., Pan, C. & Barber, J. R. Actuating soft matter with magnetic torque. Adv. Funct. Mater. 26, 3859–3880 (2016).

Hu, W., Lum, G. Z., Mastrangeli, M. & Sitti, M. Small-scale soft-bodied robot with multimodal locomotion. Nature 554, 81–85 (2018).

Xu, T., Zhang, J., Salehizadeh, M., Onaizah, O. & Diller, E. Millimeter-scale flexible robots with programmable three-dimensional magnetization and motions. Sci. Robot. 4, eaav4494 (2019).

Kim, J. et al. Programming magnetic anisotropy in polymeric microactuators. Nat. Mater. 10, 747–752 (2011).

Huang, T. Y. et al. 3D Printed microtransporters: compound micromachines for spatiotemporally controlled delivery of therapeutic agents. Adv. Mater. 27, 6644–6650 (2015).

Cowburn, R. P., Koltsov, D. K., Adeyeye, A. O. & Welland, M. E. Single-domain circular nanomagnets. Phys. Rev. Lett. 83, 1042–1045 (1999).

Cowburn, R. P. Property variation with shape in magnetic nanoelements. J. Phys. D 33, R1–R16 (2000).

Rus, D. & Tolley, M. T. Design, fabrication and control of origami robots. Nat. Rev. Mater. 3, 101–112 (2018).

Gliga, S. et al. Emergent dynamic chirality in a thermally driven artificial spin ratchet. Nat. Mater. 16, 1106–1111 (2017).

Barros, N., Rassam, M., Jirari, H. & Kachkachi, H. Optimal switching of a nanomagnet assisted by microwaves. Phys. Rev. B 83, 144418 (2011).

Lambert, C. H. et al. All-optical control of ferromagnetic thin films and nanostructures. Science 345, 1337–1340 (2014).

Fernández-Pacheco, A. et al. Three-dimensional nanomagnetism. Nat. Commun. 8, 15756 (2017).

Heyderman, L. J. & Stamps, R. L. Artificial ferroic systems: novel functionality from structure, interactions and dynamics. J. Phys. Condens. Matter 25, 363201 (2013).

Gansel, J. K. et al. Gold helix photonic metamaterial as broadband circular polarizer. Science 325, 1513–1515 (2009).

Fu, H. et al. Morphable 3D mesostructures and microelectronic devices by multistable buckling mechanics. Nat. Mater. 17, 268–276 (2018).

O'Handley, R. C. Modern Magnetic Materials: Principles and Applications (Wiley, 1999).

Timošenko, S. P. & Goodier, J. N. Theory of Elasticity (McGraw-Hill, 1961).

Steager, E. B. et al. Automated biomanipulation of single cells using magnetic microrobots. Int. J. Robot. Res. 32, 346–359 (2013).

Huang, T. Y. et al. Cooperative manipulation and transport of microobjects using multiple helical microcarriers. RSC Advances 4, 26771–26776 (2014).

Luo, Z. et al. Chirally coupled nanomagnets. Science 363, 1435–1439 (2019).

Linder, V., Gates, B. D., Ryan, D., Parviz, B. A. & Whitesides, G. M. Water-soluble sacrificial layers for surface micromachining. Small 1, 730–736 (2005).
Acknowledgements
J.C. received support from the European Union's Horizon 2020 Research and Innovation Programme under the Marie Skłodowska Curie Grant Agreement (number 701647). This work was financially supported by the European Research Council Advanced Grant–Soft MicroRobots (SOMBOT, number 743217), the Swiss National Science Foundation (number 200021_165564) and the National Natural Science Foundation of China (number 11702003). We thank A. Weber and V. Guzenko for helping with the development of the fabrication process. The sample fabrication was performed using the cleanroom facilities at the Laboratory for Micro- and Nanotechnology at the Paul Scherrer Institute, Switzerland.
Ethics declarations
Competing interests
The authors declare no competing interests.
Additional information
Peer review information Nature thanks Je-Sung Koh, Xuanhe Zhao, and the other, anonymous, reviewer(s) for their contribution to the peer review of this work.
Publisher's note Springer Nature remains neutral with regard to jurisdictional claims in published maps and institutional affiliations.
Extended data figures and tables
Supplementary information
About this article
Cite this article
Cui, J., Huang, TY., Luo, Z. et al. Nanomagnetic encoding of shape-morphing micromachines. Nature 575, 164–168 (2019). https://doi.org/10.1038/s41586-019-1713-2
Received:

Accepted:

Published:

Issue Date:

DOI: https://doi.org/10.1038/s41586-019-1713-2
Comments
By submitting a comment you agree to abide by our Terms and Community Guidelines. If you find something abusive or that does not comply with our terms or guidelines please flag it as inappropriate.