Abstract
The human gastrointestinal tract consists of a dense and diverse microbial community, the composition of which is intimately linked to health. Extrinsic factors such as diet and host immunity are insufficient to explain the constituents of this community, and direct interactions between co-resident microorganisms have been implicated as important drivers of microbiome composition. The genomes of bacteria derived from the gut microbiome contain several pathways that mediate contact-dependent interbacterial antagonism1,2,3. Many members of the Gram-negative order Bacteroidales encode the type VI secretion system (T6SS), which facilitates the delivery of toxic effector proteins into adjacent cells4,5. Here we report the occurrence of acquired interbacterial defence (AID) gene clusters in Bacteroidales species that reside within the human gut microbiome. These clusters encode arrays of immunity genes that protect against T6SS-mediated intra- and inter-species bacterial antagonism. Moreover, the clusters reside on mobile elements, and we show that their transfer is sufficient to confer resistance to toxins in vitro and in gnotobiotic mice. Finally, we identify and validate the protective capability of a recombinase-associated AID subtype (rAID-1) that is present broadly in Bacteroidales genomes. These rAID-1 gene clusters have a structure suggestive of active gene acquisition and include predicted immunity factors of toxins derived from diverse organisms. Our data suggest that neutralization of contact-dependent interbacterial antagonism by AID systems helps to shape human gut microbiome ecology.
Relevant articles
Open Access articles citing this article.
Cristian V. Crisan

,

Holly L. Nichols

…

Brian K. Hammer

Scientific Reports Open Access 03 February 2021

De-Meng Xia

,

Xu-Ren Wang

…

Shuo-Gui Xu

Military Medical Research Open Access 21 January 2021
Access options
Subscribe to Nature+
Get immediate online access to Nature and 55 other Nature journal
Subscribe to Journal
Get full journal access for 1 year
$199.00
only $3.90 per issue
All prices are NET prices.
VAT will be added later in the checkout.
Tax calculation will be finalised during checkout.
Buy article
Get time limited or full article access on ReadCube.
$32.00
All prices are NET prices.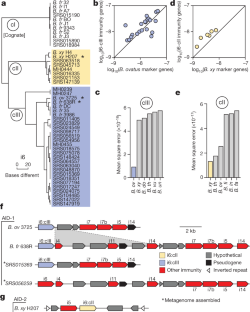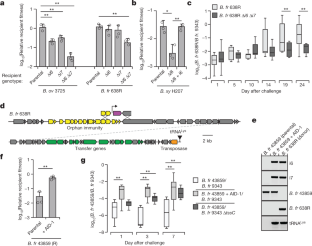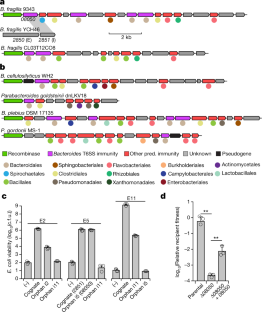 References
Whitney, J. C. et al. A broadly distributed toxin family mediates contact-dependent antagonism between Gram-positive bacteria. eLife 6, e26938 (2017).

Zhang, D., de Souza, R. F., Anantharaman, V., Iyer, L. M. & Aravind, L. Polymorphic toxin systems: comprehensive characterization of trafficking modes, processing, mechanisms of action, immunity and ecology using comparative genomics. Biol. Direct 7, 18 (2012).

Coyne, M. J., Roelofs, K. G. & Comstock, L. E. Type VI secretion systems of human gut Bacteroidales segregate into three genetic architectures, two of which are contained on mobile genetic elements. BMC Genomics 17, 58 (2016).

Russell, A. B. et al. A type VI secretion-related pathway in Bacteroidetes mediates interbacterial antagonism. Cell Host Microbe 16, 227–236 (2014).

Hood, R. D. et al. A type VI secretion system of Pseudomonas aeruginosa targets a toxin to bacteria. Cell Host Microbe 7, 25–37 (2010).

Cornforth, D. M. & Foster, K. R. Competition sensing: the social side of bacterial stress responses. Nat. Rev. Microbiol. 11, 285–293 (2013).

Hille, F. et al. The biology of CRISPR–Cas: backward and forward. Cell 172, 1239–1259 (2018).

Verster, A.J. et al. The landscape of type VI secretion across human gut microbiomes reveals its role in community composition. Cell Host Microbe 22, 411–419 (2017).

Wexler, A. G. et al. Human symbionts inject and neutralize antibacterial toxins to persist in the gut. Proc. Natl Acad. Sci. USA 113, 3639–3644 (2016).

Hecht, A. L. et al. Strain competition restricts colonization of an enteric pathogen and prevents colitis. EMBO Rep. 17, 1281–1291 (2016).

Kirchberger, P. C., Unterweger, D., Provenzano, D., Pukatzki, S. & Boucher, Y. Sequential displacement of type VI secretion system effector genes leads to evolution of diverse immunity gene arrays in Vibrio cholerae. Sci. Rep. 7, 45133 (2017).

Steele, M. I., Kwong, W. K., Whiteley, M. & Moran, N. A. Diversification of type VI secretion system toxins reveals ancient antagonism among bee gut microbes. mBio 8, e26938 (2017).

Ting, S. Y. et al. Bifunctional immunity proteins protect bacteria against Ftsz-targeting ADP-ribosylating toxins. Cell 175, 1380–1392 (2018).

Lloyd-Price, J. et al. Strains, functions and dynamics in the expanded Human Microbiome Project. Nature 550, 61–66 (2017).

Qin, J. et al. A human gut microbial gene catalogue established by metagenomic sequencing. Nature 464, 59–65 (2010).

Manor, O. et al. Metagenomic evidence for taxonomic dysbiosis and functional imbalance in the gastrointestinal tracts of children with cystic fibrosis. Sci. Rep. 6, 22493 (2016).

Siguier, P., Gourbeyre, E. & Chandler, M. Bacterial insertion sequences: their genomic impact and diversity. FEMS Microbiol. Rev. 38, 865–891 (2014).

Zhao, S. et al. Adaptive evolution within gut microbiomes of healthy people. Cell Host Microbe 25, 656–667.e8 (2019).

Wozniak, R. A. & Waldor, M. K. Integrative and conjugative elements: mosaic mobile genetic elements enabling dynamic lateral gene flow. Nat. Rev. Microbiol. 8, 552–563 (2010).

Stevens, A. M., Shoemaker, N. B. & Salyers, A. A. The region of a Bacteroides conjugal chromosomal tetracycline resistance element which is responsible for production of plasmidlike forms from unlinked chromosomal DNA might also be involved in transfer of the element. J. Bacteriol. 172, 4271–4279 (1990).

Castillo, F., Benmohamed, A. & Szatmari, G. Xer site specific recombination: double and single recombinase systems. Front. Microbiol. 8, 453 (2017).

Abu-Ali, G. S. et al. Metatranscriptome of human faecal microbial communities in a cohort of adult men. Nat. Microbiol. 3, 356–366 (2018).

Foster, K. R. & Bell, T. Competition, not cooperation, dominates interactions among culturable microbial species. Curr. Biol. 22, 1845–1850 (2012).

Poole, S. J. et al. Identification of functional toxin/immunity genes linked to contact-dependent growth inhibition (CDI) and rearrangement hotspot (Rhs) systems. PLoS Genet. 7, e1002217 (2011).

Drider, D., Fimland, G., Héchard, Y., McMullen, L. M. & Prévost, H. The continuing story of class IIa bacteriocins. Microbiol. Mol. Biol. Rev. 70, 564–582 (2006).

Coyte, K. Z., Schluter, J. & Foster, K. R. The ecology of the microbiome: networks, competition, and stability. Science 350, 663–666 (2015).

Human Microbiome Project Consortium. Structure, function and diversity of the healthy human microbiome. Nature 486, 207–214 (2012).

Qin, J. et al. A metagenome-wide association study of gut microbiota in type 2 diabetes. Nature 490, 55–60 (2012).

Li, J. et al. An integrated catalog of reference genes in the human gut microbiome. Nat. Biotechnol. 32, 834–841 (2014).

Truong, D. T. et al. MetaPhlAn2 for enhanced metagenomic taxonomic profiling. Nat. Methods 12, 902–903 (2015).

Langmead, B. & Salzberg, S. L. Fast gapped-read alignment with Bowtie 2. Nat. Methods 9, 357–359 (2012).

Li, H. et al. The Sequence Alignment/Map format and SAMtools. Bioinformatics 25, 2078–2079 (2009).

Luo, R. et al. SOAPdenovo2: an empirically improved memory-efficient short-read de novo assembler. Gigascience 1, 18 (2012).

Besemer, J., Lomsadze, A. & Borodovsky, M. GeneMarkS: a self-training method for prediction of gene starts in microbial genomes. Implications for finding sequence motifs in regulatory regions. Nucleic Acids Res. 29, 2607–2618 (2001).

Bacic, M. K. & Smith, C. J. Laboratory maintenance and cultivation of bacteroides species. Curr. Protoc. Microbiol. 9, 13C.1.1–13C.1.21 (2008).

Koropatkin, N. M., Martens, E. C., Gordon, J. I. & Smith, T. J. Starch catabolism by a prominent human gut symbiont is directed by the recognition of amylose helices. Structure 16, 1105–1115 (2008).

Degnan, P. H., Barry, N. A., Mok, K. C., Taga, M. E. & Goodman, A. L. Human gut microbes use multiple transporters to distinguish vitamin B12 analogs and compete in the gut. Cell Host Microbe 15, 47–57 (2014).

Hoffman, L. R. et al. Escherichia coli dysbiosis correlates with gastrointestinal dysfunction in children with cystic fibrosis. Clin. Infect. Dis. 58, 396–399 (2014).

Wick, R. R., Judd, L. M., Gorrie, C. L. & Holt, K. E. Unicycler: resolving bacterial genome assemblies from short and long sequencing reads. PLOS Comput. Biol. 13, e1005595 (2017).

Martens, E. C., Chiang, H. C. & Gordon, J. I. Mucosal glycan foraging enhances fitness and transmission of a saccharolytic human gut bacterial symbiont. Cell Host Microbe 4, 447–457 (2008).

García-Bayona, L. & Comstock, L. E. Bacterial antagonism in host-associated microbial communities. Science 361, eaat2456 (2018).

Lim, B., Zimmermann, M., Barry, N. A. & Goodman, A. L. Engineered regulatory systems modulate gene expression of human commensals in the gut. Cell 169, 547–558 (2017).

Paik, J. et al. Potential for using a hermetically-sealed, positive-pressured isocage system for studies involving germ-free mice outside a flexible-film isolator. Gut Microbes 6, 255–265 (2015).

Bailey, T. L. et al. MEME SUITE: tools for motif discovery and searching. Nucleic Acids Res. 37, W202–W208 (2009).

Silverman, J. M. et al. Haemolysin coregulated protein is an exported receptor and chaperone of type VI secretion substrates. Mol. Cell 51, 584–593 (2013).

Cardona, S. T. & Valvano, M. A. An expression vector containing a rhamnose-inducible promoter provides tightly regulated gene expression in Burkholderia cenocepacia. Plasmid 54, 219–228 (2005).

Bookout, A. L., Cummins, C. L., Mangelsdorf, D. J., Pesola, J. M. & Kramer, M. F. High-throughput real-time quantitative reverse transcription PCR. Curr. Protoc. Mol. Biol. 73, 15.8.1–15.8.28 (2006).

Caro-Quintero, A. & Ochman, H. Assessing the unseen bacterial diversity in microbial communities. Genome Biol. Evol. 7, 3416–3425 (2015).
Acknowledgements
We thank the UW GNAC for assistance with gnotobiotic experiments. We thank C. Sears, A. Goodman, T. Kuwahara and E. Martens for providing Bacteroides strains. This work was supported by National Institutes of Health (NIH) grants AI080609 (to J.D.M.), P30DK089507 (to L.R.H. as pilot study PI), R01DK095869 (to L.R.H.), K99GM129874 (to B.D.R.), R01GM124312 (to E.B.), and New Innovator Award DP2AT00780201 (to E.B.), and the Burroughs Wellcome Fund (to J.D.M.). A.J.V. was supported by a postdoctoral fellowship from the Natural Sciences and Engineering Research Council of Canada. B.D.R. was supported by a Simons Foundation-sponsored Life Sciences Research Foundation postdoctoral fellowship. E.B. is a Faculty Fellow of the Edmond J. Safra Center for Bioinformatics at Tel Aviv University. J.D.M. is an HHMI Investigator.
Ethics declarations
Competing interests
The authors declare no competing interests.
Additional information
Publisher's note Springer Nature remains neutral with regard to jurisdictional claims in published maps and institutional affiliations.
Peer review information Nature thanks Melanie Blokesch, Kevin Foster and the other, anonymous, reviewer(s) for their contribution to the peer review of this work.
Extended data figures and tables
Supplementary information
About this article
Cite this article
Ross, B.D., Verster, A.J., Radey, M.C. et al. Human gut bacteria contain acquired interbacterial defence systems. Nature 575, 224–228 (2019). https://doi.org/10.1038/s41586-019-1708-z
Received:

Accepted:

Published:

Issue Date:

DOI: https://doi.org/10.1038/s41586-019-1708-z
Comments
By submitting a comment you agree to abide by our Terms and Community Guidelines. If you find something abusive or that does not comply with our terms or guidelines please flag it as inappropriate.