Abstract
Ferroptosis is an iron-dependent form of necrotic cell death marked by oxidative damage to phospholipids1,2. To date, ferroptosis has been thought to be controlled only by the phospholipid hydroperoxide-reducing enzyme glutathione peroxidase 4 (GPX4)3,4 and radical-trapping antioxidants5,6. However, elucidation of the factors that underlie the sensitivity of a given cell type to ferroptosis7 is crucial to understand the pathophysiological role of ferroptosis and how it may be exploited for the treatment of cancer. Although metabolic constraints8 and phospholipid composition9,10 contribute to ferroptosis sensitivity, no cell-autonomous mechanisms have been identified that account for the resistance of cells to ferroptosis. Here we used an expression cloning approach to identify genes in human cancer cells that are able to complement the loss of GPX4. We found that the flavoprotein apoptosis-inducing factor mitochondria-associated 2 (AIFM2) is a previously unrecognized anti-ferroptotic gene. AIFM2, which we renamed ferroptosis suppressor protein 1 (FSP1) and which was initially described as a pro-apoptotic gene11, confers protection against ferroptosis elicited by GPX4 deletion. We further demonstrate that the suppression of ferroptosis by FSP1 is mediated by ubiquinone (also known as coenzyme Q10, CoQ10): the reduced form, ubiquinol, traps lipid peroxyl radicals that mediate lipid peroxidation, whereas FSP1 catalyses the regeneration of CoQ10 using NAD(P)H. Pharmacological targeting of FSP1 strongly synergizes with GPX4 inhibitors to trigger ferroptosis in a number of cancer entities. In conclusion, the FSP1–CoQ10–NAD(P)H pathway exists as a stand-alone parallel system, which co-operates with GPX4 and glutathione to suppress phospholipid peroxidation and ferroptosis.
Relevant articles
Open Access articles citing this article.
Xinzhuang Wang

,

Hong Zhang

…

Ming Gao

BMC Cancer Open Access 08 May 2023

Alvan Amos

,

Alex Amos

…

He Xia

Cell Communication and Signaling Open Access 05 May 2023

Yue Chen

,

Ze-Min Fang

…

Ding-Sheng Jiang

Cell Death & Disease Open Access 21 March 2023
Access options
Access Nature and 54 other Nature Portfolio journals
Get Nature+, our best-value online-access subscription
$29.99 / 30 days
cancel any time
Subscribe to this journal
Receive 51 print issues and online access
$199.00 per year
only $3.90 per issue
Rent or buy this article
Get just this article for as long as you need it
$39.95
Prices may be subject to local taxes which are calculated during checkout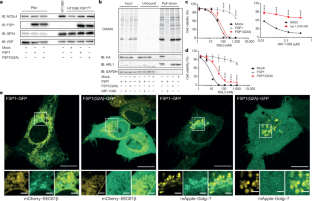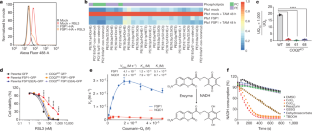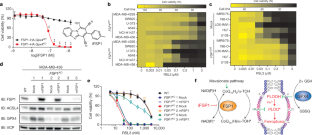 References
Dixon, S. J. et al. Ferroptosis: an iron-dependent form of nonapoptotic cell death. Cell 149, 1060–1072 (2012).

Conrad, M., Angeli, J. P., Vandenabeele, P. & Stockwell, B. R. Regulated necrosis: disease relevance and therapeutic opportunities. Nat. Rev. Drug Discov. 15, 348–366 (2016).

Yang, W. S. et al. Regulation of ferroptotic cancer cell death by GPX4. Cell 156, 317–331 (2014).

Friedmann Angeli, J. P. et al. Inactivation of the ferroptosis regulator Gpx4 triggers acute renal failure in mice. Nat. Cell Biol. 16, 1180–1191 (2014).

Zilka, O. et al. On the mechanism of cytoprotection by ferrostatin-1 and liproxstatin-1 and the role of lipid peroxidation in ferroptotic cell death. ACS Cent. Sci. 3, 232–243 (2017).

Shah, R., Shchepinov, M. S. & Pratt, D. A. Resolving the role of lipoxygenases in the initiation and execution of ferroptosis. ACS Cent. Sci. 4, 387–396 (2018).

Stockwell, B. R. et al. Ferroptosis: a regulated cell death nexus linking metabolism, redox biology, and disease. Cell 171, 273–285 (2017).

Tarangelo, A. et al. p53 suppresses metabolic stress-induced ferroptosis in cancer cells. Cell Rep. 22, 569–575 (2018).

Kagan, V. E. et al. Oxidized arachidonic and adrenic PEs navigate cells to ferroptosis. Nat. Chem. Biol. 13, 81–90 (2017).

Doll, S. et al. ACSL4 dictates ferroptosis sensitivity by shaping cellular lipid composition. Nat. Chem. Biol. 13, 91–98 (2017).

Wu, M., Xu, L. G., Li, X., Zhai, Z. & Shu, H. B. AMID, an apoptosis-inducing factor-homologous mitochondrion-associated protein, induces caspase-independent apoptosis. J. Biol. Chem. 277, 25617–25623 (2002).

Ingold, I. et al. Selenium utilization by GPX4 is required to prevent hydroperoxide-induced ferroptosis. Cell 172, 409–422 (2018).

Viswanathan, V. S. et al. Dependency of a therapy-resistant state of cancer cells on a lipid peroxidase pathway. Nature 547, 453–457 (2017).

Hangauer, M. J. et al. Drug-tolerant persister cancer cells are vulnerable to GPX4 inhibition. Nature 551, 247–250 (2017).

Tsoi, J. et al. Multi-stage differentiation defines melanoma subtypes with differential vulnerability to drug-induced iron-dependent oxidative stress. Cancer Cell 33, 890–904 (2018).

Angeli, J. P. F., Shah, R., Pratt, D. A. & Conrad, M. Ferroptosis inhibition: mechanisms and opportunities. Trends Pharmacol. Sci. 38, 489–498 (2017).

Horikoshi, N., Cong, J., Kley, N. & Shenk, T. Isolation of differentially expressed cDNAs from p53-dependent apoptotic cells: activation of the human homologue of the Drosophila peroxidasin gene. Biochem. Biophys. Res. Commun. 261, 864–869 (1999).

Bersuker, K. et al. The CoQ oxidoreductase FSP1 acts parallel to GPX4 to inhibit ferroptosis. Nature https://doi.org/10.1038/s41586-019-1705-2 (2019).

Seiler, A. et al. Glutathione peroxidase 4 senses and translates oxidative stress into 12/15-lipoxygenase dependent- and AIF-mediated cell death. Cell Metab. 8, 237–248 (2008).

Eisenhaber, F. et al. Prediction of lipid posttranslational modifications and localization signals from protein sequences: big- Π, NMT and PTS1. Nucleic Acids Res. 31, 3631–3634 (2003).

Borgese, N., Aggujaro, D., Carrera, P., Pietrini, G. & Bassetti, M. A role for N-myristoylation in protein targeting: NADH-cytochrome b 5 reductase requires myristic acid for association with outer mitochondrial but not ER membranes. J. Cell Biol. 135, 1501–1513 (1996).

Mousnier, A. et al. Fragment-derived inhibitors of human N-myristoyltransferase block capsid assembly and replication of the common cold virus. Nat. Chem. 10, 599–606 (2018).

Elguindy, M. M. & Nakamaru-Ogiso, E. Apoptosis-inducing factor (AIF) and its family member protein, AMID, are rotenone-sensitive NADH:ubiquinone oxidoreductases (NDH-2). J. Biol. Chem. 290, 20815–20826 (2015).

Frei, B., Kim, M. C. & Ames, B. N. Ubiquinol-10 is an effective lipid-soluble antioxidant at physiological concentrations. Proc. Natl Acad. Sci. USA 87, 4879–4883 (1990).

Haidasz, E. A., Van Kessel, A. T. & Pratt, D. A. A continuous visible light spectrophotometric approach to accurately determine the reactivity of radical-trapping antioxidants. J. Org. Chem. 81, 737–744 (2016).

Niki, E. Mechanisms and dynamics of antioxidant action of ubiquinol. Mol. Aspects Med. 18, 63–70 (1997).

Mannes, A. M., Seiler, A., Bosello, V., Maiorino, M. & Conrad, M. Cysteine mutant of mammalian GPx4 rescues cell death induced by disruption of the wild-type selenoenzyme. FASEB J. 25, 2135–2144 (2011).

Shimada, K., Hayano, M., Pagano, N. C. & Stockwell, B. R. Cell-line selectivity improves the predictive power of pharmacogenomic analyses and helps identify NADPH as biomarker for ferroptosis sensitivity. Cell Chem. Biol. 23, 225–235 (2016).

Shimada, K. et al. Global survey of cell death mechanisms reveals metabolic regulation of ferroptosis. Nat. Chem. Biol. 12, 497–503 (2016).

Morré, D. J. & Morré, D. M. Non-mitochondrial coenzyme Q. Biofactors 37, 355–360 (2011).

Nyquist, S. E., Barr, R. & Morré, D. J. Ubiquinone from rat liver Golgi apparatus fractions. Biochim. Biophys. Acta 208, 532–534 (1970).

Rees, M. G. et al. Correlating chemical sensitivity and basal gene expression reveals mechanism of action. Nat. Chem. Biol. 12, 109–116 (2016).

Seashore-Ludlow, B. et al. Harnessing connectivity in a large-scale small-molecule sensitivity dataset. Cancer Discov. 5, 1210–1223 (2015).

Basu, A. et al. An interactive resource to identify cancer genetic and lineage dependencies targeted by small molecules. Cell 154, 1151–1161 (2013).
Acknowledgements
This work is supported by the Junior Group Leader program of the Rudolf Virchow Center, University of Würzburg and Deutsche Forschungsgemeinschaft (DFG) FR 3746/3-1 to J.P.F.A., the DFG CO 291/5-2 and CO 291/7-1, the German Federal Ministry of Education and Research (BMBF) through the Joint Project Modelling ALS Disease In vitro (MAIV, 01EK1611B) and the VIP+ program NEUROPROTEKT (03VP04260), as well as the m4 Award provided by the Bavarian Ministry of Economic Affairs, Regional Development and Energy (StMWi) to M.C., the Cancer Research UK (CRUK, grants C29637/A20183 and C29637/A21451) to E.W.T., the European Research Council (LipidArrays) to V.O., the Natural Sciences and Engineering Council of Canada and the Canada Foundation for Innovation to D.A.P. and PhD scholarship by DFG GRK2157 to A.K.
Ethics declarations
Competing interests
The authors declare no competing interests.
Additional information
Peer review information Nature thanks Kivanc Birsoy, Navdeep S. Chandel and Brent R. Stockwell for their contribution to the peer review of this work.
Publisher's note Springer Nature remains neutral with regard to jurisdictional claims in published maps and institutional affiliations.
Extended data figures and tables
Supplementary information
About this article
Cite this article
Doll, S., Freitas, F.P., Shah, R. et al. FSP1 is a glutathione-independent ferroptosis suppressor. Nature 575, 693–698 (2019). https://doi.org/10.1038/s41586-019-1707-0
Received:

Accepted:

Published:

Issue Date:

DOI: https://doi.org/10.1038/s41586-019-1707-0
Comments
By submitting a comment you agree to abide by our Terms and Community Guidelines. If you find something abusive or that does not comply with our terms or guidelines please flag it as inappropriate.