Abstract
Ferroptosis is a form of regulated cell death that is caused by the iron-dependent peroxidation of lipids1,2. The glutathione-dependent lipid hydroperoxidase glutathione peroxidase 4 (GPX4) prevents ferroptosis by converting lipid hydroperoxides into non-toxic lipid alcohols3,4. Ferroptosis has previously been implicated in the cell death that underlies several degenerative conditions2, and induction of ferroptosis by the inhibition of GPX4 has emerged as a therapeutic strategy to trigger cancer cell death5. However, sensitivity to GPX4 inhibitors varies greatly across cancer cell lines6, which suggests that additional factors govern resistance to ferroptosis. Here, using a synthetic lethal CRISPR–Cas9 screen, we identify ferroptosis suppressor protein 1 (FSP1) (previously known as apoptosis-inducing factor mitochondrial 2 (AIFM2)) as a potent ferroptosis-resistance factor. Our data indicate that myristoylation recruits FSP1 to the plasma membrane where it functions as an oxidoreductase that reduces coenzyme Q10 (CoQ) (also known as ubiquinone-10), which acts as a lipophilic radical-trapping antioxidant that halts the propagation of lipid peroxides. We further find that FSP1 expression positively correlates with ferroptosis resistance across hundreds of cancer cell lines, and that FSP1 mediates resistance to ferroptosis in lung cancer cells in culture and in mouse tumour xenografts. Thus, our data identify FSP1 as a key component of a non-mitochondrial CoQ antioxidant system that acts in parallel to the canonical glutathione-based GPX4 pathway. These findings define a ferroptosis suppression pathway and indicate that pharmacological inhibition of FSP1 may provide an effective strategy to sensitize cancer cells to ferroptosis-inducing chemotherapeutic agents.
Relevant articles
Open Access articles citing this article.
Hongting Zhao

,

Meng Zhang

…

Kuanyu Li

Cell & Bioscience Open Access 13 May 2023

Xinzhuang Wang

,

Hong Zhang

…

Ming Gao

BMC Cancer Open Access 08 May 2023

Katharina Papsdorf

,

Jason W. Miklas

…

Anne Brunet

Nature Cell Biology Open Access 01 May 2023
Access options
Access Nature and 54 other Nature Portfolio journals
Get Nature+, our best-value online-access subscription
$29.99 / 30 days
cancel any time
Subscribe to this journal
Receive 51 print issues and online access
$199.00 per year
only $3.90 per issue
Rent or buy this article
Get just this article for as long as you need it
$39.95
Prices may be subject to local taxes which are calculated during checkout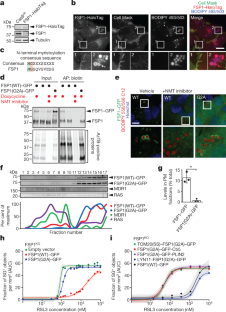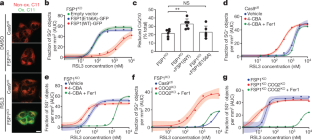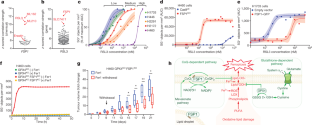 Data availability
All data that support the conclusions in this manuscript are available from the corresponding author upon reasonable request. Raw data for Fig. 1 are provided in Supplementary Table 1. Raw data for Fig. 3 are provided in Supplementary Table 3. Raw data for Fig. 4 are provided in Supplementary Table 4, and are publicly available from the Cancer Cell Line Encyclopedia (https://portals.broadinstitute.org/ccle) and CTRP databases.
References
Dixon, S. J. et al. Ferroptosis: an iron-dependent form of nonapoptotic cell death. Cell 149, 1060–1072 (2012).

Stockwell, B. R. et al. Ferroptosis: a regulated cell death nexus linking metabolism, redox biology, and disease. Cell 171, 273–285 (2017).

Yang, W. S. et al. Regulation of ferroptotic cancer cell death by GPX4. Cell 156, 317–331 (2014).

Ingold, I. et al. Selenium utilization by GPX4 is required to prevent hydroperoxide-induced ferroptosis. Cell 172, 409–422.e21 (2018).

Dixon, S. J. & Stockwell, B. R. The hallmarks of ferroptosis. Annu. Rev. Cancer Biol. 3, 35–54 (2019).

Zou, Y. et al. A GPX4-dependent cancer cell state underlies the clear-cell morphology and confers sensitivity to ferroptosis. Nat. Commun. 10, 1617 (2019).

Wu, M., Xu, L.-G., Li, X., Zhai, Z. & Shu, H.-B. AMID, an apoptosis-inducing factor-homologous mitochondrion-associated protein, induces caspase-independent apoptosis. J. Biol. Chem. 277, 25617–25623 (2002).

Ohiro, Y. et al. A novel p53-inducible apoptogenic gene, PRG3, encodes a homologue of the apoptosis-inducing factor (AIF). FEBS Lett. 524, 163–171 (2002).

Dixon, S. J. et al. Pharmacological inhibition of cysteine–glutamate exchange induces endoplasmic reticulum stress and ferroptosis. eLife 3, e02523 (2014).

Bersuker, K. et al. A Proximity labeling strategy provides insights into the composition and dynamics of lipid droplet proteomes. Dev. Cell 44, 97–112.e7 (2018).

Magtanong, L. et al. Exogenous monounsaturated fatty acids promote a ferroptosis-resistant cell state. Cell Chem. Biol. 26, 420–432.e9 (2019).

Yang, W. S. et al. Peroxidation of polyunsaturated fatty acids by lipoxygenases drives ferroptosis. Proc. Natl Acad. Sci. USA 113, E4966–E4975 (2016).

Marshall, K. R. et al. The human apoptosis-inducing protein AMID is an oxidoreductase with a modified flavin cofactor and DNA binding activity. J. Biol. Chem. 280, 30735–30740 (2005).

Shimada, K. et al. Global survey of cell death mechanisms reveals metabolic regulation of ferroptosis. Nat. Chem. Biol. 12, 497–503 (2016).

Arroyo, A., Navarro, F., Navas, P. & Villalba, J. M. Ubiquinol regeneration by plasma membrane ubiquinone reductase. Protoplasma 205, 107–113 (1998).

Takahashi, T., Okamoto, T., Mori, K., Sayo, H. & Kishi, T. Distribution of ubiquinone and ubiquinol homologues in rat tissues and subcellular fractions. Lipids 28, 803–809 (1993).

Sun, X. et al. Activation of the p62-Keap1-NRF2 pathway protects against ferroptosis in hepatocellular carcinoma cells. Hepatology 63, 173–184 (2016).

Rees, M. G. et al. Correlating chemical sensitivity and basal gene expression reveals mechanism of action. Nat. Chem. Biol. 12, 109–116 (2016).

Hangauer, M. J. et al. Drug-tolerant persister cancer cells are vulnerable to GPX4 inhibition. Nature 551, 247–250 (2017).

Viswanathan, V. S. et al. Dependency of a therapy-resistant state of cancer cells on a lipid peroxidase pathway. Nature 547, 453–457 (2017).

Zhang, Y. et al. Imidazole ketone erastin induces ferroptosis and slows tumor growth in a mouse lymphoma model. Cell Chem. Biol. 26, 623–633.e9 (2019).

Hayano, M., Yang, W. S., Corn, C. K., Pagano, N. C. & Stockwell, B. R. Loss of cysteinyl-tRNA synthetase (CARS) induces the transsulfuration pathway and inhibits ferroptosis induced by cystine deprivation. Cell Death Differ. 23, 270–278 (2016).

Doll, S. et al. FSP1 is a glutathione-independent ferroptosis suppressor. Nature https://doi.org/10.1038/s41586-019-1707-0 (2019).

Nguyen, T. B. et al. DGAT1-dependent lipid droplet biogenesis protects mitochondrial function during starvation-induced autophagy. Dev. Cell 42, 9–21.e5 (2017).

Tribble, D. L. et al. Oxidative susceptibility of low density lipoprotein subfractions is related to their ubiquinol-10 and α-tocopherol content. Proc. Natl Acad. Sci. USA 91, 1183–1187 (1994).

Stocker, R., Bowry, V. W. & Frei, B. Ubiquinol-10 protects human low density lipoprotein more efficiently against lipid peroxidation than does α-tocopherol. Proc. Natl Acad. Sci. USA 88, 1646–1650 (1991).

Inoue, T., Heo, W. D., Grimley, J. S., Wandless, T. J. & Meyer, T. An inducible translocation strategy to rapidly activate and inhibit small GTPase signaling pathways. Nat. Methods 2, 415–418 (2005).

Macdonald, J. L. & Pike, L. J. A simplified method for the preparation of detergent-free lipid rafts. J. Lipid Res. 46, 1061–1067 (2005).

Morgens, D. W. et al. Genome-scale measurement of off-target activity using Cas9 toxicity in high-throughput screens. Nat. Commun. 8, 15178 (2017).

Tang, P. H., Miles, M. V., DeGrauw, A., Hershey, A. & Pesce, A. HPLC analysis of reduced and oxidized coenzyme Q10 in human plasma. Clin. Chem. 47, 256–265 (2001).
Acknowledgements
This research was supported by grants from the National Institutes of Health (R01GM112948 to J.A.O., 1R01GM122923 to S.J.D., P42 ES004705 to D.K.N. and 1DP2CA195761-01 to R.Z.). J.A.O. is a Chan Zuckerberg Biohub investigator. D.K.N. was supported by a Cancer Research ASPIRE award from the Mark Foundation. P.H.T. was supported by the Internal Research Fund of the Division of Pathology and Laboratory Medicine, Cincinnati Children's Hospital Medical Center. We thank P.-J. Ko (Stanford) for assistance with confocal imaging, and D. Leto (Stanford) and R. Kopito (Stanford) for helpful discussions.
Ethics declarations
Competing interests
S.J.D. is a member of the scientific advisory board for Ferro Therapeutics.
Additional information
Publisher's note Springer Nature remains neutral with regard to jurisdictional claims in published maps and institutional affiliations.
Peer review information Nature thanks Kivanc Birsoy, Navdeep S. Chandel and the other, anonymous, reviewer(s) for their contribution to the peer review of this work.
Extended data figures and tables
Supplementary information
About this article
Cite this article
Bersuker, K., Hendricks, J.M., Li, Z. et al. The CoQ oxidoreductase FSP1 acts parallel to GPX4 to inhibit ferroptosis. Nature 575, 688–692 (2019). https://doi.org/10.1038/s41586-019-1705-2
Received:

Accepted:

Published:

Issue Date:

DOI: https://doi.org/10.1038/s41586-019-1705-2
Comments
By submitting a comment you agree to abide by our Terms and Community Guidelines. If you find something abusive or that does not comply with our terms or guidelines please flag it as inappropriate.