Abstract
Topology is a powerful recent concept asserting that quantum states could be globally protected against local perturbations1,2. Dissipationless topologically protected states are therefore of major fundamental interest as well as of practical importance in metrology and quantum information technology. Although topological protection can be robust theoretically, in realistic devices it is often susceptible to various dissipative mechanisms, which are difficult to study directly because of their microscopic origins. Here we use scanning nanothermometry3 to visualize and investigate the microscopic mechanisms that undermine dissipationless transport in the quantum Hall state in graphene. Simultaneous nanoscale thermal and scanning gate microscopy shows that the dissipation is governed by crosstalk between counterpropagating pairs of downstream and upstream channels that appear at graphene boundaries as a result of edge reconstruction. Instead of local Joule heating, however, the dissipation mechanism comprises two distinct and spatially separated processes. The work-generating process that we image directly, which involves elastic tunnelling of charge carriers between the quantum channels, determines the transport properties but does not generate local heat. By contrast, the heat and entropy generation process—which we visualize independently—occurs nonlocally upon resonant inelastic scattering from single atomic defects at graphene edges, and does not affect transport. Our findings provide an insight into the mechanisms that conceal the true topological protection, and suggest routes towards engineering more robust quantum states for device applications.
Relevant articles
Open Access articles citing this article.
La Rivista del Nuovo Cimento Open Access 14 July 2022

Qianchun Weng

,

Le Yang

…

Susumu Komiyama

Nature Communications Open Access 06 August 2021

N. Moreau

,

B. Brun

…

B. Hackens

Nature Communications Open Access 12 July 2021
Access options
Access Nature and 54 other Nature Portfolio journals
Get Nature+, our best-value online-access subscription
$29.99 per month
cancel any time
Subscribe to this journal
Receive 51 print issues and online access
$199.00 per year
only $3.90 per issue
Rent or buy this article
Get just this article for as long as you need it
$39.95
Prices may be subject to local taxes which are calculated during checkout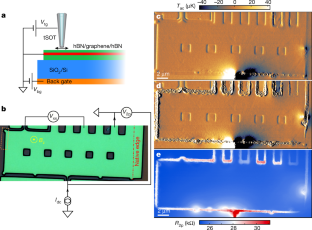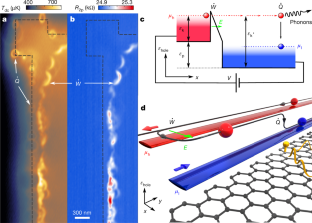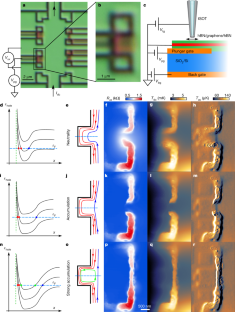 Data availability
Data supporting the findings of this study are available within the article and its Supplementary Information files and from the corresponding authors upon reasonable request.
References
Hasan, M. Z. & Kane, C. L. Colloquium: topological insulators. Rev. Mod. Phys. 82, 3045–3067 (2010).

Qi, X.-L. & Zhang, S.-C. Topological insulators and superconductors. Rev. Mod. Phys. 83, 1057–1110 (2011).

Halbertal, D. et al. Nanoscale thermal imaging of dissipation in quantum systems. Nature 539, 407–410 (2016).

Tzalenchuk, A. et al. Towards a quantum resistance standard based on epitaxial graphene. Nat. Nanotechnol. 5, 186–189 (2010).

Weis, J. & von Klitzing, K. Metrology and microscopic picture of the integer quantum Hall effect. Philos. Trans. R. Soc. A 369, 3954–3974 (2011).

Büttiker, M. Absence of backscattering in the quantum Hall effect in multiprobe conductors. Phys. Rev. B 38, 9375–9389 (1988).

Silvestrov, P. G. & Efetov, K. B. Charge accumulation at the boundaries of a graphene strip induced by a gate voltage: Electrostatic approach. Phys. Rev. B 77, 155436 (2008).

Cui, Y.-T. et al. Unconventional correlation between quantum Hall transport quantization and bulk state filling in gated graphene devices. Phys. Rev. Lett. 117, 186601 (2016).

Vasyukov, D. et al. A scanning superconducting quantum interference device with single electron spin sensitivity. Nat. Nanotechnol. 8, 639–644 (2013).

Eriksson, M. A. et al. Cryogenic scanning probe characterization of semiconductor nanostructures. Appl. Phys. Lett. 69, 671–673 (1996).

Halbertal, D. et al. Imaging resonant dissipation from individual atomic defects in graphene. Science 358, 1303–1306 (2017).

Altimiras, C. et al. Tuning energy relaxation along quantum Hall channels. Phys. Rev. Lett. 105, 226804 (2010).

Venkatachalam, V., Hart, S., Pfeiffer, L., West, K. & Yacoby, A. Local thermometry of neutral modes on the quantum Hall edge. Nat. Phys. 8, 676–681 (2012).

Itoh, K. et al. Signatures of a nonthermal metastable state in copropagating quantum Hall edge channels. Phys. Rev. Lett. 120, 197701 (2018).

Tikhonov, K. S., Gornyi, I. V., Kachorovskii, V. Y. & Mirlin, A. D. Resonant supercollisions and electron-phonon heat transfer in graphene. Phys. Rev. B 97, 085415 (2018).

Kong, J. F., Levitov, L., Halbertal, D. & Zeldov, E. Resonant electron-lattice cooling in graphene. Phys. Rev. B 97, 245416 (2018).

Chae, J. et al. Enhanced carrier transport along edges of graphene devices. Nano Lett. 12, 1839 (2012).

Panchal, V. et al. Visualisation of edge effects in side-gated graphene nanodevices. Sci. Rep. 4, 5881 (2014).

Vera-Marun, I. J. et al. Quantum Hall transport as a probe of capacitance profile at graphene edges. Appl. Phys. Lett. 102, 013106 (2013).

Barraud, C. et al. Field effect in the quantum Hall regime of a high mobility graphene wire. J. Appl. Phys. 116, 073705 (2014).

Akiho, T., Irie, H., Onomitsu, K. & Muraki, K. Counterflowing edge current and its equilibration in quantum Hall devices with sharp edge potential: Roles of incompressible strips and contact configuration. Phys. Rev. B 99, 121303 (2019).

Ma, E. Y. et al. Unexpected edge conduction in mercury telluride quantum wells under broken time-reversal symmetry. Nat. Commun. 6, 7252 (2015).

Shtanko, O. & Levitov, L. Robustness and universality of surface states in Dirac materials. Proc. Natl Acad. Sci. USA 115, 5908–5913 (2018).

Akhmerov, A. R. & Beenakker, C. W. J. Boundary conditions for Dirac fermions on a terminated honeycomb lattice. Phys. Rev. B 77, 085423 (2008).

Allen, M. T. et al. Spatially resolved edge currents and guided-wave electronic states in graphene. Nat. Phys. 12, 128–133 (2016).

Amet, F. et al. Supercurrent in the quantum Hall regime. Science 352, 966–969 (2016).

Zhu, M. J. et al. Edge currents shunt the insulating bulk in gapped graphene. Nat. Commun. 8, 14552 (2017).

Indolese, D. I. et al. Signatures of van Hove singularities probed by the supercurrent in a graphene–hBN superlattice. Phys. Rev. Lett. 121, 137701 (2018).

Pribiag, V. S. et al. Edge-mode superconductivity in a two-dimensional topological insulator. Nat. Nanotechnol. 10, 593–597 (2015).

Lee, G.-H. et al. Inducing superconducting correlation in quantum Hall edge states. Nat. Phys. 13, 693–698 (2017).

de Vries, F. K. et al. h/e Superconducting quantum interference through trivial edge states in InAs. Phys. Rev. Lett. 120, 047702 (2018).

Ribeiro-Palau, R. et al. High-quality electrostatically defined Hall bars in monolayer graphene. Nano Lett. 19, 2583–2587 (2019).

Pizzocchero, F. et al. The hot pick-up technique for batch assembly of van der Waals heterostructures. Nat. Commun. 7, 11894 (2016).

Ella, L. et al. Simultaneous voltage and current density imaging of flowing electrons in two dimensions. Nat. Nanotechnol. 14, 480–487 (2019).

Finkler, A. et al. Self-aligned nanoscale SQUID on a tip. Nano Lett. 10, 1046–1049 (2010).

Finkler, A. et al. Scanning superconducting quantum interference device on a tip for magnetic imaging of nanoscale phenomena. Rev. Sci. Instrum. 83, 073702 (2012).

Paradiso, N. et al. Spatially resolved analysis of edge-channel equilibration in quantum Hall circuits. Phys. Rev. B 83, 155305 (2011).

Garcia, A. G. F., König, M., Goldhaber-Gordon, D. & Todd, K. Scanning gate microscopy of localized states in wide graphene constrictions. Phys. Rev. B 87, 085446 (2013).

Pascher, N. et al. Imaging the conductance of integer and fractional quantum Hall edge states. Phys. Rev. X 4, 011014 (2014).

Bhandari, S. et al. Imaging cyclotron orbits of electrons in graphene. Nano Lett. 16, 1690–1694 (2016).

Braem, B. A. et al. Investigating energy scales of fractional quantum Hall states using scanning gate microscopy. Phys. Rev. B 93, 115442 (2016).

Dou, Z. et al. Imaging bulk and edge transport near the Dirac point in graphene moiré superlattices. Nano Lett. 18, 2530–2537 (2018).

Herbschleb, E. D. et al. Direct imaging of coherent quantum transport in graphene p–n–p junctions. Phys. Rev. B 92, 125414 (2015).

Schnez, S. et al. Imaging localized states in graphene nanostructures. Phys. Rev. B 82, 165445 (2010).

Bischoff, D. et al. Localized charge carriers in graphene nanodevices. Appl. Phys. Rev. 2, 031301 (2015).

Vasko, F. T. & Zozoulenko, I. V. Conductivity of a graphene strip: width and gate-voltage dependencies. Appl. Phys. Lett. 97, 092115 (2010).

Woessner, A. et al. Near-field photocurrent nanoscopy on bare and encapsulated graphene. Nat. Commun. 7, 10783 (2016).
Acknowledgements
We thank G. Zhang, I. V. Gornyi, A. D. Mirlin and Y. Gefen for discussions and theoretical analysis, M. E. Huber for SOT readout setup, and M. L. Rappaport for technical assistance. This work was supported by the European Research Council (ERC) under the European Union's Horizon 2020 research and innovation program (grant number 785971), by the Israel Science Foundation (ISF; grant number 921/18), by the Minerva Foundation with funding from the Federal German Ministry of Education and Research, by the German-Israeli Foundation (GIF), by the Weizmann–UK Making Connections Program, and by Manchester Graphene-NOWNANO CDT EP/L-1548X. E.Z. acknowledges the support of the Leona M. and Harry B. Helmsley Charitable Trust grant 2018PG-ISL006.
Ethics declarations
Competing interests
The authors declare no competing interests.
Additional information
Publisher's note Springer Nature remains neutral with regard to jurisdictional claims in published maps and institutional affiliations.
Peer review information Nature thanks Xi Lin and the other, anonymous, reviewer(s) for their contribution to the peer review of this work.
Extended data figures and tables
Supplementary information
About this article
Cite this article
Marguerite, A., Birkbeck, J., Aharon-Steinberg, A. et al. Imaging work and dissipation in the quantum Hall state in graphene. Nature 575, 628–633 (2019). https://doi.org/10.1038/s41586-019-1704-3
Received:

Accepted:

Published:

Issue Date:

DOI: https://doi.org/10.1038/s41586-019-1704-3
Comments
By submitting a comment you agree to abide by our Terms and Community Guidelines. If you find something abusive or that does not comply with our terms or guidelines please flag it as inappropriate.