Abstract
The Warburg effect, which originally described increased production of lactate in cancer, is associated with diverse cellular processes such as angiogenesis, hypoxia, polarization of macrophages and activation of T cells. This phenomenon is intimately linked to several diseases including neoplasia, sepsis and autoimmune diseases1,2. Lactate, which is converted from pyruvate in tumour cells, is widely known as an energy source and metabolic by-product. However, its non-metabolic functions in physiology and disease remain unknown. Here we show that lactate-derived lactylation of histone lysine residues serves as an epigenetic modification that directly stimulates gene transcription from chromatin. We identify 28 lactylation sites on core histones in human and mouse cells. Hypoxia and bacterial challenges induce the production of lactate by glycolysis, and this acts as a precursor that stimulates histone lactylation. Using M1 macrophages that have been exposed to bacteria as a model system, we show that histone lactylation has different temporal dynamics from acetylation. In the late phase of M1 macrophage polarization, increased histone lactylation induces homeostatic genes that are involved in wound healing, including Arg1. Collectively, our results suggest that an endogenous 'lactate clock' in bacterially challenged M1 macrophages turns on gene expression to promote homeostasis. Histone lactylation thus represents an opportunity to improve our understanding of the functions of lactate and its role in diverse pathophysiological conditions, including infection and cancer.
Relevant articles
Open Access articles citing this article.
Wenzhe Duan

,

Wenwen Liu

…

Qi Wang

Journal of Translational Medicine Open Access 16 August 2023

Zhengyu Yu

,

Bingquan Qiu

…

Ting Niu

Cancer Cell International Open Access 14 August 2023

Mengyuan Li

,

Yuhan Yang

…

Chunxiao Li

Journal of Hematology & Oncology Open Access 25 July 2023
Access options
Access Nature and 54 other Nature Portfolio journals
Get Nature+, our best-value online-access subscription
$29.99 / 30 days
cancel any time
Subscribe to this journal
Receive 51 print issues and online access
$199.00 per year
only $3.90 per issue
Rent or buy this article
Prices vary by article type
from$1.95
to$39.95
Prices may be subject to local taxes which are calculated during checkout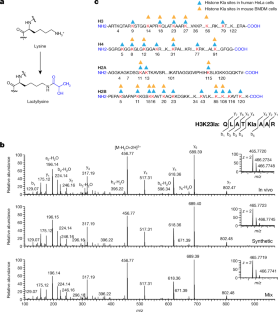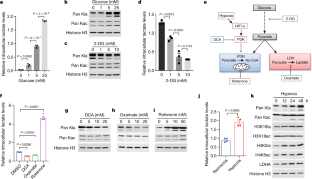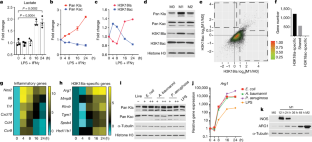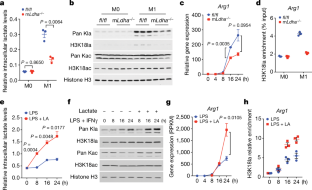 Data availability
The ChIP–seq and RNA–seq data have been made available at the Gene Expression Omnibus (GEO) repository under the accession number GSE115354. The mass spectrometry proteomics data have been deposited to the ProteomeXchange Consortium via the PRIDE31 partner repository with the dataset identifier PXD014870. All other data are available from the authors upon reasonable request.
References
Pavlova, N. N. & Thompson, C. B. The emerging hallmarks of cancer metabolism. Cell Metab. 23, 27–47 (2016).

Palsson-McDermott, E. M. & O'Neill, L. A. The Warburg effect then and now: from cancer to inflammatory diseases. BioEssays 35, 965–973 (2013).

Sabari, B. R., Zhang, D., Allis, C. D. & Zhao, Y. Metabolic regulation of gene expression through histone acylations. Nat. Rev. Mol. Cell Biol. 18, 90–101 (2017).

Kaelin, W. G., Jr & McKnight, S. L. Influence of metabolism on epigenetics and disease. Cell 153, 56–69 (2013).

Tan, M. et al. Identification of 67 histone marks and histone lysine crotonylation as a new type of histone modification. Cell 146, 1016–1028 (2011).

Liu, X. et al. Acetate production from glucose and coupling to mitochondrial metabolism in mammals. Cell 175, 502–513 (2018).

Semenza, G. L. Oxygen sensing, hypoxia-inducible factors, and disease pathophysiology. Annu. Rev. Pathol. 9, 47–71 (2014).

Haas, R. et al. Intermediates of metabolism: from bystanders to signalling molecules. Trends Biochem. Sci. 41, 460–471 (2016).

Martinez-Outschoorn, U. E. et al. Ketones and lactate increase cancer cell "stemness," driving recurrence, metastasis and poor clinical outcome in breast cancer: achieving personalized medicine via Metabolo-Genomics. Cell Cycle 10, 1271–1286 (2011).

Galván-Peña, S. & O'Neill, L. A. Metabolic reprograming in macrophage polarization. Front. Immunol. 5, 420 (2014).

Allis, C. D. & Jenuwein, T. The molecular hallmarks of epigenetic control. Nat. Rev. Genet. 17, 487–500 (2016).

Rath, M., Müller, I., Kropf, P., Closs, E. I. & Munder, M. Metabolism via arginase or nitric oxide synthase: two competing arginine pathways in macrophages. Front. Immunol. 5, 532 (2014).

Colegio, O. R. et al. Functional polarization of tumour-associated macrophages by tumour-derived lactic acid. Nature 513, 559–563 (2014).

An, W., Kim, J. & Roeder, R. G. Ordered cooperative functions of PRMT1, p300, and CARM1 in transcriptional activation by p53. Cell 117, 735–748 (2004).

Tang, Z. et al. SET1 and p300 act synergistically, through coupled histone modifications, in transcriptional activation by p53. Cell 154, 297–310 (2013).

Tannahill, G. M. et al. Succinate is an inflammatory signal that induces IL-1β through HIF-1α. Nature 496, 238–242 (2013).

Walenta, S. et al. High lactate levels predict likelihood of metastases, tumor recurrence, and restricted patient survival in human cervical cancers. Cancer Res. 60, 916–921 (2000).

Kratz, M. et al. Metabolic dysfunction drives a mechanistically distinct proinflammatory phenotype in adipose tissue macrophages. Cell Metab. 20, 614–625 (2014).

Shechter, D., Dormann, H. L., Allis, C. D. & Hake, S. B. Extraction, purification and analysis of histones. Nat. Protocols 2, 1445–1457 (2007).

Cox, J. & Mann, M. MaxQuant enables high peptide identification rates, individualized p.p.b.-range mass accuracies and proteome-wide protein quantification. Nat. Biotechnol. 26, 1367–1372 (2008).

Kim, D., Langmead, B. & Salzberg, S. L. HISAT: a fast spliced aligner with low memory requirements. Nat. Methods 12, 357–360 (2015).

Robinson, M. D., McCarthy, D. J. & Smyth, G. K. edgeR: a Bioconductor package for differential expression analysis of digital gene expression data. Bioinformatics 26, 139–140 (2010).

Huang, W., Sherman, B. T. & Lempicki, R. A. Systematic and integrative analysis of large gene lists using DAVID bioinformatics resources. Nat. Protocols 4, 44–57 (2009).

Huang, W., Sherman, B. T. & Lempicki, R. A. Bioinformatics enrichment tools: paths toward the comprehensive functional analysis of large gene lists. Nucleic Acids Res. 37, 1–13 (2009).

Cuddapah, S. et al. Native chromatin preparation and Illumina/Solexa library construction. Cold Spring Harb. Protoc. 2009, pdb prot5237 (2009).

Langmead, B. & Salzberg, S. L. Fast gapped-read alignment with Bowtie 2. Nat. Methods 9, 357–359 (2012).

Langmead, B., Trapnell, C., Pop, M. & Salzberg, S. L. Ultrafast and memory-efficient alignment of short DNA sequences to the human genome. Genome Biol. 10, R25 (2009).

Li, H. et al. The Sequence Alignment/Map format and SAMtools. Bioinformatics 25, 2078–2079 (2009).

Zhang, Y. et al. Model-based analysis of ChIP-Seq (MACS). Genome Biol. 9, R137 (2008).

Liao, Y., Smyth, G. K. & Shi, W. featureCounts: an efficient general purpose program for assigning sequence reads to genomic features. Bioinformatics 30, 923–930 (2014).

Perez-Riverol, Y. et al. The PRIDE database and related tools and resources in 2019: improving support for quantification data. Nucleic Acids Res. 47 (D1), D442–D450 (2019).
Acknowledgements
HEK293T p300 knockout cells were provided by X. Li. We thank S. Khochbin for brainstorming and critical reading of this manuscript. We thank K. Delaney and all other members of the Zhao and Becker laboratories for discussions and technical support. This work was supported by the University of Chicago, Nancy and Leonard Florsheim family fund (Y.Z.), NIH grants R01GM115961, R01DK118266 (Y.Z.), R01DK102960, R01HL137998 (L.B.), R01CA129325, R01DK071900 (R.G.R.), and NSF1808087 (Y.G.Z.).
Ethics declarations
Competing interests
Y.Z. is a co-founder, board member, and advisor to PTM Bio Inc. L.B. is a  co-founder and CSO of rMark Bio Inc., and a  founder and CEO of Onchilles Pharma Inc.
Additional information
Publisher's note Springer Nature remains neutral with regard to jurisdictional claims in published maps and institutional affiliations.
Peer review information Nature thanks Luke O'Neill, Kathryn Wellen and the other, anonymous, reviewer(s) for their contribution to the peer review of this work.
Extended data figures and tables
Supplementary information
About this article
Cite this article
Zhang, D., Tang, Z., Huang, H. et al. Metabolic regulation of gene expression by histone lactylation. Nature 574, 575–580 (2019). https://doi.org/10.1038/s41586-019-1678-1
Received:

Accepted:

Published:

Issue Date:

DOI: https://doi.org/10.1038/s41586-019-1678-1
Comments
By submitting a comment you agree to abide by our Terms and Community Guidelines. If you find something abusive or that does not comply with our terms or guidelines please flag it as inappropriate.