Abstract
Although glucose-sensing neurons were identified more than 50 years ago, the physiological role of glucose sensing in metazoans remains unclear. Here we identify a pair of glucose-sensing neurons with bifurcated axons in the brain of Drosophila. One axon branch projects to insulin-producing cells to trigger the release of Drosophila insulin-like peptide 2 (dilp2) and the other extends to adipokinetic hormone (AKH)–producing cells to inhibit secretion of AKH, the fly analogue of glucagon. These axonal branches undergo synaptic remodelling in response to changes in their internal energy status. Silencing of these glucose-sensing neurons largely disabled the response of insulin-producing cells to glucose and dilp2 secretion, disinhibited AKH secretion in corpora cardiaca and caused hyperglycaemia, a hallmark feature of diabetes mellitus. We propose that these glucose-sensing neurons maintain glucose homeostasis by promoting the secretion of dilp2 and suppressing the release of AKH when haemolymph glucose levels are high.
Access options
Subscribe to Journal
Get full journal access for 1 year
$199.00
only $3.90 per issue
All prices are NET prices.
VAT will be added later in the checkout.
Tax calculation will be finalised during checkout.
Rent or Buy article
Get time limited or full article access on ReadCube.
from$8.99
All prices are NET prices.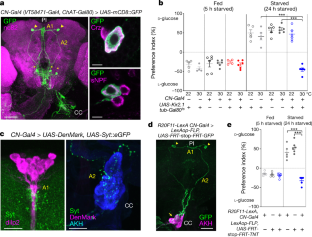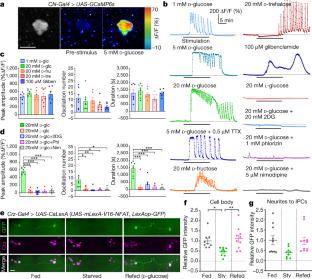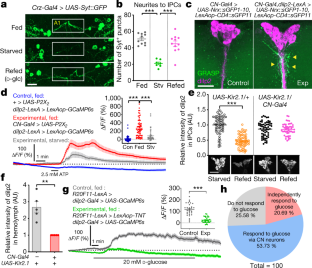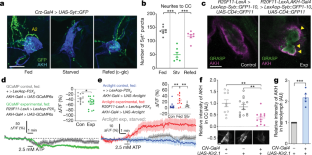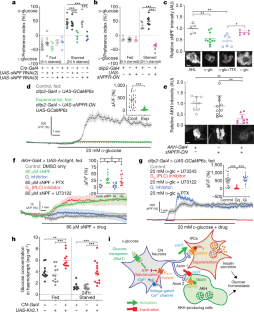 Data availability
Raw mass spectrometry files have been deposited in the MassIVE database; with MassIVE accession ID: MSV000083796. All other raw data are available from the corresponding author on reasonable request.
References
1.

Mayer, J. Glucostatic mechanism of regulation of food intake. N. Engl. J. Med. 249, 13–16 (1953). 

2.

Oomura, Y. et al. Reciprocal activities of the ventromedial and lateral hypothalamic areas of cats. Science 143, 484–485 (1964). 

3.

Parton, L. E. et al. Glucose sensing by POMC neurons regulates glucose homeostasis and is impaired in obesity. Nature 449, 228–232 (2007). 

4.

Levin, B. E. Neuronal glucose sensing: still a physiological orphan? Cell Metab. 6, 252–254 (2007). 

5.

Dus, M. et al. Nutrient sensor in the brain directs the action of the brain–gut axis in Drosophila. Neuron 87, 139–151 (2015). 

6.

López-Gambero, A. J., Martínez, F., Salazar, K., Cifuentes, M. & Nualart, F. Brain glucose-sensing mechanism and energy homeostasis. Mol. Neurobiol. 56, 769–796 (2019).

7.

Dus, M., Min, S., Keene, A. C., Lee, G. Y. & Suh, G. S. B. Taste-independent detection of the caloric content of sugar in Drosophila. Proc. Natl Acad. Sci. USA 108, 11644–11649 (2011). 

8.

Pfeiffer, B. D. et al. Tools for neuroanatomy and neurogenetics in Drosophila. Proc. Natl Acad. Sci. USA 105, 9715–9720 (2008). 

9.

Tayler, T. D., Pacheco, D. A., Hergarden, A. C., Murthy, M. & Anderson, D. J. A neuropeptide circuit that coordinates sperm transfer and copulation duration in Drosophila. Proc. Natl Acad. Sci. USA 109, 20697–20702 (2012). 

10.

Kapan, N., Lushchak, O. V., Luo, J. & Nässel, D. R. Identified peptidergic neurons in the Drosophila brain regulate insulin-producing cells, stress responses and metabolism by coexpressed short neuropeptide F and corazonin. Cell. Mol. Life Sci. 69, 4051–4066 (2012). 

11.

Kim, S. K. & Rulifson, E. J. Conserved mechanisms of glucose sensing and regulation by Drosophila corpora cardiaca cells. Nature 431, 316–320 (2004). 

12.

Lee, G. & Park, J. H. Hemolymph sugar homeostasis and starvation-induced hyperactivity affected by genetic manipulations of the adipokinetic hormone-encoding gene in Drosophila melanogaster. Genetics 167, 311–323 (2004). 

13.

Sweeney, S. T., Broadie, K., Keane, J., Niemann, H. & O'Kane, C. J. Targeted expression of tetanus toxin light chain in Drosophila specifically eliminates synaptic transmission and causes behavioral defects. Neuron 14, 341–351 (1995). 

14.

Chen, T.-W. et al. Ultrasensitive fluorescent proteins for imaging neuronal activity. Nature 499, 295–300 (2013). 

15.

Miyamoto, T., Slone, J., Song, X. & Amrein, H. A fructose receptor functions as a nutrient sensor in the Drosophila brain. Cell 151, 1113–1125 (2012). 

16.

Ashcroft, F. M. & Rorsman, P. KATP channels and islet hormone secretion: new insights and controversies. Nat. Rev. Endocrinol. 9, 660–669 (2013). 

17.

Bryan, J. & Aguilar-Bryan, L. The ABCs of ATP-sensitive potassium channels: more pieces of the puzzle. Curr. Opin. Cell Biol. 9, 553–559 (1997). 

18.

Masuyama, K., Zhang, Y., Rao, Y. & Wang, J. W. Mapping neural circuits with activity-dependent nuclear import of a transcription factor. J. Neurogenet. 26, 89–102 (2012). 

19.

Zhang, Y. Q., Rodesch, C. K. & Broadie, K. Living synaptic vesicle marker: synaptotagmin–GFP. Genesis 34, 142–145 (2002). 

20.

Rulifson, E. J., Kim, S. K. & Nusse, R. Ablation of insulin-producing neurons in flies: growth and diabetic phenotypes. Science 296, 1118–1120 (2002). 

21.

Feinberg, E. H. et al. GFP reconstitution across synaptic partners (GRASP) defines cell contacts and synapses in living nervous systems. Neuron 57, 353–363 (2008). 

22.

Lima, S. Q. & Miesenböck, G. Remote control of behavior through genetically targeted photostimulation of neurons. Cell 121, 141–152 (2005). 

23.

Macpherson, L. J. et al. Dynamic labelling of neural connections in multiple colours by trans-synaptic fluorescence complementation. Nat. Comm. 6, 10024 (2015). 

24.

Cao, G. et al. Genetically targeted optical electrophysiology in intact neural circuits. Cell 154, 904–913 (2013). 

25.

Lee, K.-S. et al. Drosophila short neuropeptide F signalling regulates growth by ERK-mediated insulin signalling. Nat. Cell Biol. 10, 468–475 (2008). 

26.

Shang, Y. et al. Short neuropeptide F is a sleep-promoting inhibitory modulator. Neuron 80, 171–183 (2013). 

27.

Garczynski, S. F., Brown, M. R., Shen, P., Murray, T. F. & Crim, J. W. Characterization of a functional neuropeptide F receptor from Drosophila melanogaster. Peptides 23, 773–780 (2002). 

28.

Thorens, B. Neural regulation of pancreatic islet cell mass and function. Diabetes Obes. Metab. 16 (Suppl 1), 87–95 (2014).

29.

Pipeleers, D. G. Heterogeneity in pancreatic β-cell population. Diabetes 41, 777–781 (1992). 

30.

Bonner-Weir, S. & Aguayo-Mazzucato, C. Pancreatic β-cell heterogeneity revisited. Nature 535, 365–366 (2016). 

31.

Nern, A., Pfeiffer, B. D. & Rubin, G. M. Optimized tools for multicolor stochastic labeling reveal diverse stereotyped cell arrangements in the fly visual system. Proc. Natl Acad. Sci. USA 112, E2967–E2976 (2015). 

32.

Jourjine, N., Mullaney, B. C., Mann, K. & Scott, K. Coupled sensing of hunger and thirst signals balances sugar and water consumption. Cell 166, 855–866 (2016). 

33.

Ai, M. et al. Acid sensing by the Drosophila olfactory system. Nature 468, 691–695 (2010). 

34.

Burgess, A. et al. Loss of human Greatwall results in G2 arrest and multiple mitotic defects due to deregulation of the cyclin B–Cdc2/PP2A balance. Proc. Natl Acad. Sci. USA 107, 12564–12569 (2010). 

35.

Liu, Q. et al. Branch-specific plasticity of a bifunctional dopamine circuit encodes protein hunger. Science 356, 534–539 (2017). https://doi.org/10.1126/science.aal3245.

36.

Park, S. et al. A genetic strategy to measure circulating Drosophila insulin reveals genes regulating insulin production and secretion. PLoS Genet. 10, e1004555 (2014). 

37.

Chen, W., Hwang, Y. Y., Gleaton, J. W., Titus, J. K. & Hamlin, N. J. Optimization of a peptide extraction and LC–MS protocol for quantitative analysis of antimicrobial peptides. Future Sci. 5, FSO348 (2018). 

38.

Rappsilber, J., Mann, M. & Ishihama, Y. Protocol for micro-purification, enrichment, pre-fractionation and storage of peptides for proteomics using StageTips. Nat. Protoc. 2, 1896–1906 (2007).

39.

Cox, J. et al. Andromeda: a peptide search engine integrated into the MaxQuant environment. J. Proteome Res. 10, 1794–1805 (2011).

40.

MacLean, B. et al. Skyline: an open source document editor for creating and analyzing targeted proteomics experiments. Bioinformatics 26, 966–968 (2010). 

41.

Johnson, R. S., Martin, S. A., Biemann, K., Stults, J. T. & Watson, J. T. Novel fragmentation process of peptides by collision-induced decomposition in a tandem mass spectrometer: differentiation of leucine and isoleucine. Anal. Chem. 59, 2621–2625 (1987). 

42.

Roepstorff, P. & Fohlman, J. Proposal for a common nomenclature for sequence ions in mass spectra of peptides. Biol. Mass Spectrom. 11, 601 (1984). 

43.

Gáliková, M. et al. Energy homeostasis control in Drosophila adipokinetic hormone mutants. Genetics 201, 665–683 (2015). 

44.

Saadipour, K. et al. The transmembrane domain of the p75 neurotrophin receptor stimulates phosphorylation of the TrkB tyrosine kinase receptor. J. Biol. Chem. 292, 16594–16604 (2017).

45.

Nicolaï, L. J. J. et al. Genetically encoded dendritic marker sheds light on neuronal connectivity in Drosophila. Proc. Natl Acad. Sci. USA 107, 20553–20558 (2010). 
Acknowledgements
We thank M. Kanai and J.-Y. Park for providing expertise on the two-choice behaviour assay and physiology. We also thank S. K. Kim, J. Veenstra, J. H. Park and E. Hafen for providing antibodies used in this study; B. Levin, G. Schwartz, J. W. Sohn, H. Kim and the Suh laboratory members for stimulating discussion. This work is supported by NIH R01 grants (R01DK116294, R01DK106636 to G.S.B.S. and NINDS P30NS050276 to T.A.N.), KAIST Chancellor's fund and a grant from Samsung Science & Technology Foundation (G.S.B.S).
Ethics declarations
Competing interests
The authors declare no competing interests.
Additional information
Publisher's note Springer Nature remains neutral with regard to jurisdictional claims in published maps and institutional affiliations.
Peer review information Nature thanks Mark L. Evans and the other, anonymous, reviewer(s) for their contribution to the peer review of this work.
Extended data figures and tables
Supplementary information
This file contains Supplementary Tables 1-3 and Supplementary Figure 1.
About this article
Cite this article
Oh, Y., Lai, J.SY., Mills, H.J. et al. A glucose-sensing neuron pair regulates insulin and glucagon in Drosophila. Nature 574, 559–564 (2019). https://doi.org/10.1038/s41586-019-1675-4
Received:

Accepted:

Published:

Issue Date:
Comments
By submitting a comment you agree to abide by our Terms and Community Guidelines. If you find something abusive or that does not comply with our terms or guidelines please flag it as inappropriate.