Abstract
Heterochromatin affects genome function at many levels. It enables heritable gene repression, maintains chromosome integrity and provides mechanical rigidity to the nucleus1,2. These diverse functions are proposed to arise in part from compaction of the underlying chromatin2. A major type of heterochromatin contains at its core the complex formed between HP1 proteins and chromatin that is methylated on histone H3, lysine 9 (H3K9me). HP1 is proposed to use oligomerization to compact chromatin into phase-separated condensates3,4,5,6. Yet, how HP1-mediated phase separation relates to chromatin compaction remains unclear. Here we show that chromatin compaction by the Schizosaccharomyces pombe HP1 protein Swi6 results in phase-separated liquid condensates. Unexpectedly, we find that Swi6 substantially increases the accessibility and dynamics of buried histone residues within a nucleosome. Restraining these dynamics impairs compaction of chromatin into liquid droplets by Swi6. Our results indicate that Swi6 couples its oligomerization to the phase separation of chromatin by a counterintuitive mechanism, namely the dynamic exposure of buried nucleosomal regions. We propose that such reshaping of the octamer core by Swi6 increases opportunities for multivalent interactions between nucleosomes, thereby promoting phase separation. This mechanism may more generally drive chromatin organization beyond heterochromatin.
Relevant articles
Open Access articles citing this article.
Naohiro Kuwayama

,

Tomoya Kujirai

…

Yukiko Gotoh

Nature Communications Open Access 12 October 2023

Xiaowen Lyu

,

M. Jordan Rowley

…

Victor G. Corces

Nature Communications Open Access 09 October 2023

Tetsuya Yamamoto

,

Takahiro Asanuma

&

Yota Murakami

Communications Biology Open Access 04 August 2023
Access options
Access Nature and 54 other Nature Portfolio journals
Get Nature+, our best-value online-access subscription
$29.99 / 30 days
cancel any time
Subscribe to this journal
Receive 51 print issues and online access
$199.00 per year
only $3.90 per issue
Rent or buy this article
Prices vary by article type
from$1.95
to$39.95
Prices may be subject to local taxes which are calculated during checkout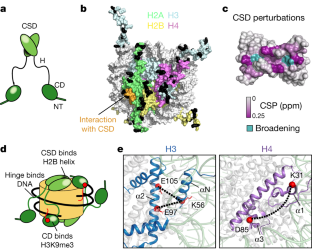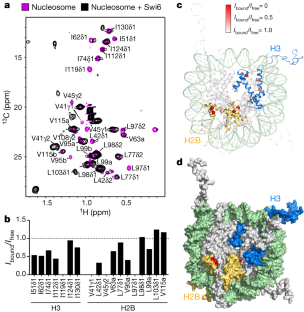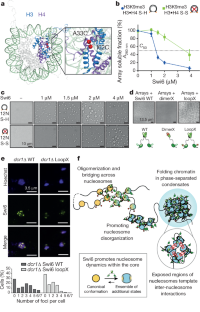 References
Stephens, A. D. et al. Chromatin histone modifications and rigidity affect nuclear morphology independent of lamins. Mol. Biol. Cell 29, 220–233 (2018).

Allshire, R. C. & Madhani, H. D. Ten principles of heterochromatin formation and function. Nat. Rev. Mol. Cell Biol. 19, 229–244 (2018).

Canzio, D. et al. Chromodomain-mediated oligomerization of HP1 suggests a nucleosome-bridging mechanism for heterochromatin assembly. Mol. Cell 41, 67–81 (2011).

Canzio, D. et al. A conformational switch in HP1 releases auto-inhibition to drive heterochromatin assembly. Nature 496, 377–381 (2013).

Larson, A. G. et al. Liquid droplet formation by HP1α suggests a role for phase separation in heterochromatin. Nature 547, 236–240 (2017).

Strom, A. R. et al. Phase separation drives heterochromatin domain formation. Nature 547, 241–245 (2017).

Eissenberg, J. C. & Elgin, S. C. R. HP1a: a structural chromosomal protein regulating transcription. Trends Genet. 30, 103–110 (2014).

Smothers, J. F. & Henikoff, S. The HP1 chromo shadow domain binds a consensus peptide pentamer. Curr. Biol. 10, 27–30 (2000).

Isaac, R. S. et al. Biochemical basis for distinct roles of the heterochromatin proteins Swi6 and Chp2. J. Mol. Biol. 429, 3666–3677 (2017).

Dawson, M. A. et al. JAK2 phosphorylates histone H3Y41 and excludes HP1α from chromatin. Nature 461, 819–822 (2009).

Lavigne, M. et al. Interaction of HP1 and Brg1/Brm with the globular domain of histone H3 is required for HP1-mediated repression. PLoS Genet. 5, e1000769 (2009).

Liu, Y. et al. Peptide recognition by HP1 chromoshadow domains revisited: plasticity in the pseudosymmetric histone binding site of human HP1. J. Biol. Chem. 292, 5655–5664 (2017).

Hoofnagle, A. N., Resing, K. A. & Ahn, N. G. Protein analysis by hydrogen exchange mass spectrometry. Annu. Rev. Biophys. Biomol. Struct. 32, 1–25 (2003).

Rosenzweig, R. & Kay, L. E. Bringing dynamic molecular machines into focus by methyl-TROSY NMR. Annu. Rev. Biochem. 83, 291–315 (2014).

Sinha, K. K., Gross, J. D. & Narlikar, G. J. Distortion of histone octamer core promotes nucleosome mobilization by a chromatin remodeler. Science 355, eaaa3761 (2017).

Zhou, B.-R. et al. Structural insights into the histone H1-nucleosome complex. Proc. Natl Acad. Sci. USA 110, 19390–19395 (2013).

Luger, K., Mäder, A. W., Richmond, R. K., Sargent, D. F. & Richmond, T. J. Crystal structure of the nucleosome core particle at 2.8 A resolution. Nature 389, 251–260 (1997).

Stoddard, C. I. et al. A nucleosome bridging mechanism for activation of a maintenance DNA methyltransferase. Mol. Cell 73, 73–83.e6 (2019).

Azzaz, A. M. et al. Human heterochromatin protein 1α promotes nucleosome associations that drive chromatin condensation. J. Biol. Chem. 289, 6850–6861 (2014).

Alberti, S., Gladfelter, A. & Mittag, T. Considerations and challenges in studying liquid-liquid phase separation and biomolecular condensates. Cell 176, 419–434 (2019).

Maeshima, K. et al. Nucleosomal arrays self-assemble into supramolecular globular structures lacking 30-nm fibers. EMBO J. 35, 1115–1132 (2016).

Cheutin, T., Gorski, S. A., May, K. M., Singh, P. B. & Misteli, T. In vivo dynamics of Swi6 in yeast: evidence for a stochastic model of heterochromatin. Mol. Cell. Biol. 24, 3157–3167 (2004).

Cheutin, T. et al. Maintenance of stable heterochromatin domains by dynamic HP1 binding. Science 299, 721–725 (2003).

Festenstein, R. et al. Modulation of heterochromatin protein 1 dynamics in primary Mammalian cells. Science 299, 719–721 (2003).

Haldar, S., Saini, A., Nanda, J. S., Saini, S. & Singh, J. Role of Swi6/HP1 self-association-mediated recruitment of Clr4/Suv39 in establishment and maintenance of heterochromatin in fission yeast. J. Biol. Chem. 286, 9308–9320 (2011).

Kilic, S., Bachmann, A. L., Bryan, L. C. & Fierz, B. Multivalency governs HP1α association dynamics with the silent chromatin state. Nat. Commun. 6, 7313 (2015).

Kalashnikova, A. A., Porter-Goff, M. E., Muthurajan, U. M., Luger, K. & Hansen, J. C. The role of the nucleosome acidic patch in modulating higher order chromatin structure. J. R. Soc. Interface 10, 20121022–20121022 (2013).

Aygün, O., Mehta, S. & Grewal, S. I. S. HDAC-mediated suppression of histone turnover promotes epigenetic stability of heterochromatin. Nat. Struct. Mol. Biol. 20, 547–554 (2013).

Fussner, E., Ching, R. W. & Bazett-Jones, D. P. Living without 30nm chromatin fibers. Trends Biochem. Sci. 36, 1–6 (2011).

Cai, S. et al. Cryo-ET reveals the macromolecular reorganization of S. pombe mitotic chromosomes in vivo. Proc. Natl Acad. Sci. USA 115, 10977–10982 (2018).

Dyer, P. N. et al. Reconstitution of nucleosome core particles from recombinant histones and DNA. Methods Enzymol. 375, 23–44 (2003).

Tugarinov, V., Kanelis, V. & Kay, L. E. Isotope labeling strategies for the study of high-molecular-weight proteins by solution NMR spectroscopy. Nat. Protoc. 1, 749–754 (2006).

Hamel, D. J. & Dahlquist, F. W. The contact interface of a 120 kD CheA−CheW complex by methyl TROSY interaction spectroscopy. J. Am. Chem. Soc. 127, 9676–9677 (2005).

Simon, M. D. et al. The site-specific installation of methyl-lysine analogs into recombinant histones. Cell 128, 1003–1012 (2007).

Zhang, X. et al. Structure of the Neurospora SET domain protein DIM-5, a histone H3 lysine methyltransferase. Cell 111, 117–127 (2002).

Mishima, Y. et al. Hinge and chromoshadow of HP1α participate in recognition of K9 methylated histone H3 in nucleosomes. J. Mol. Biol. 425, 54–70 (2013).

Luger, K., Rechsteiner, T. J. & Richmond, T. J. Preparation of nucleosome core particle from recombinant histones. Methods Enzymol. 304, 3–19 (1999).

Dorigo, B. et al. Nucleosome arrays reveal the two-start organization of the chromatin fiber. Science 306, 1571–1573 (2004).

Rogge, R. A. et al. Assembly of nucleosomal arrays from recombinant core histones and nucleosome positioning DNA. J. Vis. Exp. 79, 50354 (2013).

Delaglio, F. et al. NMRPipe: a multidimensional spectral processing system based on UNIX pipes. J. Biomol. NMR 6, 277–293 (1995).

Kato, H. et al. Architecture of the high mobility group nucleosomal protein 2-nucleosome complex as revealed by methyl-based NMR. Proc. Natl Acad. Sci. USA 108, 12283–12288 (2011).

Chalmers, M. J. et al. Probing protein ligand interactions by automated hydrogen/deuterium exchange mass spectrometry. Anal. Chem. 78, 1005–1014 (2006).

Keppel, T. R. & Weis, D. D. Mapping residual structure in intrinsically disordered proteins at residue resolution using millisecond hydrogen/deuterium exchange and residue averaging. J. Am. Soc. Mass Spectrom. 26, 547–554 (2015).

Pascal, B. D. et al. HDX workbench: software for the analysis of H/D exchange MS data. J. Am. Soc. Mass Spectrom. 23, 1512–1521 (2012).

Zhang, Z. & Smith, D. L. Determination of amide hydrogen exchange by mass spectrometry: a new tool for protein structure elucidation. Protein Sci. 2, 522–531 (1993).

Gamarra, N., Johnson, S. L., Trnka, M. J., Burlingame, A. L. & Narlikar, G. J. The nucleosomal acidic patch relieves auto-inhibition by the ISWI remodeler SNF2h. eLife 7, 34270 (2018).

Trnka, M. J., Baker, P. R., Robinson, P. J. J., Burlingame, A. L. & Chalkley, R. J. Matching cross-linked peptide spectra: only as good as the worse identification. Mol. Cell. Proteomics 13, 420–434 (2014).

Brown, P. H. & Schuck, P. Macromolecular size-and-shape distributions by sedimentation velocity analytical ultracentrifugation. Biophys. J. 90, 4651–4661 (2006).

Brautigam, C. A. Calculations and publication-quality illustrations for analytical ultracentrifugation data. Methods Enzymol. 562, 109–133 (2015).
Acknowledgements
We thank M. Rosen for sharing data before publication. We thank J. Tretyakova for help and training in histone purification; R. S. Isaac for providing initial nucleosomal array DNA; J. Pelton and the QB3 NMR Facility at the University of California Berkeley for help with collecting and processing NMR data; M. Keenen for providing Peg-silane-coated slides and protocols; C. Stoddard for providing ZMET2; S. Catania and H. Madhani for guidance in S. pombe experiments; D. Canzio for help with AUC; the Nikon Imaging Center at UCSF and K. Herrington for training and help with microscope data acquisition. We thank L. Hsieh, N. Gamarra, D. Canzio, A. Larson, E. Nora and H. Madhani for comments on the manuscript and members of the Gross and Narlikar laboratories for discussion. This work was supported by grant NIH NCATS UL1 TR000004 to S.S., J.D.G. and G.J.N.; Sandler Family Foundation Program for Breakthrough Research Post-doctoral Fellowship to S.S.; NIH NIGMS R01 GM121962 to J.D.G.; NIH R01GM108455 and R35 GM127020 to G.J.N.; PBBR New Frontier Research Award to G.J.N.; Dr. Miriam and Sheldon G. Adelson Medical Research Foundation to A.L.B., NIH NIGMS P41GM103481 to A.L.B.; Instrumentation Grants- Qexactive Plus (Thermo): NIH S10D016229 to A.L.B., Orbitrap Fusion Lumos (Thermo): University of California, San Francisco (Program for Breakthrough Biomedical Research (PBBR).
Ethics declarations
Competing interests
The authors declare no competing interests.
Additional information
Publisher's note Springer Nature remains neutral with regard to jurisdictional claims in published maps and institutional affiliations.
Extended data figures and tables
Supplementary information
This file contains gel source data. For Extended Data Figs 6a and 6e, Coomassie stainings of the non-reducing SDS gels show the formation of disulfide-linked H3-H4 (for Extended Data Fig. 6a) and H2B-H4 (for Extended Data Fig. 6e). For Extended Data Fig. 8k, the native acrylamide gel shows mono-nucleosomes generated upon HpaI-digestion of arrays, as arrays quality control.
This file contains Supplementary Table 1 and 2. Supplementary Table 1: Swi6 affinity (Kd) for the indicated nucleosomes. Each value is a mean from at least three independent experiments; errors are standard deviation from the mean (SD). Supplementary Table 2: List of nucleosome mutants and corresponding amino acid substitution used in this study.
About this article
Cite this article
Sanulli, S., Trnka, M.J., Dharmarajan, V. et al. HP1 reshapes nucleosome core to promote phase separation of heterochromatin. Nature 575, 390–394 (2019). https://doi.org/10.1038/s41586-019-1669-2
Received:

Accepted:

Published:

Issue Date:

DOI: https://doi.org/10.1038/s41586-019-1669-2
Comments
By submitting a comment you agree to abide by our Terms and Community Guidelines. If you find something abusive or that does not comply with our terms or guidelines please flag it as inappropriate.